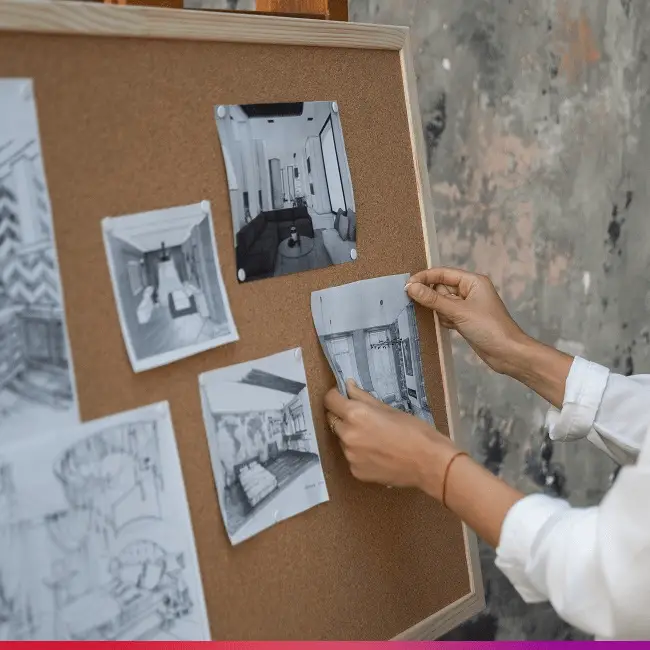 Every office has its essentials, from the coffee machine brewing our morning elixir to the trusty corkboard, our go-to spot for to-do lists, brainstorming sessions, and vital reminders.
It's not just about pinning things up; it's about having a board that can handle the weight of our bustling work lives. The ideal corkboard isn't just sturdy; it's mobile, letting you shift ideas (literally) around the office. And that's where a reliable corkboard stand becomes invaluable. Ready to elevate your office game? Dive into the world of dynamic corkboards.
Here are Some of the Top-quality Corkboard Stands for Your Consideration:
(Product dimensions: 20″L x 45.25″W x 54.75″H)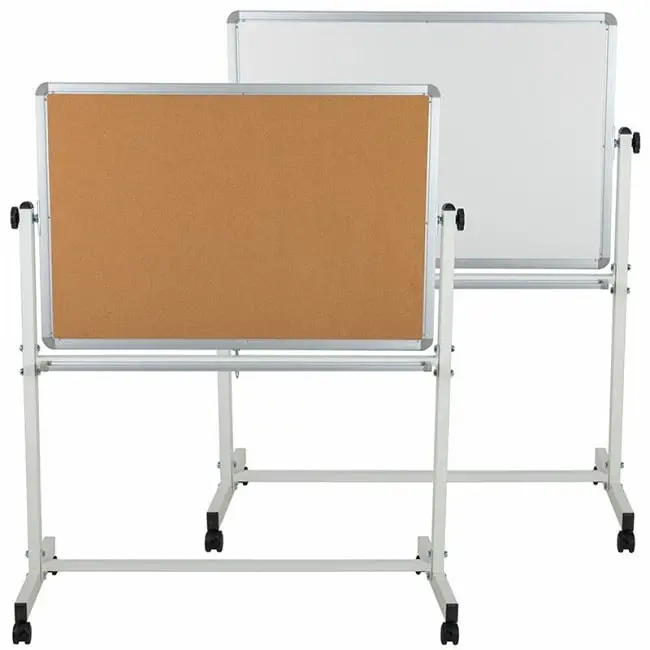 If you have a budget to maintain, this multipurpose freestanding corkboard is an ideal choice. It comes with a combo rolling board with a magnetic dry-erase surface and a reversible cork bulletin board. You can flexibly move the board anywhere around the conference room and fix it in the freestanding position with two front-wheel locking casters. The magnetic surface has six magnets to hold up the documents. The natural cork material is self-healing and finely resists scratches and puncture holes. The removable pen and marker tray make the presentation hour smooth and easy. Write down ideas, concepts, and calculations on the dry-erase side and flip over to the cork surface to present charts, performance sheets, and blueprints. This item can easily outperform any standard bulletin board in this price range.
(Product dimensions: 48″ W x 36″ H)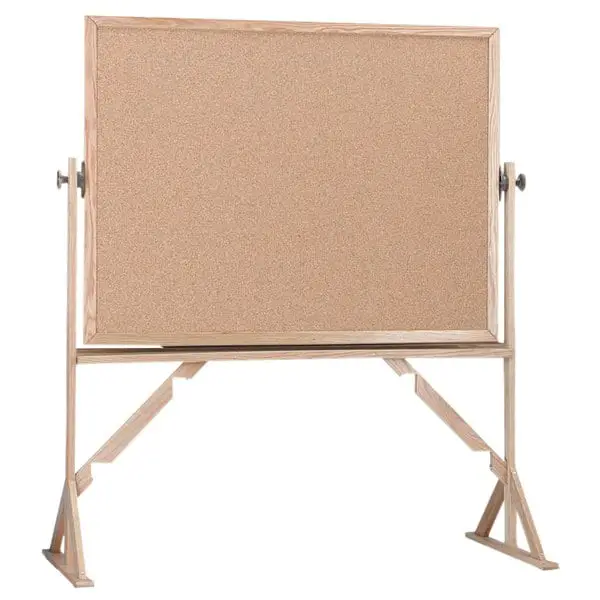 If you need to present before a larger audience, or simply want to organize a substantial amount of information for a specific event or seminar, this bulletin board should be ideal. This natural corkboard stand comes with a sturdy and solid oak wood frame on both sides. The high gloss lacquer finish gives it a classy and professional look. It rotates easily on both sides and locks firmly for stability. With this freestanding corkboard, you can stock up on many outlines, blueprints, charts, graphs, data, calculations, notices, and images all in one place. If you are looking for a sturdy and thick oak wood frame of superior quality, then go for this one.
(Board dimensions: 24″ W x 36″ H)

If you have an important event where the environment will be crowded and information needs to remain protected, then this should be the right choice. This enclosed freestanding cork bulletin board (6 feet tall) with a secure lockable frame is perfect for a busy hallway or entryway. It has a solid weighted base of 18 inches for firm stability. The board also holds a literature tray (18″ and a quarter-inch wide) which is useful for promotional displays, posters, advertisements, or any other organizational materials. You can also adjust its height using the side grooves on the pole. It's a little expensive, but it's worth every penny. This corkboard would also be wonderful for stores and restaurants as it has a brochure holder.
(Product dimensions: 47 3/4″W x 29 1/2″H)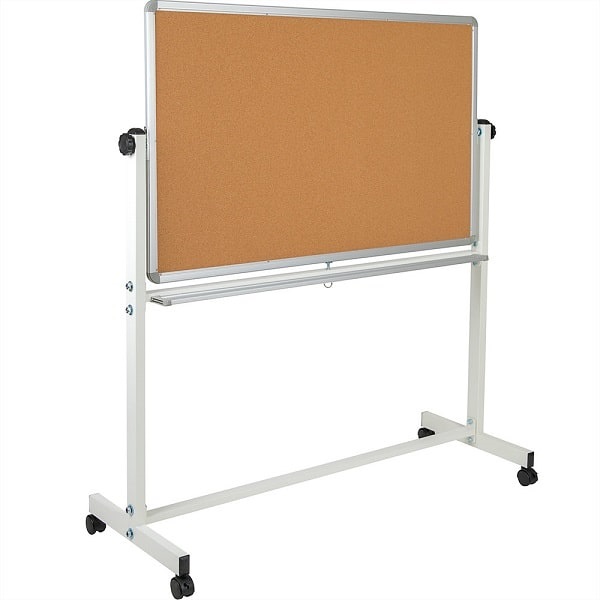 This bulletin board from Flash Furniture provides almost all the notable features we have discussed above. The board comes with an appreciable size to cover maximum surface space for presentation. Draw and write on the premium lacquer-painted whiteboard and use the self-healing cork material to pin up notes and schedules. Both sides of the board are connected by a single powder-coated white aluminum frame to provide a professional look. Four dual-wheel casters have two locking systems to fix the position. Also, a full-width marker tray is present to store pens, mobiles, pushpins, and erasers. Here, you are getting a professional bulletin board with all the necessary features at a very convenient price so it's a reasonable choice.
(Product Dimensions: 23.5″ x 15″)
  This multifunctional office board can help you get organized in many ways. It has a magnetic whiteboard with a weekly calendar to write down your daily schedule, a pinboard for important memos, and a chalkboard for quick jotting of reminders. It sports an elegant look and can easily match any modern interior. It can easily be wall-mounted and very ideal for any work environment, including home offices. This product is made in the USA by a reputable company that specializes in manufacturing office accessories, so you are assured of its quality and durability. Another good thing about this multi-purpose board is that it comes with the following accessories: a Whiteboard Marker with Eraser, 4 Chalk, 4 Push Pins, and 2 Magnets.
(Product dimensions: 23.8″W x 48.0″H x 17.5D")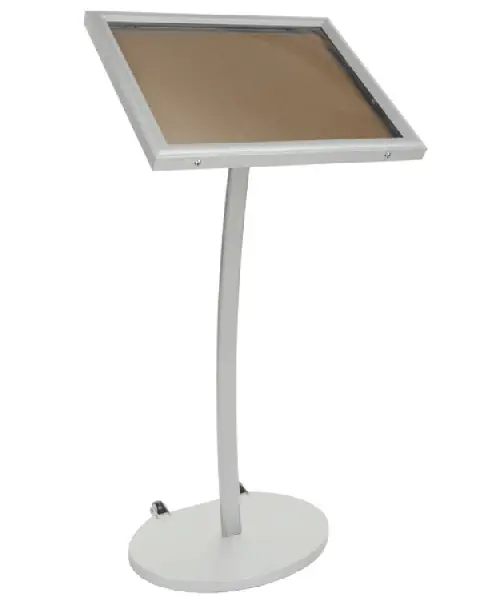 We have already seen one enclosed freestanding bulletin board earlier. This one comes with an extra cool feature – two rolling wheels on the base to move the corkboard stand effortlessly anywhere. All you have to do is tilt the fixture back and push or pull it to another place accordingly. The 23 x 19-inch enclosed cork surface covers enough space to stock up on multiple documents. The front cover has a UV inhibitor polycarbonate lens which is useful for outdoor usage. The locking system has a waterproof case. This is appropriate for positioning outside of a business event to display announcements.
(Panel dimensions: 58″H x 46.3″ W)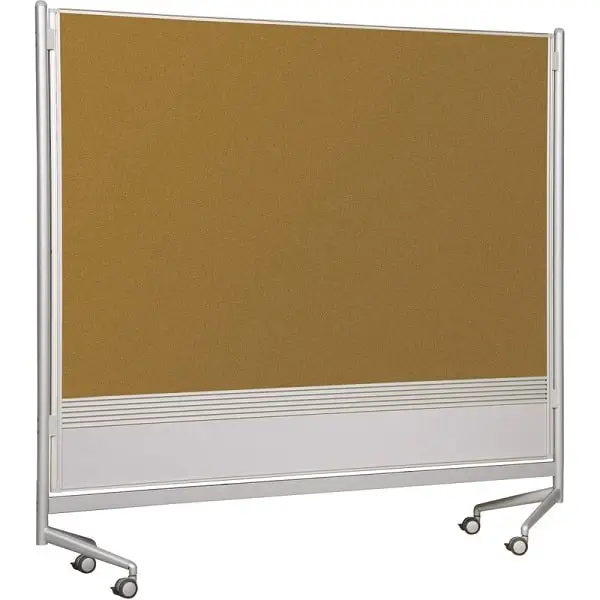 Do you have a requirement to put up a lot of information in a pretty large room? If so, check out this massive multipurpose bulletin board. This free-standing board comes with four different panels, which can be divided or combined into different configurations as per requirements. One cool thing about this corkboard is that it can double as a cubicle partition. The panel board has a whiteboard and a natural cork surface on either side. The panels have an optional aluminum stat wall as an accessory tray. The uniquely designed legs have plastic connectors to create flexible layouts. This model is pricey, but it serves a lot of purposes.
(Product Dimensions: 11.8″ x 11.8″)
Do you sport a small desk? Or maybe you don't have enough space left on your wall-mounted bulletin board? Then, take a look at this adorable double-sided corkboard. It comes up with a high-density and self-healing natural cork surface with a 360° rotatable aluminum stand. It's a perfect addition to your space. You can use it for some creative decoration or for keeping important reminders, weekly plans, sticky notes, messages, etc.
(Product Dimensions: 76.5" H x 35" L)
This model comes with heavy-duty boards that stand out in terms of durability, strength, and prolonged outdoor exposure. The board is easily movable and has a pivot hinge to securely lock the position. The premium solid surface is made from 100% red oak wood. Best-Rite Deluxe provides a lifetime warranty on this product. This could be a one-time investment that is worth the money.
(Product dimensions: 36″ H x 48″ L)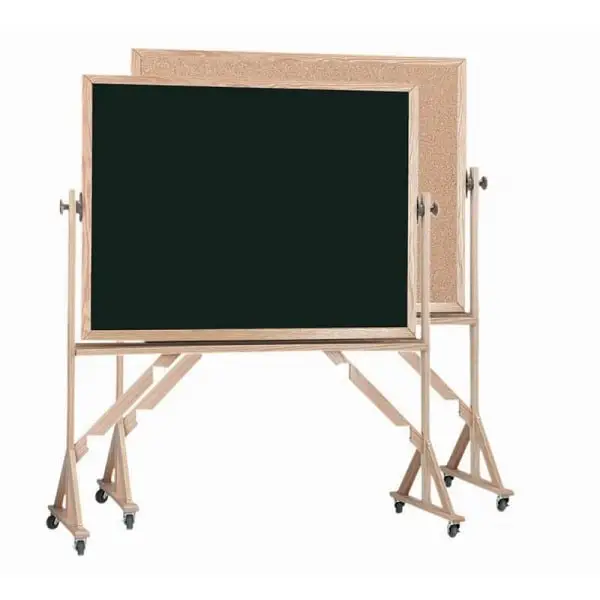 Usually, reversible bulletin boards come with a whiteboard on one side and a natural cork surface on the other. However, this product is embedded with a chalkboard on one side and a natural pebble grain cork surface on the other. It has a high gloss lacquer-finished solid wood frame, and it's easily movable. This product comes in two other sizes as well (42″ x 60″ L and 48″ x 72″ L). The chalkboard can be used to highlight important pointers to follow up on for the day.
Conclusion
Corkboard stands constitute an indispensable item, even in a modern workspace that's rife with smart boards and writing tablets. Which one is your favorite? Are there any other office must-haves that you use regularly?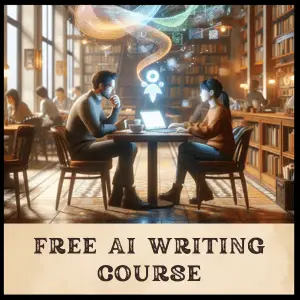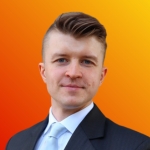 Rafal Reyzer
Hey there, welcome to my blog! I'm a full-time blogger, educator, digital marketer, freelance writer, editor, and content manager with 10+ years of experience. I started RafalReyzer.com to provide you with great tools and strategies you can use to become a proficient writer and achieve freedom through online creativity. My site is a one-stop shop for freelance writers, bloggers, publishers, and content enthusiasts who want to be independent, earn more money, and create beautiful things. Dive into my journey here, and don't miss out on my free 60-minute AI writing online course.