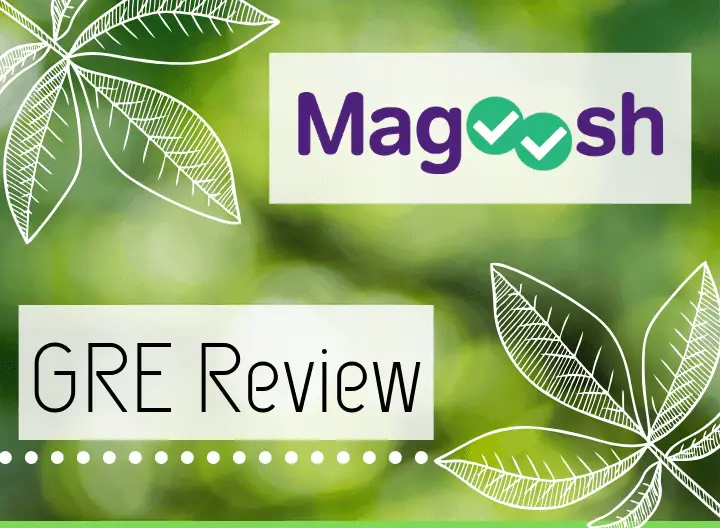 Of the different prep courses offered by Magoosh, the one for GRE is the most popular.
In this Magoosh GRE review, we'll take a deeper look at this prep course, evaluate if it's worth the $149 for 6 months of access and if it's actually effective for improving your score.
After all, you don't want to lose the $200+ you've invested in GRE registration, as retaking the exam is always more stressful. That's why you need a course that will help you get to your desired score on the very first attempt.
In short, Magoosh GRE is an exceptional educational service for these reasons:
It's cheap and provides great value for the money. Premium options on the market ask you for $700 – $1000, but they're not better (unless you want to work with a tutor or in a live in-person environment).
It has one of the best mobile study apps out there.
It offers you a neat study plan, that's super useful when you're studying on your own.
The course is flexible and accessible, and you don't have to commute to a class.
It has a 5+ point score improvement guarantee and a 7-day free trial (affiliate link).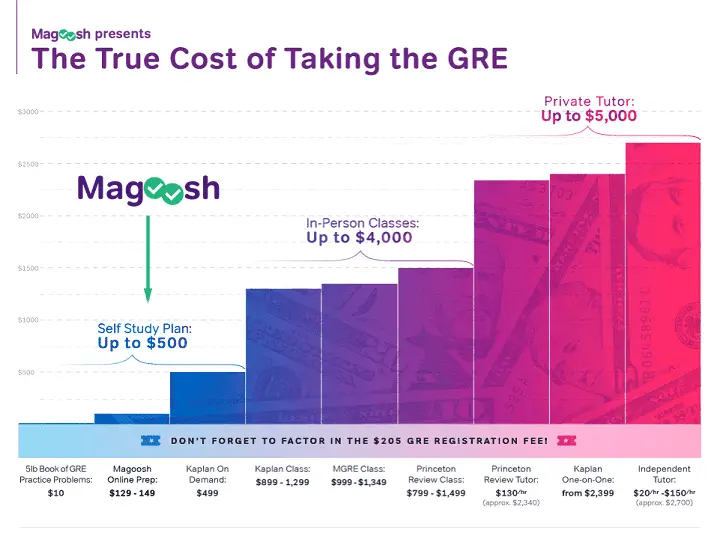 The course actually improves students' scores by 5 points on average. This is known because Magoosh actually asks the students about their previous scores and the new score they got after completing the course (see more evidence below). But there are a couple of other crucial things to know if you're wondering whether it's a good idea to sign up. Let's explore them in the sections below.
Magoosh GRE Review – Table of contents:
Is the Magoosh GRE Course Effective?
The first thing to consider is the effectiveness of the course. The benefits of test prep courses are disputed in the scientific literature. The consensus is that on average they improve your score but only slightly (around 5%-7% depending on the exam).
In the end, it's all about the time and dedication to your studies. But with Magoosh GRE, there is real evidence of the effectiveness of the course.
The company is actually conducting surveys with the students who went through this specific course, and it's proudly published them on its website since July 2011. That's a long time to gather some valuable data!
It turns out, that the vast majority of students had a positive experience with the service. And they did, in fact, improve their score, sometimes by a significant amount (4 up to 19 points).

There is even more evidence about the potential benefits of the course. There are over a hundred reviews from real students on Magoosh's blog, and most of them are positive. When going through them, you can also see that the company offers great customer service.
There are also reviews on a GRE Prep Club forum where Magoosh holds a 4,8 out of 5 score based on over 20 reviews. And if you still need more proof, you can check out Magoosh's Facebook page, with dozens of positive comments and a review score of 4,9/5.
Of course, not all students who took the course publish their reviews on the platform. Probably there's a significant amount of people who didn't see much improvement. But all in all, this prep course really seems to be working.
Now let's take a look at what you'll actually get if you sign up.
The Highlights of the Magoosh GRE Course
Now that you're convinced that the Magoosh GRE prep is worth your attention, let's take a look at some of the main features it offers and why are they important.
1. The 7-day free trial and the 5+ score improvement guarantee
This is one of the major advantages of the course. Not only can you try out the service for 7 days for free, but you're also promised to score at least 5 points extra on the actual exam (or your money back).
I checked many different GRE prep solutions and trust me, almost none of them offers this kind of risk mitigation. Also, most courses last only 3-4 months, but here you'll get 6 months of access to all materials.
With other courses, you have to sign up without knowing what you're getting into. But here you have a full week to check all the materials and see if it's the right fit for you. You can also check my article on the best ways to prepare for the GRE.
2. 1,200+ Practice questions with video explanations
Alright, with other premium courses, you can get 3,500 – 5,000 questions. But it's not only about quantity but also about quality.
With Magoosh you'll get more detailed explanations (including video), and they truly cover the whole of math, verbal, as well as the GRE essay part.
Other companies offer video explanations just for a couple of questions. But here, you get a skilled instructor explaining every single question for you. This is almost better than working with a private tutor.
Another great thing is that the questions are broken down into different sections. This enables you to focus on the areas with the biggest potential for score improvement.
3. 250+ useful and fun video lessons
Studying for the GRE can be a drag on your mental resources. After going through dozens of practice questions, your head will find itself on the brink of an explosion.
That's where quick video lessons come in. With Magoosh, you'll get over 250 of them. And they are there not just for your entertainment. They will teach you how to quickly analyze a problem, examine it logically, and complete it within the allotted time.
Remember that you only have 1m 30 seconds or 1m 45 seconds to get the answer right.
4. Email assistance is available if you get stuck
The customer service offered by the company is top-notch. You'll quickly get a response if you have a question or if you're stuck with a particular section of the exam. This is fantastic because you feel like someone has your back and that you're not alone in this prep struggle.
5. The score predictor technology
That's another feature you won't get anywhere else. Based on data coming from thousands of students (as well as your own input), Magoosh is able to predict your actual GRE score with high accuracy.
For example, a student named Sai got a 162 prediction for the verbal score, and that's exactly what she got on the real-world exam. Another example: prediction – verbal 148-153 – actual score – 154, prediction – quant – 159-164 – actual score 167.
As you can see it's not always 100% accurate, but it gives you a good estimation of where you're at and how far you still need to go. This is a great feature because it will motivate you to work harder to get to your desired score and get admitted to your school of choice.
6. Clear GRE study schedule for effective self-prep
Depending on the amount of time you can give to your studies, you can pick one of the GRE study plans provided by the company.
There's a 1-week study schedule (yes, it's possible), a 1-month schedule, weekly and daily schedules, 2-3 month general study schedule, a 3-month schedule for beginners, a 3-month schedule for advanced students, as well as a 6-month schedule.
You can pick the one that suits you best based on your exam deadline. What I like about these plans is that they don't only tell you exactly what to do on any given week. They provide you with links to other essential and supplemental materials as well.
7. An amazing mobile app for Android and iOS
The mobile app is one of the biggest strengths of the course. It allows you to go through all of the practice materials with your mobile phone or tablet. This is not possible with companies like Kaplan or Princeton Review, which only give you access to limited materials through mobile apps.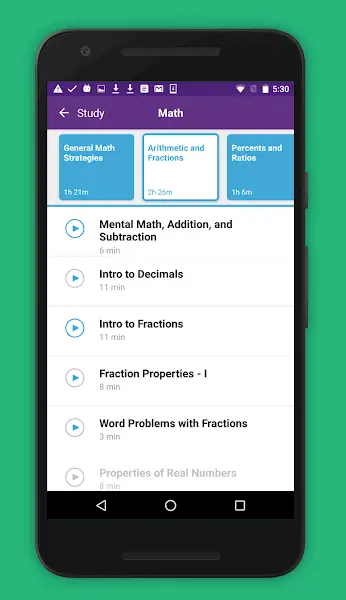 8. Practice with a timer – just like on the real exam
Timed practice is super essential if you want to learn how to deal with questions on a real-world exam. When going through Magoosh's questions, you'll see a little timer ticking in the upper right corner of the screen. This will help you to focus harder and deal with questions more quicker.
Not only that, but you will also see how other students are doing on the particular question, and check if you can beat the average response time.
9. Track your performance with detailed reports and analytics
If you go to your main dashboard, you'll see a summary of your results on both verbal and math. You'll have an overview of how many questions you've answered in total, your average pace, and the average pace of other students who prepare for the GRE. That allows you to focus on the areas where you're lagging behind.

The Pros and Cons of the Magoosh GRE Course
No course is perfect, and that's why in this review I want to highlight both the advantages and the disadvantages of moving forward with Magoosh. Let's take a look.
The Pros:
1. You'll be able to study wherever you are and in your own time
With Magoosh, you can attend live online classes (which is hugely valuable), and get lots of extra materials that you can go through in your own time.
2. You'll get detailed explanations for every practice question
The best part is that it's not only about text explanations. You'll actually get a video for every single question.
These videos will allow you to understand GRE concepts in detail, and it really feels like you're sitting right next to a qualified instructor. Sometimes you'll also see alternative explanations to some of the most challenging questions.
3. You're still able to get support if you need it
It's not like you are left to your own devices with no one to turn to if you're stuck with a particularly difficult question. Magoosh offers quick email support. You'll usually get a response within 1 or 2 business days.
And the great thing is that you can ask not only about the particularities of the GRE, but also about college admissions, target scores, and test-taking strategies.
4. You can study on the go with all of Magoosh's five mobile apps (for Android and iOS)
The study apps are super useful and they all hold a solid 4.5 out of 5 scores on the app distribution platforms. You have the GRE Vocabulary Builder, GRE Flashcards, GRE Prep & Practice, Mental Math Practice, and English Grammar Practice.
You can pick and choose based on your unique needs, but I especially like the vocabulary builder because it allows you to learn new words almost effortlessly.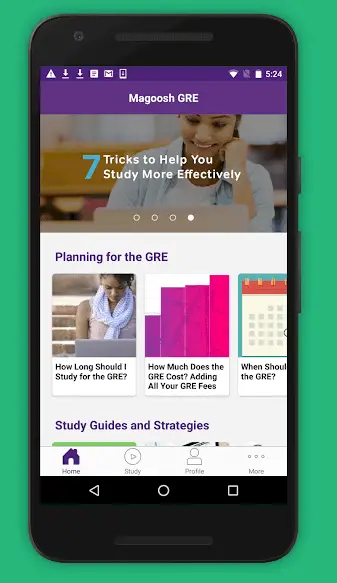 5. The price of the course is super competitive
If you compare Magoosh to other courses offered by companies like Kaplan, Princeton Review, The Economist, or PrepScholar, you'll see that you'll be able to save $300 – $700 on your prep. Think about all the ways in which you could use this extra money.
The Cons:
1. You won't get the prep book along with the course
The book is actually great as it contains an extra full-length practice test and over 130 practice questions with detailed explanations. It's not included with the course, but fortunately, you can get it online for less than $20 so that shouldn't be an issue.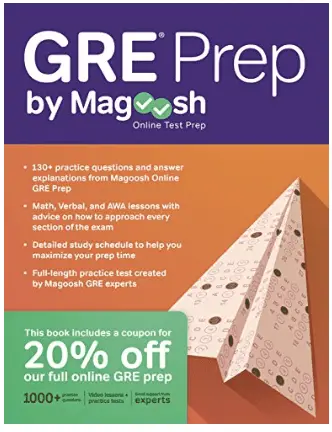 2. It would be great if more full-length practice tests were included in the course
With Magoosh you'll only get 3 of them. But again, you can grab more practice tests from inexpensive prep books. And you should, because timed practice is the number one activity to improve your score.
More Screenshots from the Course
Here's your chance to take a look at the online dashboard and the mobile app. I personally like it a lot because it's simple and intuitive.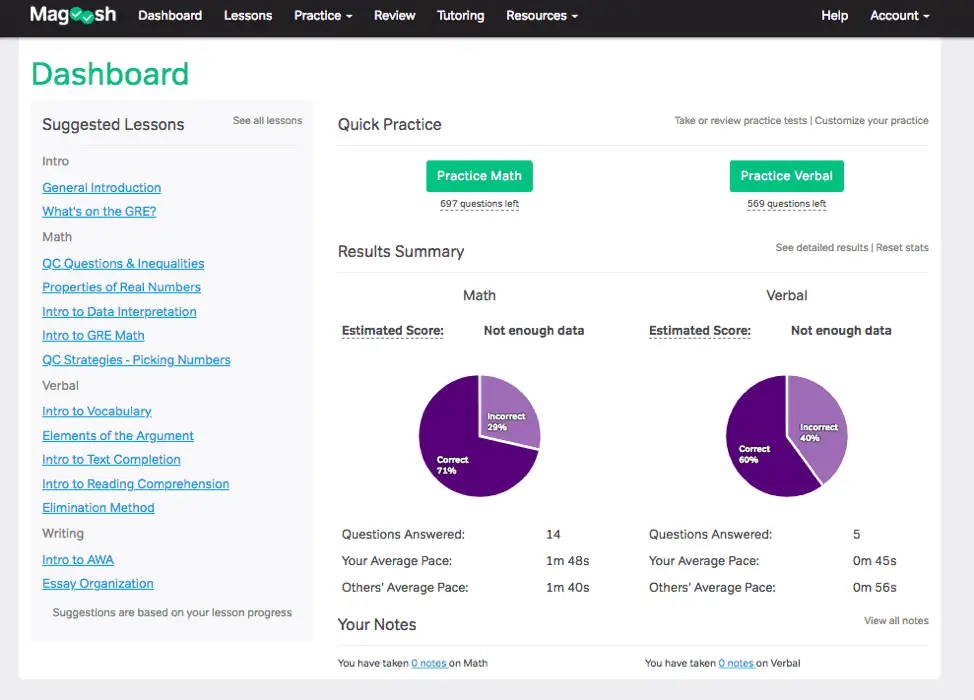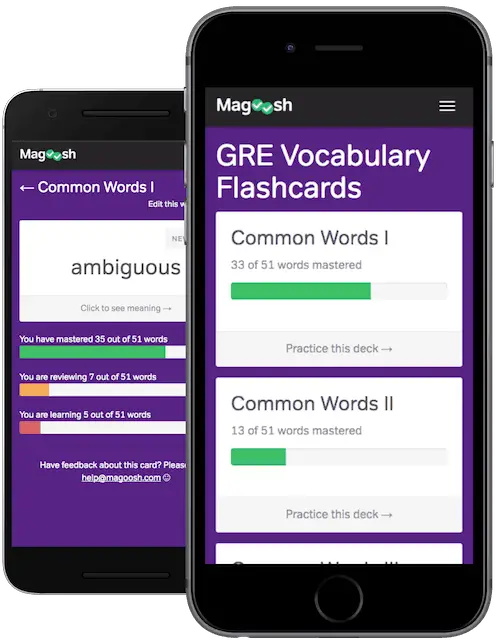 Who is Magoosh's GRE Course For?
This course is perfect for students who don't mind studying alone. It gives you a lot of flexibility that enables you to study in your own time. That's great for people who have many other responsibilities and don't have time to attend in-person classes (pick live online classes instead!)
It's also great for non-native English speakers who don't have detailed courses available in their country. Magoosh offers excellent materials when it comes to the variable section of the exam and it's a favorite among students from India, Pakistan, and other Asian countries.
It's also a good idea to take the course if you've been out of school for a few months or years. Many students decide to go to graduate school only 3 or 4 years after finishing college. With Magoosh, you'll be able to refresh your mind and quickly get up to speed with the most important verbal and quant concepts.
Magoosh is also good for a modern student who's constantly on the go. If you're traveling a lot, then this is going to be a good solution for you because Magoosh's mobile app is only rivaled by the one from The Economist GRE Tutor (which is much more expensive).
You can use the app to study or watch video content on your mobile or tablet, which makes the course more fun.
What Students are Saying?
Finally, here are a couple of comments from students who took the GRE course:
Magoosh is awesome for those that are busy like me. I was able to either pull up the app or go on the site and study at my own pace on my own time. Their practice questions and the lessons are very informative. I am sure if I would have had more time Magoosh would have helped me get an even higher score than I did. – Dayana Alvarez
Let me also get on the "thank-you" bandwagon. Magoosh GRE helped me a lot in improving my verbal skills. Last time I took GRE in 2013, I felt intimidated by the problems. This time around, with the help of Magoosh I managed to conquer my fear of reading comprehension. – LC
Enrolling to GRE Magoosh is one of the best investments one can make to prepare for the GRE. First, it is not expensive compared to the other review centers and since it is based on the internet, everyone can be a member of a group. – PJ Bernadas
Conclusion
There are many amazing GRE prep courses out there, and Magoosh is definitely one of them. It clearly shows that you don't have to pay hundreds of dollars to properly prepare for your exam. The course is also proven to be effective in improving your score by 5-10 points.
It gives you flexibility and enough materials to master the core concepts from the test. It also offers an amazing mobile app which you can use to study on the go. This and other advantages I mentioned make it a really cool and modern way to prep.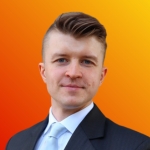 Rafal Reyzer
Hey there, welcome to my blog! I'm a full-time blogger, educator, digital marketer, freelance writer, editor and content manager with 10+ years of experience. I started RafalReyzer.com to provide you with great tools and strategies you can use to achieve freedom from 9 to 5 through online creativity. My site is a one-stop-shop for freelance writers, bloggers, publishers, content enthusiasts who want to be independent, earn more money and create beautiful things. Feel free to learn more about me here.