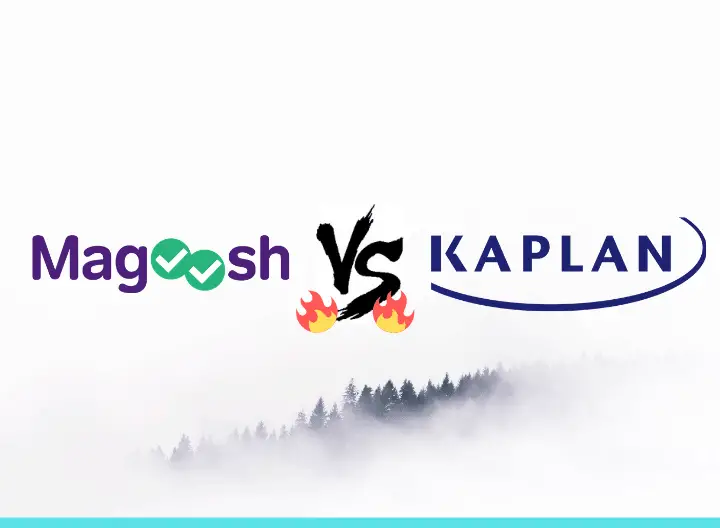 Magoosh and Kaplan offer prep courses for standardized tests such as SAT, ACT, MCAT, LSAT, GRE, and GMAT.
But since you're here, you must be wondering – Magoosh vs. Kaplan: which company is better? It's difficult to give an outright answer, as it all depends on your needs and learning preferences, as well as the test you're prepping for. In this review, we'll inspect the specific courses provided by both companies and see which one will better suit your needs.
Here's a quick summary of the top courses in each category:
Note: In this review, I'll compare mostly self-prep courses. Magoosh is a self-prep-only company, while Kaplan also offers live online options. But let's compare apples to apples to be fair. If you need a comparison between the live online and in-person options, check my article on Kaplan Vs. Princeton Review.

Magoosh Vs. Kaplan – A General Overview
Magoosh is a young company founded in 2009 by four entrepreneurs in Berkeley, California. Their mission is to provide great, high-quality test prep courses at an affordable price. They currently offer course options for the GRE, GMAT, TOEFL, SAT, ACT, LSAT, MCAT, IELTS, and Praxis. From the beginning, their goal was to make test prep affordable, yet enjoyable and effective at the same time. At this point, they offer self-prep courses priced at around $279 – $299 depending on the option you select. Their main strength lies in offering lots of value for the money and providing students with an amazing mobile app they can use to study on the go.
Moreover, they offer competitive score-improvement guarantees (for example, 5+ points more on the GRE or your money back), as well as email assistance and well-designed video lessons.
The image below is a screenshot of Magoosh's rating on G2 Crowd: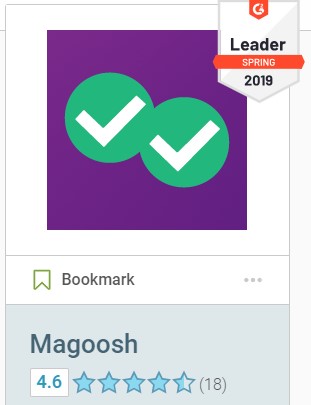 The company consistently receives high reviews from students who learned to trust it, especially for the GRE, GMAT, SAT, and ACT. It receives great ratings on websites like Consumer Affairs (4,5 out of 5) and G2 Crowd (4,6 out of 5). Kaplan, on the other hand, is the oldest test prep company in the world. It was founded in 1938 and now it serves students from all around the world. Contrary to Magoosh, it offers a broad range of prep courses for any standardized test imaginable. It also has a larger infrastructure consisting of hundreds of educational centers in the world.
They offer much more than just self-prep courses. Kaplan's major strength lies in its ability to set up an online classroom where 6-10 students gather around and share the same learning experience. These types of courses are understandably more expensive and cost between $1,000 and $3,000. But they are great for students who prefer working with a teacher.

The company receives mostly positive reviews from students and it boasts a 5/5 rating on Trustpilot. However, their score on Consumer Affairs is pretty low (1,8 out of 5). The main source of complaints is uneven customer service and the cancellation of some of the in-person classes. But overall Kaplan has a high standing in the student community. In this review, I'll take a look at the features and benefits of both options when it comes to self-prep courses. Let's compare apples to apples. Magoosh has a cool YouTube channel for the GRE, SAT, ACT, and TOEFL, but Kaplan doesn't:

Magoosh Vs. Kaplan for MCAT
Overall score:
Magoosh – 8/10
Kaplan – 7/10
The MCAT is one of the most difficult exams you'll ever take. This 7-hour and 30-minute-long beast will test your knowledge and skills in chemistry, critical analysis and reasoning, biology, psychology, and many other things. It also costs $315 per try so better be prepared! Let's take a look at how both companies are doing in terms of MCAT courses. Magoosh only offers a self-paced option so, in this overview, I'll compare it with the self-paced option by Kaplan to be completely fair. Kaplan also offers a range of different MCAT prep methods (including live online and in-person courses), but let's save it for another review. The first thing that will strike you here is the huge price difference. The self-paced course from Kaplan costs over $1500 for 5 months of access, and the one from Magoosh only $299 for 12 months of access. So before deciding on one or the other please take, your budget into consideration. In terms of value for money, Magoosh is a clear winner here. For a super low price, they offer over 745 practice questions, three full-length practice tests, as well as 380 video lessons. That's quite a lot, especially taking into account that Magoosh's mobile app is much better and you can use it to crunch study materials. Related content: Top MCAT Prep Courses To Take But Kaplan is better in terms of the total amount of materials provided. They'll give you 15 full-length practice tests, as well as 7 huge, highly-rated MCAT books. You would also get access to a vast database of instructional videos and thousands of practice questions. But one thing strikes me as very important here, and it's the guarantee. Magoosh promises a 10+ point improvement on your MCAT (or your money back). And you can also try out their platform for free for 7 days. Yet, Kaplan, with its much pricier course only has a standard score improvement guarantee. This means that if you improve your previous score only by a single point, you can't ask for your money back. This is not nice because it looks like Kaplan doesn't have enough confidence in their course to offer a better guarantee. If I were you, I would spend a bit more and go with a course like Princeton Review MCAT 510+ where you're guaranteed to get 510 points or more. Otherwise, if you prefer a budget-friendly option I would go with Magoosh and then invest in a bundle of prep books you can get for around $200 on Amazon.

Magoosh Vs. Kaplan for ACT / SAT
Overall score:
Magoosh – 9/10
Kaplan – 8/10
Passing the SAT or ACT is one of the most important steps that will lead to getting admitted into the college of your dreams. That's why it's super important that you get enough prep to pass the test with flying colors. Here the competition between the two companies is tight. First, there is not a huge difference when it comes to pricing. You'll be able to get the regular Kaplan self-paced course for around $149. And the one from Magoosh (that gives you 6 more months of access) costs only around $299 (if you apply the promo code). The main reason why I think Magoosh comes out on top here is that it offers a powerful performance-based guarantee. To be precise, you are guaranteed to improve your SAT score by at least 100 points, and your SAT score by 4 points. In comparison, Kaplan doesn't want to put the money on the line and offers just the standard money-back guarantee. Moreover, with Magoosh you have 6 more months of access. This is crucial when it comes to SAT / ACT prep because many students need to retake these tests one or two times to get the desired score. 12 months should be enough for a few tries, but six months may be too short and you'd need to buy the course again. Of course, Kaplan has some advantages here as well. They offer more practice tests and throw in good prep books as a part of the deal. But I don't think it's worth the additional $150. That's because you can get an ACT or SAT prep book on Amazon for $20 (from Kaplan, Manhattan Prep, or Princeton Review). These inexpensive materials will give you access to an extra 2-4 practice online practice tests and more questions. But the thing that makes the Magoosh course more attractive is the mobile app. It allows you to access all of your course materials. That's perfect for high school students who are constantly using their phones. Now instead of hanging out on Instagram, you can do a couple of practice questions on the Magoosh app. Unfortunately, Kaplan doesn't offer this type of capability as their app is quite clunky and prone to crashing unexpectedly.
Related content:

Magoosh Vs. Kaplan for LSAT
Overall score:
Magoosh – 7/10
Kaplan – 9/10
LSAT is a serious test that requires at least 3 months of solid preparation, especially if you are hoping to get admitted into one of the top law schools in the country. That's why, in this case, it's better to invest in are more expensive, yet more thorough prep course. That's why in this comparison, Kaplan comes out on top as a course that will give you a more structured approach to your prep. They also offer a ton of extra features that are indispensable for you to get into the score range you desire. The Kaplan course is more expensive, starting at $799 for 4 months of access. Magoosh, as has always been cheaper ($229) but it doesn't match the features provided by the competitor. The first thing you should look at when prepping for the LSAT is the number of full-length practice tests you will get. Completing these tests and carefully analyzing the results is the number one thing that will ultimately lead to a higher score. In this case, Kaplan offers every LSAT question ever released which should give you tons of opportunities for practice. Conversely, with Magoosh you'll only get 1100 practice questions which is not enough in my opinion. Moreover, Kaplan has some great video training materials that will give you a thorough understanding of the core knowledge areas required for the LSAT. This includes 30 hours of on-demand lessons as well as over 150 hours of other video materials. As an extra, you'll get two of Kaplan's highly-rated prep books containing advanced strategies for passing the test. The only drawback here is that you will get access for only 4 months, and with Magoosh, you'll get 12. But as I said, LSAT prep shouldn't be taken lightly and besides a self-prep course, you'll still need to use other materials to reach your target score.

Magoosh Vs. Kaplan for GRE
Overall score:
Magoosh – 10/10
Kaplan – 9/10
GRE is the exam you'll need to pass if you want to apply to a graduate school or an MBA program. And here, Magoosh is a clear winner, as they specialize in GRE prep. First and foremost, Magoosh's program is much cheaper and will cost you around $179 for six months of access. This is way cheaper than paying $699 for six months of access to Kaplan's self-paced course. Cheaper doesn't necessarily mean better, but there are many reports from students who took Magoosh's GRE course and increased their scores by 10 to 20 points per section. I suggest you take a look at their website, and different forums to find out for yourself. Moreover, Magoosh promises a 5-point score increase guarantee. But Kaplan, with their expensive course, only offers a +1 point guarantee. This shows that they do not have full confidence in the effectiveness of their course. Another advantage of Magoosh is that it has an awesome mobile app that will allow you to grasp the most important math and verbal concepts tested on the GRE. It's packed with vocabulary flashcards, over 1200 practice questions, and more than 250 video lessons. That's more than enough to get your score to the next level. Other than that, you will also get study schedules that will allow you to better plan your learning sessions, depending on the date of your exam. Also, you'll be able to use the score predictor technology, which will foretell your final GRE score based on your current efforts, and the efforts of thousands of other students who are completing the course at the same time. This is amazing because it will give you more confidence in your abilities. When studying for the GRE it's also important to be able to get in touch with an instructor if necessary. Sometimes you can get stuck with a difficult quantitative question and you need a bit of help with the explanation. With Magoosh, you can blast an email to one of their instructors and get a proper response within one or two business days. Unfortunately, you won't get this kind of support from Kaplan. But one thing that's working for Kaplan here is the "official test day experience", included with the self-prep package. It means that you will be able to attend a proctored GRE in one of Kaplan's educational centers. This is a cool experience because it will show you what the "real thing" looks like, and you'll decrease your level of anxiety before the actual test day. Another thing that's good about Kaplan is that they'll provide you with two prep books for the GRE. But I still think that their course it's not worth the price and you can always get great GRE prep books online for $20 to $40.
Magoosh Vs. Kaplan for GMAT
Overall score:
Magoosh – 7/10
Kaplan – 9/10
A great GMAT score is the main ingredient of your business school application. Competition for spots in top B-schools is fierce, so your prep shouldn't be taken lightly. That's why in this case I think it would be better to go with Kaplan's self-paced course. Yes, it's more expensive as it costs $799 vs. $249 from Magoosh. But in exchange for your money, you will get a lot of benefits of access to some great study materials. First, Kaplan offers over 5000 practice questions as well as 9 full-length practice tests. Now compare it to only 1300 practice questions and two practice tests from Magoosh. What's more, is that Kaplan will allow you to take one proctored GMAT in one of their testing facilities. It's called the "official test day experience" and it's great to go through it if you want to find out what the real test looks like. Also, Kaplan will give you two prep books, and an MBA admissions guide. All these materials make for a comprehensive test prep package. But the course from Magoosh shouldn't be disregarded if you're looking for a budget test prep option. It will give you six more months of access, email assistance, a guarantee of at least 50 points more on your next GMAT, as well as a score predictor that will help you assess your readiness for the test. But overall Kaplan is still the winner in this comparison.
Magoosh Vs. Kaplan – Prep Books
A company like Kaplan which started in 1938, and makes over 1.5 billion dollars in revenue every year has long-standing access to the publishing world. Conversely, Magoosh, a young company founded by tech geeks is low on books but high on online training materials. Kaplan offers titles for every course imaginable, including MCAT, USMLE, Nursing School Entrance Exams, NCLEX-RN, GED, GRE, GMAT, LSAT, ACT, SAT, AP, and many more. Their books are usually high-quality and they often offer whole bundles of books you can use to prepare yourself for a specific exam. The books are usually around 400 pages long and cost more or less $20 a pop. You may also want to buy a bundle that will cost you from $50 to even $200, depending on the test you're prepping for. Kaplan's books are great because they give you a review of the core concepts required for the test, as well as access to premium online materials such as full-length practice tests. That's why, even if you decide to ultimately go with Magoosh, you should still consider buying one or two prep books from Kaplan, as they'll give you a more thorough prep. This is especially important for students who like to work with printed materials.
As of today, Magoosh only offers three books:
All these books get great reviews from students (average 4,7/5), so they're worth investing in, along with the regular online courses. They contain hundreds of extra practice questions, detailed study schedules, as well as full-length practice tests. If, however, Magoosh doesn't offer the book for the test you want to pass, I suggest grabbing one from Kaplan or Princeton Review.
Magoosh Vs. Kaplan – Mobile Learning App
Nowadays, mobile learning is becoming more and more important. Students don't want to commute to class anymore, and they prefer to save time by using their mobile devices to complete practice questions and watch video lessons. A learning app is perfect if you just have a few minutes to spare, but don't want to miss any chance to improve your score. Both Magoosh and Kaplan offer mobile apps available on Android (Google Play), and iOS (iTunes). And here, Magoosh is a major winner.
Why that's the case? Here are the main reasons:
Ratings Roundup: Magoosh boasts an impressive average of 4.5 on both Android and iOS platforms. On the flip side, Kaplan struggles with a 2.8 on Android and a startling 1.5 on iOS.
Mobile Mastery: Being a "mobile-first" outfit, Magoosh naturally puts prime emphasis on crafting a top-notch app experience.
Kaplan's Kinks: Users lament that Kaplan's app has a penchant for crashing, with mobile developer assistance seemingly elusive.
Access Angst: Tapping into learning materials on the Kaplan app can be a maze. Glitches galore, from scrolling snags to section standstills.
Magoosh Magic: Seamless, intuitive, and rich—Magoosh grants users unhindered access to a plethora of practice questions, insider tips, strategies, and comprehensive video materials.
Flashcard Flair: Magoosh has aced the flashcard game with their app feature. It's a winner for diving into GRE vocabulary or unraveling complex MCAT concepts.
Final Verdict: If mobile learning is your jam, Magoosh's app is a clear front-runner compared to Kaplan. Your device deserves the best!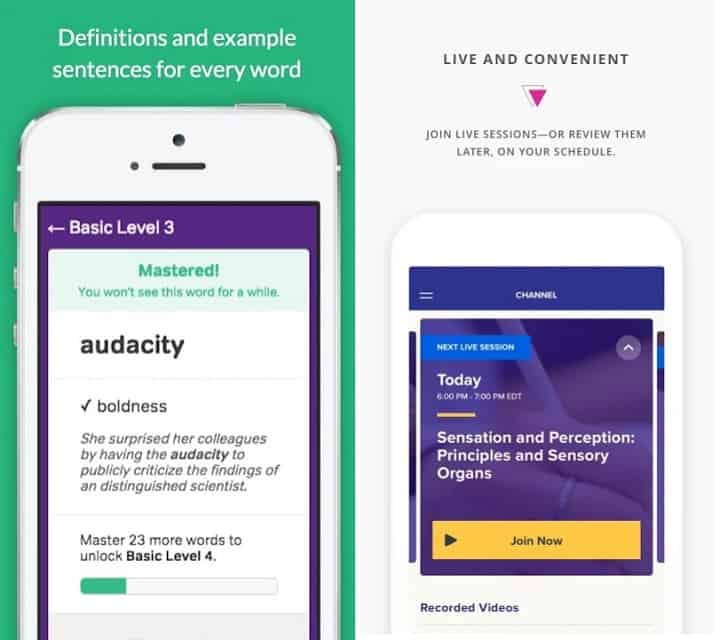 Conclusion
The competition between Kaplan and Magoosh is fierce. One company is an established player in the market, with years of experience in the test prep industry. The other one is a newcomer, which nevertheless helps students around the world to get a high-quality education at a lower cost. Each option has its pros and cons, and you have to think about your situation when choosing the right course for you. I hope that this overview will enable you to make the right choice and score high on your next exam. Next up, you may want to explore a guide on how to get a remote writing job.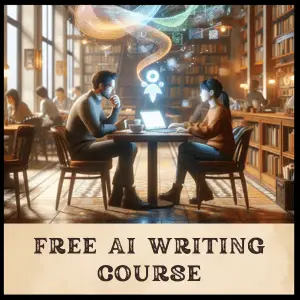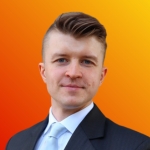 Rafal Reyzer
Hey there, welcome to my blog! I'm a full-time blogger, educator, digital marketer, freelance writer, editor, and content manager with 10+ years of experience. I started RafalReyzer.com to provide you with great tools and strategies you can use to become a proficient writer and achieve freedom through online creativity. My site is a one-stop shop for freelance writers, bloggers, publishers, and content enthusiasts who want to be independent, earn more money, and create beautiful things. Dive into my journey here, and don't miss out on my free 60-minute AI writing online course.