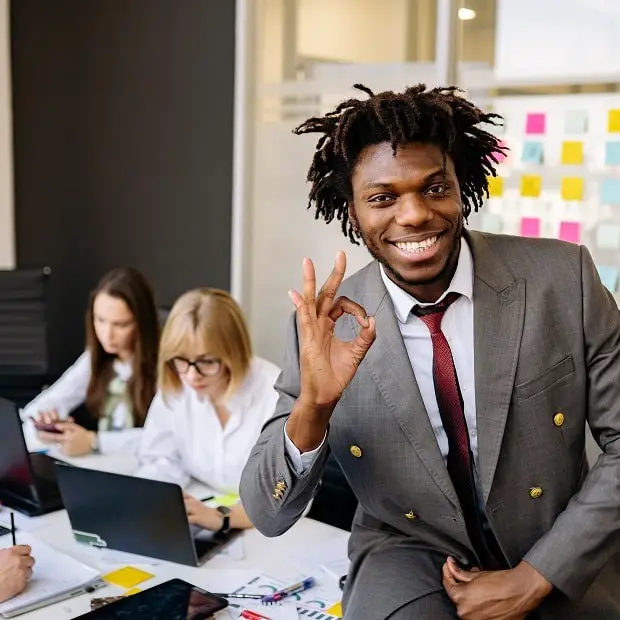 Employee productivity is one of the most important aspects of any business.
While you could say that a business' success depends on the skills and experience of its employees, it also hinges on their ability to remain productive throughout their shifts.
Not only does productivity ensure your profits don't deplete faster than you can say "cash flow". It also gives the workplace some much-needed structure and promotes the creativity and discipline of your employees.
Maximizing productivity is especially important in big offices where there are thousands of employees and clients. It's also vital in small offices where businesses can't afford to have their employees be inefficient or unproductive.
Employee productivity leads to profits, and businesses strive for profits. Not just because they want to grow bigger, but simply because they need the money to keep their doors open.
So, how to go about maximizing employee productivity?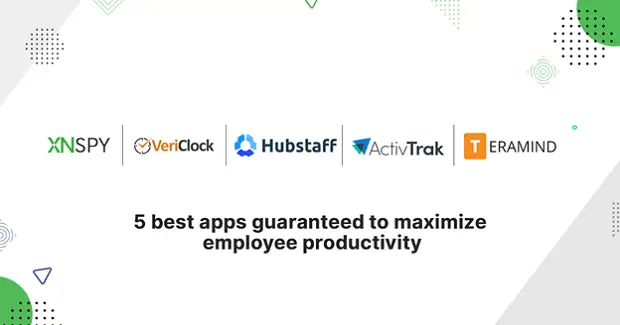 The Need For Monitoring In The Workplace
Many businesses are now using remote monitoring apps to keep a finger on their employees' productivity levels.
These apps are a dime a dozen, but only a few are worthy of purchase and practical in the work environment.
Workforce productivity monitoring software that's accurate and consistent is indeed the preferred choice. These applications allow users to assess the performance of their staff and assist managers in removing underperforming personnel.
Not only that, but these apps also address another major concern: how to protect company data from employees? It is why many businesses use such applications to keep tabs on their staff in the workplace. These employee monitoring apps are receiving lots of praise for their effectiveness and performance.
So let's take a look at the top five monitoring apps available in the market right now.
Here Are The Best Employee Monitoring Apps Right Now
1. XNSPY
XNSPY is a real-time employee monitoring app that helps companies and businesses secure their data against exploitation and maltreatment by third parties or employees. It enables a business to monitor its employees' smartphones.
Xnspy is a software to monitor employees and provides a variety of remote monitoring options at a competitive price. Companies can ensure their monitoring needs don't get compromised as the app works in stealth mode.
The email monitoring and geo-tracking features of XNSPY safeguard intellectual property from being sold online or in person. Employers can use the app's email monitoring feature to keep a tight check on their employees' emails. It prevents data leaks and employees from spending too much time checking emails.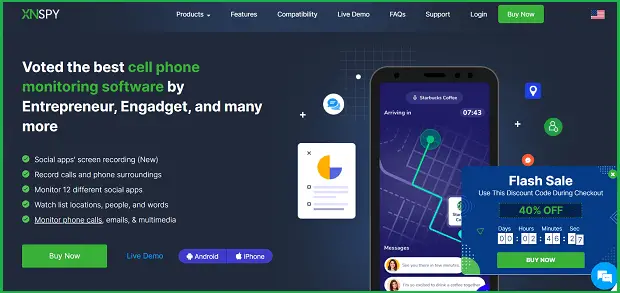 Anyone wanting to learn how to protect company data from employees can check this link.
The basic version of the app costs $4.99 per month, whereas the premium version costs $7.49 if you opt for the yearly bundles of either.
XNSPY ensures the app has the most up-to-date monitoring algorithms, making the monitoring process quicker and smoother with each update. The app offers dependable customer help, giving it an advantage over the other workforce productivity monitoring software featured on the list.
The customer service offered valuable tips to monitor the target device and answered all my queries.
2. VeriClock
VeriClock is a cloud-based employee time tracking system designed for companies of all sizes with mobile or stationary workforces.
Employees may clock in and out using their own mobile devices and the web, telephone, text message, and the app.
The program enables business owners and managers to see real-time employee hours. Employee reports get generated by the reporting function, which gets imported into other accounting systems like QuickBooks.
VeriClock also includes GPS position monitoring on all the system's devices, allowing managers to follow employees' whereabouts using a simple map display within the management interface.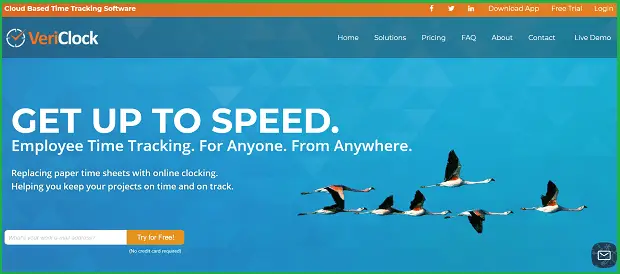 The app offers additional features like the cloud-based, time-tracking suite. VeriClock saves all employee time logs onto the cloud instead of a hard disk on a computer. It means managers with the correct credentials can access the reports from their place of convenience. All the data is accessible from the cloud.
It allows for easy sign-up, logging, adding employees to tasks, monitoring their time, and generating reports for their time spent on each task.
Managers will boost employee productivity by using its time monitoring function since they will know their activity gets watched. Employees are less distracted and focus more when management monitors their time, which boosts profits (if you don't overdo it, of course).
3. Hubstaff
Hubstaff provides a clean, lightweight app interface for desktops, smartphones, and the Google Chrome browser.
Hubstaff works particularly well for remote teams and workers operating in remote fields. Its geolocation tracking is one of the best monitoring features and helps track remote workers in real-time.
So, managers get notified when team members enter or exit a set location. It gets achieved using a geofencing feature.
Hubstaff is a reliable app that lets you track the activity of employees via its keylogger, activity screenshots, and URL- and app-monitoring features.
The desktop program measures time and takes screenshots at random or specific intervals. Such as three screenshots per minute.
It happens once the users are added, and the timer app gets downloaded onto their computer. It can capture not only the user's primary screen but also any other displays connected to it.
Hubstaff does not log keys, but it tracks mouse and keyboard activity. It allows businesses to calculate employee engagement while they are on their computers. All of this information ends up on the Hubstaff dashboard's Activity tab.
Hubstaff is a reliable option for small to medium businesses (SMB) that want to scale up in the future. It is possible due to extensive customization options and a flexible slew of features offered by the app.
Hubstaff's geofencing and geo-tracking features make it dependable for remote teams and field operations as well.
4. ActivTrak
ActivTrak's focus remains on simplifying the intricacies of employee monitoring. The app looks to refine monitoring by increasing the productivity of employees, groups, and by tracking the projects worked.
ActivTrak focuses much more on the productivity side of things rather than focusing entirely on employee monitoring.
It does, however, provide a complete set of tools to boost staff productivity and efficiency. The SAAS application uses Google Cloud services to set goals, provide users with analytical feedback to help them decrease distractions, and discover top performers' work patterns.
Users may use this app to track employee performance in a remote work setting. It gets accomplished by reviewing historical data, assessing work trends, and focusing on areas of productivity.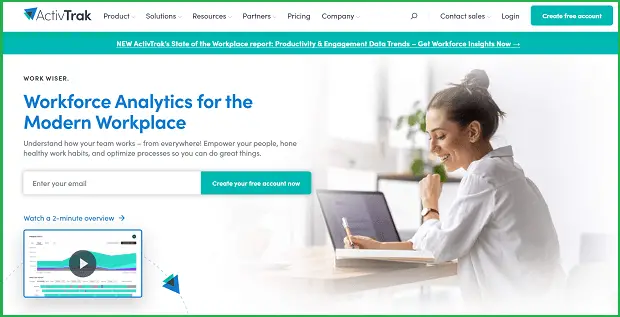 It enables more focused work and prevents burnout risks. Inefficient workflows get identified and resolved comprehensively using ActivTrak.
Employees do not get overburdened because of these approaches. Because their behavior gets assessed for their advantage, employees get driven to perform their best. As a result, ActivTrak is an excellent productivity tool that's worth checking out.
ActivTrak shows all employee productivity tools, data, and functions, and displays it neatly as a single web page. During our testing, the data didn't seem to slow down performance.
The software prioritizes time tracking, displaying aggregate productive and unproductive time spent in applications and websites. It contains the option to filter the findings to display individual people or groups.
You can see a selection of recent employee screenshots further down the page, along with a filterable productivity bar chart and user chart that breaks down productive, unproductive, and idle time.
It makes ActivTrak a reliable option for small to medium businesses looking to grow their operations by minimizing unproductive work time.
5. Teramind
Managers can keep track of their employees' activity with Teramind's robust feature set. Most rivals only supply snapshots but, Teramind's live session video and the related video recording capabilities are a huge plus.
While some may argue that gathering live streams and video recordings from employees' PCs is overly invasive, the technology has a wide range of uses.
Remote teaching simulations, which are expected to become more common in the current pandemic, and remote troubleshooting situations, in which personnel can gain control of a host system, are two such scenarios.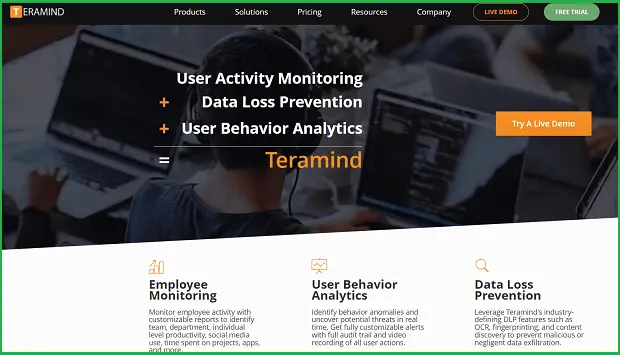 Because Teramind supports a variety of call center clients, it also features audio monitoring, which allows any audio coming in or out of a computer to be monitored.
Many of Teramind's tracking technologies may be used, like a computer's digital video recorder (DVR), allowing administrators to rewind and fast-forward to find infractions.
Teramind's PC software for monitoring workforce productivity includes insider threat detection, third-party vendor monitoring, data loss prevention, risk management, legal, and compliance features.
It offers a simple user interface and dashboard, as well as the ability to observe and record live sessions. However, for newer users, the monitoring functions might be confusing. On busy days, customer assistance might be slow too.
Wrap Up
Just like with writer tracker apps, employee tracking apps are all about measuring and improving performance.
Of course, the whole concept needs to be introduced to the workforce first, so that the whole team is on the same page. But if used well, these apps present a perfect opportunity to boost employee engagement and build a highly productive team.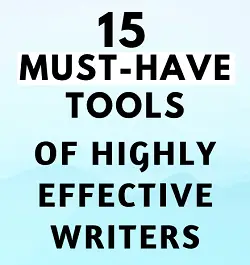 Free resource: Download your free PDF and learn about the top tools used by freelance writers.
Download here
Rafal Reyzer
Hey there, welcome to my blog! I'm a full-time blogger, educator, digital marketer, freelance writer, editor and content manager with 10+ years of experience. I started RafalReyzer.com to provide you with great tools and strategies you can use to achieve freedom from 9 to 5 through online creativity. My site is a one-stop-shop for freelance writers, bloggers, publishers, content enthusiasts who want to be independent, earn more money and create beautiful things. Feel free to
learn more about me here.