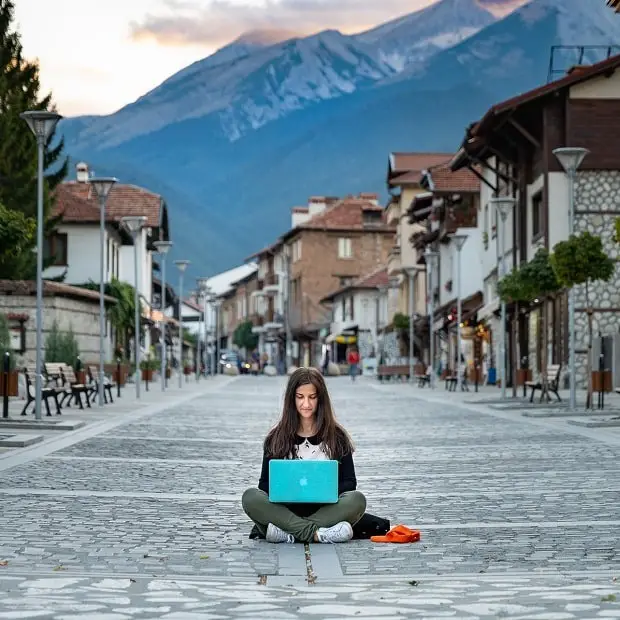 You may be familiar with the phrase "digital nomad". If you're not, it refers to an increasing trend where workers travel to far-flung locations (often hopping from place to place) while continuing to perform their jobs remotely.
Facilitated by rapid advancements in technology and increasingly embraced by innovative businesses, its popularity has sped up in recent years. It is further amplified in the wake of the global pandemic, as more and more employees reevaluate the delicate balance between life and work.
For a digital nomad, all the world's an office. Which makes you think, which are the best cities for digital nomads to work in?
When the only barrier to making a new country or city your workplace is a weak internet connection, why not embrace the freedom to experience new cultures while earning a living? As The Broke Backpacker notes, over 35 million digital nomads already are.
But of course, there are several other factors a digital nomad needs to consider before settling on their next overseas destination, including but not limited to:
Cost of living: Is it financially viable to live and work there?
Accommodation: Are there suitable places to stay?
Local amenities: Are there essential amenities nearby, like medical centers and supermarkets?
Cultural landmarks: Are there exciting sightseeing opportunities?
Community: Are there opportunities to network with locals or other travelers?
So, why become a digital nomad?
In an age where work/life balance is increasingly determined by flexibility, it doesn't get much more flexible than digital nomadism.
With remote and hybrid working approaches facilitating a 'work-from-anywhere' mentality, the lifestyle of a digital nomad is attractive, particularly for young professionals and those with no ties or dependents.
It affords them complete freedom, total independence, and often a better quality of life, escaping dreary winters and the drag of the domestic working week.
As for employers, embracing a recruitment model where location has no bearing means access to a global talent pool. That's highly beneficial for international businesses, where knowledge of overseas markets is vital.
Of course, recruiting an employee from another country isn't as simple as hiring locally. To reap the benefits, you can use an employer of record service (from the aptly named Remote, for instance) to make onboarding international talent as pain-free and as cost-effective as possible.
If you're thinking about adopting this globetrotting approach to working life, there is literally a world of possibilities. But of course, some destinations offer a better overall experience than others. With that in mind, which are the best cities for a digital nomad to live and work in?
The 10 Best Cities for Digital Nomads:
1. Chiang Mai, Thailand
Well-known for its low cost of living, Thailand is a favored destination of many travelers, holidaymakers, and, increasingly, digital nomads.
The beautiful and diverse city of Chiang Mai is fast becoming the stuff of legend in the digital nomad community. It's easy to see why, with thick, lush jungles to explore, imposing ancient temples to marvel at, and vibrant night markets to explore.
Combine those allures with ample coworking spaces, and Chiang Mia becomes the definitive stop-off for countless digital nomads.
As with the rest of Thailand, the cost of living is pleasingly low (around $950 a month), with reasonable internet speeds of around 25 Mbps (anything below that may occasionally prove prohibitive). Oh, and we cannot afford not to mention the mouthwatering Thai food!
Read here if you would like to explore different options for nomads visiting this amazing city, including yoga classes, cafes, healthy food stores etc.
2. Lisbon, Portugal
Probably the most in-demand European destination for digital nomads, Lisbon boasts a rich cultural heritage and fascinating history.
With an exquisite culinary scene, hilly surroundings, and some of the best surfing spots in Europe, it's no wonder it's an attractive temporary habitat for digital nomads.
Lisbon has a vast ex-pat and digital nomad community, too. With extensive co-working spaces and plentiful networking opportunities (with a service like Meetup), you can easily connect with other digital nomads in the city.
Europe tends to be pricier than Asia or South America, for example, but Lisbon is more affordable to live in than other popular European cities like Paris or Barcelona (the cost of living is around $2,000 a month).
Internet speeds are around the 25 Mbps mark — not on the speedier side, but perfectly up to the job.
3. Canggu, Bali
Long considered an idyllic holiday destination and an essential stop-off for backpackers, Bali (specifically the city of Canggu) is establishing itself as an ideal homestead for digital nomads.
With a relaxed beach-town vibe and boasting some of the best waves in the southern hemisphere, it's popular with digital nomads who like to hit the surfboard in their spare time.
It's packed with coworking spaces, events, and workshops, too. So, it offers everything a digital nomad needs to get by.
If there's a downside, the transport system can be restrictive, since the city's infrastructure can't keep up with the sharp increase in population. The cost of living, however, is very affordable at around $1,350 per month.
As with Chiang Mai and Lisbon, the average internet speed is an acceptable 25 Mbps.
4. Barcelona, Spain
If you're a connoisseur of art and culture, but you're also prone to a day lying about on the beach, then Barcelona offers the perfect mix.
With an array of colorful and imposing architecture, including Gaudí's breathtaking Sagrada Familia (pictured above), narrow city streets filled with cozy eating (and drinking) spots, and a vibrant waterfront marina, Barcelona is never short of stunning sights and a thriving social scene for travelers and digital nomads.
What's more, it boasts almost year-round sunshine.
The cost of living is on the steep side (around $3,000 a month) so it might be better suited to the more generously paid digital nomad. But you can find budget options too if you steer clear of tourist hotspots.
Internet speeds are more than adequate at 35 Mbps, but often, you can find much faster connections.
This Mediterranean city is amazing to live and work in, but it's also not entirely safe, so if you decide to move there, make sure you take good care of your belongings.
5. Ho Chi Minh City, Vietnam
On a par with Thailand in affordability, Vietnam is another great option for first-time digital nomads who don't want to spend the earth.
Ho Chi Minh City (which the locals still refer to as Saigon) is the country's financial center, giving it a distinctly modern feel that isn't necessarily sensed in keeping with the rest of the country. That said, it's a fast-paced and lively destination for digital nomads. It also boasts one of the best cuisines in Asia.
The cost of living will come in at around $950 a month on average, making Vietnam a perennial pick by voters as the cheapest country for foreigners to live in. While internet speeds aren't the most impressive at 20 Mbps, it's still a digital nomad's dream for many reasons.
6. Medellin, Colombia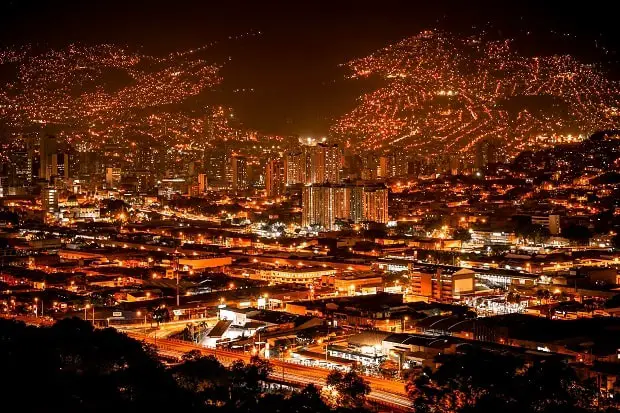 Once home to Pablo Escobar's infamous cartel, Medellin has thankfully shaken off its crime-afflicted past to become an emerging destination for digital nomads.
El Poblado is the go-to district, with ample coworking spaces, multiple cafes and restaurants, and bustling nightlife spots including lively salsa bars. Surrounded by lush greenery and with an eternal spring-like climate, digital nomads can also relax in more natural surroundings.
As the first South American city to install its metro system, getting around Medellin is a breeze. The cost of living is eminently affordable, averaging at around $1,000 a month.
Internet speeds are on the slower side, however (clocking in at 15 Mbps), so digital nomads with extensive workloads will need to factor that in.
7. Budapest, Hungary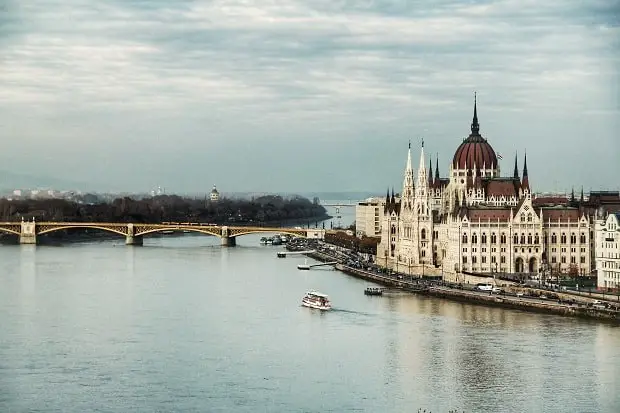 If you're looking for the European experience on a shoestring budget, Budapest might just be the place for you.
Famous for its thermal baths (ideal for unwinding after a long day in front of a laptop screen) and split in two by the imposing river Danube, Hungary's capital offers a mix of rich history and vibrant modern living.
The winters get freezing (so you might want to opt for a summer stay) but the city is replete with buzzing bars and bustling restaurants, from casual to fine dining (even a Michelin-starred meal won't break the bank).
It's very affordable at $1,450 a month on average, especially when compared with other European destinations. The internet speeds are impressively nimble (40 Mbps) considering the low cost of living.
8. Melbourne, Australia
Australia's second-largest city behind Sydney, Melbourne, ranked #1 in Nestpick's Work From Anywhere Index, a study of 75 cities for their digital nomad suitability.
It scored highly for its weather (naturally), accommodation, and remote working infrastructure. What sets it apart is a rich cultural scene that attracts foreigners and ex-pats from all corners of the globe, making it a vibrant melting pot.
With an impressive collection of street art and some of the best coffee in the world, it's packed with cafes and coworking possibilities.
Though some might balk at the cost compared with other cities worldwide (around $3,200 a month), it's manageable for a country like Australia, where the average cost of living is comparatively higher. You can't argue with the internet speeds though, as they can reach a breakneck speed of 50 Mbps.
9. Buenos Aires, Argentina
If your nomadic travels take you to South America, then Buenos Aires is the top destination for digital nomads.
With an eclectic mix of Latin American flair and European and North American influence, the city is steeped in culture and abundant with a vibrant nightlife.
A melting pot of various ethnicities, Buenos Aires, is also one of the most diverse cities in the Americas, making it a great place to meet people from a range of backgrounds. There are plenty of spaces to fire up your laptop and get to work, but it also abounds with lush parks to unwind in and lively bars to dance, or to be more specific, tango the night away!
The cost of living is typically cheap across South America. Buenos Aires should set you back no more than $1,000 a month, but the internet speeds here are a little below average (around 18 Mbps). That said, it's still a dazzling, vibrant destination for digital nomads.
10. Cape Town, South Africa
As a holiday destination and a digital nomad hotspot, Cape Town has it all.
It got vibrant city streets, a rich cultural history, lively nightlife spots, and beautiful sun-drenched beaches, all of which are overlooked by the looming, mystifying Table Mountain.
It's ideal for surfers, too — despite its reputation as a shark spotter's paradise! With plenty of well-placed Airbnb apartments and an abundance of cafes and coworking spots, it's a haven for digital nomads. it also helps that English is the most widely spoken language in South Africa.
Cost of living averages at about $1,800 a month, which is pricier than some, but not prohibitive. Internet speeds vary between 20 and 25 Mbps; not lightning-fast, but still reliable enough to make Cape Town perfectly conducive to the digital nomad experience.
Rafal Reyzer
Hey there, welcome to my blog! I'm a full-time blogger, educator, digital marketer, freelance writer, editor and content manager with 10+ years of experience. I started RafalReyzer.com to provide you with great tools and strategies you can use to achieve freedom from 9 to 5 through online creativity. My site is a one-stop-shop for freelance writers, bloggers, publishers, content enthusiasts who want to be independent, earn more money and create beautiful things. Feel free to
learn more about me here.