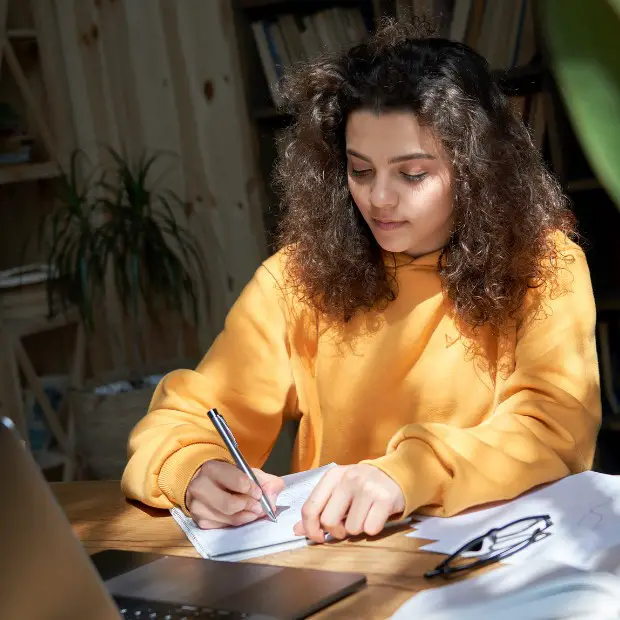 AI isn't just about image and voice recognition, or chatbots anymore; it's reshaping the way we write and communicate with others.
AI essay generators help turn the labor-intensive task of writing into a seamless process. You can use them to quickly create outlines, sharpen up your thesis, or infuse your writing with research. Many of these tools can now access the web so if you feed them with enough current information, they're going to do a good job of providing you with a sharp written piece. Just remember that you're still the main orchestrator of your writing project. You can't simply outsource everything to a machine and expect astonishing results. It's crucial that you put your thinking hat on, and use AI tools to assist you in creating an essay that's human and deeply insightful. With that being said, let's dive into the top AI essay-writing tools that can help you tackle that last-minute assignment.
Here's a list of the top free AI essay-writing tools:
1. Essay-Generator.ai – Free AI essay generator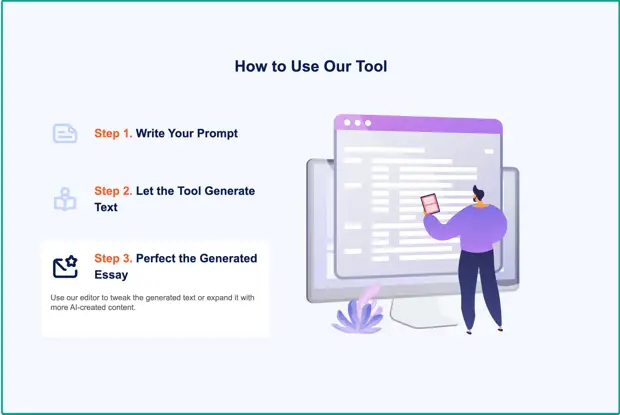 You can use this tool to generate ideas and develop original topics or thesis statements for an essay. Additionally, the platform also offers assistance with writing entire essays from scratch. Furthermore, essay-generator.ai – the best AI essay writer can improve existing computer language code or generate new code if you're into this kind of thing. The platform is on an upward trajectory, consistently enhancing its capabilities. They're even gearing up to introduce features like crafting presentations. It's worth keeping tabs on their progress, especially as they strive to be the top free AI essay generator out there. And here's something truly noteworthy: it offers all these services at no cost. In today's digital landscape, finding such a valuable tool that's free, especially for unique content creation, is indeed a rare gem.
Key Features:
Cutting-edge AI technology allows users to produce a variety of essays.
It has an option to generate code.
The tool assists you in generating fresh concepts for your academic writing tasks.
All of the material is authentic and does not contain any plagiarism (but, of course, you're encouraged to edit your written piece).
Pricing:
It's a free AI essay writer
2. Jasper AI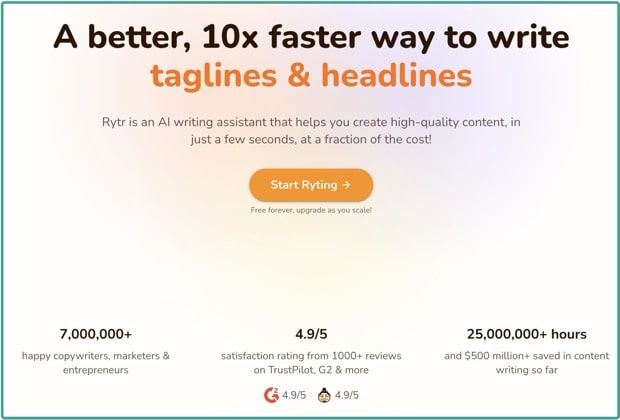 Ever thought about supercharging your writing without the long-term commitment of a subscription? Dive into Jasper AI's demo and get a taste of the future of content creation. Tailored for professionals across various fields, Jasper is more than just a tool—it's your writing partner, ensuring every piece you craft is top-notch. And if you're a Chrome enthusiast, their browser extension is a game-changer, making the entire writing process even more seamless. Got a burning question or just curious about a feature? Their customer support is just a click away, eager to guide you through the wonders of this AI-driven marvel.
Key Features:
A possibility to work together with your colleagues and observe immediate updates.
An AI-driven platform that accelerates content generation.
A chance to produce content in 26 different languages.
A tool for your internet browser that assists in improving your writing skills.
The AI has been instructed to generate remarkable material.
Pricing:
Beginning at $40 per month, you will have the ability to generate 35,000 words each month.
Boss Mode is a subscription plan that costs $82 per month and allows users to generate up to 100,000 words per month.
Business: It's a plan tailored to meet your specific needs.
3. Copy AI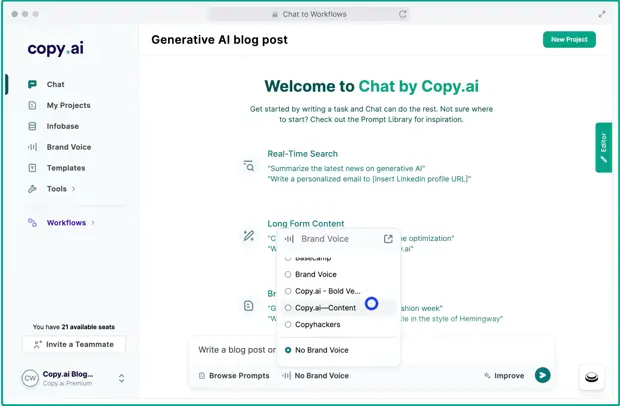 Ever felt the weight of a looming deadline or the blank stare of an empty page? Enter Copy.ai, your new writing companion. In mere seconds, it crafts high-quality content tailored to your needs, from blog posts and social media snippets to in-depth essays and sales pitches. But it's not just about speed; it's about precision. With features like 'Brand Voice,' your content will echo your unique brand identity consistently. And if you're aiming for a global audience, rejoice! Copy.ai supports multiple languages, ensuring your message resonates worldwide. Curious to see it in action? Sign up for a demo and experience the transformative power of AI-driven content creation. And if you ever find yourself in a bind or need guidance, their dedicated team is just a message away, ready to assist.
Key Features:
Simple order process.
AI can provide aid in generating various forms of content.
Fast results.
An AI editing tool is available to rephrase and enhance your written content.
Current and past customers have provided positive feedback.
Pricing:
Free: $0/month (2,000 words per month)
Pro: $36 per month (unlimited words monthly).
4. Rytr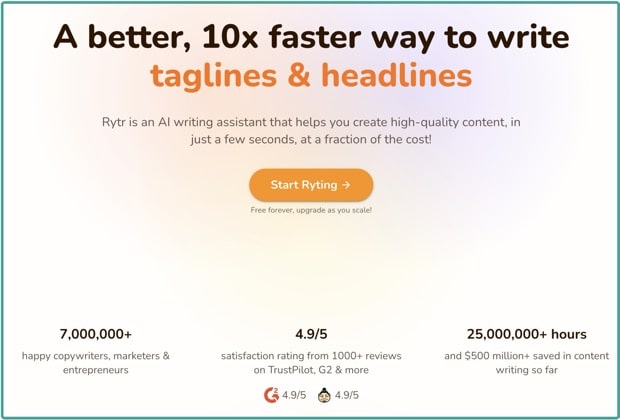 Unlock the power of AI with Rytr, your ultimate writing sidekick. Whether you're drafting an email, piecing together a blog, or weaving a narrative, Rytr ensures your content shines. Celebrated by over 7 million content creators, this platform boasts a remarkable 4.9/5 satisfaction rating, a testament to its prowess. Dive deep into its 40+ use cases, from SEO-optimized titles to engaging business pitches. And if you ever hit writer's block, Rytr's diverse templates and tones are there to reignite your creativity. Curious about what fellow writers are saying? The testimonials on Rytr's site are a treasure trove of insights. Plus, for those who cherish late-night writing sessions, the Dark Mode is a treat. Experience the future of writing with Rytr.
Key Features:
The tool assists in creating outstanding content.
It saves you a lot of time.
Using a browser extension simplifies the entire procedure even more.
It's a perfect all-in-one platform.
This AI platform is very affordable.
Pricing:
No-cost plan: $0/month (10,000 characters per month)
The monthly cost for the saver plan is $9, providing the user with a limit of 100,000 characters per month.
The unlimited plan costs $29 per month, and there is no limit to the number of characters you can use.
5. AI-Writer.com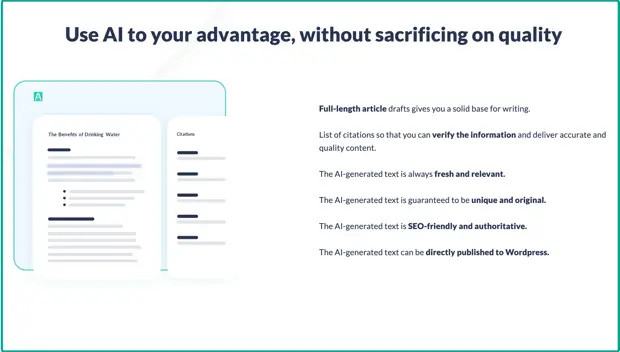 AI-Writer is a solid pick in the vast sea of AI-driven content creation tools, setting itself apart with an unwavering commitment to accuracy and relevance. Every piece of content it generates is backed by verifiable data, ensuring trustworthiness. What's more, it doesn't rest on its laurels; the platform continuously updates its sources to deliver fresh and current information. Designed with SEO enthusiasts in mind, AI-Writer meticulously crafts content that aligns with search engine priorities, but it's also pretty useful for students who need help with writing essays. It's not just about generating text; the platform also boasts an SEO-focused editor, making it an invaluable asset for both new content creation and refining existing pieces. In a nutshell, if you're seeking a blend of reliability, freshness, and SEO optimization, AI-Writer is the tool to have in your arsenal.
Key Features:
A possibility to create a unique article with only a headline.
A text rewording feature.
All AI-generated text is 100% unique.
By utilizing this tool, individuals can cut their time by up to 50%.
Pricing:
The entry-level package costs $29 per month and includes a maximum of 40 articles.
Standard plan: $59 (up to 150 articles).
The monthly fee for the power plan is $375, which includes the ability to create and publish up to 1,000 articles.
Final Thoughts
AI essay generators stand out as helpful tools for writers of all calibers. From the student seeking to craft the perfect essay to the professional writer aiming for impeccable content, and even those needing multilingual flair, there's an AI tool tailored for every need. We've delved into the top five, each with its unique strengths. For students, "Essay-Generator.ai" might be the go-to with its free offerings. Professionals might lean towards "Jasper AI" for its extensive features, while "Copy AI" shines for those needing content in multiple languages. But no matter the choice, the future of writing is undeniably intertwined with AI. Now, it's your turn to step into the future. Give one of these AI essay generators a whirl and experience the magic firsthand. Next up, you may want to explore a guide on the top digital publishing companies.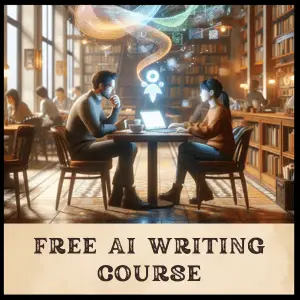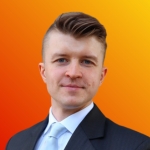 Rafal Reyzer
Hey there, welcome to my blog! I'm a full-time blogger, educator, digital marketer, freelance writer, editor, and content manager with 10+ years of experience. I started RafalReyzer.com to provide you with great tools and strategies you can use to become a proficient writer and achieve freedom through online creativity. My site is a one-stop shop for freelance writers, bloggers, publishers, and content enthusiasts who want to be independent, earn more money, and create beautiful things. Dive into my journey here, and don't miss out on my free 60-minute AI writing online course.