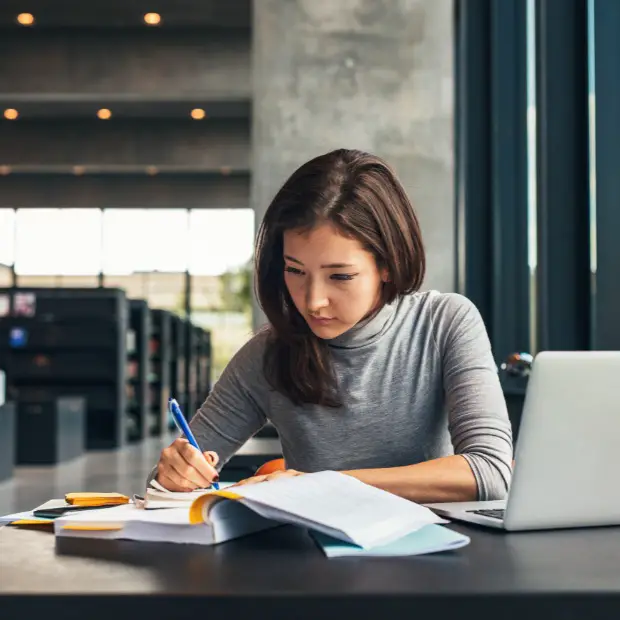 Writing essays, reviews, scientific articles, and other student papers is an integral part of any educational program.
Yet, some students find themselves grappling with time constraints and harboring uncertainties about achieving favorable outcomes. In such scenarios, availing an essay-writing service seems like a viable option.
But what if you are also held back by budget constraints? Then, you don't have any other recourse but to write the piece yourself. But don't fret. There are several online tools for improving college writing at your disposal.
In this article, we identified some of the most useful applications and online resources to help you become a better writer without sweating bullets. But let's explore essay-writing services in a jiffy first:
Are you considering availing of essay-writing services?
While finding such services is quick and easy in today's information highway, the pressing question arises: Do all providers on the market uphold integrity and legality? How does one navigate the labyrinth of potential pitfalls and avoid getting victimized by scammers?
So, if you're considering this route, do your due diligence by researching the company and taking the time to read consumers' reviews first before taking the plunge.
You can check write my essays review to gain insights into the credibility and reliability of this writing service provider.
How can you elevate your essay-writing game?
The path to mastery entails persistent practice, enduring patience, and the guidance of digital allies. Let's explore the virtual arsenal at your disposal, each one designed to fortify your writing prowess.
This article serves as a compass of its own, steering you toward invaluable applications and online resources poised to improve your writing composition, catalyzing both efficiency and quality in your work.
So, back to our main topic:
Here are the top online tools for improving college writing:
QDT offers writing services, more particularly in the areas of business and technical writing. They assist in documentation of various business processes including application for ISO certification.
They, however, offer free templates for creating forms on your own with video instruction on their platform. You can also avail of free 15-page writing guidelines for plain language business writing, and other resources. These can be helpful for those taking business management, marketing, information systems management, and other courses that require a lot of documentation.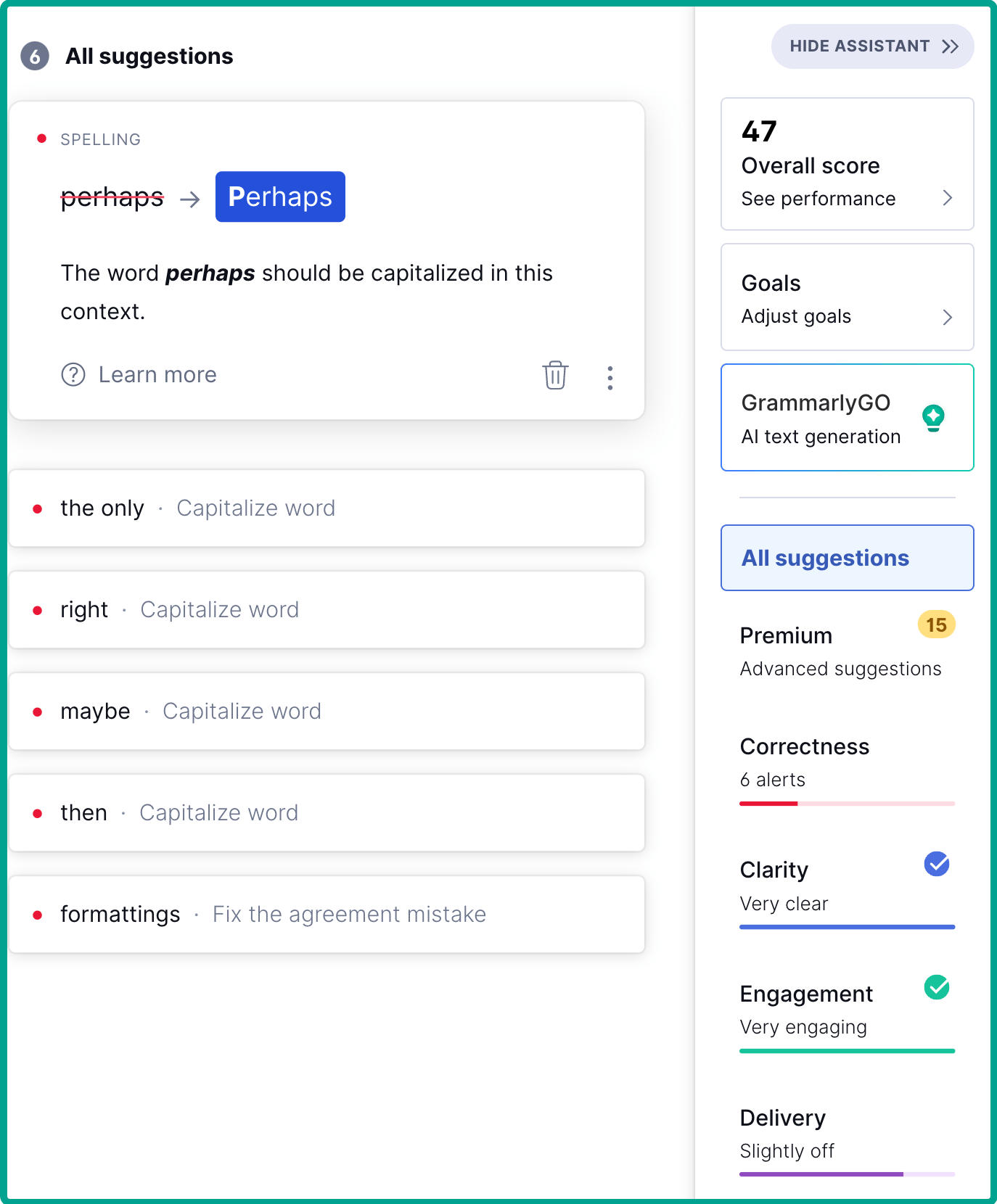 A trusted ally in refining your text, Grammarly takes residence in your browser, flagging contentions and suggesting eloquent alternatives. Seamlessly enhancing grammar and vocabulary, it's your steadfast companion across a spectrum of texts, with both free and premium features.
It underlines points of contention in your text and suggests substitution options. You get an explanation of the choices in terms of grammar and vocabulary.
You can check a huge range of texts, from term papers to resumes and personal emails. Most of the features of the service are provided in the paid version of the program, but many find the free version sufficient for their needs.
No special knowledge or skills are required to work with this essay improver, absolutely anyone can master it. And if you're hungry for more writing support, there's another anchor in the sea of possibilities – check out the Write My Papers service. So dive into a world of improved writing and see where the currents of creativity take you!
A haven for writers, this versatile tool facilitates file imports, content organization, and brainstorming. With an array of tools at your disposal, including a distraction-free mode, Scrivener beckons the creation of eloquent essays with unmatched finesse, making this app popular among writers.
Among its advantages are:
It provides the function of importing files with different extensions;
It contains built-in tools for searching and organizing content;
Its interface displays the table of contents, the main part of the written text, and various marks at the same time;
It has a planning tool, a whiteboard for writing down ideas and important notes;
It has an online writing tool for complicated writing, a distraction mode, and other useful features.
This app contains everything you need to improve your essay-writing skills and the quality of your text. The program is very handy, multifunctional, and extremely easy to use.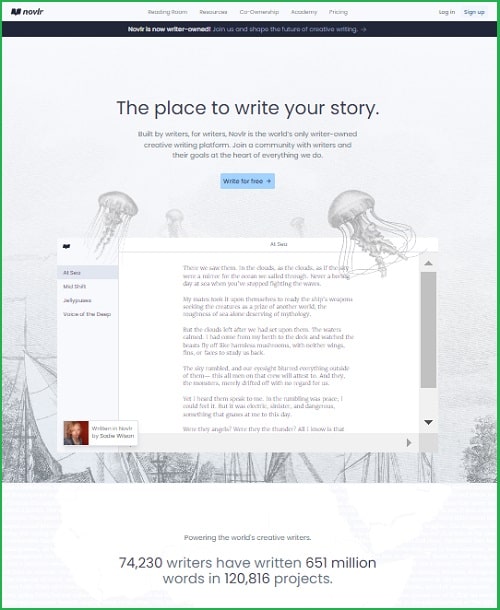 This is a new, more simplified alternative to Scrivener. To learn better writing, you need to constantly practice. The Novlr app comes to your rescue with custom essay writing.
Novlr promises an intuitive interface and essay-writing expertise. Not only does it sport day-night modes for comfort, but it also tracks progress and safeguards your work on cloud platforms like Google Drive and Dropbox.
Other Notable Features:
This program does not require any hardware;
It allows you to quickly understand the capabilities of the application without outside help;
It allows you to add small notes;
It provides statistics on the number of words written per month or year, as well as the amount of time spent on writing per day, week, and so on;
It automatically creates a backup copy and allows you to save your work to Google Drive or Dropbox;
It reminds you of the changes you've made and synchronizes them when you connect to the Internet again.
While the Novlr app isn't as versatile as Scrivener, it's much easier to understand and enjoy.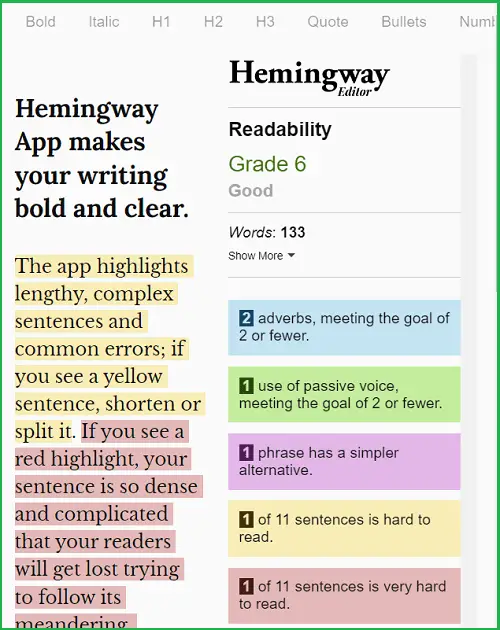 A virtual editor, Hemingway App elevates your text's readability. By highlighting convoluted sentences and redundant words, it guides you toward linguistic eloquence, reinforcing grammatical precision.
It detects sentences that are too long and complex by highlighting them in yellow or red. The tool also points out extra words and advises which grammatical structures are best to use in an individual case.
Catering to both novices and professional writers, Byword showcases a minimalist charm. Supporting lightweight formatting, it elegantly handles diverse file formats, facilitating seamless transitions between devices.
It is one of the easiest yet most functional applications for writing texts. Among its advantages are:
It supports Markdown, a lightweight formatting language;
It allows you to easily enrich the written text with quotations, notes, links, or lists (the extended version allows you to add video, audio, and large tables or diagrams);
It allows you to drop text into Dropbox or iCloud. So you can start writing on your iPhone and finish it on your Mac;
It works not only with the standard .doc, .rtf, and .txt but also with .pdf and .html files.
This application is ideal for inexperienced users who don't care to understand backend programs, just enjoy all the front-end features.
Embarking on an enriching lexical journey, Twinword Writer empowers you with synonyms that embellish your expression. It is an application that can help you improve essay writing and become a successful student.
It is perfect for those who often have trouble finding the appropriate word to describe something. Enter a word or phrase and you will get a list of all sorts of synonyms that are likely to make the sentence more engaging.
Sadly though, they have an announcement on their website that they will be shutting down their services on Nov. 1st, 2023, so you only have a few more weeks to try and enjoy what they offer.
Shattering the shackles of procrastination, Write or Die fuels creativity. It enforces diligence with consequences for inaction, nurturing a productive writing environment.
The developers of Write or Die say that it is designed to conquer the fear of "white paper". This program won't let you get distracted or be lazy when you're writing.
As long as you are writing, everything is fine. But as soon as it detects idleness, unpleasant consequences will immediately follow, which are set in advance. For example, the entire written text, or sometimes just the vowels, begins to slowly disappear.
This app helps to motivate your creativity and improve your writing skills.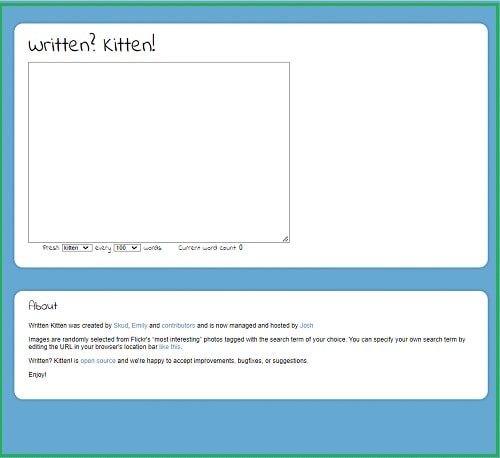 A playful counterpart of the previous app, Wriiten? Kitten! showers you with adorable kittens, enhancing the joy of writing. Primarily designed for kids (and cat lovers), the app celebrates progress with furry inspiration.
According to many users, this program helps to bring a bit of a pleasant touch to the activity of doing what you love – writing something. For every 100 words, it brings up a picture of a cute kitten that inspires you and makes you feel good.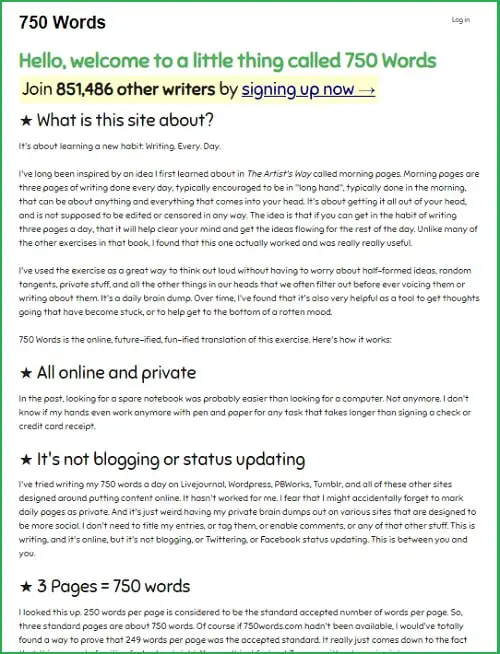 Challenging you to write 750 words daily, this app molds consistency into a skill. While it eschews deep scrutiny, its word count vigilance cultivates discipline.
It is an online application with a simple text editor at its core and some additional features for improving your essay as well as your writing habits. The application will not check the spelling, semantic content of your text, errors, or formatting. But, it will very meticulously count your every word and let you know when the 750-words count is met.
This is an excellent choice for someone wanting to learn how to write or is experiencing a writer's crisis.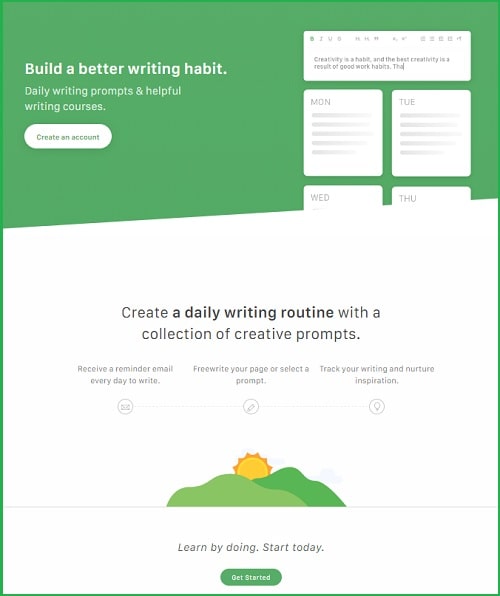 The Daily Page app is an alternative to the previous tool. It allows you to regularly train in writing various article types, thus developing your writing skills to a fairly high level in a minimal amount of time.
What is the essence of this program?
Every day, the built-in generator issues a task for the user. Your task is to write a small text on a given topic by the end of the day.
Don't be surprised if the app touches on your problems or asks you to write a text with humor. It is a great app for anyone seeking to improve their writing skills.
Mendeley simplifies research storage and organization, streamlining the arduous task of referencing. This is a free application that is designed to store bibliographic descriptions.
Are you a graduate student or just a person who often edits or writes voluminous text? Using this program, you can view your research papers in PDF format, get them sorted, and classify them in different ways.
It significantly saves the time and resources needed to design links according to the required standards.
This is easily one of my favorite writing tools, which you'll definitely appreciate if you're a student. It allows you to create writing projects and track your progress with live statistics, and detailed reports about your writing productivity.
It's perfect for writing essays or dissertation chapters because it fills you with intrinsic motivation to keep pushing forward and complete your session. It's one of the top choices if you want to develop a sticky writing habit. It's also pretty affordable so I suggest you give it a try.
Coffitivity immerses you in the coffee shop ambiance, fostering innovation. The developers claim that the app stimulates creative thinking.
Its creation was inspired by a study by American scientists who found that coffee shop background noises are the perfect aid for a creative person. They provide the right atmosphere, set the brain to work, and inspire the writer.
This app will be very useful for students who are writing term papers, dissertations, and tests. However, it may not be suitable if the work involves accurate data and requires attention to detail.
Brain.fm orchestrates concentration-enhancing melodies tailored to your tasks. There is a lot of research that proves that certain music can improve concentration and help you focus.
The developers used the results of said studies as their basis for creating an app that automatically generates music suitable for certain tasks, such as work, study, or leisure.
Summing up
This compendium is far from exhaustive, yet it offers an entry into the world of online tools for improving college writing. As you embark on this odyssey, remember to explore each option, assimilating the unique benefits they offer to your writing journey.
We offered suggestions that cover a wide range of writing crises, from apps that provide writing templates to grammar and spelling checks, developing effective writing habits, and helping set your mood and motivation to write. We hope you will find them helpful in your academic journey.
Rafal Reyzer
Hey there, welcome to my blog! I'm a full-time blogger, educator, digital marketer, freelance writer, editor and content manager with 10+ years of experience. I started RafalReyzer.com to provide you with great tools and strategies you can use to achieve freedom from 9 to 5 through online creativity. My site is a one-stop-shop for freelance writers, bloggers, publishers, content enthusiasts who want to be independent, earn more money and create beautiful things. Feel free to
learn more about me here.