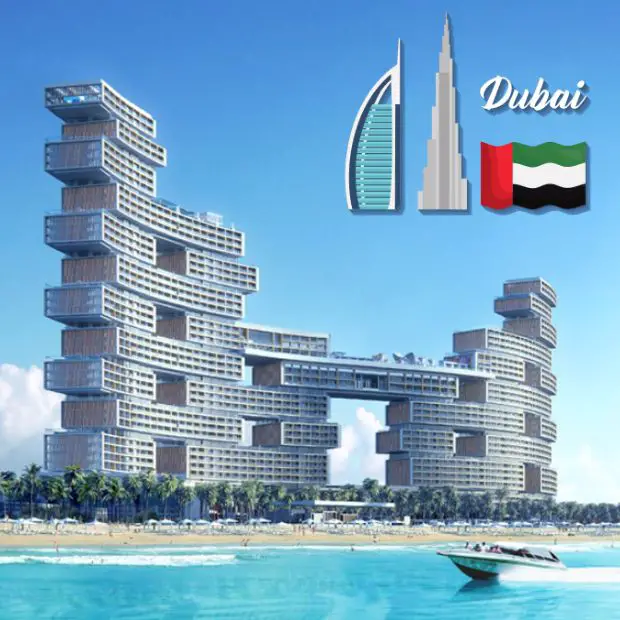 The unstable situation in the world forces people to search for a safe place to live and an opportunity to maintain a constant income.
Many among foreign investors and expats choose Dubai in the UAE. This is because comfort, safety and the standard of living in Dubai remain among the highest in the world. The economy here is booming, doing business is convenient and safe, and all residents of the emirates have access to decent education and medical care.
However, it is not really easy to quit one country and move to another one with completely different norms and beliefs. Ownership of an apartment in The Royal Atlantis Resort & Residences in Dubai facilitates the process of relocation and adaptation.
So, what are the main tips for successful change in a place of residence? And why should you consider the UAE?
5 Principles of international relocation
It is difficult to reduce the list of important issues to only five, as intentional relocation requires time, effort and deep knowledge. But let's introduce the aspects of moving to the UAE that'll help you avoid stress and inconvenience. A foreigner moving into Dubai should follow these principles:
Identifying a clear purpose of relocation.
Taking care of the real estate property beforehand.
Issuing a notarized power of attorney on your property in your homeland.
Getting ready for the new experience.
Planning your lifestyle beforehand.
Identifying a clear purpose of relocation
It's great to have a goal of relocation to the UAE. A foreigner needs a convincing reason to move to this country. Here are some of the most popular goals related to moving to an international hub like Dubai:
Setting and developing your own business.
Building a successful career.
Increasing the standard of living.
Investing in real estate and managing leasing yourself.
All reasons have to be explained and carefully thought through before you decide to proceed with your plans.
Taking care of the real estate property beforehand
The real estate market in Dubai will please even the most demanding customers. There is housing for all tastes and wallets, suitable for both buying and renting. Apartments and penthouses in The Royal Atlantis Resort & Residences in Dubai provide buyers with an abundance of choice. More than 200 residences of 82 different configurations are available for sale now.
Properties in the residential complex are good options for comfortable family living and for getting stable income from leasing. If you are moving with your family, then you may be confident that there is enough space in the apartment to accommodate the whole family and that you'll find all the attractive facilities nearby: school or kindergarten, stores, sport facilities, etc.
Issuing a notarized power of attorney on your property in your homeland
If you plan to stay abroad for a long time, you may find it necessary to sell or rent out your real estate in the homeland. A person who has the appropriate authority should handle such processes. A general power of attorney will help them take care of all the formalities while you plan your move. With its help, it is possible not only to carry out transactions of sale and purchase but also to open accounts in banks, obtain the necessary documents from state institutions, and resolve cases in court.
A person with such power should be respectable and trusted. Issuing the power of attorney transfers the full ownership to the person and the consequences should be predictable.
Getting ready for the new experience
Dubai is a fairly secular city, which is very attractive to foreigners of other faiths and cultures. However, let's not forget that the UAE is a Muslim country, where life is based on Sharia (Muslim law). People in the UAE are used to following the law and respecting the government and law enforcement officers.
The same is demanded from foreigners. If you break the law, you will be fined, deported or sent to prison, so study the legislative norms in advance to avoid any surprises.
It is obligatory to be aware not only of the official laws and regulations, but of local tradition and beliefs as well. There are many important rules in the UAE that are to be followed by locals, residents and tourists.
Planning your lifestyle beforehand
Some people prefer to buy property abroad and move there to sort things out on the spot. Still, it is advisable to stay prepared. Monitor the options of employment, the level of salary, infrastructure, educational and medical establishments and opportunities for living the life to the fullest.
The bottom line
Starting a new life in a foreign country is easier when having a luxurious place to live. The real estate agency Dubai-Property.Investments provides a certified help in selecting and buying property in Dubai. Qualified specialists will follow buyers at each stage of the transaction and solve the appearing issues on the spot.
Buying real estate in the UAE and moving there for permanent stay are the ideal options for personal and career growth, so consider this option and perhaps you'll be getting ready for a new adventure soon.
Rafal Reyzer
Hey there, welcome to my blog! I'm a full-time blogger, educator, digital marketer, freelance writer, editor and content manager with 10+ years of experience. I started RafalReyzer.com to provide you with great tools and strategies you can use to achieve freedom from 9 to 5 through online creativity. My site is a one-stop-shop for freelance writers, bloggers, publishers, content enthusiasts who want to be independent, earn more money and create beautiful things. Feel free to
learn more about me here.