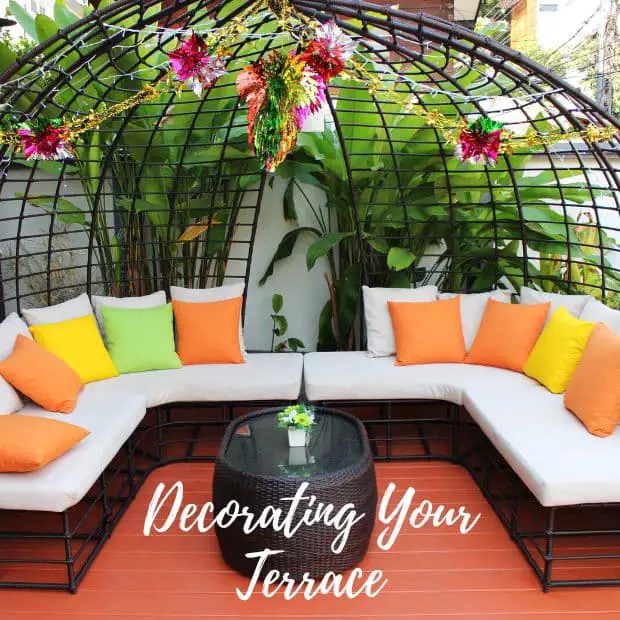 A terrace is more than just an extra space you rarely use. It's a major component of a good life in a warm climate.
Decorating a house with a terrace can be a joy as it is a place where work and rest seamlessly intertwine. Sadly, many terraces in Turkey are transformed into mere extensions of indoor rooms, and lose their inherent charm.
If you've recently acquired a house with a terrace in Turkey and are seeking inspiration to furnish the space, this article is tailor made for you. With our expert tips, you'll discover that there are no bad days—only terraces waiting to be arranged with care.
Terraces in Turkish Houses
Turkish houses often feature terraces as popular relaxation spots, offering the perfect setting to bask in the warm climate and revel in breathtaking views of nature. With the right decor, you can transform your terrace into an even cozier oasis.
Turkey is a country with a very welcoming climate, so it is not surprising that many of the accommodations here have an attached terrace. Turk.Estate, a rapidly growing real estate company, has an awesome listing of wonderful apartments prices with a terrace in Turkey.
In this article, we gathered captivating ideas to help you unleash your creativity when arranging your Turkish terrace.
Basic Ideas for Decorating a House with a Terrace in Turkey
1. Plants
Incorporate plants to enhance any decor and create an enchanting rainforest ambiance. Place them on the floor, hang them on walls, or use decorative pots. You can also buy plastic plant boxes you can use as flower beds or mini vegetable gardens.
Choose plant varieties such as palm trees, olive trees, shrubs, or flowers that complement your overall design. Consider the growing conditions, ensuring they receive adequate sunlight, humidity, and optimal temperatures.
2. Furniture
Select comfortable and stylish furniture that beckons you to unwind and embrace the beauty of nature. Include armchairs, sofas, tables, and lounge chairs crafted from various materials like wood, metal, or rattan.
Arrange the furniture in a way that facilitates relaxation while enjoying the surrounding splendor. Imagine enjoying a book on a comfortable chair while getting a glimpse of the sun setting on the horizon. Perfect, isn't it?
3. Lighting
Imbue your terrace with a cozy and romantic ambiance through thoughtful lighting. Illuminate your space with patio lights, lanterns, or enchanting garlands that highlight furniture, plants, and other decor elements.
We suggest you use outdoor LED lights as they are safe and energy-efficient. You can use insulated LED rope lights, bulbs, and solar-powered garden lamps to create mood lighting.
4. Textiles
Add a touch of diversity with carefully chosen fabrics and textiles. Opt for cushions, bedspreads, and curtains that harmonize with your overall terrace decor.
Don't settle for a single hue when choosing fabrics. Monochromatic may be elegant and minimalistic, but choose textiles with different shades of the color you want. They could come in stripes or other design patterns.
5. Decorative Elements
Don't overlook the power of decorations that give your terrace a finishing touch. Incorporate rugs, mats, pictures, statues, and other decorative items that enhance the uniqueness and charm of your terrace.
The combination of these basic elements can create a cozy and attractive atmosphere on your terrace in Turkey.
Use your imagination and choose the decor that suits your needs and style. Whether you have a tiny or spacious terrace, there will always be ideal options to beautify and add value to your apartment.
Expanding Your Terrace Decor Possibilities
If you have an extra budget and the luxury of space, there are many other design features you can add to your terrace to make it an absolute outdoor family living room where you can also entertain house guests.
Here are some ideas:
1. BBQ Area
If you love grilling, create a dedicated BBQ area on your terrace. Equip it with a grill, cooking table, and comfortable chairs for guests.
This setup allows you to savor moments with friends and family while enjoying a delicious outdoor feast.
2. Water Features
If your terrace is in close proximity to a pool or the sea, consider incorporating water elements into your decor.
Choose from fountains, cascades, or water jets to infuse a calming and tranquil atmosphere. You may also consider putting up a koi pond. What could be more relaxing than watching colorful fishes swimming about?
3. Landscaping
Merge your terrace seamlessly with the surrounding nature by adding live plants, shrubs, stones, and ceramic pots of various sizes and shapes. This will create a natural and cozy look on your terrace.
4. Color Schemes
Select a color scheme that resonates with your personal taste and style. You may opt for vibrant and attention-grabbing hues or soothing and neutral tones to evoke relaxation and tranquility.
Ensure the colors harmonize with each other and with the house itself, resulting in an attractive and cohesive overall look.
5. Recreation Area
Designate a space on your terrace for ultimate relaxation and comfort. Include cozy chairs, sofas, and cushions, allowing you to unwind and recharge.
Alternatively, create a functional area with a table and chairs for working or enjoying outdoor leisure activities. If you are working from home or remotely as a digital nomad, you can bring out your laptop and type your articles or novel manuscript under the clear skies.
This zonal arrangement helps create a functional space on your terrace, for both work and leisure.
6. Modern Technology
Integrate modern technology into your terrace for added convenience and entertainment. Consider installing audio and video systems, board games, or movie projectors to make your terrace an even more captivating space.
These technologies help make your patio even more interesting and multipurpose.
7. Awnings and Canopies
Enhance the comfort of your terrace by installing awnings or canopies, providing shade and protection from the sun and rain. Opt for portable options that can be adjusted based on weather conditions.
Maintenance Tips for Your Terrace
Remember to care for your terrace regularly to maintain its attractiveness and functionality. This includes routine cleaning, watering plants, and keeping the water feature tidy.
Proper maintenance ensures your terrace remains a captivating space for years to come. If it is made of wood, make sure that you have it treated regularly by professionals to ward away microorganisms that can rot them away. If it is made of metal, repaint it every couple of years to keep rust at bay.
Wrap Up
Embrace the unique allure of your Turkish terrace by decorating it to reflect your personal style and create an inviting atmosphere. With our suggestions and your imagination, you can curate a cozy and stylish outdoor haven that allows you to bask in the Turkish sun and relish the refreshing sea breeze.
If you're ready to own a property with a terrace in Turkey, Turk.Estate can assist you throughout the purchasing process. They are keen on ensuring that you will be satisfied with your investment. Check out their website to explore a wide range of options and find your dream property in Turkey.
Rafal Reyzer
Hey there, welcome to my blog! I'm a full-time blogger, educator, digital marketer, freelance writer, editor and content manager with 10+ years of experience. I started RafalReyzer.com to provide you with great tools and strategies you can use to achieve freedom from 9 to 5 through online creativity. My site is a one-stop-shop for freelance writers, bloggers, publishers, content enthusiasts who want to be independent, earn more money and create beautiful things. Feel free to
learn more about me here.