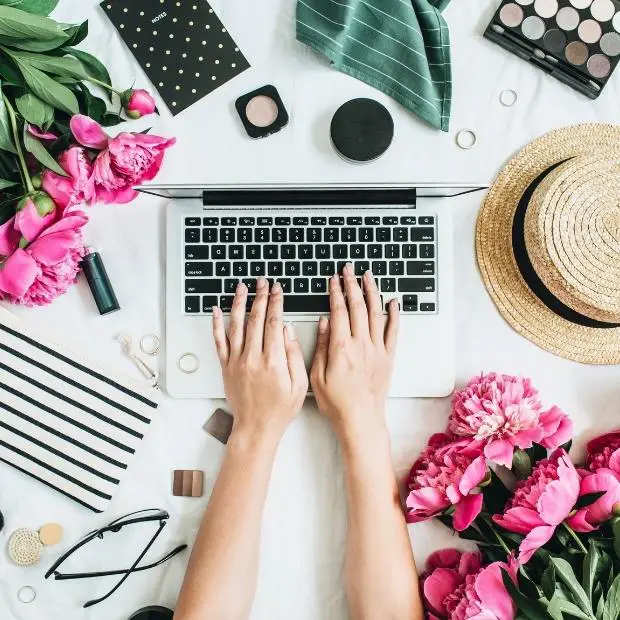 Are you looking for a great free blog theme that will showcase your freelance work?
One of the best ways to let your talent shine and attract clients is maintaining a beautifully designed blog.
If done right, blog posts can become the heart and soul of a website. They're a great way to communicate what you do while letting your users interact with you.
For example, if you're a photographer, social media is often not enough to tell the full story behind a picture. And when you are a writer, there's no better way to prove your skills than regularly posting exciting content. The same goes for illustrators, writers, and even tech professionals.
But so many freelancers get it wrong when picking a perfect free theme for your blog. But don't worry, though!
Below you'll find some of the coolest themes available, and they won't cost you a dime.
What to look for when picking a WordPress theme?
Here are a few things to consider before making a final pick:
Do you want your theme to be a visual masterpiece or focus purely on the written word?
Are you looking for ways to interact with your readers through comments or social media?
Are you looking to build organic traffic over time, or you want your site to serve as a simple freelance portfolio?
Are you looking for something slick and professional or fun and creative?
Whichever theme you pick, make sure it reflects your needs and the personality you want to present to your prospective clients.
5 Best Free Blog Themes for Freelancers
Check out the suggestions for designing your blog page, these techniques by Forrest Webber, plus the sample templates mentioned below, and you should be on your way to design a stunning blog page quickly.
1. Bootstrap Journal – Best for Visually Rich Blogs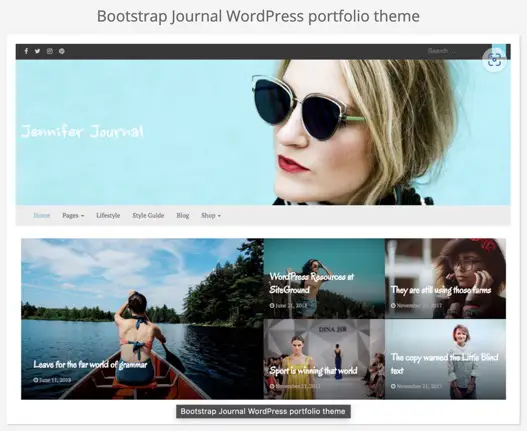 Are you a fashion blogger? Do you have a blog meant for the ladies? Like to take pictures of everything in life? The Bootstrap Journal for WordPress might be just the perfect layout for you.
This blog theme is quirky and has a unique and funky font. It's also blazing fast, which makes it even better for picture-heavy websites.
SEO-wise, Bootstrap Journal is one of the best WordPress themes. It's highly responsive and fills your desktop screen with a big header image followed by several more images arranged in a template.
Theme picking tip: before selecting your theme, check how it fares in terms of side speed. Your blog's speed is going to be a crucial factor that will make or break the success of your website.
2. Customizr – Best for Those in the Tech Field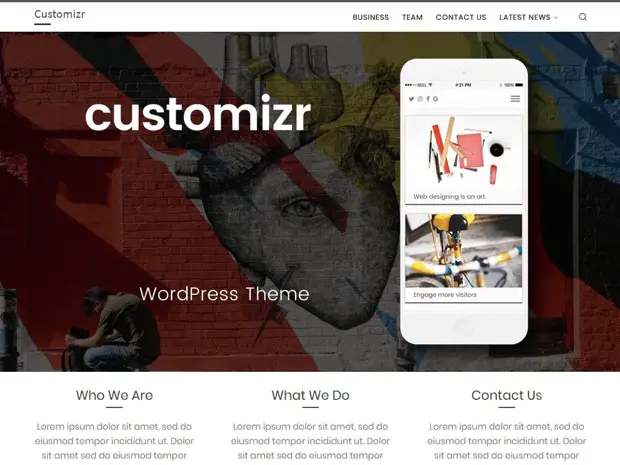 When you're a freelancer in a technical field such as engineering or coding, you need an interactive yet simple website that can impress clients in an instant.
Customizr is a WordPress theme that can allow you to create a straightforward website with minimal yet customizable design elements.
While Customizr isn't visually rich, it has a modern template and large fonts. If you want added customization, you can always add more elements with the pro version.
Theme picking tip: Think about how much customization you need. Some themes are ready to go out of the box, while others give you more design options to choose from.
3. Wisteria – Best for Freelance Writers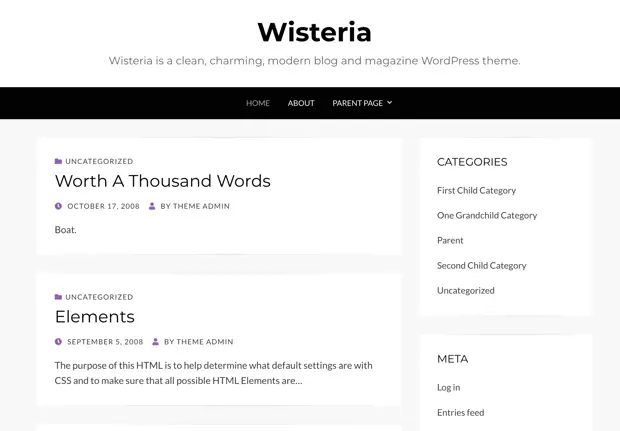 For writers or writing-centric blogs, it's not the images or the illustrations that take center stage. It's the written word.
To make sure that the content shines like the star of the show, Wisteria features the text and images in the center, which makes it a great theme for freelance writers.
The website is still going to appear visually attractive, but the main attention goes to the content.
Get this streamlined theme if you're looking for a simple yet engaging and SEO-friendly
template for your blog.
Theme picking tip: even though it's great to start with a free theme, at some point you can start thinking about upgrading to a pro version which will give you more features and regular updates. This is crucial if you want your website to succeed over the long term.
4. Life Coach From Blossom Themes – Good for Marketers or Those Looking to Gain Subscribers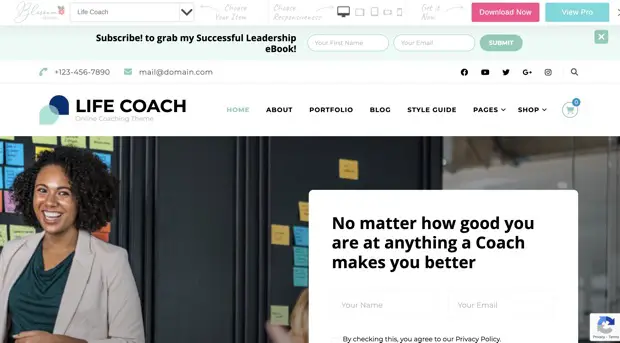 If you're looking to grow your website through email marketing and require several leads for that, Life Coach is a great blog theme to explore.
Let's talk about functionality first – it's compatible with WooCommerce, is highly responsive and SEO friendly, and is schema optimized for forms.
Other than these basic features, it offers some stunning customization and design elements. There is a sign-up section where users can enter their details, like email and name.
As you navigate, there's a hero image and interactive tabs options. The hero image, too, has a subscription section.
Theme picking tip: when picking a blog theme as a freelancer, consider the effect you want your website to have on your potential clients. Are they going to be astounded by your design? That's what you want to go for. You only have a few seconds to make a great impression!
5. Astra – A Completely Customizable Option for Everyone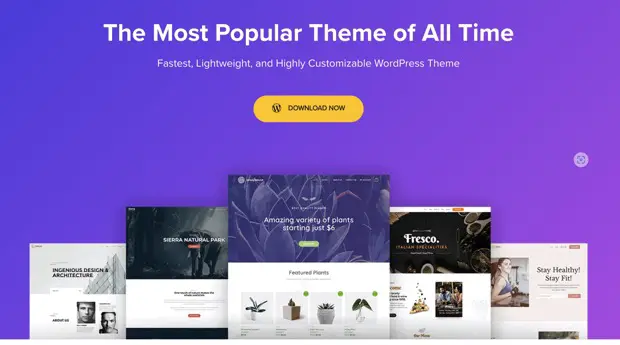 Do you love to customize every single detail of your blog page? Using a theme as easily customizable and diverse as Astra is the answer to all your desires.
The basic version of this theme is and allows some cool customizations, though you have to pay if you want to play with the premium features.
Astra lets you customize everything from font, color, style, and the image placements on your website. You don't need to write code to customize any element of the website. Simply use their drag-and-drop feature and you'll be ready to create a stunning template.
Astra offers multiple integrations with WooCommerce, Shopify, and other such websites to support the various functions you might need in your blog. It also has a Schema.org code and an AMP configuration built in, which makes it perfect for navigation and search engine purposes.
Theme picking tip: remember that transferring from one theme to the other will not be so easy, and you will probably need a professional web designer to help you out. So choose wisely and consider the features you will want to implement in the future.
Conclusion
I hope you will find a reliable and suitable blog theme from the suggestions above.
If you want more variety, you can always explore the different options WordPress provides. Or, if you have the budget, you can always pay a professional designer to get your blog up and running.
Either way, your goal is to create a fast, responsive, easy-to-navigate, and SEO-optimized blog page.
Rafal Reyzer
Hey there, welcome to my blog! I'm a full-time blogger, educator, digital marketer, freelance writer, editor and content manager with 10+ years of experience. I started RafalReyzer.com to provide you with great tools and strategies you can use to achieve freedom from 9 to 5 through online creativity. My site is a one-stop-shop for freelance writers, bloggers, publishers, content enthusiasts who want to be independent, earn more money and create beautiful things. Feel free to
learn more about me here.