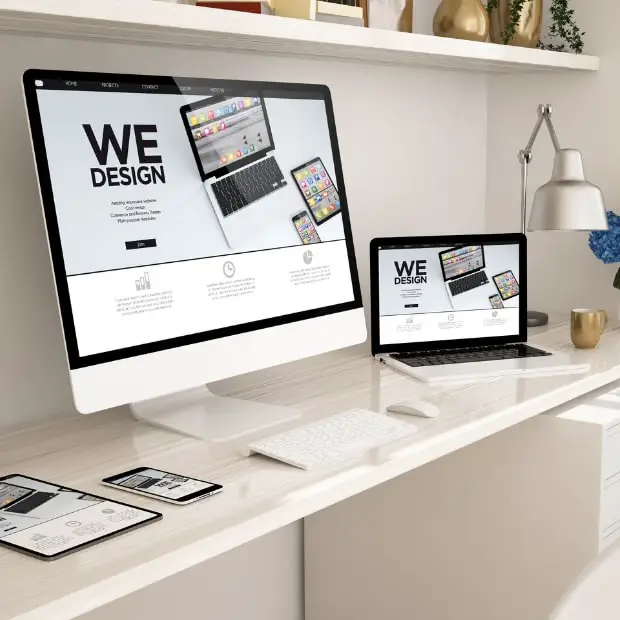 I will teach you how to create a freelance writer website in under two hours – start to finish.
Having a site can bring you a lot of new high-quality clients, and other opportunities in the long run.
(Think – partnerships, ad revenue, affiliate marketing cash, sponsored posts, guest posts, etc.)
You'll be able to attract new business opportunities with a site that captivates hundreds of visitors each month.
It'll allow you to command higher prices for your services and to choose between opportunities. This can all come from building a freelance writer website. Are you ready to create yours?
How long does it take to set up your website?
If you know what you're doing, you can finish within two hours. (I'm going to show you the exact instructions using images and videos). The main steps to starting a freelance writer website are:
Choosing your hosting provider
Choosing your unique domain name
Installing WordPress (don't worry, you don't need technical skills)
Picking the right website theme (its unique look)
Creating the necessary pages (homepage, portfolio, writing services, blog, contact)
Filling these pages with content and making them look pretty
That's it! When you begin, you don't have to worry about online marketing or search engine optimization.
These things will come later. For now, you want to make a website to show off your best work and impress potential clients. Believe me, this is already worth a lot.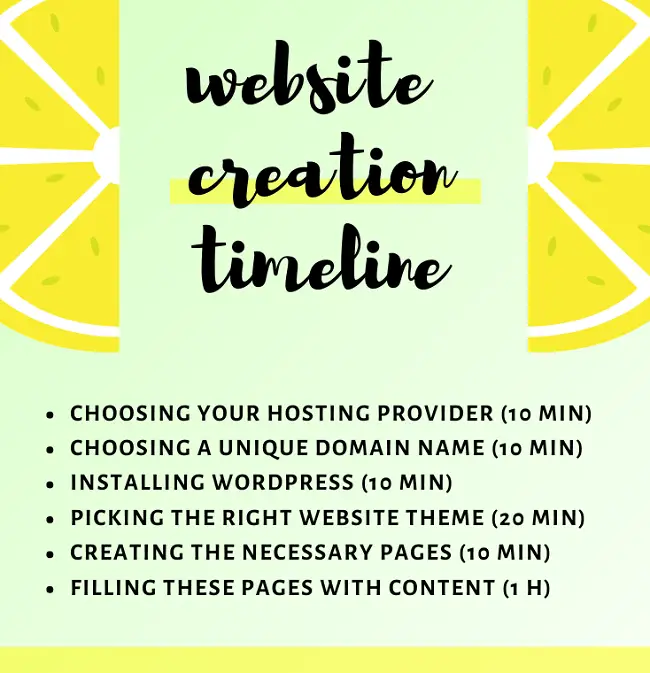 How much money will you need to start a website as a freelance writer?
You can be super cheap and spend zero money with a platform like Blogger.com. But I wouldn't recommend that.
If you want to have a stunning site, I recommend choosing WordPress and buying a unique domain for your site.
It will cost you a few dollars, but it's worth it.
The cost of a domain (yourdomain.com): $15 per year
The cost of hosting (keeping your site online)$50 per month
The cost of a website theme (so it looks slick pro)$0 or $50 (paid option is recommended)
The cost of WordPress (so you can manage your site) $0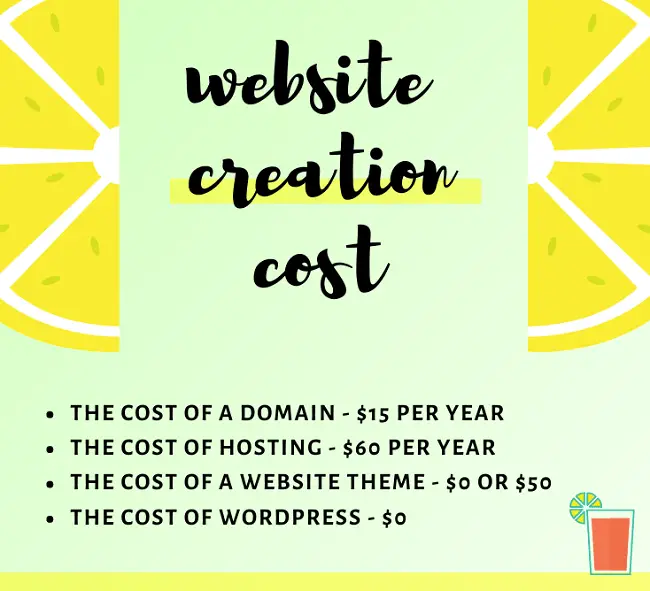 In this guide, I'll show you how to set everything up with the top services online.
For domain name and hosting, we'll use Siteground. It's the best and most affordable hosting service out there for new bloggers. If you don't believe me, just look at this Siteground hosting review.
For building the site, we'll use Elementor. It's the most popular "drag and drop" site builder for WordPress with over 4 million installs.
Here's how to create a freelance writer website:
1. Choose the right hosting package for your website (10 minutes)
Hosting allows you to take your site online so that's the first thing you should take care of.
Get a good host and your site will have great uptime (99,99%) and blazing fast speed. Get a bad host, and your site will be sluggish AF.
I went through a couple of hosting companies over the years.
First, I was using InMotion Hosting because I had no clue what I was doing. Then, I moved to Bluehost because some other blogger recommended it. But I was not 100% satisfied with the service.
Finally, I picked SiteGround, and now my organic traffic is on the steady growth curve. The site speed went up, the server uptime is near perfect, and I was also able to solve all customer issues within one day.
If you're building your first site, pick the "StartUp" plan designed especially for WordPress hosting.
It costs $3.95 per month which is comparable to other hosting companies.
For this price, you'll get much better website speed, customer support, a free professional email account, and an automatic WordPress installation.
All you need to do to get started is to click on "Get Plan."
Then, you will go to a page where you can choose your domain name.
Are you ready for this momentous event? Let's pick the right one for you.
2. Pick your unique domain name and complete your order (10 minutes)
A domain name is the address of your site. For example, my domain name is rafalreyzer.com.
A unique ".com" domain costs $15 per year, and you can register it directly with SiteGround.
This is a good idea because you will have your hosting and your domain all in one place.
Yeah, maybe you could get a domain for $10 elsewhere, but it's not worth the headache. Trust me, I've been there.
Now let's face the all-important question: how do you name your freelance writer website?
The number one choice among successful freelancers is your first name and your second name (maryjane.com).
Later on, you'll see examples of great freelance writer sites, and they all use this format (me included).
Why?
Because your name is your personal brand, by naming your website after it, you appear like a genuine, trustworthy professional.
You could go with something like bossycopywriting.com or freelancewritingslayer.com, but this doesn't look professional, and people will assume you're an agency.
So unless you're trying to build an agency, just go with your name.
And what if your name is already taken?
You can either contact the domain owner and try to buy it from them. To learn who owns a domain, you can use Whois Lookup.
You could also add "writer" or "copywriter" at the end of your domain name. For example, "marjanewriter.com" or "johnnydee-copywriter.com"
Okay, now that you have your name, click on "proceed."
On the next page, you will need to review and complete your order. Here you'll have to fill out your contact and payment information.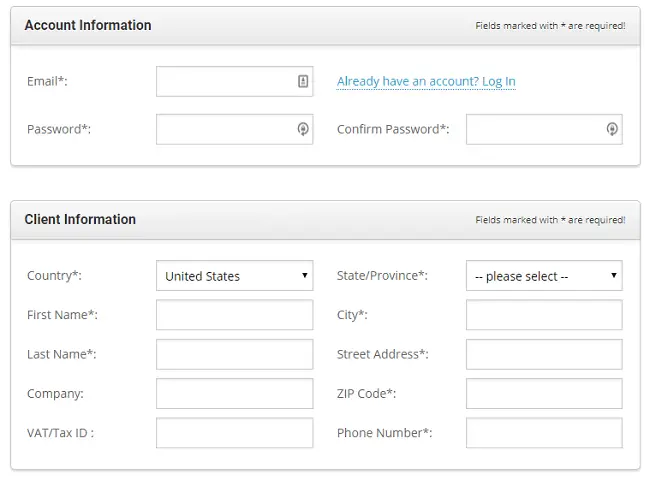 In the "purchase information," you should select the data center as "USA" and the period as 12 months.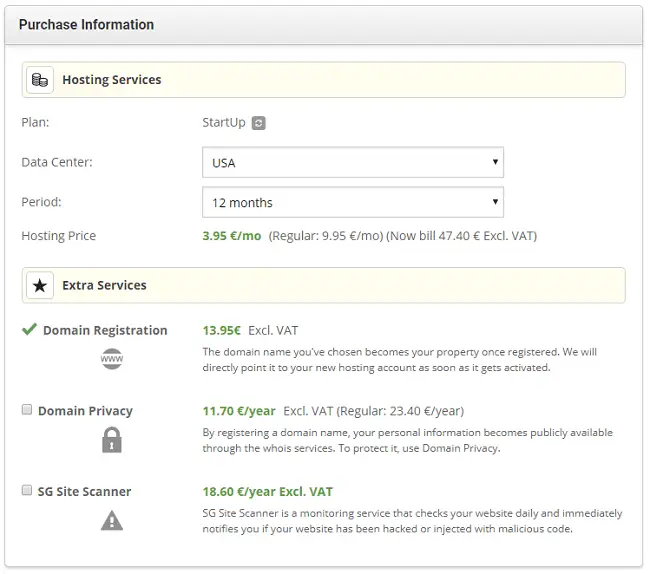 (You can pick 24 or 36 months right off the bat, which would save a bit of money, but 12 months is completely fine).
Okay, now click "pay now" and you're officially in the website business game.
Once your SiteGround order is complete, you'll get access to the customer area and get all the login information sent to your email.
If you're already registered as a freelancer, you can treat the cost of domain and hosting as a business expense. Make sure you provide your company data in the "client information" form!
Next step – let's install you some WordPress and make your site live, shall we?
3. Installing WordPress (10 minutes)
WordPress powers around 30% of the web, and it's a user-friendly CMS (content management system).
Best of all, it's completely free to use and saving money is always good.
So let's log into your SiteGround hosting account and install WordPress automatically with the SiteGround Wizard.
Just click on "start a new website" and then click on the WordPress button.
Then you will need to choose your login details for WordPress and click "confirm."
Next, click on "complete setup," and your WordPress will be automatically installed.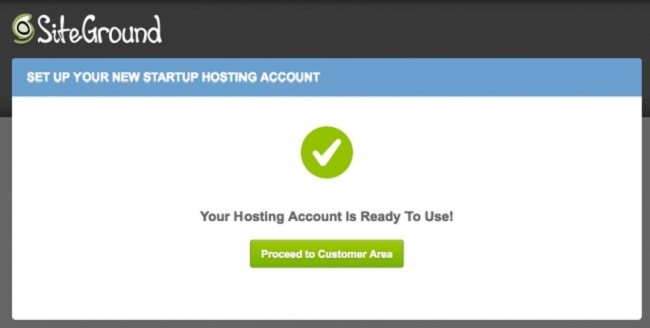 That was quick, wasn't it? You're rocking and rolling, and I'm proud of you. Now when you're logged into SiteGround, go to "my accounts" and then go to the "admin panel."
That's how you can access your WordPress dashboard! Bookmark this page for quick access to your site.
Now let's add some flavor to your budding writerly site and make it look pretty by installing the right theme.
4. Picking the right website theme and template (20 minutes)
A theme for your website is its unique look that distinguishes you from others.
There are literally thousands of themes available out there.
Some of them are entirely free, while the premium ones may cost up to $400.
Picking your perfect theme can be confusing. Trust me, I've been there. I worked with StudioPress themes, and then I switched to the popular Divi theme.
But finally, I found a perfect, high-speed theme for non-techies like you and me.
It's called Elementor (which I'm using on my website right now).
It's a page builder that allows you to work with pre-built page templates that look gorgeous.
With the drag-and-drop capability and easy customization, you can build a website within an hour.
What's the price of Elementor?
The basic version is completely free, and it already gives you access to a few high-quality templates from the template library.
But if you want to access advanced functionalities and premium templates, the price is $49 per year.
It's not much for a user-friendly system that will let you customize your site with ease.
All you need to do to get started is to go to Elementor's website, and then download the theme.
Then log into WordPress, go to "Appearance," and then "Themes," and that's where you can upload your new theme.
Once you've installed it, you can start creating your stunning pages using Elementor's template library.
Ready? Now it's time to set up the most important pages on your site.
5. Creating the vital pages for a freelance writer website (10 minutes)
Creating new pages in WordPress is super easy. These pages will be the main building blocks of your website.
First, let's create the basic structure, and then I'll show you how to fill these pages with persuasive content.
Ready? Let's do it!
In the main WordPress menu on the left, hover over "pages" and then click "add new" and then "Edit with Elementor." Next, you pick the right template for each page and once it's ready, click "save draft".
Easy peasy, lemon squeezy, right?
Now let's talk about the specific pages and content you need to include on your website:
Homepage – This is the hub of your freelance writing operation. It's also how you create the very first impression on your potential clients. So make sure it's a good one (more on that in the next section).
Portfolio – The portfolio page is where you show off your best freelance work to impress your prospects.
Services – Here you can talk more about what niche do you specialize in and what kind of writing you do best. This might include writing blog posts, SEO-optimized long-form posts, essays, interviews, etc.
Blog – Here you put your high-quality articles that show your writing skills.
About – Here you show off your personality and give your credentials.
Contact – This all-important page is where you entice your potential clients to get in touch with you. All right, so this is a bare-bones architecture of a freelance writer website.
Save each page as a draft. Next, go to "appearance" and then "menus" section on the left and set up the order in which these pages should show up on your site.
WordPress automatically sets your blog section as the homepage.
To avoid that and show off your homepage first, go to "settings" on the menu on the left, then click through to "reading," and in the "your homepage displays" menu, select a "static page."
Then select the homepage that you've just created as the main page.
Now let's go into more detail and talk about what exactly you should include on each page for maximum impact.
6. Filling your top pages with content and making them look pretty (1 hour)
Homepage: This is home to your creative endeavors.
It should feature a photo of you, and build social proof that will make you look trustworthy and pro.
You may include logos of brands and websites you've worked with, as well as testimonials that prove your linguistic prowess.
But most importantly, you need to include a strong call to action on your site.
You want to link to your contact page so that potential clients can get in touch with you easily.
Be funny and creative, but keep in mind that the primary purpose of a homepage is to convert visitors into paying clients.
Here's an excellent example of an effective homepage design: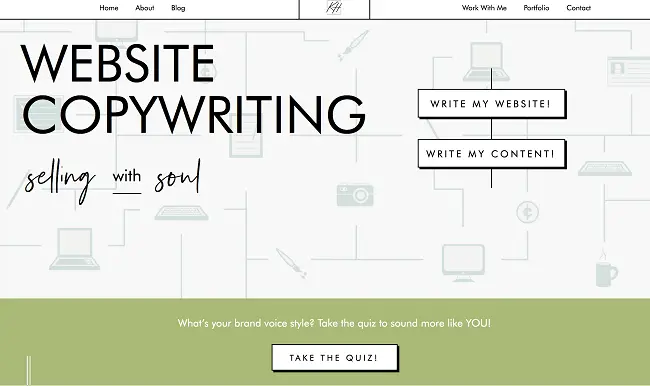 Portflolio: This is where you show your best work.
It can be as simple as a list of links to publications that host your writings.
Put your best content at the top because potential clients are often busy and don't have time to scroll through many elements of your portfolio.
Here's a great example of a portfolio page on a freelance writer's website: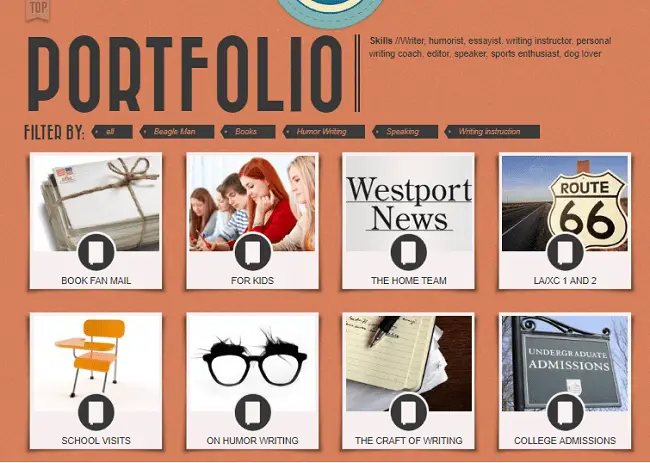 Services: Here, you can present your core offer.
What exactly do you specialize in as a freelance writer?
Creating SEO-optimized blog posts?
Copywriting?
Creating exciting stories for new brands?
Writing essays or conducting interviews?
You don't want to include a pricing table because each project is different, and you'll always have to negotiate your pay.
Say what you specialize in and link to your contact page so potential clients can get in touch with you.
Here's an excellent example of writing services page for your inspiration:
Blog: This section is optional but highly recommended.
By posting high-quality blog posts, you prove to your visitors that you're active in your space.
Your blog is a perfect training ground where you can learn about online marketing. Here, you can experiment and test your concepts without any risk.
About: You don't have to write a whole autobiography here.
Always remember about the "WIIFM" (what's in it for me) rule.
Be brief and share your story. Let your potential clients understand where you're coming from and how you can help them.
Showing a bit of personality and even vulnerability is a good idea. This will let clients relate and bond with you psychologically even before they get in touch with you.
Here's a beautiful example of an about page you can use for inspiration: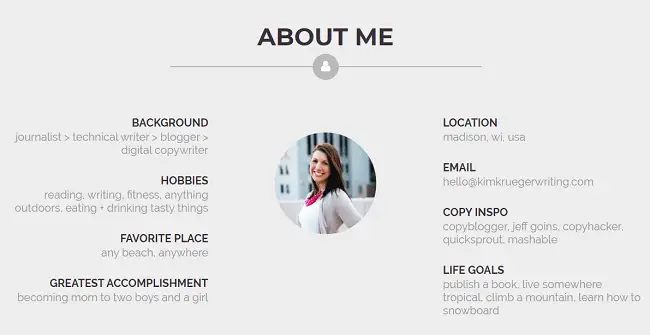 Contact: This page is pretty simple and self-explanatory.
Its purpose is to let your potential freelance clients contact you.
But sharing your business email address with the public is a bad idea. Why?
Because people will take it and start spamming you with unsolicited marketing messages.
What you should do instead is to create a contact form. In this way, your email address will stay private.
To create a contact form, you can use a WordPress plug-in called WPForms.
It's completely free to use, and you can set it up in a matter of seconds.
Here's how it looks on an actual contact page (you can customize it, of course):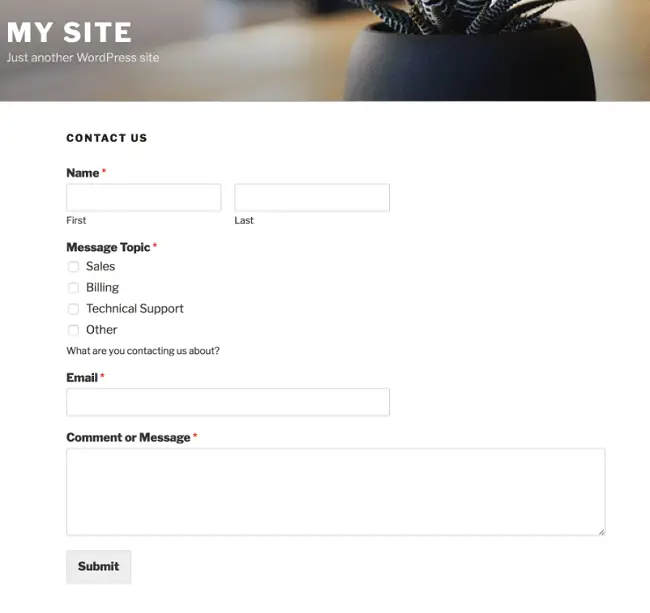 Once you finish with step six, you officially have your freelance writer website!
Congratulations! If you've followed the instructions, you did it in as little as two hours. Not too bad, eh?
Now let's take a look at a few extra steps that you can take care of later on. If you're not sure how to complete them, feel free to drop me a line.
7. Extra site-building steps you can take care of later
Once your main site is up and running, you can do a couple of things to make it even more professional and functional.
a) Install Google Analytics on your website
Google Analytics is a valuable service that will show you how many people visit your page every day.
You can see your traffic in terms of demographics, interests, and see which pages are the most popular. This will give you valuable insights into how to tweak your website to make it even better.
If you're a freelance writer, you should also set a goal in Google Analytics. A goal will enable you to see how many potential clients who visited your contact page, actually filled it out.
This is the so-called conversion rate.
For example, if 100 people go to your contact page, and 6 of them fill it out, your conversion rate is 6%. Now you can tweak and test your page and do experiments to see if you can make your conversion rate higher. This is a super valuable tool for a freelancer.
b) Install a couple of essential WordPress plug-ins to make your site functional and secure
c) Connect your new website with your social media profiles
This is important not only from the search engine optimization perspective.
Your potential clients will always (yes, always), check your social accounts before getting in touch with you.
They will want to know if you are a real person with real skills.
That's why it's great to link your site to your LinkedIn, Facebook, Twitter, and Instagram accounts.
d) Optimize your website, so it actually gets you clients
If you set goals in Google Analytics, you'll see how many visitors fill out your contact form (and which pages they're coming from).
Over time, your job will be to tweak your site so that you improve the conversion rate.
You can do it by creating A/B experiments that will show you which version of your page brings the best results.
You can set these A/B experiments for free using a tool like Google Optimize.
You now officially have your website. I'm so proud of you.
But you may need a little bit of inspiration to make your site look even better.
Six best examples of freelance writer websites for your inspiration
Below you will find anything – from ultra-professional sites to super creative outlets. Check out these samples and use them as templates for your site.
Think about what kind of brand image do you want to create for yourself as a writer.
If you specialize in blogging, and SEO work, it's usually better to go with something minimalist and professional.
But if you're a creative copywriter, and specialize in writing brand stories, you may go as creative as you want. Let's take a look.
Colin's website is a great example of a professional approach to business. Since he specializes in writing about WordPress, he came up with a harmonious, blue, and white design.
There are no fireworks here, just crisp and clean presentation of his chops as a freelance writer.
Notice how he builds authority by showing the clients he worked with and testimonials from respected people in the field.
Kayla came up with a custom design that reflects her original character.
The first thing you'll notice is her beautiful portrait, including a cup of coffee, which is the freelance writer's equivalent of a warrior's sword.
What I like about her website is that she shows specific results she was able to get for her clients. And we're not only talking about traffic here.
A humble brag like this always helps to impress your potential clients.
Muriel's freelance writing website is gorgeous. It has a near-perfect UX design and a minimalist feel to it.
Simplicity allows you to make choices easier when navigating this portfolio site.
You can see that the author specializes in a specific niche (food, tech, and culture). This is something you should think about as well when designing your website.
The more niched you are, the more you can earn, and the easier it will be for you to get new gigs.
Kira clearly invested a lot of money into her site, which is custom made.
In my estimation, this kind of design would cost a lot, depending on who you're working with. It's not something that you would do on the first site, but it's something to strive for in the future.
The site itself is a testament to Kira's creative mind. It's perfect for businesses that want to develop an interesting brand story.
Ann's freelance website is an example of pure minimalism.
It's nearly monochromatic and only offers a couple of simple choices.
There's a portfolio page with links to articles in some of the top publications around the web.
You can see that Ann wants to present herself as a serious writer and not "just another blogger." This helps her land gigs for national magazines and even interviews with celebrities.
This last example is also a custom-made website that blows your socks off when you enter for the first time.
The colors, the fonts, and all the other elements are beautiful.
But there's also a lot of subtle social proof sprinkled around. This includes testimonials from high-profile clients and logos of popular brands.
I'm sure that after checking, you'll find these examples are bursting with creative inspiration.
The distinguishing factor here is creativity (and extra cash) that the writers put into the design. Of course, you don't have to go high-end at the very beginning of your career.
But it's something you should strive for in the long-term. After all, investing $500 – $1000 in pro design can make all the difference.
The six biggest mistakes to avoid when setting up a freelance writer website:
1. Not showing sufficient social proof and results you've achieved for clients
Social proof is everything when it comes to persuasion. It's a subliminal way of saying, "I'm legit."
Social proof elements include:
The logos of brands you've worked with (the more influential, the better).
Testimonials from your past clients (the more high-profile or industry-specific, the better).
The specific results you can achieve for your clients (traffic, leads, email sign-ups, sales).
The high-traffic sites you wrote for.
Always remember that "10,234 new visitors in 6 months" is more potent than merely "10k new visitors".
2. Putting cute design over high conversion rate
This is such a common mistake. As writers, we are creative types who like to show our personalities.
That's why you see many sites with flashy colors, GIFs, and other distracting elements.
But remember that the primary purpose of your site is to attract paying clients.
That's why your primary focus should be on boosting your conversion rate (the percentage of visitors that take the desired action).
To boost conversion on your freelance business site, do the following:
Include prominent calls to action (CTAs) at the very top of your pages.
Link to your contact page from your other pages, as well as blog posts.
3. Not focusing on a specific niche, target audience, or area of freelance writing
The more niched you are as a writer, the more you can earn. If you're a jack of all trades, you are also a master of none.
That's why you should pick your area of expertise, and show it on your website.
This might be travel writing, journalism, essay writing, blog post creation, writing sales letters, etc.
4. Being overly wordy
Your clients don't have enough time in the day to clean out their email inbox, let alone read the 1000-word introduction to your life's story.
Be as concise as possible. Be punchy. Be specific. Get to the point.
5. Not updating your site frequently enough
If your website says "all rights reserved 2014" and your latest blog post is from one year ago, it looks damn sloppy.
Do your best to keep your website updated and check if everything works correctly.
Your website is a reflection of you as a writer. If it's sloppy, you'll be perceived in the same manner.
6. Not paying attention to onsite SEO on content formatting
Over time, you want to start generating organic traffic to your website.
You can only do this by paying attention to onsite SEO elements. These include:
The keywords you pick for your blog posts.
The structure of your pages (headings, formatting, etc.)
The length of the content you upload (the longer and more in-depth the better).
The frequency with which you post new content on your site.
The speed and reliability of your website (that's why picking a great hosting company is so important).
Important tip: Should you pay for website design services? The answer here is "it depends."
If you already have a steady monthly cash flow from your freelance writing business, this might be a good idea. You would need to pay $250 – $5000, depending on the designer or agency you're working with, and your expectations.
If you want to go down that road, I suggest using a platform like Fiverr or Upwork. Design gigs there are affordable, and often you get unlimited revisions which is great.
If you're a newbie freelancer, you may want to save money, and build the website by yourself. By using a visual page builder with built-in templates, this is easier than ever.
Extra resources you may need for starting your freelancer site
To go fully pro, you may want to invest in a few elements that will let your new website pop. Let's take a look…
1. A logo
A professionally designed logo is an essential branding element. If you work with an established graphic designer, you may pay even a few hundred dollars to get one.
But if you're just starting out, you can visit a site like Fiverr and get a unique logo for $30 – $50.
You can then place the logo at the very top of the menu of your site to make it look more legit.
2. A professional photo of you and photo editing
A high-quality photo is what distinguishes a seasoned pro from a newbie.
After all, clients like to put a face to the name, and if you have a great pic, you're already way ahead of the game.
Nowadays, you don't have to hire a professional photographer to get one either.
Just grab your friend who has a DSLR camera or a high-end mobile phone camera, and go DIY mode.
Once you have your favorite picture ready, it's great to spend a little bit of retouching.
Then, make sure to include the photo on your homepage to create a stunning first impression.
3. A unique color pattern that will become a part of your brand
Each brand should be associated with a particular color pattern.
As you can see, on my website, I like to use green and light blue. These are colors of nature, but they're also connected to professionalism (blue), as well as profits and growth (green).
I also added a tiny splash of orange to make it appear more lively and creative.
Now it's your turn. What kind of colors are you going to use, and what kind of impact do you want to have?
You've built your freelance writer website – now how to get paying clients onto your site?
a) Use your website as an ace in your sleeve when pitching new freelance clients
Make sure to include the address of your exquisite site when applying for jobs and sending email proposals. This will vastly improve your chances of success.
b) Continue to build your freelance writing portfolio
When you complete new jobs, include them in the portfolio section of your page. Do it, especially if you just wrote a masterpiece for a high-end news outlet or authoritative blog.
c) Update the blog section of your website regularly
By posting one or two new articles every week, you set yourself up for success in the long run. After a few months, you will start gaining organic traffic from search engines. This will enable you to generate passive income and attract new clients.
d) Include the address to your website in your email signature
You may also brag about your site on Instagram, Twitter, LinkedIn, and Facebook accounts. Make it as visible to your potential clients as possible.
f) Invest in Facebook ads to get people to your site
Target only a super-specific audience in the area where you live. Clients always prefer to work with local service providers, so take advantage of that.
The main benefits of having your website as a freelance writer:
Being perceived as a high-value professional and charging more for your services.
Attracting potential clients within a specific niche organically.
Showing off your writing chops and generating social proof about your abilities.
Having a great place to include in your portfolio.
Having a creative outlet where you can publish articles that are uniquely yours.
Earning passive cash with ads, affiliate links, and sponsored posts.
Epilogue – are you ready to start your very own freelance writer website?
I did my best to present all the relevant information as clearly as possible. I hope that right now you are ready to take the plunge and finally get your site up and running.
Remember, you have to be willing to invest in your small business to grow it.
Only when I started my site and began outsourcing did I see much progress.
You should do the same and start moving forward as soon as possible.
Live in your mom's basement if necessary. Eat noodles if it comes down to it.
Be willing to take a calculated risk, and you'll be on your way to earning $3000 – $6000 per month as a freelance writer.
Rafal Reyzer
Hey there, welcome to my blog! I'm a full-time blogger, educator, digital marketer, freelance writer, editor and content manager with 10+ years of experience. I started RafalReyzer.com to provide you with great tools and strategies you can use to achieve freedom from 9 to 5 through online creativity. My site is a one-stop-shop for freelance writers, bloggers, publishers, content enthusiasts who want to be independent, earn more money and create beautiful things. Feel free to
learn more about me here.