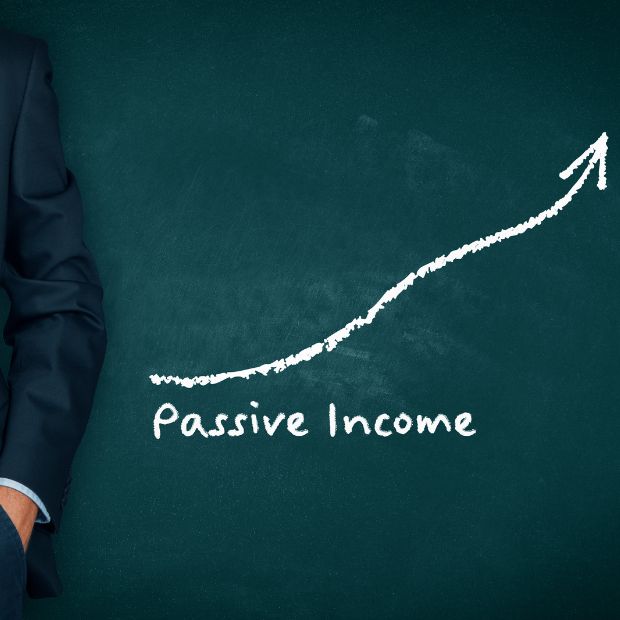 Looking to transform your blog into a passive income source?
Currently, my blog brings in over $2000 every month, and I'm eager to guide you to achieve the same. While tales of bloggers earning $100k monthly might sound daunting, don't let them discourage you. My journey began without a journalism degree, and English isn't even my first language. Yet, my persistence and determination carved a profitable path for me. If you're ready to harness these traits, I'm here to provide actionable strategies to kickstart your passive income journey. Prepare yourself, because this is going to be an enlightening experience.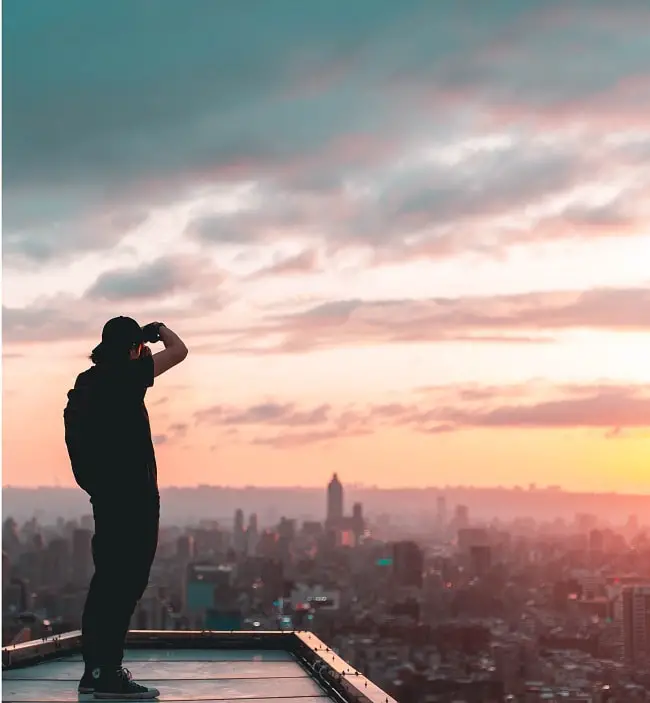 A major misconception about blogging and passive income:
Ever heard Gary Vee's stance on passive income? He's both right and wrong. Yes, inheriting real estate can equate to passive income, like the cool $2000/month kind. But blogging for income? That's a different ballgame. To date, I've poured over 1783 hours into my blog. That's nearly 45 full work weeks. And that doesn't even include the time I spent mastering the art of blogging. Initially, you might earn nothing. But persevere, and within a year, you could be looking at $1000-$2000/month. Sounds passive? Not entirely. If I were to take a month off, my earnings would likely stay steady. But leave it for two months? The income dips. Still, it beats the monotony of a 9-5 grind. The trick to success? Don't try to do everything. With tons of advice in the blogosphere about becoming the next blogging sensation, it's easy to get sidetracked. Focus, and you'll find your way.
Here are some of the recommendations you have probably heard of:
Create a Facebook group and interact with other bloggers.
Grow your email list as this is your most valuable asset.
Start a YouTube channel because video content is exploding right now.
Comment on other people's blogs and reach out to get some backlinks.
Use cheap Facebook ads to promote your content and email list.
Develop a social media strategy and a substantial presence on Instagram and Pinterest.
While these ideas are great in general, they're terrible for beginner bloggers. Doing these things would require you to work 100+ hours per week, and you would still not have enough time to do it all. That's why the majority of bloggers fail. They want to do too much at the same time. But chasing a new shiny object each week ultimately leads to burnout and failure. Are you serious about developing a passive income stream from your blog? Can you spend 10 – 30 hours a week to achieve your income goals? Then you should concentrate on the vital few activities that you'll perfect and repeat hundreds of times.
The main blogging activities for passive income are:
Finding high-value (not necessarily high-volume) keywords within your niche.
Proofreading and editing your articles.
Formatting and publishing articles while taking good care of on-site SEO.
Occasional guest blogging.
That's it. That's the whole secret. That's how you can create a blog from scratch and make $1000+ per month in passive income within the first 12 months. There is no magic here, just consistent effort over an extended period. All the other activities are distractions for new bloggers. You should consider them only when you can reinvest your blogging profits back into your business. Once you achieve healthy cash flow, you can start building your team and start scaling. Now how exactly can you develop a healthy income stream from your site? I'm glad you asked because that's what's coming next.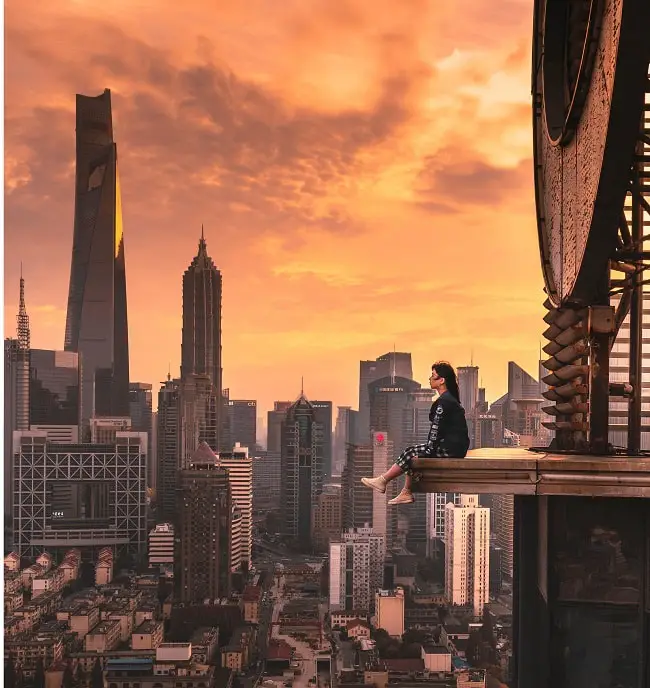 Here are nine ways to earn passive income with your blog:
1. Crush it with display advertising revenue
Among all "earn money from your blog" concepts, display advertising is the holy grail when it comes to passive income. All you need to do is to flip the switch to "on", and ka-ching, you're earning money. That is – if you have consistent traffic on your blog.
You can start from day one with Google AdSense, and then transition to advanced advertising platforms like:
Ezoic (where you'll need at least 10,000 visitors a month on your blog)
MediaVine (where you'll need at least 25,000 visitors a month on your blog)
AdThrive (where you'll need at least 100,000 visitors a month on your blog)
A couple of years ago, display advertising was still a weak income-generating method. But now, the above platforms are using machine learning algorithms and place ads in the right spots to maximize your revenue. I remember it took me a solid couple of months before I got my first $100 transfer from AdSense. Now I'm happily using Ezoic, which also comes with cool features that speed up my website. The key to earning a lot with ads is to focus your content marketing efforts only on a particular niche. Your audience will be homogenous, and that will help with ad targeting, and putting more money into your pockets.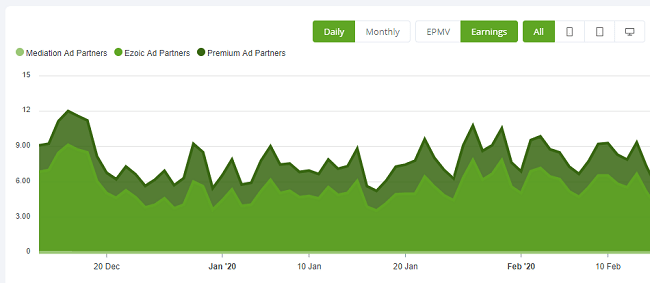 The crucial display ads concept is EPMV (earnings per 1000 visits)
For example, if your EPMV is $5, you will earn roughly $5 for every 1000 visits to your site. But if you niche down and attract the so-called profitable traffic (related to expensive keywords like "insurance" or "home repairs"), your EPMV can shoot up as high as $25. On my blog, this number hovers around $10, but it's increasing, as I publish more content around lucrative keywords. Now it all becomes a numbers game. The more traffic you have, the more you earn. So find some good keywords, and publish thirty new articles as soon as you can. This should get you in the game. Once you have that down, you can move to the next step.
2. Generate income with affiliate marketing commissions
It all depends on how you roll, but for me, affiliate marketing has been a big passive revenue generator. With affiliate marketing, you recommend products and services to your audience through text links and banners. If they end up buying anything, you will receive an affiliate commission. The best part? You don't have to deal with shipping, handling, or customer service. For example, I recommend SiteGround as the number one hosting platform for new WordPress blogs. It's fast, reliable, has excellent customer service, and with its basic service package, you can host up to three blogs. Now, if you click on that link and sign up for any of the services offered by SiteGround, I will get a commission ranging from $50 to $100. This is much more impactful for your bottom line than earning a few dollars per day with display ads. Of course, you have to have integrity and recommend only the products you truly believe in. I found that using display advertising and affiliate marketing is not mutually exclusive. You can use both at the same time to earn even more.
Is affiliate marketing passive?
It could be. But first, you need to publish a ton of articles, with affiliate links in them. Then you also have to learn how to optimize your CTRs (click-through rates) by placing the links in the right places, and by using the right words. If you're a beginner, you should start with Amazon Associates to grow your affiliate revenue. For each item you help to sell, you can get a 4% to 10% commission.
Other platforms where you can find more lucrative affiliate deals are:
Awin
ShareASale
CJ Affiliate
ClickBank
Create an account, partner up with a company that sells great products, and you're ready to start promoting. There is a little bit more to it than that, so if you want to learn more, check out this guide to affiliate marketing. If you want to boost your affiliate income, you should join affiliate programs that offer recurring commissions. In this way, you help to get the client once, but you receive commissions as long as he or she stays. An excellent example of this is the affiliate program from ConvertKit, where you can get a 30% recurring revenue stream.
Other examples of affiliate programs that offer continuous commissions are:
Tailwind – 15% m/y recurring
Thinkific – 20% monthly recurring
Click Magick – 35% monthly recurring
Lead pages – 30% monthly recurring
Long Tail Pro – 30% m/y recurring
Ninja Outreach – 20% monthly recurring
Click funnels – 40% monthly recurring
Access WP – 10% monthly recurring
CreativeLive – 10% monthly recurring
Teachable – 30% m/y recurring
If you could get clients for each of these companies, you could be earning a few thousand dollars monthly without lifting a finger. But wait, there's another way in which you can clock some cash. Shall we take a look?
3. Earn passively by selling e-books (and other information products)
Think you need a massive mailing list to sell e-books? Think again. Sure, a mailing list is a goldmine, forming a bond between you and your readers. However, even without a vast list, you can reap the benefits of passive income with your e-book, especially if it's in a unique niche and complements your blog content. Consider Michaela Chung of Introvert Spring. She offers "The Year of the Introvert", seamlessly fitting her blog's focus on personality development. Many readers, after engaging with her blog, naturally gravitate to purchasing her book. Similarly, Avocadu presents a consistent e-book offer about a 30-day weight loss challenge. Because their site is a haven for health enthusiasts, some readers are instantly drawn to the $29 offer. Another smart move? Leverage platforms like Amazon, as Meera Kothand does. She lists her e-books there, turning to Amazon's vast customer base while pocketing a hefty 70% commission on sales. Plus, these e-books can lead readers to her more premium offerings. The bottom line: With e-books, it's about strategic alignment with your blog content. Once penned, an e-book can serve as a consistent revenue stream for years. Need to keep your hands off? Platforms like UpWork or Fiverr can connect you with ghostwriters, turning your idea into an e-book with minimal effort. Consider it an investment that pays dividends over time.
4. Develop an e-course automated marketing machine
Selling online courses is what turned many bloggers into millionaires. To develop a course, you need a higher level of skill than with the other monetization methods described here. But if you can develop a valuable course and set up a whole marketing machine for it, you may earn $300 – $2000 per transaction.
How to make course sales more passive, you ask?
There's no doubt that you'd have to put in a tremendous amount of time to create a suitable course. You'll likely need camera equipment, as well as access to an online learning platform like Teachable or Thinkfic. But then you can automate the web scraping or data gathering, marketing, and selling process with software tools. First, develop a lead magnet that's somehow related to the topic of your course. It might be a short e-book or a video series. Offering it will enable you to build your email list (here I recommend a tool like ConvertKit). Once someone signs up for your list, you can send them an automated series of emails that will nudge them closer to visiting your sales page and making a buying decision. Of course, you will likely receive many customer support questions. But here again, you can take advantage of the gig economy, and outsource customer support to another person. As you can see, there's a lot of upfront time and money investment involved. But once the process is in place, you can earn money almost on autopilot. Moreover, you can create an affiliate program for your course and allow other bloggers to do the marketing for you. And if your content is high quality, you can count on it to spread through word-of-mouth marketing.
Here are a few examples of successful e-courses that made tens of thousands of dollars in sales:
Course From Scratch
Making Sense of Affiliate Marketing
6-Figure Blogger
Killer Cold Marketing
Because a lot of great courses already exist, you don't have to reinvent the wheel when creating your educational package. Simply reverse engineer the process that other bloggers use and emulate their approach.
5. Offer a simple software package or a mobile app
Developing software doesn't have to be complicated, and you can create a simple app for a few hundred dollars.
You might come up with:
A weight loss calculator
A mortgage rate calculator
A compound interest calculator
An SEO analyzer
An app for goal achievement
Fitness progress tracking app
A word processor that will allow you to focus
A budgeting tool that will help you get out of debt
These are just a couple of examples, but in truth, you're only limited by your creativity. Keep in mind that developing an app might be lucrative, but you have to have a good product-market fit. You need to sell something that people are willing to pay for, which is related to the content you already have on your blog. For example, the author of the Niche Pursuits blog was able to generate $261,225 in 20 days with his SEO software, LongTail Pro, even though he didn't have any experience with programming.
6. Get passive cash with dropshipping
Dropshipping is a branch of e-commerce, where you sell physical products on your site, but you're not managing the inventory, shipping, or customer service. All you need to do is come up with a good marketing strategy, and the drop shipping company will take care of the rest. This business model exploded with the publication of the Four Hour Workweek, by Tim Ferris. But how is dropshipping different from affiliate marketing? First, it deals only with physical products. Second, you can come up with your products but still outsource the business operations to your supplier. Check this detailed dropshipping guide for more information. Your only job is to get traffic into your e-store. If you're able to do it organically, your whole operation will not require a lot of maintenance. You can start your store with Shopify or Ecwid eCommerce, and you're ready to go.
7. Sell valuable resources and templates you developed
As you grow your blogging business, you start developing tools and templates for speeding up your progress and getting stuff done. These may include calculators, algorithms, formulas, printouts, Excel spreadsheets, processes, templates, frameworks, etc. It's something you spend a lot of time on, and you use it to get better results in your day-to-day activities. Do you think other people could use your stuff and benefit from it? You betcha. Then why not put it on sale and watch your passive income grow? Many bloggers do it by creating a unique "shop" area on their platforms. A great example of that is Jenna Kutcher, who, besides being a successful blogger, is also a photographer and graphic designer.
On her blog, you can find products such as:
20 Essential Email Responses For Wedding Photographers ($59)
Customizable Brand Style Guide ($39)
Customizable Pricing Guide: General Entrepreneur ($79)
Customizable Wedding Magazine ($175)
I'm quite sure, Jenna created these assets for her own business first and then put them up for sale for others to use. The best part is that she doesn't need to market them hard. People who visit her blog are natural prospects for these kinds of products, and they will buy without having to be sold. Do you have similar assets you could use to create a shopping zone on your blog? Just start digging around, and you'll find acres of diamonds under your feet.
8. Create a challenge that your readers will have to accomplish
This is a creative way in which you can earn money with your blog. A challenge is a type of service but with a unique twist to it. Instead of merely providing valuable information, you expect your buyers to get stuff done and accomplish something great within a given timeframe.
This is most popular with health and fitness blogs where you can encounter challenges like:
"The 30-day Keto diet challenge."
"30 days to yoga mastery."
"10 lbs. in 30 days challenge."
However, you can apply this concept to almost any niche. I'm planning to create my challenge where I motivate my readers to write 30,000 words in 30 days. Of course, this type of challenge works best if it's a singular event with some marketing dollars behind it. But you can also treat it as an ongoing service, and then it will have a slightly more passive feel to it. For example, you can create a checklist of items and then put it on a process tracking service like Process Street. When someone accepts the challenge, you point them to the checklist, give them a deadline, and wait for the moment when they submit their results. If you want to put in as little work as possible while doing that, outsource the whole customer service side and only look at the results. This type of motivational push is precious to people and they're willing to pay a premium for this kind of coaching on autopilot service. How much would you pay for a fitness challenge that would get you in the best shape of your life over 45-60 days? $300? $500?
9. Buy websites, fix them, and profit passively
Buying websites is a little bit like buying real estate. You have to find the best deal possible, make a couple of adjustments, and then you can count on positive cash flow for many years to come. Webmasters sell their blogs for a variety of reasons. Perhaps they switched careers, got bored with the topic, or needed a quick injection of cold hard cash. You can take advantage of that and search for a perfect deal. In most cases, websites are priced at 30X, their monthly profits. For example, if the blog consistently makes $100 per month, it will be priced at around $3000. It means that if the traffic stays more or less constant, you will recuperate your investment within around twenty months. However, oftentimes bloggers use inadequate monetization methods. This is a massive opportunity for you because by adding a few additional affiliate links or switching the advertising platform, you can instantly boost the site's profits by 30% to 40%. In this way, you'll get into the positive ROI zone much faster.
The most popular platforms for buying websites are:
Flippa.com
Empire Flippers
SitePoint Marketplace
Side Projector
WebsiteBroker
Freemarket
Proper due diligence is an essential part of a successful website investment strategy. You have to be convinced that what the webmaster is telling you is accurate. But don't take his or her word for it, and use a variety of website analysis tools to see what you're getting into.
Seven examples of successful bloggers who earn passive income with their sites:
1. Trevor and Jennifer Debth at showmetheyummy.com ($46,000+ Per month)
This blog is a prime example of how you can generate massive amounts of passive income with your blog, year in and year out. This site was started by two foodies who are also skilled in internet marketing. By regularly posting mouthwatering recipes, they were able to attract thousands of organic visitors per month to their blog. What's best is that its monetization strategy is relatively simple. They earn mostly through display ads and affiliate marketing offers. You can check more details about their success story here.
2. Michelle Schroeder-Gardner at makingsenseofcents.com ($100,000+ Per month)
Michelle is the queen of affiliate marketing. She was wise to start a blog in the financial niche because that's where you can earn the most with display ads and affiliate offers. She worked 100 hours per week to make her passive income dream come true. But recently, she was able to take a year off just to travel around and enjoy her money. Her blog earns tons of dough through display ads and affiliate offers. She also has a profitable online course "Making Sense of Affiliate Marketing" and she also has an affiliate program. How's that for a meta-marketing strategy? You can read how she made $1.5 million with her blog in 2018 here.
3. Jon Morrow at smartblogger.com ($100,000+ Per month)
SmartBlogger is one of the best platforms online where you can learn about how to make a living blogging. It's a profitable niche that I'm a part of because it allows you to recommend affiliate products in the areas of hosting, online marketing, software, and more – all of which come with generous commissions. Jon's blog has been around since 2004, and it's now making $100k+ in monthly income. It is generated through affiliate marketing, e-course sales, and other digital products. The author could already retire from his passive income, but I guess he's enjoying the online marketing game too much.
4. Matthew Woodward at matthewwoodward.co.uk ($25,000+ Per month)
Matthew is an expert when it comes to digital marketing, and he was able to monetize his knowledge fast. Instead of relying on digital info products and display advertising, he went all-in on affiliate marketing. While advising on link building, hosting, traffic generation, and website development, he makes handsome commissions by also recommending online marketing products and services. You can check Matthew's detailed income report here. What I like about it is that he includes reports spanning five years so you can see exactly how his income evolved.
5. Meera Kothand at meerakothand.com (Income not revealed)
Meera was able to find her niche in the online marketing world. She brands herself as an email marketing expert and offers some great advice on email list building and monetization. This gives her an excellent opportunity to promote email marketing software like ConvertKit, which generates recurring 35% commissions every month. Meera has a superb autoresponder sequence that walks you through the secrets of email marketing. By writing all of her emails in advance, she's now able to generate a large chunk of her monthly income passively.
6. Michaela Chung at introvertspring.com (Income not revealed)
I've been following Michaela's blog for a long time since I'm an introvert myself. Has strategy relies on constant content production and then channeling her readers to one of her premium offers. You can see that she's passionate about the subject she's talking about, and because of that, she was able to develop trust and loyalty among her audience. She inserts links to her digital products within her articles, and that's how she's able to earn a good living passively, without relying on complicated marketing tactics.
7. Jenna Kutcher at jennakutcher.com ($100,000+ Per month)
Jenna is an OG kind of blogger and a great example of how you can combine your passion with business interests. The author is a photographer by trade, but she was able to leverage her unique knowledge to teach others how to start their photography and online businesses. The best part is that she started her blog only in 2015, which later turned into a seven-figure blogging empire. If you need more inspiration, you can also check this list of more than one hundred blogging income reports. Don't try to reinvent the wheel. Always look at what other successful bloggers are doing and model their behavior. This will allow you to save yourself years of struggle and financial hardship. At the same time, do not be a copycat and do your best to implement proven concepts creatively.
Are you ready to earn passive income with your blog?
If I told you that the blogging game was easy, I would be lying. It's a hard-core and often grueling type of work that I love from the bottom of my heart. It's not something you can spend a few hours on here and there and expect to earn massive amounts of passive income. As mentioned before this is a misleading idea because you have to invest hundreds of hours upfront before you reap the reward. That's why turning blogging into a business is so hard, and that's why the vast majority of bloggers give up before they even earn the first few cents from their site. Don't let this be you. If you've gone so far in this article, it means you have the tenacity and determination essential for success. Regardless of your current job situation, set a goal to spend 10 to 20 hours per week on building your web empire. The time is going to pass anyway. In around two years, you can have a thriving website or nothing at all. Which one do you choose? Next up, you may want to explore a guide on how to create a freelance writer website.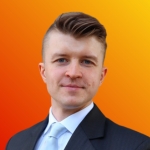 Rafal Reyzer
Hey there, welcome to my blog! I'm a full-time blogger, educator, digital marketer, freelance writer, editor and content manager with 10+ years of experience. I started RafalReyzer.com to provide you with great tools and strategies you can use to achieve freedom from 9 to 5 through online creativity. My site is a one-stop-shop for freelance writers, bloggers, publishers, content enthusiasts who want to be independent, earn more money and create beautiful things. Feel free to learn more about me here.