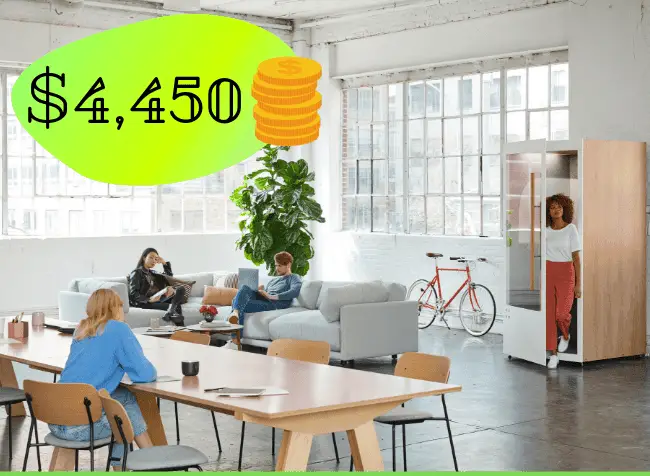 If you suddenly got a sizable influx of cash to spend on your business, how would you decide to spend the money?
I had to answer this question when I received $4,450 as a grant from the government to start my online business.
I run a solo operation for now, but want to expand, so it is valuable to learn about my story.
To get the grant, I had to fill out tons of papers and keep detailed expense reports, but that's another story.
The coolest part is that I don't have to give the money back, as it's a non-returnable grant, courtesy of the government.
In the simplest terms, I received almost $5000 to invest in an online business in in the area of blogging, content development, copywriting, editing, and social media marketing.
What I wanted to achieve with the purchases:
A faster and more productive work experience (better grind)
An ergonomic, comfy workspace
A whole video marketing kit
A great web and UX design for my blog
Top-notch software for writing and editing content
Excellent ways to market my business
Great on-the-road gear for digital nomading
A way to learn more about digital marketing with the top tools
What items to invest in as a new business owner?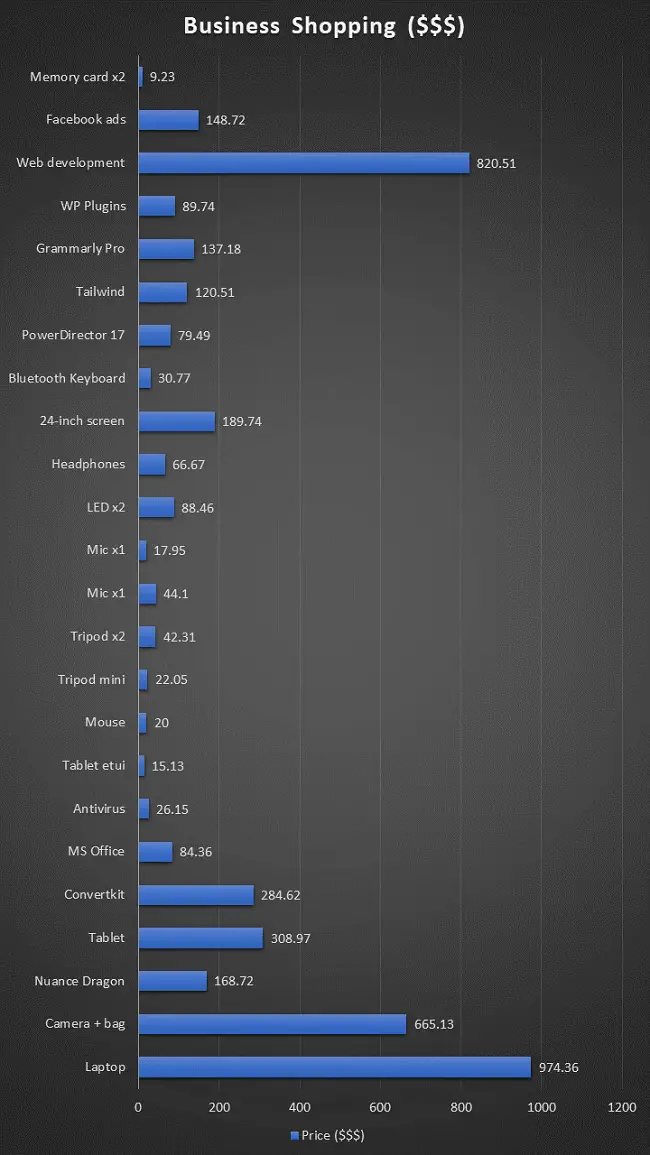 What I bought for $4450 to grow my online business (in-depth description):
1. A brand new laptop for maximum productivity (Lenovo 330 in my case)
A great productivity machine is a prerequisite to any business's success. I decided to go with a laptop instead of a desktop computer because I want to stay mobile at all times.
I chose Lenovo 330 for a couple of reasons. First, it was one of the fastest and cutting-edge technology-packed pieces of hardware I was able to find.
No, it's not the prettiest or the best-designed laptop out there. However, the priority for me was the performance. With the new 8th generation Intel i7 processor and 12 GB of RAM I'm able to complete demanding tasks within a couple of seconds.
Another reason is that it has all the ports placed on the left, so plugging in extra accessories does not impede mouse movements. Also, the keyboard is comfortable and backlit, so it gives me a supreme typing experience.
Moreover, this laptop enables me to put the screen flat on the desk at a 180-degree angle. Takes it super easy for me to put it right under the large 24″ monitor. Finally, it came with a pre-installed Windows 10, so I didn't have to install it myself.
2. A great, ergonomic, and super fast vertical mouse
I've been suffering from wrist pain issues for a while. That's precisely what years of hardcore computer grind does to you. Yoga, stretching, and a healthy lifestyle make a difference for sure. But the key to longevity in the writing and online publishing game is an ergonomic vertical mouse.
I chose this specific model because it has six different buttons. Besides the usual three buttons which every mouse has, it also has forward and back buttons which enable you to search the web at lightning speed.
If you don't have a "back" button on your mouse, you are doing yourself a disservice and losing lots of time when browsing the web.
The device has a vertical design, so it's much easier on my wrist and enables me to work in comfort for hours at a time.
The sixth button is for changing the speed of the cursor. I'm able to select between three different DPI modes. Usually, I grind on the fastest one, which enables me to crush my tasks in blitz mode. It must have increased my productivity by at least 20%. Imagine what this will do to my bottom line over time.
3. An accurate omnidirectional microphone for dictation, online calls and video conferencing
This one was a must as I'm using dictation a lot to write content for my blog (more on that later).
There's a lot of great mics available online. I chose this kind of "gaming" model because it's lighter and has a long "neck," which allows me to position it closer to my mouth.
I mounted it on a small mobile phone tripod so now I can talk directly into it. Still, it picks up the sound even from a considerable distance.
The quality of the recording is fantastic, especially given the low-end price. This is one of the must-have investments for a budding online entrepreneur.
4. Comfortable Bluetooth headphones with great sound quality and battery life
I was pumped to get my hands on these. Music is what gives rhythm to my work sessions, so it was only natural to buy quality headphones.
Bluetooth allows me to work in an (almost) cordless environment. Now I can move around while working and listen to my favorite productivity vibes while on the job.
Another great benefit of using Bluetooth headphones is that I can use them along with the microphone. Now I can listen to low-volume tunes and dictate my next blogging masterpiece – all at the same time! Plus, the battery life is excellent here, as I can listen to music for around 24 hours non-stop.
Pro tip: during my working sessions on my laptop, I set the music on my tablet and put it out of reach. Now I'm not tempted to change music all the time and watch random YouTube videos. I blocked YT on my laptop with a Block Site extension. This alone boosted my throughput by 15 – 20 percent.
5. A 24-inch monitor that serves as the main office screen
I spent hours checking the best monitors and screen sizes. In the end, I decided on a 24-inch screen.
I put the laptop under it and use it as a single screen. In the future, I might upgrade to a double 24-inch setup, but for now, a single big screen gets the job done perfectly.
When writing, I split the screen into two Chrome windows. On the left side, I have Google Docs or Word for copy editing, and on the right side, I have my research notes and tabs with related information. This office setup sped up my workflow tremendously.
Pro tip: Also, I made sure to buy a screen that effectively blocks blue light. Looking at a regular display for hours can make your eyes dry and achy. That's why in addition to a low blue light feature, I also use the blue light blocking glasses in the evening. Believe me, this makes a big difference.
6. A great camera for blogging, video marketing, and creating visual art (Canon M50)
The camera alone deserves a separate article. But in short, I spent around 8 hours of research and decided that M50 was the way to go.
It's not the top-tier-gear, but it's perfect as a centerpiece of my video marketing kit for a couple of reasons:
It's inexpensive yet packed with tons of useful features.
It has a microphone jack, so it's great for recording high-quality audio.
It has the 4K capability that allows me to capture video in super high quality.
I can easily mount it on a tripod.
I can transfer my images and videos to a computer via Wi-Fi in a matter of seconds.
Many professional vloggers recommended this camera. I compared it with similar models available, but somehow, this one always came out on top.
It has so many features that it's easy to get overwhelmed when starting out. But the camera also has an auto mode, both for images and videos so you can point and shoot without any experience and still get a fantastic quality. Video content is the future of online communication, so start doing it as soon as possible.
7. Two tall, yet light tripods (for the camera or LED lights)
Tripods are the name of the game if you're into online video creation. If you hit the road regularly, you will need something transportable that doesn't weigh too much.
You also need something that will be enough to place a camera or LED lights in the right spot. I spent a lot of time researching the best tripods and believe me – the discrepancy in pricing and quality is huge!
Fortunately, I was able to find a model that suits my needs. A light tripod can be a bit shaky, so it's not suitable for shooting outdoors in unpredictable weather conditions. But if like me, you will use your tripods in home studios or hotel rooms, it's no big deal.
I've noticed that top video marketers and Youtubers create a single space where they put their gear ready to fire at all times. In this way, it's easier to switch on the camera and start shooting without wasting 13 minutes on getting your equipment just right. This is the real secret of video production productivity.
8. One mini, yet more solid tripod (for the camera or LED lights)
This one is pretty self-explanatory. If you're into vlogging and any camera work you will need a couple of stable tripods. I decided on this one because it looks super stable. At the same time, it's small and light so that I can take it on the road with me.
Shooting without tripods is going to mess up the quality of your work. Shaky cam might be great for horror movies, but it's not something that would improve the quality of your work.
Nowadays, many tripods come with Bluetooth enabled "remote" you can use to start and stop recording. This is great if you don't have another person to help you out with the task.
9. An unobtrusive camera lapel mic for sound recording
There are many different options you can use to record crispy audio for your video content. But for a solo entrepreneur like me, a lapel microphone was a perfect solution.
If you're going to an event, a shotgun mic would be a better option because it's omnidirectional. However, if you will be sitting in front of a camera and talking to it, a clip-on mic is irreplaceable. Since it's placed right below your face, It will pick up high-quality audio which you can later turn into a podcast.
The microphone has a long cord so you can sit a couple of feet from the camera and still capture great audio. I got this model because it comes with an internal battery. This is crucial if you plan to hook it up to a camera. Otherwise, you won't be able to record any sound. But if you want to record audio on your laptop or a mobile device, you can pick a mic without an extra battery inside.
10. Two super bright and portable LED lights to light up the scene
Anyone in photography, professional photo managers or video marketing will tell you that proper lighting is a must.
High-quality light turns a mediocre-looking video into a crispy masterpiece of cinematography. If you look at videos from the most popular YouTube channels, you will see that they pay close attention to how they light up the foreground and background.
I went with the newest model of the Neweer LED lights with 170+ little LED bulbs. Yes, they are more expensive than your average light, but the quality is unsurpassable.
You can regulate the intensity of light (from 1 to 100) to make the space look just right. Rechargeable batteries fuel the lights, so you don't have to worry about tripping over cords or searching for wall sockets.
There's a bonus battery with each package so you won't run out of energy even on an intense shooting day. You can mount the lamps on a tripod and place them exactly where you want them to be. The reason why I bought two of them is that now I have more options to set up the studio according to my needs.
11. Two memory SD cards for video and extra disc space
This one is also a no-brainer. If you plan to shoot video, you better equip yourself with fast memory SD cards. Most often, you will get a memory card in a bundle with the camera. But shooting video in high quality that's around 10 minutes long counts for 3 or 4 GB of memory.
That's why you must equip yourself with at least two 64 GB memory cards. This will let you shoot without interruption for a prolonged period.
Also, it's essential to buy premium cards as they will transfer data to your computer much faster. But nowadays, you can transfer images and videos through Wi-Fi from your camera straight to your laptop.
12. A fast tablet with a stylus pen for working on the road (Huawei Mediapad M5 in my case)
A piece of equipment like a tablet may seem unrelated to business productivity. However, I knew that it would be extremely useful while on the road.
I have my performance beast-of-a-laptop at home. It has all the bells and whistles and extreme capacity for computing, but at the same time, it weighs around 2 kg, so it's not easy to travel around with. Plus, I'm kind of squeamish about taking a brand-new laptop on the road as it can get damaged or stolen.
But here, a tablet comes to the rescue. With mobile apps available on the Google Play, you can do nearly everything you're currently doing on your computer.
I use my tablet for writing on Google Docs, keeping track of statistics and analytics with Google sheets, and even graphic design with the free Canva app. I also installed the Grammarly keyboard on it so I can use the tablet for content editing as well.
It has a 10-inch screen, so it's much better for getting the job done than your mobile phone. It allows you to split the screen and open up two windows like on a larger screen. This is super helpful for writing because you can put the text in one window and look at your notes at the same time.
I also found that a tablet is perfect for watching online courses and instructional YouTube videos while traveling. Somehow the larger screen makes it much easier to absorb the knowledge through videos, e-books, articles, and audiobooks.
13. Etui for the tablet to keep in safe and secure
This one doesn't need a lot of explanation. Etui is essential for keeping the tablet secure. I got one that's designed for my Media Pad device, and it complements it like tonic compliments gin.
It allows me to travel around with my tablet much more easily. Plus, I can turn it into a stand, which places the device at a comfortable 45° angle. This allows me to watch videos and perform different tasks without holding the device in my hands or on my lap all the time.
14. Bluetooth keyboard for fast typing on the tablet
Typing on a tablet screen is not comfortable and at times can be painfully slow. That's why I decided to grab this little Bluetooth keyboard that turns my tablet into a productivity machine.
It's super light and has all the functions you would expect from a regular keyboard. It's also ergonomic, making it a perfect travel companion and an indispensable accessory.
I place it under the tablet, which I can now turn into a small laptop. That's a perfect solution if you like working in cafés or restaurants, but you want to be more discreet. I first learned about this trick from Tim Ferris, whose podcast I recommend.
I suffer from wrist pain that prevents me from using the keyboard for an extended period. When I need to write content on the road, I plug my lapel mic to the tablet and use the native Google Keyboard dictation tool to get the stuff done.
Of course, it's not as accurate as a proper dictation software (more on that below), but it's still a handy tool to have in your toolbox.
15. Grammarly software for fast content editing and online communications
I was using the free version of the app for around two years before I went premium. Fortunately, the massive influx of cash I got from the government provided a perfect opportunity for me to try it out.
Grammarly has so many useful features and options that it deserves a separate article. In short, it's an app that allows you to correct all your grammar syntax and spelling mistakes.
It's available both on desktop and mobile, and it will fix your sloppy copy in no time. Right now I'm using it to edit the articles I publish on my blog. It's definitely worth the price (it's $11.66 per month if you decide to get the annual subscription).
The app is useful for a couple of reasons. Daily, I'm editing lots of articles coming from freelancers from different places around the world.
With Grammarly, I paste the text into the app, which finds dozens of possible corrections for each article. To find and think about these corrections on my own would take a lot of time, so the app increases my productivity a lot.
Plus, there is something called Grammarly Keyboard, which is super useful. It's a mobile app available on both Android and iOS that will sift through the content on your mobile devices.
Now you don't have to worry about making humongous grammar mistakes when writing on the road. This is crucial because nowadays, nearly 50% of business communications take place through mobile devices. Indeed, it was one of the best things I bought for my online business.
16. Nuance Dragon software for error-free, reliable dictation and improving writing productivity
In the past, I used to use the free voice typing tool from Google Docs. Unfortunately, it was not always accurate, and sometimes dictating was a drag. I thought that this was because I'm a non-native English speaker or that my mic wasn't up to par.
When I finally got my investment money, I decided to give Nuance Dragon a try. I've heard a lot of good things about it, but I doubted it would improve my dictation experience significantly. I couldn't have been more wrong.
This inexpensive software ($150 four home version) revolutionized the way I write everything. First, it has a 99% voice recognition capacity right out the box. It recognizes my voice and accent and allows me to produce content 40% faster than I would with a keyboard.
On a good day, I'm able to produce 1200 words in a single hour with my Dragon. Moreover, a free tool like the one from Google Docs allows you to dictate only within the app. But Nuance Dragon can be used across any text editor you happen to use.
For example, now I'm able to dictate emails with it, use it while communicating with freelancers on the chat, write Skype messages with it, and dictate notes in the notepad.
Of course, this type of tool is not suitable for someone working in a busy office environment. But if like me, you have the privilege of working from home, you are doing yourself a disservice by not using it.
I still haven't mastered all the different functions and voice commands it offers, but I'm on my way. Voice recognition is the future of communications so you might as well get used to it right now.
17. Microsoft Office bundle for office-related stuff
This one is a bit boring, but it's something that you have to have if you're an online business owner. The Microsoft Office bundle (home version) is rather inexpensive and contains a suite of tools to boost your productivity.
In the past, I was using mostly Google Docs and Sheets to get stuff done. But sometimes it's good to have an actual desktop app you can use to deal with the majority of office tasks.
Moreover, the aforementioned Nuance Dragon is ultra-compatible with Microsoft Word where the voice commands are fully functional. Unfortunately, this is not the case with Google Docs.
Another useful thing from the office bundle is PowerPoint. Since 2016, you can use this tool to produce nice presentations to share with your clients or upload them to online platforms like Slideshare.
Another great advantage of PowerPoint is its ability to create neat charts and graphs you can then export and place in your online content. You would be hard-pressed to find a better, inexpensive tool for that.
18. Convertkit software for advanced email marketing campaigns
Email marketing is the lifeblood of online business communications. Before I got my $4500, I was using the free version of MailChimp. It was working well, but it didn't provide me with specialized functionality suitable for bloggers.
After a lot of research, I was able to find Convertkit (which is around $29 per month if you have a small list), as the best solution.
It does all the things that MailChimp does but in a much more straightforward way. It allows you to create beautiful online opt-in forms which then you can embed on your website with the use of a simple shortcode (no coding required). It also allows you to produce sequential campaigns, and edit them live. You can also segment different groups of responders.
For example, you will not send a sales offer to the person that already bought your product. Instead, you can put this person in a different category and share other kinds of marketing offers with them.
There is also a neat autoresponder functionality, so you don't have to send out the emails manually. All you need to do is to create a sequence of 2 to 6 messages, and your audience will get them when they sign up for your list.
The software offers many options for you to entice a sign-up. You can use sidebar opt-in boxes, carefully calibrated pop-ups (which you can activate only when the user is about to leave your blog), in-content opt-ins, as well as highly-converting landing pages. You'll also have advanced tracking and analytic reports so you end up with a robust yet inexpensive email marketing software.
19. Antivirus software for keeping everything secure (Kaspersky in my case)
In the era of privacy breaches and transnational hackers stealing online data from innocent users, using professional antivirus software is a must.
Before, I was using the free version of Avast Antivirus. It never failed me, but since I got a grant from the government, I decided to invest in a more robust piece of software. After all, for a couple of dollars now I'm able to protect both my laptop computer and my mobile devices.
The software offers a host of security features. It updates its databases automatically, secures your browser, and recognizes any security loopholes that may put your device in danger. It's great to schedule automatic full scans for maximum protection.
Plus you will get the Kaspersky Secure Connection feature which acts as a VPN. It allows you to connect to servers around the globe and make your connection completely secure and encrypted. This is great in scenarios when you want to hide your identity (for example to get a better price for plane tickets or accommodation). Many online services use geo-tracking and will give you a steeper price if you're from a higher-income region.
20. Decent software for video editing and screen capture (Power Director 17 in my case)
I know, I know the majority of professional video editors are using Adobe Premiere Pro. But since this software costs $20 a month and I'm still a beginner, I decided to go with Power Director 17. It offers similar features and an interface and it's available at a lower price for a lifetime license.
In other words, after that initial payment, I can use it forever (and I get further updates along the way). After watching 30 minutes of instructional YouTube video, I was able to grasp all the main functions. Yes, it's possible to go much deeper, and there are hours of instructional content available online for each of these video editing programs.
But as a beginner, all I need to learn is how to cut clips, manipulate audio and video tracks, learn about a few special effects, and export the video in a proper format to upload it to YouTube.
With the Power Director, I was able to master these simple tasks in less than an hour. As an extra, the software is also available on mobile devices so it allows you to cut video clips to your phone or tablet. It's not super handy, but it's a viable alternative if you're away from the home office.
I found that spending 30 minutes to one hour on improving video content can make a huge difference. You don't have to waste six or eight hours to make a perfect video (unless this is your full-time occupation). Just add a few extra cuts, and you are ready for upload.
21. Tailwind software for Pinterest scheduling
Pinterest is a peculiar social media platform because (like YouTube), it acts as a search engine.
While Facebook and Instagram are more about content discovery where you randomly scroll through your feed, hoping that something will catch your attention, Pinterest is a place where you put specific keywords in the search box to find interesting content.
This, along with its visual appeal, and the user demographic makes it a perfect social media platform to experiment with. Just like with search engines, you can upload content once and then it sits on the platform for months and years, generating you passive income and traffic.
Unfortunately, publishing content on Pinterest manually is a drag. But that's where Tailwind comes in. It's an inexpensive online application (a bit over $10 per month) that enables you to schedule dozens of pins at a time.
It has a Chrome browser extension that lets you add diferent pins to a cue and get them published according to a schedule. For example, you may decide that you want to publish 30 pins a day (15 yours, and 15 from other users), and you can schedule content for a full week in one or two hours.
This is a great time saver. But you also have to join high-quality group boards to be able to generate consistent traffic to your blog from Pinterest.
Another thing is the actual pin product description writing. This takes a lot of time, it's better to hire someone who will do it for you on an inexpensive freelancing platform like Fiverr.
22. WP Product Review Plug-in for creating Amazon product reviews
If you're a blogger, you must have heard about affiliate marketing as one of the best ways to earn money online. Most bloggers start their journey with affiliate marketing by signing up with Amazon Associates.
This program enables you to earn money by promoting different products available on Amazon. This is super easy because, throughout your blog posts, you can link to anything available on the giant e-commerce platform.
The problem is that normally, you're not able to hook up to Amazon's API get to live pricing and image from Amazon. Fortunately, WP Product Review solves this problem.
All you need to get it going is to find the product API on your Amazon Associates profile and then connect it to the WordPress plug-in.
Once you do that you'll be able to place all sorts of Amazon products on your website, including images of various sizes, features, and pricing in real-time. This is useful for improving click-through rates on your promotional links.
But it's also crucial for another reason. The plug-in lets you comply with the Amazon Associates terms of service. The company is known for being rather strict with people who break these terms (for example, by downloading product images straight from Amazon and then posting them on their blogs). But with WP Product Review, you're covered.
23. WP Rocket Plugin for speeding up my website
Page speed is now becoming one of the essential factors of effective SEO. If users have to wait for more than a couple of seconds, they will bounce and look for another post that will solve their problems.
That's why I decided to invest in WP Rocket, a plug-in that's sole purpose is to make your website much faster by minifying code such as JavaScript, CSS, and HTML.
It will make all the files that need to load smaller, which in turn will make your website faster. It's quite easy to break your site by turning on the settings of the plug-in that you don't know a lot about.
That's why, if you decide to purchase this plug-in, I recommend you hire someone from Fiverr to configure it for you.
Make sure you first check your current website speed with tools like Pingdom or Page Speed Insights from Google Developers. If it takes your website more than three seconds to load, you should consider buying this plug-in. Then, after going through the optimization process, recheck it, and see how it sped up your site. Since I installed it, I've noticed quite an improvement in traffic and bounce rate on my blog.
24. Thirsty Affiliates Plug-in for affiliate marketing campaigns and reporting
If you are into affiliate marketing or online marketing, you should grab this plug-in.
It's inexpensive ($50), and it will help you manage your affiliate campaigns much more easily. I was using the free version of the plug-in for a while, but it lacked the advanced functionalities I needed.
Now with the premium version, I have access to advanced analytics, which makes all the difference in the world. For example, now I can see exactly which link to get clicked on which page, who clicked on it (IP and geolocation) and when.
This type of information is invaluable and allows me to optimize my affiliate marketing campaigns to maximize click-through rates.
Another great thing about this plug-in is that it's possible to connect it to Google Tag Manager. In this way, I can set up an affiliate link click as an event that is later sent to Google Analytics and shown as a conversion event.
This is fantastic because now I can see all the clicks in Google Analytics as well. This enables me to identify the best-performing pages with the highest click-through rates, and then fix underperforming pages with high traffic but low conversion rates.
Moreover, this enables me to create experiments in Google Optimize. For example, I can do, an AB split test to see which type of headline, color, or image is going to convert better.
25. Web development service to make my blog look pro
This was an essential element of the whole business investment strategy. Before, my website wasn't looking very attractive, and it was borderline mediocre.
I decided to go on UpWork and spend some money on professional web design. Believe it or not, but this type of service is not so expensive. You can upgrade your website for $650-$1000 depending on your needs and requirements.
For me, it took around one month of going back and forth with the developer, but we were in sync and agreed on the design you can currently see on my page.
Web design is one of the most important investments you can make in your online business. It makes the website look attractive on all sorts of devices. It also enables you to build trust with your readers, who now see you as an authority in your niche.
Before you decide to spend the money, make sure that you have a solid idea of what you expect. Go online, and gain some creative inspiration from other bloggers and website owners. Then come up with a simple wireframe that you can show to your designer.
I'm thrilled with the results I was able to achieve for such a reasonable price. I think the current design is going to be good enough for at least three years.
26. Facebook advertising for business promotion
Once I bought the stuff you've read about above, I decided to spend the rest of my funds on Facebook advertising.
Facebook is the number one advertising platform available online right now. The platform is fantastic for getting qualified prospects to become interested in what you have to offer. That's because, for example, you can target women aged 25 to 30, with a keen interest in online business, UI design, or freelancing.
When you know exactly who you are looking for, it's much easier to make progress and decrease your average cost per click. And the best part is that you don't have to invest in expensive courses to learn about online advertising.
Instead, you can go on YouTube and watch dozens of instructional videos and follow along while building your campaign.
There will be more privacy regulations coming in the future, but still, Facebook has a tremendous amount of information about its users and allows you to target them with astounding accuracy.
I found that the key to success on this platform is testing. You can set up a few campaigns spending only five dollars a day on each of them to identify the winners. Once you know what's working, you can then increase your budget. Often it's possible to get qualified leads that will sign up for your email list for as little as one dollar. This is unheard of on other types of marketing platforms, so I recommend you take advantage of it as soon as possible.
Moreover, you have the Facebook Pixel, custom audiences, lookalike audiences, and advanced analytics, all of which enable you to run multiple highly-targeted yet inexpensive online advertising campaigns.
Now, are you ready to invest in your business?
I hope that the list I shared inspired you to think about how can you grow your online venture. If you have a clunky laptop and slow internet connection, it's difficult to make progress towards your entrepreneurial dreams. Believe me, I tried.
But if you get your hands on the best, cutting edge technology, you'll improve your productivity by orders of magnitude.
The only thing stopping you is fear. But I'm sure you have enough courage to take the first step. Good luck!
Rafal Reyzer
Hey there, welcome to my blog! I'm a full-time blogger, educator, digital marketer, freelance writer, editor and content manager with 10+ years of experience. I started RafalReyzer.com to provide you with great tools and strategies you can use to achieve freedom from 9 to 5 through online creativity. My site is a one-stop-shop for freelance writers, bloggers, publishers, content enthusiasts who want to be independent, earn more money and create beautiful things. Feel free to
learn more about me here.