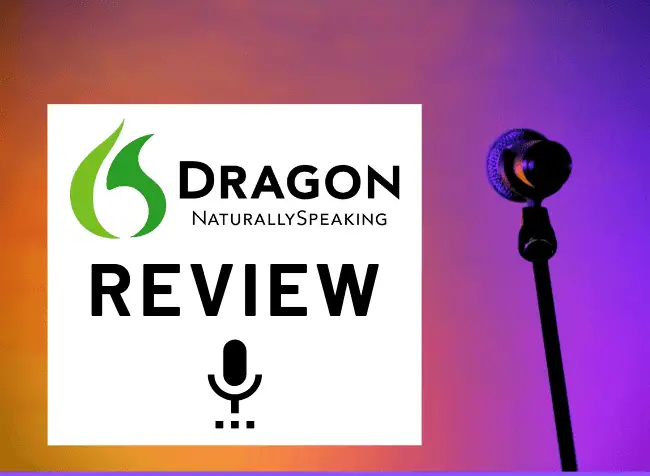 In this Nuance Dragon review, we'll discuss the main features and my personal experience with the app, particularly its latest version, the Nuance Dragon 15.
The software isn't perfect, but it still far exceeded my expectations of what dictation software can do. I would give it a solid 4.5/5.
I wrote this review to share my experience and put everything I know about Nuance Dragon in one place. Perhaps it will give you enough information to make an informed buying decision. Below you'll get all the crucial info about features, benefits, use cases, pricing, alternatives, and much more!
Note: If you consider buying Dragon, please use this promo link. When you become a client, I may receive a small commission at no extra cost to you. Thanks for your support!
Table of contents:
Nuance Dragon 15 Review
Nuance Dragon is a dictation and voice command software for professionals who want to improve their office productivity. It is available for Windows computers and Android and iOS mobile phones.
It will give you a more ergonomic, faster way to perform your essential office tasks through voice commands. Instead of using the mouse and keyboard, you can use voice commands to write, edit, and get other basic computer to-do's done.
It costs $200 for the "Home Version" and $500 for the "Professional Individual" version (you will see what's the difference later in this review).

These two versions are great for the vast majority of users. But there are also specialized types of Nuance dictation software for legal professionals, physicians, and customer service professionals, as well as the automotive industry. In this review, I will focus mostly on dragon "home" and "professional".
The application is best for users who work remotely or have their own offices. It's hard to imagine someone talking to their computer in a busy shared office space. So if you have a quiet place from which you can work regularly, Nuance Dragon may prove to be one of the best investments you ever make (it certainly was for me).
Another type of user who would enjoy the software is someone with a disability or chronic wrist or elbow pain. Health issues like carpal tunnel syndrome or tendonitis eliminate a lot of highly skilled employees from the workforce.  After all, using a keyboard and a mouse for hours on end, makes you more prone to suffer from a painful condition.
With Nuance Dragon, you can control your computer with your voice without having to touch the keyboard. This will enable you to be productive again and smash right through your tasks. The installation process takes around 20 minutes, and from then on, your Dragon will be fully functional.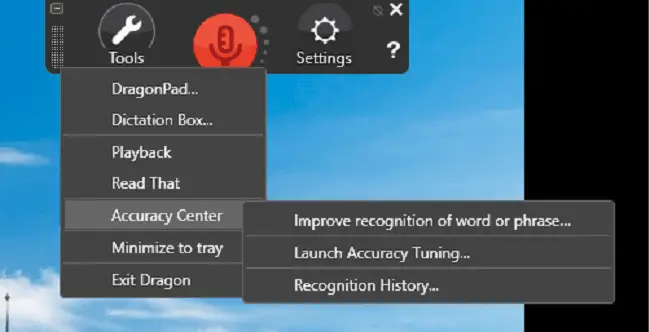 In short, Nuance Dragon allows you to:
a) Dictate text with tremendous speed and accuracy (I found that it improved my writing productivity by at least 30%).
b) Dictate text on any platform with speed and dependability (it's perfect for blasting off quick emails, chat messages and lengthy documents and reports).
c) Easily edit the text within the Microsoft Word environment (for example, by using the voice you can select only specific passages of the text, copy and paste, format the text – basically everything you could do with mouse and keyboard)
d) Search for important files and open programs on your computer
e) Control your web browser and search the web, open and close tabs, etc.
f) Click on anything you want by using a voice command
g) Automatically transcribe audio files into text (that's a biggie!)
h) Add industry-specific words or slang, so the software understands it each time you use it
1. Nuance Dragon's Core Features
We will go into all these features later on, but these are the core ones you should know about.
In the marketing brochure, you see that the company promises 99% voice recognition capability right out of the box. I was skeptical about this claim, especially because I am not a native English speaker. But once I installed the software, I was pleasantly surprised with the results. If you have a decent microphone and learn how to dictate properly (rhythmically), you will see that your productivity will skyrocket with this software.
And there's no need to buy expensive hardware. A simple microphone for $30-$60 will do the job. The most important thing is that you place it close to your mouth (that's why buying a headset or podcasting mic is a good idea). Also, make sure there isn't too much noise in your office.

In the past, I was using the free voice typing tool available on Google Docs. Unfortunately, it was notoriously inaccurate and forced me to make many corrections along the way. Still, when writing about a topic I knew something about, I was able to produce around 800 to 1000 words an hour.
But with Nuance, Dragon, the quality of dictation improved tremendously. Now I'm able to produce 1200 to 1400 words an hour with less stress and more accuracy. Think about the difference in productivity this can make over one or two years.
Because of these reasons, I can honestly say that Nuance Dragon is fantastic and it's definitely worth the investment. That is if you're willing to spend one or two hours learning how to use it.
2. How Much Does Nuance Dragon Cost?
The great thing about pricing is that you will receive a lifetime license for your software. You will not have to wait for any DVD to get started. The software is available as a digital download. You can get it straight from the website and start working within minutes.
Every few years there is a new version available, and then you will need to pay for the upgrades ($100 – $200 depending on the version you're currently using).
BONUS: When you availed of the aforementioned versions of Nuance Dragon, you also get FREE one-year access to Dragon Anywhere. This app enables you to make and edit any documents through dictation using your Android or iOS device, giving you more freedom and flexibility even when you're away from your workplace. This is a $150 worth of service you can get for free.
3. The Main Features of Nuance Dragon 15
First of all, you will use the software mainly for writing and text editing. But what's great is that you can adopt different styles of working with your Dragon.
a) Full-voice Command Approach
Some users, especially ones with severe disabilities that prevent them from working with a mouse and keyboard, will control their whole working environment with voice.
The software enables you to click on any element you can see on the screen by creating a "mouse grid". That's also great for performing web searches and navigating through your browser's tabs. To enable this feature, you can download the Nuance Dragon browser extension at no extra cost. Unfortunately, this extension doesn't always work as intended, and there's still work to do.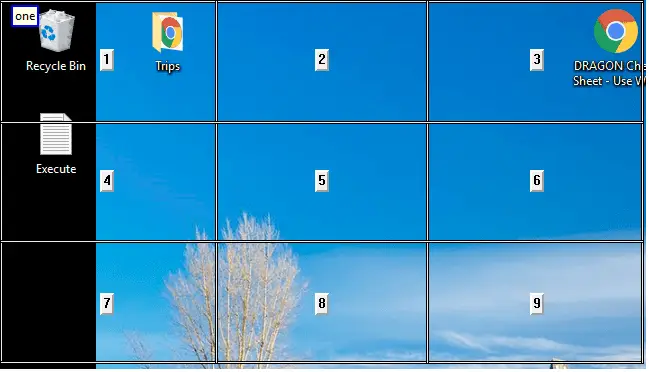 b) Hybrid Approach (voice + mouse + keyboard)
If working traditionally is not a problem for you, you can use a so-called hybrid approach, which I am a big fan of.
You use both voice commands and a mouse-and-keyboard to optimize your working environment for maximum efficiency.
Nuance Dragon is great for any sort of written communication, but I still use a mouse with a fast cursor for navigating through windows, apps, and programs. That's only because it's faster than telling Nuance Dragon to deal with it.
Also, while he was Dragon has a lot of text editing features, I still prefer to do most of my editing work with a mouse and a keyboard because it's faster. So the most valuable feature is your ability to dictate super accurately on any text editing platform.
Notice that if you plan to use Nuance Dragon for text editing to its fullest capability, you should work with Microsoft Word. Then you'll have access to all available commands, which is not the case with Google Docs, for example.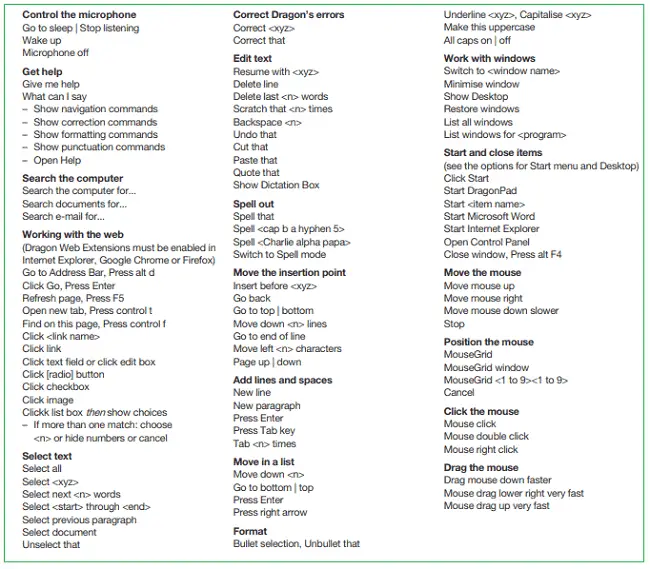 Nuance Dragon Home Vs. Professional
There are a couple of essential differences between Dragon Home and Professional. The first one is that the home version costs $200, while the professional version costs $500.
1. Similarities Between the Two Versions
Both versions let you create and edit documents with voice while achieving 99% accuracy. You also have the same voice commands for dictation, editing, formatting, and computer navigation.
Both versions also support Bluetooth microphones and have a deep learning capability that will continuously adjust to your voice to become better over time.
2. Extra Features of Dragon Professional Individual:
You're able to format spreadsheets and presentations using Microsoft Excel and PowerPoint.
You're able to use custom lists of words and acronyms specific to your job or organization.
You're able to create specific commands for inserting frequently used text or images. This could be extra useful for voice typing industry-related emails or when dealing with customer support.
You're able to create custom commands to automate tedious tasks.
You're able to sync the desktop version of the app with the Dragon Anywhere mobile app (more on that later).
You're able to turn any audio-recording file into text. This may be useful if you often have to transcribe information from business meetings, podcasts, or presentations.
3. Review Table Showing the Differences Between the Two Versions
| | | |
| --- | --- | --- |
| Feature | Dragon Home | Dragon Professional Individual |
| Pricing | Check the current price here | Check the current price here |
| Voice typing feature that enables you to generate text at much higher speeds than with a keyboard (30% to 40% faster even if you're a fast typist) | Yes | Yes |
| 99% accuracy in voice recognition right out of the box | Yes | Yes |
| A machine learning capability that will get used to your intonation and accent over time | Yes | Yes |
| Voice commands for dictation, editing, formatting, creating to-do lists, clicking on elements, and controlling your web browser | Yes | Yes |
| Built-in microphone, support for your laptop (I always recommend using a high-quality external microphone) | Yes | Yes |
| Ability to use a Bluetooth microphone with high accuracy | Yes | Yes |
| Formatting spreadsheets and presentations in Microsoft Excel and PowerPoint | No | Yes |
| Creating, importing and exporting industry-specific vocabulary and acronyms for frequent use | No | Yes |
| Creating unique commands for inserting frequently used text or images | No | Yes |
| Creating custom commands for automating tedious tasks and multistep processes | No | Yes |
| Transcribing voice into the text from any audio file (it could be a podcast, business presentation, or an article you wrote on the go) | No | Yes |
| An ability to sync with the Dragon Anywhere mobile app | No | Yes |
As you can see, it all depends on your individual needs and what you expect from the software. If you plan to use it in a professional setting, it's worth investing in the more expensive version. The feature that makes it unique, at least for me is the ability to transcribe audio files into text. I can already imagine many use cases for this.
And while we are on the subject, the professional also has a version specifically designed for medical practitioners and transcriptionists.
But if you don't want all the different functions and you're just looking for a reliable piece of dictation software for writing books, emails and chat messages, or blog posts the "Home" version for $200 should cover your needs.
Questions I've Answered from Using Nuance Dragon Dictation App
1. What Kind of Microphone Do You Need for Nuance Dragon?
Many users wonder about this when considering buying the software, so I want to touch upon it in this Dragon 15 review.
The producers offer a Bluetooth headset as an add-on to the software. You would have to pay $100 extra for it, and it should definitely do the job. But you can also check other types of microphones. That's because they're far less expensive and still provide a high-quality dictation experience.
Just know that the quality of your mic is essential for high levels of accuracy and voice recognition. It's worth investing a little more upfront and then reaping the rewards.
First, you can go with a Bluetooth headset of your choice. That's the recommended option, as the mic will be right next to your mouth and will pick up all the audio waves seamlessly.
2. How to "Train Your Dragon" and Get it Up and Running?
With Nuance Dragon versions 13 and 14, it took quite a while to customize it and make it functional. You actually had to read pages of text to get the software to recognize your accent and pronunciation.
Fortunately, this is solved with the new version 15. During the installation, you simply need to read a couple of paragraphs to train the software. In this way, it's going to be fully functional within a couple of minutes.
During the installation process, you will also go through a quick tutorial that will teach you how to use the basic dictating and editing capabilities of the software, as well as the most popular voice commands (like "open Google Chrome," "search for X" or "correct that").
3. What is Dragon Anywhere? – The Mobile Dictation App for iOS and Android
Dragon Anywhere is a mobile dictation app available on both iOS and Android. It only came out recently, and many users praise it for high-quality dictation while on the road. You can think about it as your regular desktop Dragon, only available on a mobile device like a smartphone or tablet.
Features and Functions:
It allows you to dictate documents of any length without word limits
It lets you share documents by email or online data storage services like Dropbox, Google Drive, or Evernote
It lets you correct mistakes with a "proper spelling" function
It lets you use unique words used only within your organization
It has the same 99% accuracy when it comes to voice editing and formatting
It adapts to and analyzes your voice and accent through a machine-learning algorithm (for better accuracy in the future).
It allows you to format text in any way you want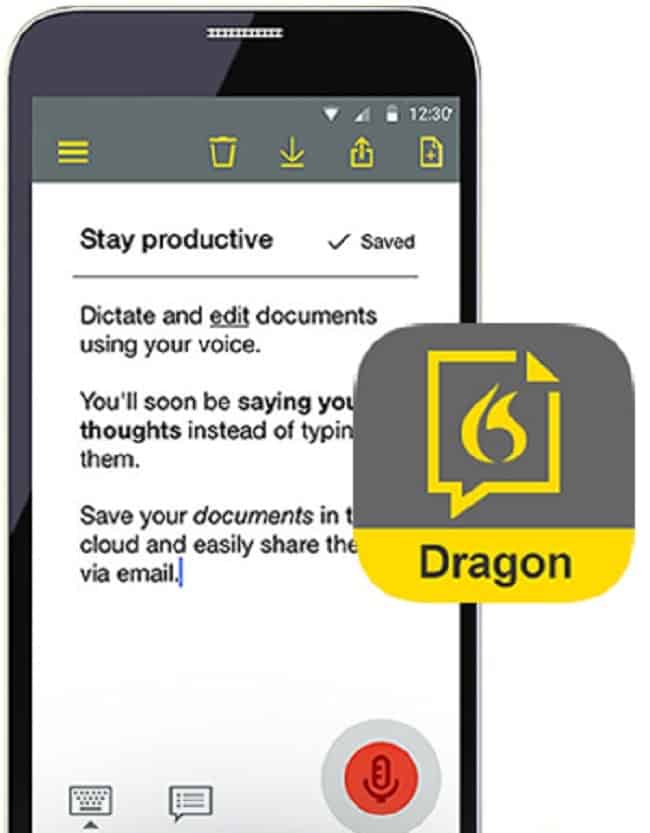 Perhaps you can already imagine a lot of use cases for this kind of mobile app. It might prove useful if you need to write something while on the road. Let's say you just visited your clients, and now you want to make a couple of quick voice notes to send to your colleagues or superiors.
Instead of typing slowly and inaccurately on your phone, you can use Dragon Anywhere to voice type at a tremendous speed and send off your document as an email or Word document. Just make sure you use Grammarly to fix your grammar.
The app may be great for authors, bloggers, and freelance writers. Many authors find inspiration while on long walks. Just imagine strolling through the park and voice-composing your next article, chapter, or blog post. It almost doesn't feel like work at all. To use this app, you would need to pay a bit extra as it's not included in the basic software package.
The Pricing is as Follows:
You can get one week of free trial.
You can pay $14.99 on a monthly basis.
You can save 17% and pay $149.99 if you get an annual subscription.
You can also get an individual quote if you want to buy the app for a whole team or part of your organization.
This might prove to be a good investment, especially because it counts as a business expense. But, I found that when it comes to mobile dictation, the regular Google Voice Typing capability is actually doing a great job.
I decided not to buy the Dragon Anywhere app yet. That's because if I plug a lapel mic into my mobile phone or tablet, I can get high-quality dictation without having to pay $14.99 per month for it.  However, if I regularly needed quality dictation while on the road, I would definitely give that app a chance.
How Nuance Dragon Improved My Productivity (Main Benefits)
The software has been helpful in so many ways that the benefits far outweigh the cost of purchase.
I used to write everything on my keyboard, but after a while, I began experiencing a lot of pain in my right wrist. That was the main reason I started my journey with dictation. I used the free voice typing tool from Google at the beginning, but it was notoriously inaccurate.
Then I upgraded to Dragon and experienced the following benefits:
1. Now I can write up to 5000 words a day
When I upgraded to Nuance Dragon, I noticed a dramatic spike in my level of productivity. Without the software, I would write 1000 to 2000 words daily, and that was that. But with the new dictation software, I can write up to 5000 words a day without any pain. This was possible because no matter how fast you type, talking is still quicker (and less exhausting).
2. I don't worry about writer's block or perfectionism anymore
When I'm dictating, my job is to say as much as I can in the shortest period and get the words on the computer screen without worry. This has been helpful in conquering writer's block. Now, instead of creating a perfect masterpiece right away, I can talk to my computer and then sculpt the text into something manageable during the editing phase.
3. The accuracy of dictation has improved a lot
As I said before, I was using a free dictation tool, but it was inaccurate compared to what you get with Nuance Dragon.
4. My verbal communication skills improved as well
It's only natural that if you dictate thousands of words a day onto the computer screen, you will improve your verbal fluency and the ability to talk in grammatically correct, full sentences. I treat this improvement as a bonus, but a very welcome at that. I always wanted to become a better speaker because, in the future, I plan to do a lot of video and audio content as well.
5. My content became more readable
One of the most common pieces of advice you will get during a writing course is that you should write as you speak. This is difficult to achieve because, after all, you're typing, so there's a tendency to overcomplicate things. Because of that, your prose may not flow as smoothly as it would if you were listening to a live speaker. But this all changes when you switch to dictation.
Perhaps your prose will not sound sophisticated and academic-like, but that's a good thing. With Nuance Dragon, I usually achieve a level of readability score of 65 on the Flesch scale. It means that most often, a person with a high school education can easily understand my articles. But if I want to write a more advanced piece of content, I will take care of it during the editing stage.
PRO TIP: I once read that high readability is the real secret to effective written communication, especially when it comes to marketing and copywriting.
Writing on the keyboard can be taxing on your wrists, and over time, you can develop issues like carpal tunnel syndrome or tendonitis. Since I started using Dragon, writing and online communications in general, became more comfortable.
The Top Voice Commands You Can Use (with a downloadable PDF cheat sheet)
There are dozens of voice comments you can use to boost your productivity and forget about using the mouse and keyboard.
I don't use all of them because most of the time I use Dragon for writing, and then I still use my keyboard and mouse for editing and other regular computer tasks. I found that this is the fastest way to get stuff done. However, if you suffer from severe wrist or elbow pain, you can forget about using the keyboard by learning and practicing with more advanced voice commands.
Pro tip: some writers even put their keyboard out of reach so they won't be tempted to touch it. Instead, they make sure to use the dictation software as much as possible.
1. Things You Can Do with Dragon's Voice Commands (almost 100 in total)
Control the microphone (for example, "wake up")
Get help with commands (for example "what can I say")
Search the computer (for example, "search the computer for…")
Work with the web (for example "refresh page" or "open a new tab")
Select text (For example "select all" or "select <xyz>")
Correct Dragon's errors (For example "correct that")
Edit text (For example "delete line" or "cut that")
Spell out words (For example "spell that")
Move the insertion point (For example "insert before" or "go to the end of the line")
Add lines and spaces (For example "new line" or "new paragraph")
Move items in a list (For example "go to bottom" or "press Enter")
Format text (For example "bullet selection" or "capitalize xyz")
Work with windows (For example "minimize window" or "show desktop")
Start and close different types of software (For example "start Google Chrome")
Move the mouse (For example "move mouse up")
Position the mouse (For example "mouse grid")
Click the mouse (For example "mouse click" or "mouse double click")
Drag the mouse (For example "drag mouse down faster").
2. Basic Settings of Nuance Dragon 15 You Can Play Around With to Customize Your Setting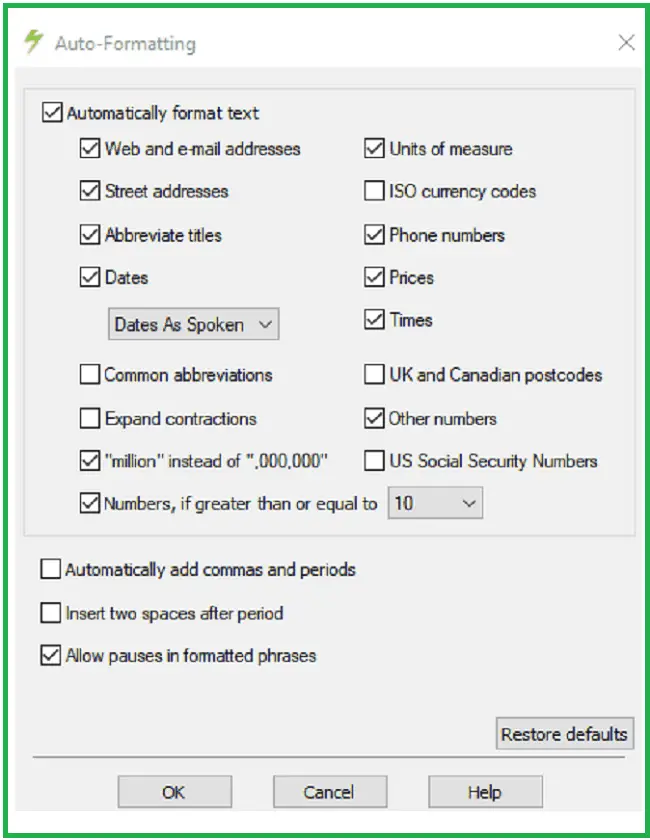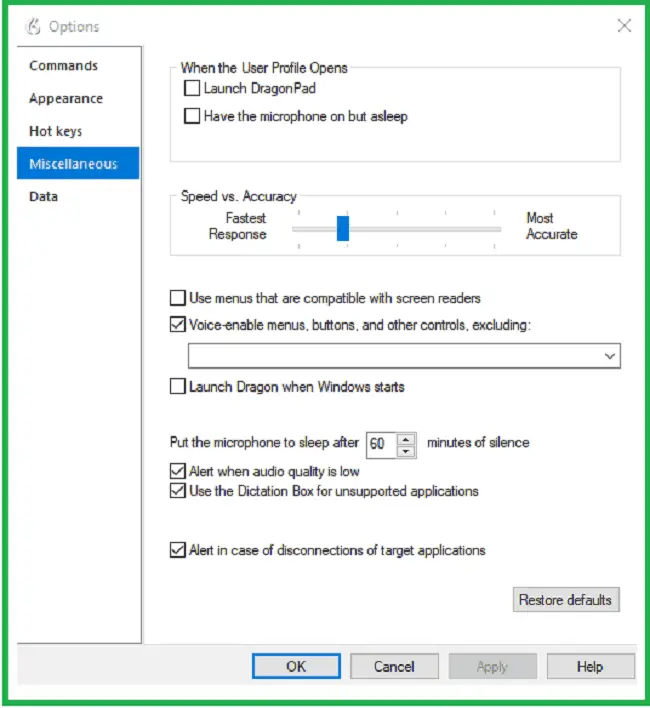 Also, here's a downloadable cheat sheet with all the most useful voice commands for Nuance Dragon.
How a Dictation Software Enables Me to Produce a Lot of Content for My Blog and Clients
Now I'll give you a quick overview of my writing process using Nuance Dragon 15.
a) First, I block out all distractions, get my research material and notes ready, and dictate the words onto the screen in Google Docs.
Dragon is not fully compatible with Google Docs, but it's still my favorite word processor because all the content sits on the cloud, I can access it from anywhere, and it's syncing in real-time. (If you want full compatibility with Dragon, use Microsoft Word).
b) Second, I put the text through the Ginger editing software to clean it up a bit.
c) Third, I put the text through Grammarly Premium for advanced edits.
d) Fourth, I complete the final draft with the Hemingway Editor as it helps me to decrease the average sentence length and improve the readability score. That's also where I add all the links and references, making the piece of content complete.
Then I copy the final draft version back to Google Docs, and it's ready for publishing on my WordPress Blog. I found this process to be the most effective and least time-consuming. Feel free to use it yourself.
Alternatives to Nuance Dragon 15
Nuance Dragon is the most popular, and arguably the best dictation software out there, as it does everything you would expect and more. But naturally, there are a couple of other options you can consider.
Here's a quick list:
Dictanote
Speech Texter
Speechnotes
Braina
Windows speech recognition
Dictandu
Dictation.io
CMU Sphinx
Speechpad.pw
Google Voice Recognition
Microsoft dictate
Vox commando
LipSurf
Voice report
These different types of software, come with unique features, advantages, and disadvantages. To talk about all of them is beyond the scope of this Nuance Dragon review. But feel free to Google around and see if there's an alternative worth your attention.
More often than not you will find that nothing can beat Nuance Dragon as it's one of the oldest companies of this kind. They were able to perfect voice recognition capabilities through machine learning over the years.
However, if you're on a budget and looking for a free tool that will get the job done, you can use another free voice typing tool from Google Docs. I used this feature for a while before upgrading to Nuance Dragon.
I found that while it's not entirely accurate and you often need to correct mistakes, it's still more productive than typing on a keyboard. Also, I found that the dictation capability of Google works much better on mobile than on desktop.
I was able to plug a lapel mic into one of my mobile devices and achieve a higher level of accuracy than if I was dictating on my computer.
Notice that if you use Google Docs voice typing on the desktop, you will only be able to use it within this singular app. But, with Nuance Dragon you can use dictation across all platforms (email, chat, different types of word processors, etc.)
How Voice Recognition Technology Will Change the World by 2025?
Many people are still hesitating to jump on the voice bandwagon. But you cannot stop technological progress and shifts in work environments across the world, so it's better to adapt faster and keep your competitive edge.
First of all, as of today, around 70% of professional workers around the world work from home at least once a week. This trend will only grow over time as working remotely increases your productivity, efficiency, lowers stress, decreases real estate costs, and caters to the growing digitally nomadic population. This makes it much easier for employees and freelancers around the world to use voice to achieve their business goals.
Even if you cannot work from home right now, you can still improve your productivity with a tool like Nuance Dragon. You only need a workspace where you can "hide" from your coworkers when working on important tasks.
Second, voice recognition is going to transform even our home environments. Right now, devices like Google Home Alexa can find information for us, order our products, and fulfill our entertainment wishes. These devices are still scarce, but soon anyone will have them sitting around at home and in the office.
In today's technological landscape, there is a proliferation of different types of voice assistants and voice recognition technology.
Experts predict that within one or two years, about 30 to 50% of all mobile searches are going to happen by voice. You will ask for your favorite restaurants, the right route to your next destination, and the opening hours of the nearby gym, all by voice.
Plus, you have AI-enabled virtual assistants like Siri or Cortana that will only become better at finding information for you and giving you news updates and calendar reminders. This will only lead to the further adoption of voice-driven apps, and suddenly talking to your computer will not look strange anymore because everyone will be doing it.
And finally, companies like Elon Musk's Neuralink are working on neural technology that in a couple of years will allow us to control computers and write content by merely thinking about it. The technology is still in its infancy, but it shows that the days of typing on a keyboard and clicking with a mouse are slowly coming to an end.
This, more than anything, should motivate you to adapt to voice technology that is beginning to surround us even at home. If you learn how to communicate with your computer by using voice, you will be so ahead of the game that it's not even funny.
Ready to Improve Your Dictation and Voice Command Experience?
You might hesitate to jump on the voice bandwagon because it doesn't feel natural. However, I urge you to give this technology a try, and I guarantee it will boost your productivity and let you work in a more modern and ergonomic way.
High-quality dictation software like Nuance Dragon has been a lifesaver for me. It enables me to be more efficient and distance myself from the old-school way of working.
The dictation software still isn't perfect, but it definitely gets the job done if you spend some time with it. I assure you that it's worth the investment and I hope that this Nuance Dragon review helped you to decide.
And if you're not fully satisfied, you can always get a full refund within 30 days. If you work from home and don't feel squeamish about "talking to your computer," this solution can be as life-changing, as it has been for me.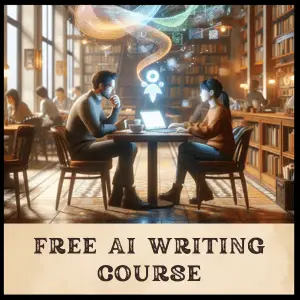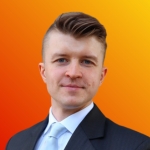 Rafal Reyzer
Hey there, welcome to my blog! I'm a full-time blogger, educator, digital marketer, freelance writer, editor, and content manager with 10+ years of experience. I started RafalReyzer.com to provide you with great tools and strategies you can use to become a proficient writer and achieve freedom through online creativity. My site is a one-stop shop for freelance writers, bloggers, publishers, and content enthusiasts who want to be independent, earn more money, and create beautiful things. Dive into my journey here, and don't miss out on my free 60-minute AI writing online course.