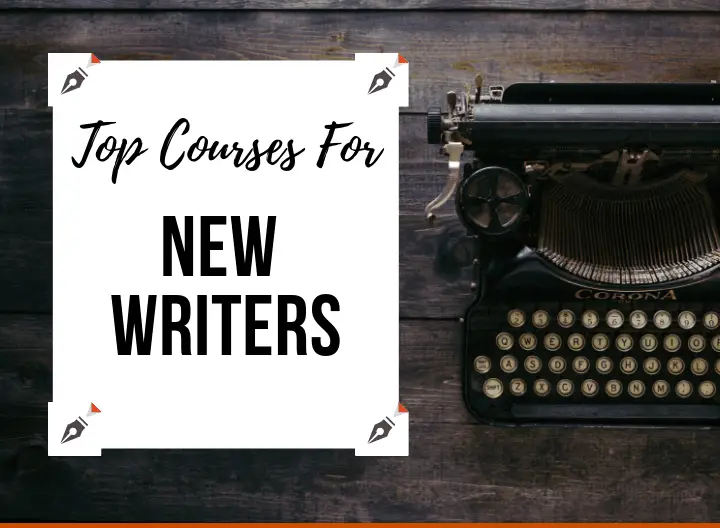 If you're taking your first steps as a writer, you might feel lost, anxious, and in need of guidance.
That's where some of the best online writing courses come into the picture. Even if you're a fledgling scribbler, these courses will guide you through the process and show you exactly how to start your career.
There are a couple of things you need to consider when deciding on a writing course:
How much are you willing to spend to learn how to write better?
What's the time you can devote to taking a course like this?
What exactly do you want to learn? The basics of copywriting, storytelling, journalism, freelance writing, blogging, publishing, screenwriting, or plot structure? (In this overview, I'll do my best to cover most of those needs).
How much experience do you have as a writer?
Are you a total newbie? Or perhaps you've been writing a bit here and there?
What are your writing goals?
Are you aiming for better style, improved grammar, overcoming writer's block, boosting your productivity, or perhaps a specific word-count quota you want to cover?
Try to answer some of these questions as they'll enable you to pick the right course for your current needs and skill level. Note: The courses listed here are designed especially for beginners, and they're all high-quality and well-reviewed by the writing community. Enjoy!
Can you improve your writing skills by taking a course?
I'm sure there's this question somewhere at the back of your mind. Many newbies think that perhaps it's all about talent and intelligence and that you're either a Truman Capote or you're destined to become yet another writerly soul who can't ever get published.
While there's some validity in these assumptions, you also need to consider:
Dramatic realization #1: You become a better writer by reading a ton of books, learning about the world, living your life, and actively engaging with the culture and people who take part in it. To be good, you need a certain amount of working knowledge at your fingertips. This will allow you to put things in context, respect history, and share something original with the world. You can learn some of this through a course, but not all of it. Cross Asia as a backpacker, or fall in love. This will help you more than any course.
Dramatic realization #2: You become a better writer by engaging in the dreaded activity of writing. As humans, we always look for an easy fix – something that will enable us to download the knowledge into our brains and instantly become better at something. While a course is great for learning the basics, only writing your ass off will ultimately lead to higher performance, quality, and output. So even while you're taking the course, make sure you cover your writing quota, be it 500 words, or 5,000 words.
Here are the top picks in terms of courses for new writers:
1. Starving to Successful: How to Become a Full-Time Writer by Jeff Goins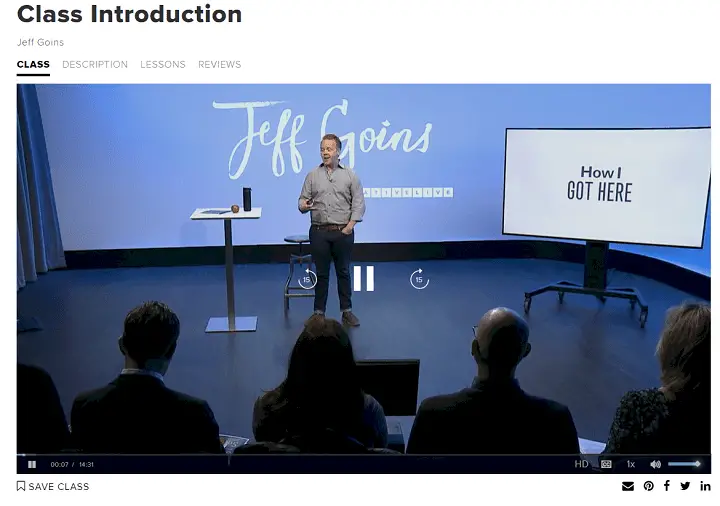 If you're just starting, but dream about becoming a full-time writer, this is the course for you. I like the courses from CreativeLive and I think this one is perfect for a person who's looking for a sense of direction. It's so easy to get caught up in minute details when you take your first steps in the industry. But here you have a course that'll give you a big-picture overview of the things you must accomplish if you want to call yourself a full-time writer one day. It's hosted by Jeff Goins, a long-time blogger, and professional writer. The main message of this course seems to be: "You don't have to be broke if you want to be a writer". It's a sad fact that the vast majority of writers never make any serious money. But here, in 22 HD video lessons, you'll learn that this doesn't have to be the case and that you can start making more than $1000 a month if you show some diligence and self-discipline. It's all about your mindset, you see. When you begin, it's easy to get discouraged and simply give up because you don't see enough results. But in fact, embrace this reality because it serves as a "barrier to entry" to the writing industry. Here it's not the fittest who survives, but the most persistent. Note: This course is designed for writers who want to go full-time at some point, and hence are interested in making some good money from their craft, particularly through online channels.
Course highlights:
You'll learn how to determine what kind of writer you want to be; a storyteller, a thought leader, an entrepreneur, a blogger, or a freelancer.
You'll see how to quickly build your website and attract new clients and assignments.
You'll learn about the importance of blogging, and how building a loyal (if small) audience can be the best thing you can ever do to launch your writing career.
The course contains some great knowledge that will allow you to monetize your passion and leave the "starving artist" mentality behind once and for all.
2. How to Write and Publish an eBook by Tara Gentile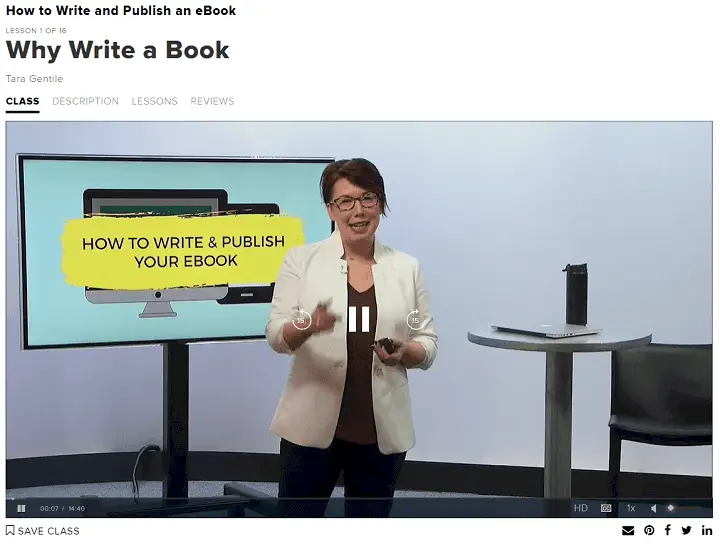 Becoming a writer doesn't mean that your published novel has to reach the number one spot on the New York Times bestseller list. To start with such a goal would be counterproductive. It's much better to first get your feet wet in the world of digital publishing. It may mean starting a blog, which you should do if you want to build a loyal audience. But it can also mean self-publishing your first eBook. Many writers who are now famous started with the simple process of self-publishing on digital platforms, such as the Amazon Kindle. Then, once they've built a group of readers thirsty for the next book, it was much easier for them to get a book deal with a big publisher. This course will teach you how to do exactly that, and you will see how publishing even a small book online can lead to many great opportunities. There's happened to Tara Gentile, who was completely unknown, but through her publishing efforts attracted new clients and got invited to speak on big stages. This course will teach you exactly how to build credibility, pick the right idea for your book, use the knowledge you already have to write faster, edit and format your book, and then publish it on your website or Amazon. If you've always dreamed about becoming a published author, but you were always afraid to pull the trigger, this course will change things for you. Sometimes it's not only about your literary prowess but, about your ability to market yourself that will lead to your success.
Course highlights:
You'll learn how to edit and format your book.
You'll understand the intricacies of digital publishing and distribution.
You'll learn the best strategies for marketing your new book.
You'll understand how to build a perfect outline and cover design for your first published title.
You'll be able to check many examples from students who went from nothing to a successful publishing career.
3. How To Write A Novel – From Idea To Finished Manuscript by Joanna Penn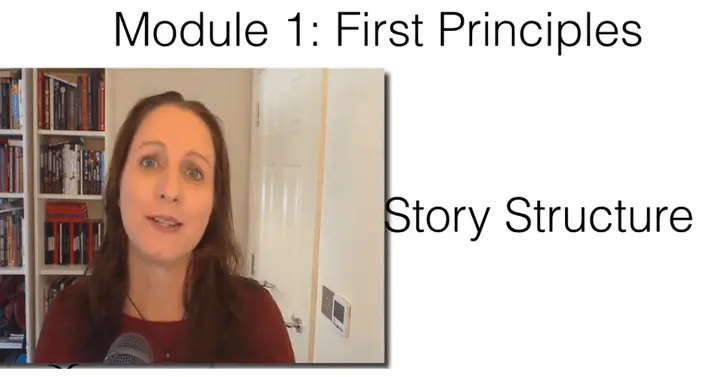 This is a perfect course for scribblers who want to make their first steps in the creative writing arena. When you first embark on a literary journey, it's hard to figure out what exactly you need to do step-by-step. That's what creativity is all about. You need to sail out into uncharted territory to find your voice, your message, and your audience. But this can get overwhelming, especially if you take contradictory ideas from different books about the craft. This course gives you a proven path you can follow to move from an idea to a finished novel without sacrificing your creative spirit. This course was designed by J. F. Penn, who wrote twelve novels, including New York Times Best Sellers, and sold over half a million books in 74 countries. Writing a novel may seem like an insurmountable task that's going to take an enormous amount of time and effort. It's easy to lose your confidence and think that you are not good or creative enough to make it in the literary world. But that's simply not true. You just have to learn how to rediscover your creative side and learn to develop your process. This includes grasping the story structure, selecting your genre, conducting proper research, understanding character development, plot, and setting, as well as writing and editing your manuscript. You will learn all that and more in this amazing course which offers well over 12 hours of content. It will create breakthroughs you can't conceive of and it's a perfect tool to use if you want to write your first novel.
Course highlights:
It will give you a proven track to run on if you want to write a novel.
It will help you avoid the feeling of overwhelm.
It will help you deal with the imposter syndrome.
It will help you understand the specific parts that go into writing a novel.
You'll learn how to conduct research and develop your characters.
You'll find out how to find your voice as a writer.
You'll grasp how to develop a setting for your novel and write believable dialogue.
4. Writing Your Story by Joyce Maynard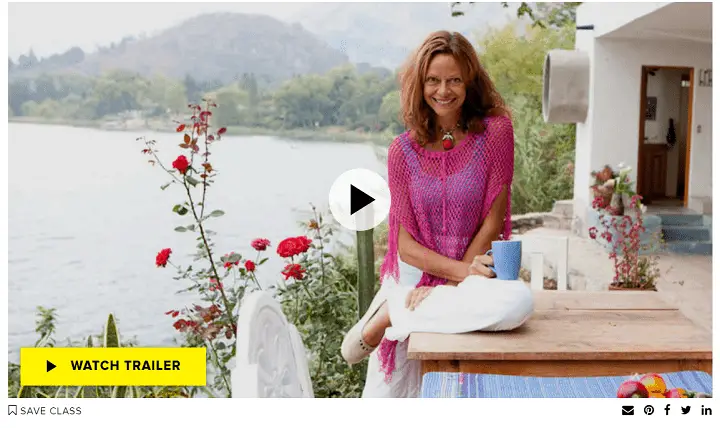 Beginning your writing career may be as simple as writing your memories and trying to tell the story of your life. Memoirs are hugely popular among readers and they are not incredibly hard to write. Everyone has a story, but you need to learn how to translate it into something that will captivate readers and keep them engaged. The course is designed by Joyce Maynard, a celebrated journalist, and writer whose memoir "At Home In the World" became an instant success. Joyce is a beautiful soul and she will fill you with creative inspiration. There's a difference between recounting the events of your life and transforming them into a journey. You'll learn what to include in your story what to leave out and how to structure your memoir. But it's not only about theory, far from it. The course will teach you technical skills as well, for example, how to build your arc, common mistakes newbie writers make, diagramming a sentence, and dealing with criticism and rejection. This course is recommended by 100% of students who went through it. That's pretty unusual for any type of educational content and it proves that " writing your story" is going to be worth your while.
Course highlights:
How to pick a place from which you start telling your story.
How to use descriptors vs. interpretive language.
Why is the economy of words so essential to telling a good story?
How to use dialogue and rhythm in writing.
How to develop a solid writing practice
5. How to Write Your First Novel – A Step-by-step Guide For Reaching The End by Alessandra Torre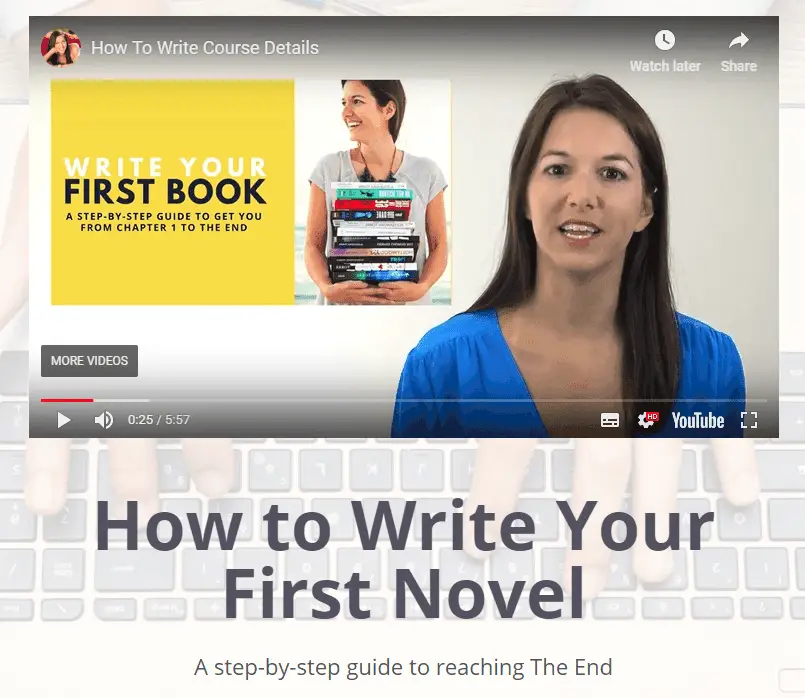 This is another great option for a would-be writer (based on the Thinkific platform) who is not exactly sure where to start. It's designed by an author who wrote 14 books and hit the New York Times bestseller list 8 times. It's always great to learn from experts as this will save you years of struggle and frustration. It's amazing that nowadays, for a few hundred dollars, you can download specialized knowledge into your brain in a matter of a few hours. This is the case with this course. It will teach you the ins and outs of your first big writing project. Everything is laid out in a step-by-step manner, so you'll gradually improve your skills. First, you will learn about how to find your story, and then how to develop it. After you've got this nailed, you will understand exactly how to write and use different literary devices to keep your readers engaged. Then you'll learn to write your first chapters. That's super valuable because that's where most scribblers get lost. Then you'll see how to progress through the writing journey and finally reach the climax in your new novel. After that, you only need to rewrite a few sections, edit your script, and you are ready to publish. This is a comprehensive guide on how to write your first book from start to finish. It will allow you to save days if not weeks of tribulations. I recommend you check out the sales page of the course as it offers a free preview of many of the materials included in the curriculum.
Course highlights:
You'll learn how to set your writing goals.
You'll establish what exactly are you going to write about.
You'll understand the structure of a book, the structure of a scene, building characters, foreshadowing, climaxes, and how to produce your first few chapters.
You will know which software to use for particular writing tasks.
Recommended Content:
Conclusion
Learning how to write better is an arduous task that never really ends. It may take you years just to master the basics. In the meantime, you'll be plagued by writer's block and impostor syndrome. You'll fall into analysis paralysis, and you'll bang your head against the desk because you'll think you're no good. You'll also read hundreds of books, go through the courses, and keep on learning. And one day you'll realize that you can produce something you're proud of. This is a beautiful feeling, and it's something I wish for you from all my heart. Next up, you may want to explore the top book publishers in New York. Cheers!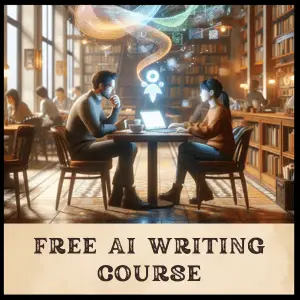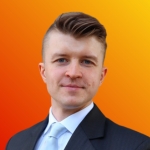 Rafal Reyzer
Hey there, welcome to my blog! I'm a full-time blogger, educator, digital marketer, freelance writer, editor, and content manager with 10+ years of experience. I started RafalReyzer.com to provide you with great tools and strategies you can use to become a proficient writer and achieve freedom through online creativity. My site is a one-stop shop for freelance writers, bloggers, publishers, and content enthusiasts who want to be independent, earn more money, and create beautiful things. Dive into my journey here, and don't miss out on my free 60-minute AI writing online course.