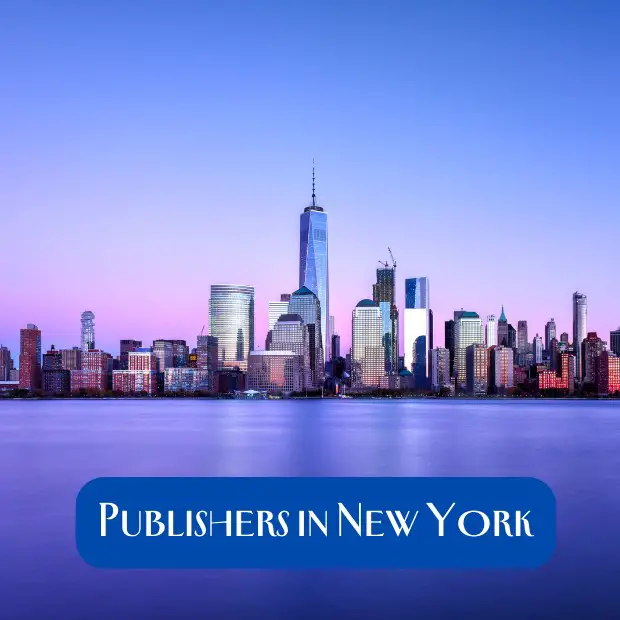 Are you looking for the best publishing companies headquartered in New York?
Publishing companies based in the Big Apple receive hundreds of manuscripts every month and filter out most to focus only on the top contenders.
Hence, if you have written an excellent book, following the strict submission guidelines for each publishing house can get you noticed.
Below, you'll find a detailed list of the best publishing companies in New York that are currently accepting submissions.
Why NYC? Because it's home to some of the biggest and most prestigious publishers in the world.
And as the Frank Sinatra's song goes, "if you can make it there, you'll make it anywhere!"
30 Best Publishing Companies in New York:
1. Farrar, Straus & Giroux
Founded in 1946, this publishing company has produced authors with extraordinary acclaim over the years. It is one of the most prominent publishing companies in New York.
FSG is one of Macmillan's eight divisions in the US. Their authors have collectively won 25 Nobel Prizes in Literature as of 2020, as well as numerous Pulitzer Prizes and National Book Awards.
FSG publishes books in a wide range of genres, from literary fiction to non-fiction, autobiography, politics, and so on.
Some of its hit titles include Sharks In The Time Of Saviors by Kawai Strong Washburn and Everything That Rises Must Converge by Flannery O'Connor.
It publishes for both international and U.S. authors and used to accept unsolicited submissions, but currently does not.
Contact:
Email: fsg.publicity@fsgbooks.com
Address: 120 Broadway, New York, NY 10271
Phone: 212-741-6900
2. Soho Press
Soho Press has been one of New York City's finest independent book publishers since it was established in 1986.
It publishes memoirs, literary fiction, mystery series set abroad, and crime stories. Its international crime series and literary fiction have earned its authors many honorary awards.
It releases 80 to 90 books per year, some of which have been reviewed by reputable review publications like the Cleveland Review of Books.
Some notable works published by Soho Press include The Fame Thief by Timothy Hallinan and Blue Skinned Gods by SJ Sindu.
This indie publisher accepts only agent-endorsed manuscript submissions at the moment. Once it reopens for unsolicited submissions, the submission guidelines page will be updated.
Contact:
Email: soho@sohopress.com
Address: New York, NY, United States
Phone: 212-260-1900
3. Penguin Random House
Established in July 2013, Penguin Random House has made a name for itself as an elite publishing house.
Headquartered in New York, it has over 300 editorial and independent publishing arms and brands in over 20 countries across six continents.
It is home to over 80 Nobel Prize laureates and hundreds of the world's most successful authors. It has a dedicated team of publishing professionals who will help you discover your best work and implement innovative ways to bring your stories and ideas to your target audience.
From editorial and design to sales, marketing, production, and distribution, they will collaborate with you throughout the entire process. They protect your intellectual property and allow you to express your opinions and wants.
One of its bestselling books is Barack Obama's memoir A Promised Land, the biggest-selling new book in 2020. Other notable works include The Guardians by John Grisham and Beloved by Toni Morrison.
Penguin Random House offers an advance to its authors before royalty checks start coming in.
If you want your manuscript to be considered for publication, they recommend you work with an established literary agent. They do not accept unsolicited manuscripts and submissions presently.
Contact:
Email: penguinrandomhouse@penguinrandomhouse.com
Address: 1745 Broadway, New York, NY 10019
Phone: +1 212 782 9000
4. Springer Nature
Springer Nature publishes mostly research journals. They advocate advancing discovery for the world by speeding up the publishing process.
It is a scientific, technical, and medical publisher that provides researchers with quality content. It helps researchers uncover new ideas and findings to apply in their studies and theses.
This publisher also ensures that all published research stands up to objective scrutiny and that the necessary rights and permissions are in place.
It is home to trusted brands including Springer, Nature Research, Palgrave Macmillan, BioMed Central, Scientific American, Adis, and Apress.
Hit titles include The Circular Economy Handbook by Peter Lacy et al. As a Springer Nature author, you get access to the following:
A wide range of resources and support solutions for your research
Attention to detail
Support of editors and reviewers
Wide and established readership
Publish subscription or open access
The dedicated home page for each journal on the website springer.com holds submission instructions
Contact:
Email: authorsupport@springernature.com
For specific inquiries, visit this page
Address: 1 New York Plaza, 1 FDR Dr, New York, NY 10004, United States
Phone: +1 800 777 4643
5. Tor Books
Tor Books is another division of Macmillan that publishes fantasy, science fiction, thriller & suspense, historical fiction, horror, and mystery & crime books.
It was founded in 1980 by Tom Doherty and is one of Tom Doherty Associates' 6 publications, which include Forge, Tor Teen, Tor.com, Starscape, and Nightfire.
Some of its hit titles include Binti by Nnedi Okorafor and Mistborn by Brandon Sanderson.
Tor has won Locus Magazine's Best Science Fiction Publisher poll 33 years in a row. As of 2018, they have been nominated 579 times in 16 different awards, of which they bagged 111 wins. Tor Books offers an advance against royalties to its authors.
Tor Books, Tor Teen, Nightfire, and tor.com accept only submissions through agents. Although they occasionally hold an "open door", during which they consider authors without representation. Forge and Starscape accept only agent-endorsed submissions at this time.
Contact:
Email: submissions@tor.com
Address: 120 Broadway, New York, NY 10271
Submission guidelines for Tor Books, Tor Teen, and Nightfire
6. Artisan Books
Founded in 1994, Artisan Books, a division of Workman Publishing Group, publishes inspirational and instructional books.
If you are an author who aims to utilize visual content such as illustrations and photography, Artisan books are one of the best publishing companies in New York to put your work out there.
They publish books on food & beverage, transporting reads, and general non-fiction and pop culture books, which include picture books, health and wellness, and animal books, amongst many others.
Significant bestsellers include The French Laundry Cookbook by Thomas Keller and the New York Times bestseller In The Company of Women. They accept both solicited and unsolicited submissions.
Contact:
Email: artisaninfo@artisanbooks.com
Address: 225 Varick Street New York, NY 10014-4381
Phone: 212 614 7787
7. HarperCollins
HarperCollins has been producing great authors since its establishment in 1817.  It is one of the leading publishing companies in New York and the second-largest consumer book publisher in the world.
It produces about 10,000 new books a year in 16 languages. It has produced Nobel Prize, Pulitzer Prize, and National Book Award winners. Some of its authors have also bagged the Newbery and Caldecott medals and Man Booker Prize awards.
HarperCollins produces books in the following genres: fiction and non-fiction, contemporary women's fiction, narrative nonfiction, memoirs, biographies, history, sports, literary fiction, and thrillers.
It provides authors with editors, marketing reach, connections to booksellers, and insight into reader and consumer behavior that authors can use to make their work better.
It does not accept unsolicited manuscripts except for its Avon Impulse publication, which welcomes unsolicited submissions from talented romance writers. They offer advance payment to authors.
Contact:
Email: hello@harpercollins.com
Address: 195 Broadway, New York, NY 10007
Phone: 212-207-7000
8. Simon & Schuster
Simon & Schuster was founded in 1924 and has since then produced titles that have won 56 Pulitzer Prizes.
The company and its subsidiaries have produced titles that have been the recipient of 18 National Book Awards, 13 National Book Critics Circle Awards, 9 Grammy Awards, 19 Newbery, and 15 Caldecott Medals.
It publishes fiction and non-fiction titles in different formats, including children's books for different ages.
Some of its hit titles include The New York Times bestseller Beautiful Things by Hunter Biden and The 7 Habits of Highly Effective People by Stephen R. Covey.
Simon & Schuster is one of the largest audiobook publishing companies in New York. It only accepts manuscript submissions through literary agents.
Contact:
Address: 1230 Avenue of the Americas, New York, NY 10020
Phone: 212-698-7000
9. Crown Publishing
This is a subsidiary of Penguin Random House that publishes a wide range of books in fiction and non-fiction genres. It also publishes autobiographies and memoirs, health, lifestyle, and cookbooks.
Some of its illustrious authors include former US Presidents George W. Bush and Barack Obama, as well as Michael Jackson, Michelle Obama, and Max Brooks.
Since it was founded in 1933, it has been creating landmark fiction and non-fiction works like The Joy of Sex by Alex Comfort and Michelle Obama's Becoming. It only accepts submissions through literary agents.
Contact:
Email: crownbiz@randomhouse.com
Address: 225 Park Avenue South, Midtown Manhattan, New York
Phone: Not provided
10. Tor.com
Tor.com is an imprint of Tor Books under Macmillan publishers, an online magazine site that publishes original short fiction. It also gives daily commentaries on fantasy, science fiction, comics, stories, and related subjects.
Tor.com made its debut in July 2008 and has published content from both new and established voices. It accepts unsolicited pitches for essays, think pieces, list posts, reaction pieces, and reviews in the 1000- to 2500-word range. If you want to submit your fiction writing, visit the fiction submission guidelines.
If your pitch is accepted, tor.com pays for it as long as it is original. Upon publication, you get a byline and short bio at the end of the published post and get listed on its contributors' roster. You can send your pitches to the email address listed below.
Contact:
Email: blogsubmissions@tor.com
11. Macmillan Publishers
Macmillan Publishers was founded in 1843 and is one of the largest publishing companies in the world. It is one of the "Big Five" English publishing companies in New York.
They publish everything from books to magazines and academic journals. Some of its hit titles include A Wrinkle in Time by Madeleine L'Engle and What Happened To You by Bruce D. Perry & Oprah Winfrey.
Many of its titles have won awards, including the Printz Award, the Man Booker Prize, the National Book Award, the Pulitzer Prize, and the Nobel Prize.
Except for tor.com, the company does not accept unsolicited submissions. Please note that some individuals pose as Macmillan representatives and send emails to scam unsuspecting writers. To confirm the authenticity of such, email compliance@macmillan.com
Contact:
Email: press.inquiries@macmillan.com
Address: Equitable Life Building, 120 Broadway, New York, NY 10271, United States
Phone: +1 646 307 5151
12. Hachette Livre
Hachette Livre was founded in 1826. Although its headquarter is in Paris, it expanded into the United States as Hachette Book Group USA.
It is the third-largest trade and educational book publisher in the world, churning out from their presses hundreds of titles each year. In 2020, 196 of its titles made it to the New York Times bestseller list, 26 of which reached number 1.
Some of its top books include Less by Andrew Sean Greer and Pachinko by Min Jin Lee.
They publish both fiction and non-fiction, travel, Sci-Fi & fantasy, mystery thrillers, and many others.
Publishers in HBG do not accept unsolicited submissions except Yen Press. Before the other publishers consider your work, they must be coursed through an established literary agent who knows their official submission guidelines well. Yen Press happily reviews unsolicited graphic novel submissions.
Contact:
Address: 1290 Avenue of the Americas, Midtown Manhattan, New York City
Email: Not provided
Phone: Not provided
13. Seven Stories Press
Founded in 1995, Seven Stories Press is one of many independent publishing companies in New York known for its peculiar mix of literature, political publication, and children's books.
It has published a large catalog of activist nonfiction and history. Notable titles include 9/11 by Noam Chomsky and Dark Alliance by Gary Webb.
Seven Stories Press has published several award-winning works and can get you where you need to be if you write in any of their popular genres. It also produces LGBTQ and BIPOC books.
Presently, it is no longer accepting unsolicited submissions. Hence, its submission guidelines are unavailable. You can make inquiries via the general email address below.
Contact:
Email: sevenstories@sevenstories.com
Address: 140 Watts Street New York, NY 10013
Phone: 212 226 1411
14. DAW Books
DAW Books is an American publishing company founded in 1971. It is dedicated to producing written works in science fiction and fantasy genres.
If your work explores and celebrates diversity in the Sci-Fi and fantasy category, DAW Books can do a great job getting it to readers who love just that. They actively seek talented writers from underrepresented communities.
They accept both direct and agent-assisted submissions. Agents need to reach out to DAW's acquiring editors or email daw@penguinrandomhouse.com Unsolicited submissions can be sent via the link below.
Contact:
Link: submit.dawbooks.com
Address: 375 Hudson Street, New York, NY 10014
Phone: +1 212 366 2096
15. Dover Publications
Also known as Dover Books, this American book publisher was founded in 1941. It republishes significant works that are out of print and makes them available at a reduced price after adding new, colorful art to its paperback editions.
They republish adult coloring books, children's books, mystery, crime, thrillers, mathematics, literature, and so on. Some of its notable titles include Abraham Lincoln's Humor and 1014: Brian Boru & The Battle For Ireland.
They do not accept original fiction, music, or poetry, but accept all other submissions. You can send queries and suggestions if you have other inquiries or an idea for a title you would like its editors to consider. Do not submit your work via email.
Contact:
Address: 1325 Franklin Ave, Ste 250 Garden City, NY 11530
Phone: Not provided
16. Farshore Books
Formerly known as Egmont Books, Farshore is one of the leading children's books publishers under HarperCollins.
It prints and distributes books for children under 5, ages 6 -8, ages 9 – 12, and teens.
They have a catalog of interesting stories and characters that come to life in every acquisition they make. They publish both fiction and nonfiction, and child-friendly picture books.
Some of their popular titles include Winnie-the-Pooh and Minecraft. HarperCollins and its imprints do not accept unsolicited submissions.
Contact:
Email: enquiries@harpercollins.co.uk
Address: 103 Westerhill Road, Bishopbriggs, Glasgow, G64 2QT
Phone: 0141 306 3100
17. Berkley Publishing
Berkley Publishing or Berkley Books is a prominent commercial and genre fiction publisher in New York.
This is one publishing company that grooms new talents into bestselling authors. It also makes bestselling authors into popular brand names like it did with Patricia Briggs, and Laurell K. Hamilton, amongst many others.
It is capable of introducing new-generation novelists because of its expertise in determining what readers find appealing today. This includes mystery & suspense, Sci-Fi & Fantasy, women's fiction, and romance.
It works with its authors to produce the best version of its works. Payback's A Witch by Lana Harper and The Love Hypothesis by Ali Hazelwood are some of its bestselling titles.
For submissions, it has the Berkley Open Submission Program that allows authors without representation to submit their work within an announced submission window. The last submission window closed on January 9, 2023, but a new opening is on the horizon.
Contact:
Address: 200 Madison Avenue New York, NY 10016 United States
Phone: + 1-212-366-2000
18. Knopf Doubleday
Doubleday merged with the Knopf Publishing Group in 2009 to form Knopf Doubleday Publishing Group.
They are under Penguin Random House, one of the foremost publishing groups in NYC that have been delivering remarkable titles since the 1800s.
They produced award-winning and bestselling fiction and nonfiction work with authors like Toni Morrison, Chinua Achebe, Willa Cather, Rudyard Kipling, Julia Child, and so on. Knopf Doubleday is listed as an imprint of this company, alongside eight others.
Unlike the other PRH divisions that deal exclusively with literary agents, Knopf Doubleday gives concession for unsolicited submissions with the possibility of reviewing them.
Contact:
Address: 1745 Broadway New York, NY 10019
Phone: (212) 940-7390
19. Kodansha Comics
Kodansha is one of the best manga publishing companies in New York. They have been publishing "unexpected voices" since their founding in Japan in 1909.
They publish non-fiction novels, language textbooks, children's books, art tomes, and essay collections.
Their subsidiary in the United States was founded in 2008 and publishes English-language manga and Japan-based fiction and non-fiction books. Some of Kodansha's popular titles are The Ghost in the Shell which was made into an anime film and Akira.
Kodansha is currently not accepting any submissions or proposals to publish previously unpublished work. Most of its releases are translated versions of works that have been previously published in Japan.
Contact:
Email: hello@kodanshausa.com
Address: Not provided
20. Feminist Press
This non-profit literary organization was founded in 1970 and publishes books that "ignite movements and social transformation."
It publishes about twelve to fifteen books each year that advance the feminists' cause. They are meant to further the understanding of intersectional feminism, feminist dystopia, environmental justice, and immigration stories.
It accepts unsolicited manuscript submissions. If your work gets published, they place them in local independent bookstores, in addition to selling them on their website.
Contact:
21. Peter Pauper Press
Peter Pauper Press is one of America's finest publishing companies in New York.
It was established in 1928 and has since produced fine gift books, humor books, compact references, travel guides, unique journals, quality stationery, holiday cards, and innovative children's activity books.
Each year, it publishes around 100 books and ancillary products. It is known for publishing classic prose and poetry masterpieces, including the works of William Shakespeare and Benjamin Franklin.
Although it almost ceased its operation in 1981, it was relaunched and now has a customer-pleasing line of children's books, activity books, stationery, journals, holiday cards, engagement calendars, travel guides, gift books, and vibrant and new backlist bestsellers.
If your work falls under any of the categories above, you can consider publishing your book with Peter Pauper. Although at the moment they are not accepting unsolicited manuscripts or art submissions, a literary agent can be of help.
Contact:
Address: 202 Mamaroneck Ave., Suite 400, White Plains, New York 10601-5376
Phone: 914 681-0144
22. Mary Ann Liebert, Inc.
Mary Ann Liebert is a renowned independent publisher of medical, technical, and scientific content.
It is known for its "authoritative peer-reviewed journals, books, and trade publications in cutting-edge fields such as biotechnology, biomedical research, medicine and surgery, and public health research and policy."
The same goes for technology and engineering, law, environmental research and policy, and other specialized disciplines."
If you are looking to publish groundbreaking research work with credible content, this publisher will provide unique services to maximize its market impact. It will also provide fast and flexible models for you as an author to enable rapid dissemination and high visibility for your published content. Mary Ann Liebert Inc. gives very specific instructions on submissions.
Contact:
Address: 140 Huguenot Street, 3rd Floor, New Rochelle, NY 10801-5215
Phone: 914 740-2100
23. Bellevue Literary Press
Bellevue Literary Press was founded in 2007 and became an independent non-profit publisher in 2018. It publishes books about the intersection between the arts and sciences.
It has published many prize-winning books that promote literature and the humanities to scientific and medical communities.
If your work falls under literary fiction and nonfiction and features the convergence of arts and sciences, BLP should publish it. They already made a name for themselves in the industry for such kinds of books.
For inquiries about publishing and editorial, send a message to the email below. They are, however, not accepting unsolicited submissions at the moment.
Contact:
Email: erika@blpress.org
Address: 90 Broad Street, Suite 2100 New York, NY 10004
Phone: 917 732-3603
24. Augustus Publishing
Some call it street literature, others dub it as an urban drama, but Augustus Publishing tags it as hip-hop literature.
This publisher was founded in 2005 and publishes books that depict the harsh realities of life on the street. They give a much-needed chance to new authors preaching this genre.
Just as hip-hop took over the music industry, urban publishing is doing the same. If your book falls under this new literary genre, this publishing house is more than ready to get your work out there.
From fiction to biographies, books for teens and young adults, and urban erotica, it publishes it all. It is open to both direct and agent-assisted submissions.
Contact:
25. Interlude Press
Interlude Press is one of the best New York publishing companies that print and distribute well-crafted original novels featuring diverse casts with lead characters from across the LGBTQ+ spectrum.
It is an award-winning boutique publisher of LGBTQ fiction that has garnered awards and accolades from publications like Publishers Weekly.
You can send your manuscript to them as long as it fits their current publication catalog. Both authors' and agents' manuscript submissions are welcome as long as they conform to the submission guidelines.
Contact:
Email: contact@interludepress.com
Address: Nyack, New York
26. Marvel Comics
Marvel Comics is a publisher of American comic books and related publications. It is an imprint of Marvel Worldwide Inc. that was established in 1939 and came to be known by this name in 1961.
The Fantastic Four, Star Wars, and Avengers are a few of its most prominent works. It is a household name in the industry of comic book publishing.
"Marvel does not accept or consider any ideas, creative suggestions, artwork, designs, game proposals, scripts, manuscripts, or similar material" unless they specifically request it from you. While Marvel Comics inhibits unsolicited submissions, it is always looking for new comic book artists and writers.
Contact:
Address: 1290 Avenue of the Americas, New York, NY 10104
Phone: 212-576-4000
27. Beacon Publishing Group
Beacon Publishing Group is an independent publisher of award-winning books in the fiction and non-fiction genre. They give voice to both debuting and established authors.
They offer all the essential services every author needs from a publisher. From title acquisition and development to editorial, design, promotion, sales, warehousing, and distribution services.
BPG and its imprints accept manuscripts across all genres, with or without an agent. It usually takes three weeks or more before they respond to your submission.
Contact:
Email: info@beaconpublishinggroup.com
Address: 1250 Broadway 36th Floor, New York, NY 10001
Phone: Not provided
28.  W. W. Norton
Established in 1923, this American publishing company has been entirely owned by its employees since the 1960s.
They publish books that tackle racial and social justice, giving a much-needed voice to black stories. They likewise print and distribute textbooks in the music and literature niche.
It has published many titles that won Nobel Prizes, Pulitzer Prizes, and National Book Awards, many of which are era-defining books. If you have similar works, you can submit them to W. W. Norton & Company. Although they no longer accept unsolicited submissions, they urge writers to reach out to them via a literary agent.
Contact:
FAX: 212 869-0856
Address: 500 Fifth Avenue, New York, New York 10110
Phone: 212 354-5500
29. Persea Books
Persea is an independent publishing house in New York that was established in 1975. It has since then published hundreds of consequential books on poetry, fiction, essays, memoirs, biography, and revived classics.
It is open to original manuscripts that focus on contemporary issues expressed through personal experience. One of its notable works is Anzia Yezierska's Bread Givers.
Books with a fresh voice in any of the following genres are welcome: literary fiction, creative nonfiction, memoir, essays, biography, literary criticism, books on contemporary issues that are multicultural, feminist, LGBTQI+, Young Adult novels, and literary and multicultural anthologies.
They accept submissions electronically from both independent authors and literary agents. They also hold annual poetry contests as an alternative means of accepting poetry works. All you have to do is follow the submission guidelines to the letter.
Contact:
Email: editorial@perseabooks.com
Address: 90 Broad Street, Suite 2100, New York, NY 10004
Phone: 212 260-9256
30.  BOA Editions
BOA is a non-profit publisher of fiction, poetry, and poetry-in-translation. It was established in 1976 and has since then earned recognition for artistic excellence.
Since 2010, it has been holding the BOA Short Fiction Prize, amongst other submission options. Its winners get a $1,000 honorarium and book publication by BOA. This year's edition will be open for submission from April 1 – May 31. The entry submission fee is $25.
You can also look up these submission guidelines for the last open A. Poulin, Jr. Poetry Prize submissions, which are held to honor a poet's first book. Other submissions include:
The American Poets Continuum Series, which is held to celebrate new collections of poetry by distinguished mid-career poets
The American Reader Series which is currently interested in short story collections
New American Translations Series which is dedicated to publishing English translations of international poetry
Blessing the Boats Selection that spotlights poetry collections by women of color
Contact:
Email: contact@boaeditions.org
Address: 250 North Goodman Street, Suite 306, Rochester, NY 14607
Phone: 585 546-3410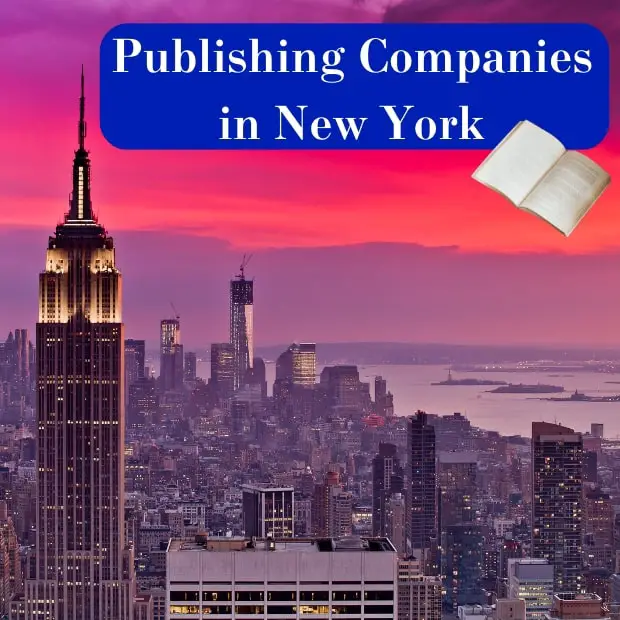 FAQ: Why Do You Need A Publishing Company?
The publishing industry is very competitive, so if you want to put your narrative nonfiction or graphic novel on the New York Times Bestseller List, you need the right publisher.
Top book publishing companies sell your book by telling 'why' people need it, which often is something writers can't do on their own. This is especially true if you're not a famous author.
You might have more freedom and control over your book when you self-publish. But know this: self-publishing usually won't lead to many book sales.
A publishing company helps you avoid silly mistakes and reduce the chances of sabotaging your book because of your inexperience. They can also get it mentioned in the New Yorker, The Atlantic, or NYT, which brings more exposure to your work.
Publishers will also help you with book cover design, publicity, and building your reputation as a writer. Your earnings might be meager at first, but once you made a name for yourself, the sky's the limit.
Remember that publishing success comes from the book itself, the cover design, and the number of readers you can reach.
These publishing companies based in New York offer a variety of services and many of them can give you an advance payment. Read the submission guidelines carefully and hit "send!"
Wrap Up
Finding the best publisher for your work, one who will take you on, is difficult. Having a reliable literary agent can help make life easier for authors.
A few of the publishing companies in New York that are listed above accept unsolicited submissions. But it is still highly recommendable to work with an agent who can help you through the submission process.
Note that the advance offered by each of these publishers can range from nothing to thousands of dollars. It often depends on the size of the publisher, how much they can afford, and how many copies they expect to sell.
Another thing to keep in mind is that you won't get paid in one payment. The pay will be incremental as your book continues to sell. I hope you find this list helpful in making your choice!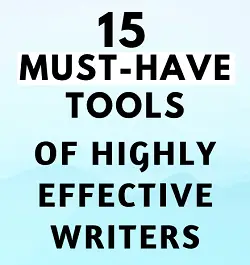 Free resource: Download your free PDF and learn about the top tools used by freelance writers.
Get it here
Rafal Reyzer
Hey there, welcome to my blog! I'm a full-time blogger, educator, digital marketer, freelance writer, editor and content manager with 10+ years of experience. I started RafalReyzer.com to provide you with great tools and strategies you can use to achieve freedom from 9 to 5 through online creativity. My site is a one-stop-shop for freelance writers, bloggers, publishers, content enthusiasts who want to be independent, earn more money and create beautiful things. Feel free to
learn more about me here.