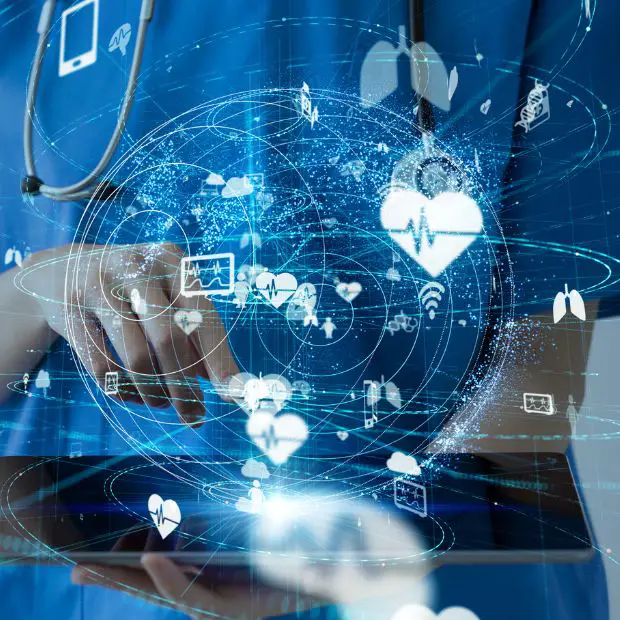 Typing can be exhausting. Not only does it require you to sit in a specific position, but it can also cause serious issues like repetitive strain injury and carpal tunnel syndrome.
So why keep on banging on the keyboard when modern technology has a better solution?
There are dictation apps in the market that have a very high level of sophistication and accuracy. We will compare two of the most outstanding versions I know: the Nuance Dragon Professional vs. Medical to find out what better suits your needs.
Overview of Nuance Dragon
Nuance Dragon is a famous speech-to-text software that has yet to find its match. Whether you've dictated your whole life, or you're just researching ways to make your workflow easier, chances are you came across Dragon, or Dragon NaturallySpeaking as it was known in the past.
It's no wonder – Dragon is the industry standard when it comes to dictation software.
But here's the caveat – Dragon comes in so many versions that it's difficult to choose the one that works best for your line of work. Considering that it's no small investment, many people who want to dictate are reluctant to make a purchase.
Today, I'll try to make this task easier for you. I'll go through the major differences between the two versions of Nuance Dragon – Nuance Dragon Professional vs. Medical.
Nuance Dragon Professional vs. Medical – Find a Perfect Fit
All versions of Dragon are good – even the Home version which offers the least functionality, outperforms other speech-to-text software on the market.
That being said, some will fit the way you do business better than others.
Besides the general Professional and the specialized Medical versions, Nuance also offers the Dragon software adjusted for use in law enforcement, social services, and law and PowerScribe which is designed for radiologists.
Dragon Professional is an amazing, general-use software that can be utilized no matter what kind of work you do. If you want to dictate instead of type, this program will make your work easier.
It doesn't matter if you're a cardiologist, a writer, a bank teller, or a manager – Dragon Professional was created as a great solution for everybody.
The feature that makes Dragon Professional so versatile is the ability to import custom vocabulary. That means that you can access the program's word database and add the words that you frequently use, that the program may not know already.
This is perfect for professional jargon or local slang that you may use.
Other than simple dictation, you can use this program for a lot of tasks.
From filling out forms and documents using voice commands to transcribing recordings into text, Dragon lets you do a lot without ever touching the keyboard. However, Dragon Medical offers these features too.
Dragon Medical is a step-up that is designed specifically for medical professionals (apart from radiologists who may find PowerScribe better suited to their needs).
The Medical version offers everything that the Professional does, with additional functions and vocabulary that will make any medical professional's work faster and better streamlined.
The Medical edition of Dragon was designed to capture patient care from the first contact to resolution.
Dictate your diagnosis, fill out forms and reports, capture the patient's story, do all the necessary paperwork, and securely document patient care in the EHR using nothing but your voice. Of course, completely HIPAA compliant.
Due to the additional features and vocab that were designed to make any clinician's life easier, a Dragon Medical license costs more too.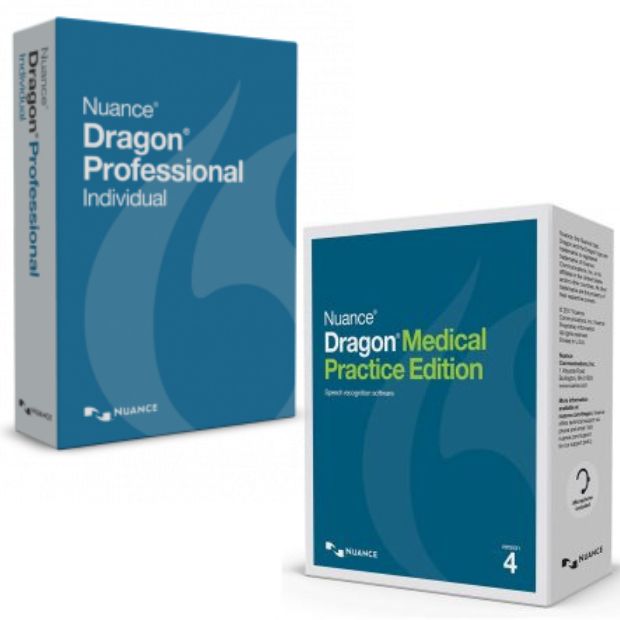 Features They Have in Common
Dragon Medical is a more advanced, specialized version of Dragon Professional.
Here are the baseline features that both of these programs give you:
GREAT TRANSCRIPTION ACCURACY FROM THE GET-GO – It doesn't matter if you work in a noisy environment or have an accent, Dragon speech-to-text software will understand you. If it does miss the mark, don't worry – the Deep Learning technology present in all Dragon products learns to understand you better the more you use the program.
SPEECH-BASED FORMATTING – Apart from merely capturing the words you say, Dragon comes with editable voice control lines that let you format and edit your text. You can also pinpoint the exact way you want the program to write numbers, dates, and abbreviations.
USE YOUR COMPUTER HANDS-FREE – Dragon gives you a range of commands that let you browse the web, send emails, launch apps, and do everything you'd typically do on a computer using nothing but your voice. You can even make custom voice commands to help you use your business software faster.
PLAYBACK – After you dictate, have the program read the captured text back to you to make sure everything's in order.
ADD CUSTOM WORD LISTS – Both Dragon Professional and Medical let you edit the vocabulary the program recognizes. The same can be said for the aforementioned PowerScribe. Whether you need to use jargon, acronyms, local slang, or industry-specific language, you can help Dragon understand and ultimately capture the way you speak better.
TRANSCRIBE RECORDINGS – Sometimes it's just easier to record a meeting and make notes later. Dragon can do this for you automatically. Simply record a .wav, .mp3, .wma, .dss, .ds2, or an .m4a file and let Dragon do its magic – transcribe it into editable text.
Additional Features in Dragon Medical
Dragon Medical was created to be perfect for medical professionals, so Nuance added some additional features that don't appear in the Professional version.
MEDICAL VOCABULARY AND FORMATTING – Simply said, this version of Dragon will understand your speech better, especially when you use medical jargon. This edition covers the language used in 90 medical specialties and subspecialties, helping medical practitioners feel understood. In addition, Dragon Medical automatically recognizes medical context to capitalize, hyphenate, format common abbreviations, and so much more to take the report-writing load off your back.
HIDDEN MODE – Whether you have scans, scientific references, or patient history in front of you, you can dictate in a way that will not obstruct your view of the important documentation. Whether the text box becomes completely hidden or semi-transparent is completely up to you!
System Requirements
Dragon Professional and Medical have the same system requirements. Both also come in the form of a digital download, so there's no hassle with discs or flash drives.
Before purchasing any Dragon software, make sure your system is strong enough to handle it:
RAM:Minimum of 4GB
CPU: Intel®dual core or equivalent AMD processor.  Faster processors yield faster performance
Free hard disk space:8GB
Supporting operating systems: Microsoft Windows 7, 8.1, and 10 (32-bit and 64-bit)
Web browsers: Internet Explorer 11 or higher, or a current version of Chrome or Firefox
Sound card: Must support 16-bit recording
Any microphone will do – whether you connect your phone, have an external, or use a built-in microphone. For the best sound quality and perfect understanding, I recommend picking up a tested and tried transcription headset.
Please note that you can't have two versions of Dragon installed on one device.
The Verdict
So, Nuance Dragon Professional vs. Medical, which one you should pick?
All in all, Dragon is an amazing software, no matter which version you choose. If you're a medical professional, the specialized Medical edition of the program will bring you the best results.
However, Dragon Professional is a fair choice too – especially if you have various transcription needs.
As a writer and content creator, I found Dragon Professional the ideal pick for my trade. Which one works for you?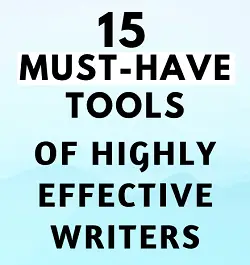 Free resource: Download your free PDF and learn about the top tools used by freelance writers.
Download here
Rafal Reyzer
Hey there, welcome to my blog! I'm a full-time blogger, educator, digital marketer, freelance writer, editor and content manager with 10+ years of experience. I started RafalReyzer.com to provide you with great tools and strategies you can use to achieve freedom from 9 to 5 through online creativity. My site is a one-stop-shop for freelance writers, bloggers, publishers, content enthusiasts who want to be independent, earn more money and create beautiful things. Feel free to
learn more about me here.