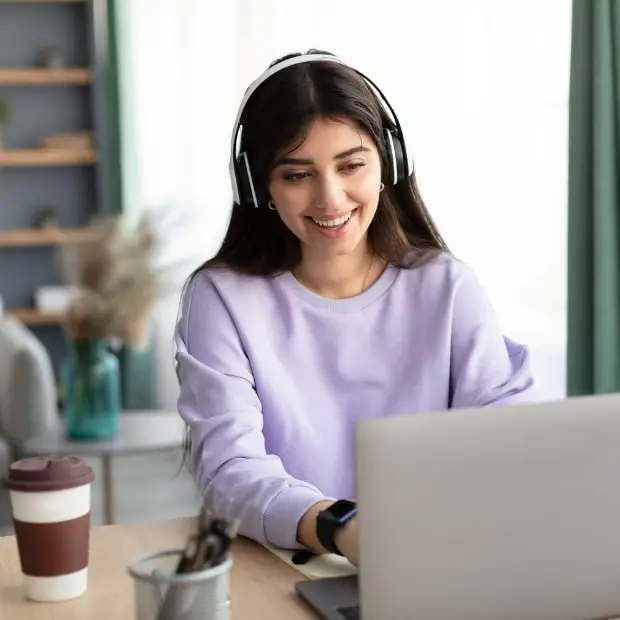 Transcription is not fun when you have trouble hearing what the audio says.
If you're serious about earning a living as a transcriptionist, you need tools that will make your work run smoothly. Shopping for the best headphones for transcription is a good place to start. Not all headphones are created equal. That's why I prepared a list of great headphone and earphone models that produce a clear, crisp sound every transcriber covets. If you know what you're looking for, check out my list. If you're not sure how to pick the best headphones for the job, scroll down to see what features to look out for when choosing your next transcription headphones. Without further ado, let's jump right in!
Here are the Best Headphones for Transcription:
If you're looking for a seriously advanced piece of technology, these Sony wireless headphones are a great investment. They're on the pricey side, but worth every penny. These over-ear headphones come with AI-driven features. They can enhance the sound of your audio, control the sound based on your surroundings, and automatically pause playback when you remove them from your head or start to speak. If someone approaches you while you work, you can simply place your hand over the right ear cup to hear them perfectly. They can be connected to two devices at the same time. The battery lasts up to 30 hours on a single charge, which is pretty impressive!
Want to use the same pair of earbuds for your transcription work and at the gym? Think of Phiaton. These Bluetooth earphones are not entirely wireless, having a connecting strap that sits behind your neck. This strap adds extra stability, and it's really handy if you need to take one of your earbuds out frequently. This in-ear model is inexpensive, yet provides you with a nice, crisp sound and great noise isolation. The battery charges extra quickly, and it lasts up to 8.5 hours on one charge. If you get sweaty easily, don't worry – these headphones are water-resistant too!
Ever since they came out, Apple AirPods have completely dominated the market. And that's for a good reason: AirPods are elegant, and they create an unparalleled, crystal-clear sound while feeling incredibly comfortable even if you wear them for hours on end. These in-ear wireless earbuds can last about 5 hours on a single charge. They come with a small charging case that you can always have with you – which can store up to 24 hours worth of battery life!
The Bose QuietComfort 35 Series II headphones are among the most expensive models on my list, but they're worth the price! These over-ear headphones have comfortable ear pads that create a tight seal and cancel ambient noise. The battery can give you about 20 hours of playback on a single charge. This over-ear model can be used both wireless and wired, so you don't even need to worry about battery life.
Mpow M12 is a perfect pick for transcribers on a tight budget. These in-ear headphones bring immense value for the money. They're completely wireless earbuds that come with a charging case. A single charge can last about 5 hours, and the charging case can store up to 20 hours of energy. They come with all the features of more expensive models without sacrificing sound quality. They have a somewhat overpowering bass, but it's easy to get used to. The M12 is also water-resistant, so no spillage will be fatal!
This elegant over-ear model was made by Razer, and it's one of the customers' favorites. These headphones bring a lot of value since they're reasonably priced and very well-made overall. Razer Opus was optimized by experts in cinematic audio immersion, so speech reproduction is flawless – perfect for transcribers! They create a great seal to nullify ambient noise, and you can tune back into the real world with a click of a button. When you remove these headphones, they automatically pause playback, so you won't miss a word. However, they're a bit on the quieter side. You can use them both wired and wireless, and their battery life is impressive at 25 hours per charge.
You may wonder what makes a pair of regular, wired earbuds so special. Well, even though you only have 4 feet (1.25 meters) of mobility due to cord length, 1MORE Quad Driver earphones are one of the consistently best-ranked earbuds out there. They're a bit bass-heavy, but the quad-driver design makes the sound crisp and powerful. They come with onboard audio control (pause, rewind, and fast forward) and a microphone. They're comfortable and rock an ergonomic design. But the biggest advantage of these earphones is their super-high build quality. They're made of top-notch materials like tungsten and Kevlar – they will serve you well for years.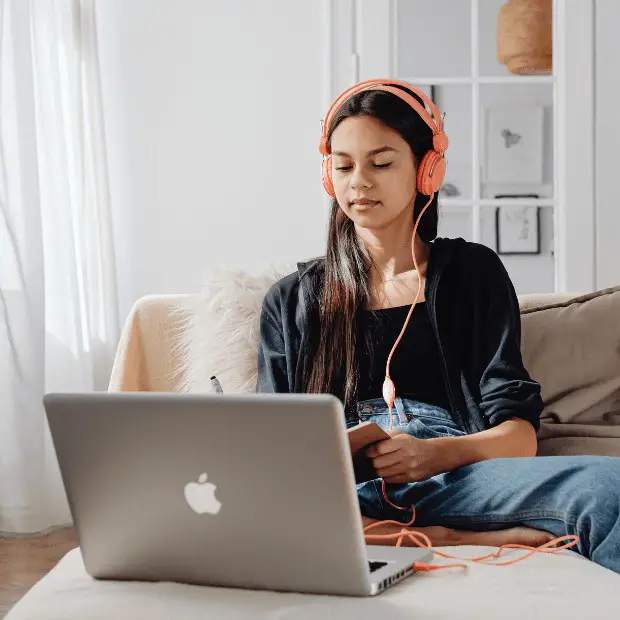 How to Choose the Best Headphones for Transcription
Making the right pick can be hard – after all, headphones all look pretty similar, but the differences in pricing are immense. So what exactly should you look out for when buying transcription headphones?
1. In-ear, Over-ear, or On-ear Headphones
First things first, you need to pick the basic shape of your work headphones. We distinguish three basic types: in-ear (earphones), on-ear, and over-ear headphones.
In-ear
Earphones or earbuds are small enough to sit inside the opening of your ear canal. They're very common, and you can get high-quality sound even if you get a cheap pair. That's primarily due to their small design – if they're the right fit, they'll create a good seal between the earbud and your ear, not letting ambient sound breakthrough. That way, the earphones enhance their sound, making them seem much more powerful than they are. They're very portable, but often get tangled if you store them in your bag or pocket (unless you get a wireless model). Remember to take them out from time to time when working long hours – keeping earbuds in for too long can cause a rapid spreading of bacteria inside your ears.
Over-ear
Chances are that the over-ear model is the first thing you think of when somebody says the word "headphones". They're the classic, bulky type that sits over your ears, held up by a comfy headband. Most professional musicians and podcasters use over-ear "sound monitors" – they're simply the best for the job. Because these earphones are big and heavy, manufacturers can pack higher-quality drivers (the parts that create sound). The great sound quality capabilities are also why there are thousands of models out there, in all price ranges. Over-ear headphones have oversized earcups that enclose your ears completely. Pressing the skin around your ear, the ear cup creates a nice seal that helps cancel ambient noise. These ear cups don't press on your ears, making these headphones comfortable to wear. However, they may warm up quickly. In most cases, that's not a big issue, but it can get uncomfortable if you need to work long hours without taking your headphones off.
On-ear
On-ear headphones are not as common as other types. They may look similar to over-ear models, but the difference is that the cups of on-ear headphones sit directly on your ears instead of encircling them. This type of headphone is a good way to avoid getting your ears warmed up without sacrificing sound quality. They can carry big, high-quality drivers that create a great sound, but they aren't able to create a seal that isolates sound as tight as over-ear or in-ear headphones. However, some people dislike on-ear headphones pressing their ears to their head, which admittedly can cause soreness after a while. I wouldn't recommend on-ear headphones to people who need to wear headphones for long streaks of time.
2. Wired or Wireless?
Wired earphones used to be the default just a few years back. But now that we have stronger and more durable batteries at our disposal, wireless headphones are dominating the market. Wired headphones are typically budget-friendly. They limit your mobility and get tangled when you put them in your pocket, but you can use them virtually infinitely – they aren't limited by battery life. A pair of wired headphones can be a lifesaver when you're in a pinch and the battery on your wireless model is empty. Wireless headphones are limited by battery life, which can be anywhere between 1 hour to 50 hours in high-end models. You can move freely, well, as long as you're within the Bluetooth range (typically around 30 meters from the sound-streaming device). A big plus of wireless headphones is that they typically have onboard controls like the pause, fast forward, and rewind buttons, which can make a transcriber's job so much easier.
3. Do you need a microphone in the transcription headphones?
If you only do transcription jobs, you may not need this feature. But if you also need to do dictation occasionally, a good microphone on your headphones is a must. Today, most headphones feature a mic, but they're not all made equal. A noise cancellation feature is a must for everyone who works in a loud environment – it cuts down ambient sound, making your voice sound crystal clear!
Conclusion
Do you have a favorite pair of headphones that create that perfectly balanced, crisp sound? How about a brand that you always go back to? I usually go with Sony or JBL! I hope you found this article helpful, and that you're ready to take on your next audio-related career challenge with ease. Next up, you may want to explore a list of the top audiobook publishers.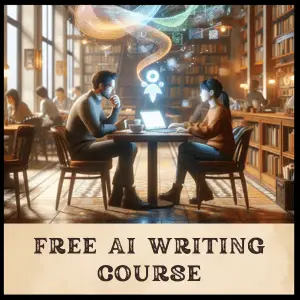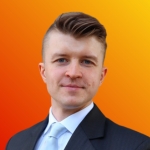 Rafal Reyzer
Hey there, welcome to my blog! I'm a full-time blogger, educator, digital marketer, freelance writer, editor, and content manager with 10+ years of experience. I started RafalReyzer.com to provide you with great tools and strategies you can use to become a proficient writer and achieve freedom through online creativity. My site is a one-stop shop for freelance writers, bloggers, publishers, and content enthusiasts who want to be independent, earn more money, and create beautiful things. Dive into my journey here, and don't miss out on my free 60-minute AI writing online course.