You work hard to create content for your company and you want it to be high-quality. But, quite often, there just isn't enough time to do all of that work by yourself.
Whether you need to create captions and subtitles for your YouTube videos or archive meeting transcripts for future reference, a transcription company can help you get your message across more effectively – in writing.
You're in the right place if you're wondering about what are the best companies that offer audio file transcription and video captioning services.
 In a moment I'll tell you how they work, and what the pros and cons are of each company. 
What is a Transcription Service?
Transcription software like Nuance Dragon is costly. While those programs are definitely a worthwhile investment for professionals who need transcriptions frequently, most people only occasionally need audio turned to text.
For cases like that, a transcription company is a more affordable and convenient option.
A transcription service is a type of company that puts spoken words into text by transcribing your audio files into neatly formatted text documents. You can get a transcription of either live or recorded speech.
Most modern transcription services use AI for the first draft of the transcriptions, and human employees to refine the text until it reaches maximum accuracy.
However, quite a few companies only offer AI transcriptions – which are typically cheaper but less accurate too.
The transcripts are typically fairly accurate, especially if provided by companies that employ human transcribers.
Long conversations may require editing to correct errors and remove unnecessary information not directly relevant to the content being discussed.
That's why many transcription services create a web editor that lets you go through the transcript and make the changes you want before exporting the transcription or captioning your video files.
The transcript should correspond with the audio recordings but doesn't typically include other noises often found in an environment during any sort of recordings, such as clicking sounds or ambient background noise.
 Once the service is ready to send you your transcription, you may receive a text file, a formatted subtitle with timestamps, or even your original video with captions inserted and ready to publish. 
The Best Business Transcription Services on the Market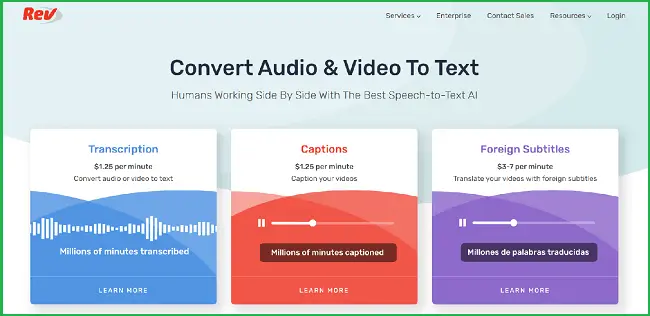 Rev is a world leader in transcription work for integrated captioning, subtitles, and translation.
They combine the power of AI with a human workforce to bring subtitles to your videos that are accurate, fast, and compliant with FCC, ADA, and Section 508 regulations.
Rev's human workforce works alongside their high-end speech-to-text AI to ensure all of your video and audio files have captions so no one misses out on what's being said or read aloud.
Rev provides accurate transcriptions completed in just a few hours at an affordable price and more than 170,000 customers that can attest to the quality of the service.
If you're after translation for your big project, Rev offers affordable translation to 15 world languages – and English subtitles as a free bonus.
Rev proudly boasts a quick turnaround time with only 12 hours needed for some audio transcripts and 24 hours for translation.
Pros:
Captions, subtitles, and translations offered for many audio and video formats
Straightforward pricing plans
Quick turnaround time for human transcriptions – as low as 12 hours
Cons:
Few subscription options for repeat customers
How Much Does Rev's Service Cost?
You don't need to worry about how much you'll have to pay in the end. Rev's straightforward pricing model contains no hidden fees, even though they don't have any subscription plans.
If you're after a rough transcription draft, you can get it for as little as $0.25 per minute. High-accuracy transcription and captioning both cost $1.25 per minute, and translation to other languages costs between $3 and $7 per minute of video or audio material.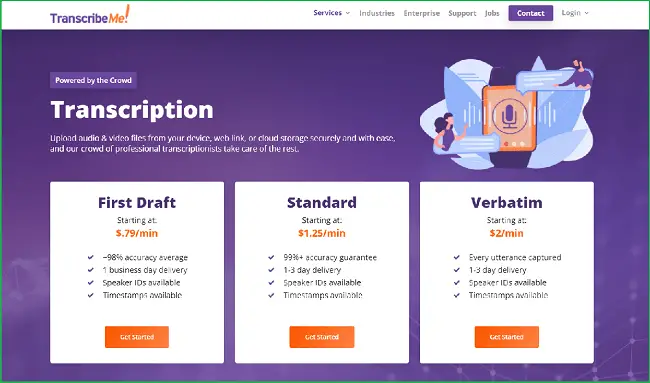 TranscribeMe is a transcription service that has been around for some time, so it's trusted by many busy professionals worldwide.
With over 600,000 successful transcriptions per year, TranscribeMe provides professional services at an affordable price. They've been in business since 2012 and have completed millions of hours of audio transcripts.
They offer both human and AI transcription, starting as low as $0.07 per minute of audio.
Unlike other services, they do not provide web-editing with their transcriptions. However, this might be because it would take away from what made them special in the first place: affordability without compromising quality or convenience.
They offer transcription with high accuracy levels achieved by manual transcription or through automation technologies.
Pros:
Both human and AI transcription
A good balance of affordability and accuracy
A lot of options regarding pricing and service
Speaker IDs and timestamps provided
1 business day delivery
Cons:
How Much Does TranscribeMe's Service Cost?
TranscribeMe offers very affordable AI transcriptions (starting at $0.07 per minute) and three human transcription tiers – first draft, standard, and verbatim transcription.
Their prices range from $0.79 to $2 per minute of transcribed audio.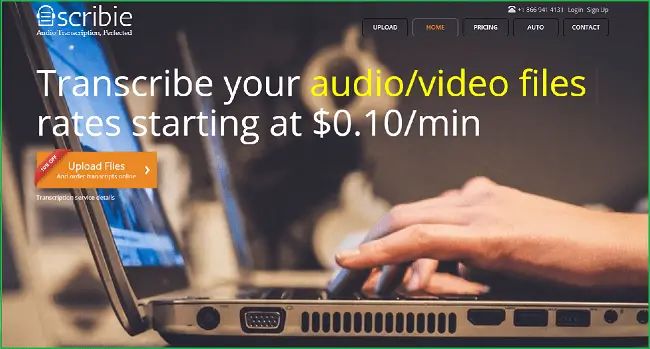 Scribie is the bridge between what you say and the words that ultimately appear on the screen – and using their service won't break the bank.
Whether you need an accurate transcription of your last phone meeting or captions for your latest podcast, Scribie can help with its AI-powered automation and human transcribers.
They offer a very affordable automatic transcription option that gives you a transcript with 80-95% accuracy for as little as $0.10 per minute. If your file is less than two hours long, you can expect to get your AI transcript in 30 minutes.
Scribie goes beyond just machine-based transcription. With their detailed process, your audio transcript will go through the hands of several employees for maximum quality assurance.
After you get your transcript, Scribie gives you the opportunity to polish up your captions and then share that transcript with whoever needed it in whichever format they need.
Pros:
Both human and AI transcription
Very cheap automatic transcription starting at $0.10/minute
Affordable human transcriptions at $0.80/minute
In-browser editor
Cons:
Additional charges for non-US accents
How Much Does Scribie's Service Cost?
If you're after a high-quality transcript with high accuracy levels, opt for their human workforce-based transcription service. In 36 hours, you'll have a high-quality, accurate, and formatted transcript for just $0.80 per minute of audio.
If the people speaking in your audio or video have a strong accent, you require a strict verbatim transcription, and then, additional charges may apply. You can use the cost calculator on the company's website to get a price estimate.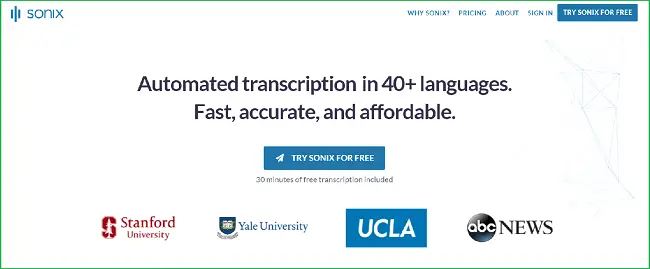 The Sonix engine was developed by experts in the field of AI-assisted speech-to-text conversion. This transcription service offers captioning and translation – purely AI-generated.
Unlike other services on my list, Sonix doesn't employ human transcribers. Instead, they worked extra hard to create an AI that excels at accurate transcription.
Along with transcription, they also offer automated translation services. You can automate your voice transcripts and have them translated into any language you need, so now there are no worries about lost nuance or finding your way out of a botched translation.
Sonix supports transcription in 30 languages from Afrikaans to Yoruba, Italian to Swahili.
If you're creating captions for your videos, you'll be happy to learn that Sonix's in-browser editor lets you polish and get your captions ready quickly.
You can even upload them directly since Sonix integrates with tools like YouTube, Vimeo, Zoom, and Dropbox.
Pros:
Super-fast automatic transcription
Higher accuracy levels than other automated transcription services
Costs start at $0.17 per audio minute
Translation to more than 30 languages
Integrations with commonly used tools
Cons:
No manual transcription offered
How Much Does Sonix's Service Cost?
This high-tech service is available to you for a very low price of $10 per hour of audio. That converts to under $0.17 per minute of audio.
Conclusion
Do you prefer automatic or human-made transcriptions? I believe that AI can help do the job quickly, but the way people hear and understand nuance in conversation is still unmatched.
That's why I usually opt for a service that offers both – and pick the appropriate option for my needs.
What do you need transcriptions for? Which company are you the happiest with?