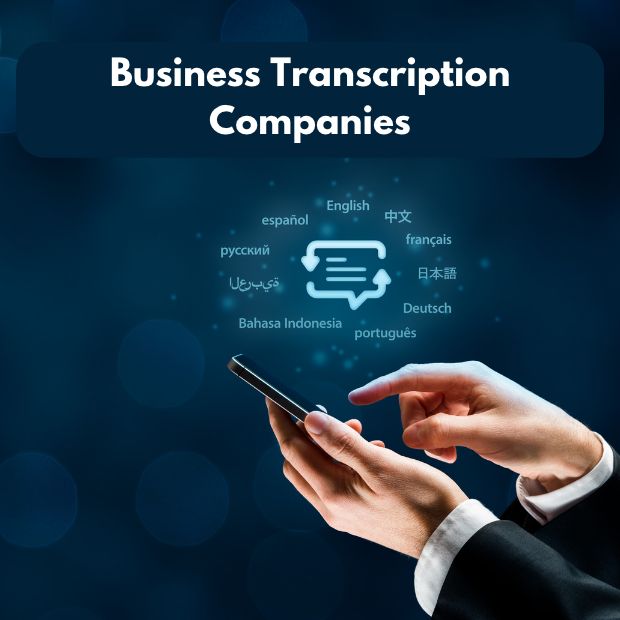 You work hard to create content for your company and you want it to be of high quality.
But often, there just isn't enough time to do all of that work by yourself. Whether you need to create captions and subtitles for your YouTube videos or archive meeting transcripts for future reference, there are business transcription companies that can help you get your message across more effectively – in writing. You're in the right place if you're wondering about what are the best companies that offer audio file transcription and video captioning services. In a moment, I'll tell you how they work, and what the pros and cons are for each company.
What is a Transcription Service?
Professional transcription software can be expensive and is best for those who frequently need transcriptions. However, for occasional use, transcription companies offer a more affordable and user-friendly solution. These services convert your audio files, whether live or recorded, into text documents. Most modern transcription services use AI for the initial draft, which is then polished by human transcribers using headphones for maximum accuracy. While AI-only transcriptions are cheaper, they may be less precise. To ensure accuracy, many services provide a web editor, allowing you to tweak the transcript before finalizing it. Typically, the final product excludes background noises and can be delivered as a text file, a timed subtitle, or even as a captioned video.
Here Are The Best Business Transcription Companies in the Market: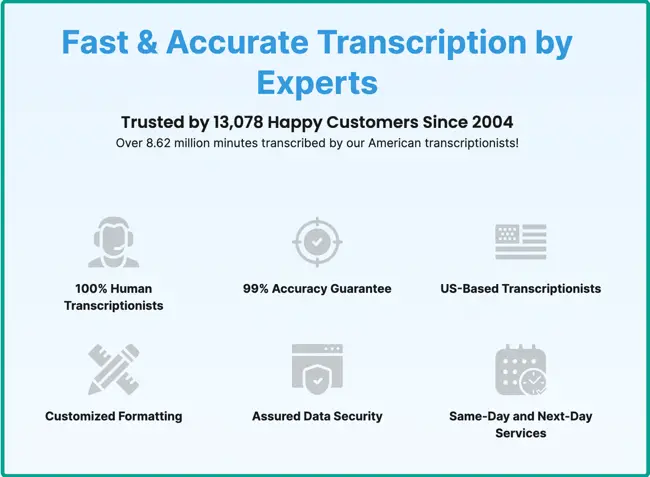 GMR Transcription has been a trusted transcription service provider since 2004. They have received many endorsements and recommendations from a growing community of happy customers. Their commitment to quality is evident in the 8.61 million minutes transcribed by highly skilled American transcriptionists. Top universities like Oxford, Yale, NYU, and many more are among their clients. Also, large MNCs like Amazon, McDonalds, and Accenture use GMR's transcription services. You can choose GMR Transcription for precise, reliable transcription that has garnered the trust of thousands over the years.
Pros:
Expertise in transcribing difficult recordings, including multiple speakers and strong/foreign accents

100% US-based human transcriptionists 

Confidentiality agreements safeguard your sensitive data

Custom formats and templates for your transcripts

Turnaround with same-day or next-day options

Data security and encryption protocols

Excellent human customer support service  
Cons:
Human customer support is available only during office hours.
What is the cost of GMR Transcription's services?
GMR Transcription offers human transcriptions for up to 2 speakers for $1.25 and $1.50 for three or more speakers, ensuring much higher accuracy than the automated transcription available with their competitors. They stand out as they do not use AI, which ensures the delivery of highly accurate transcripts to customers.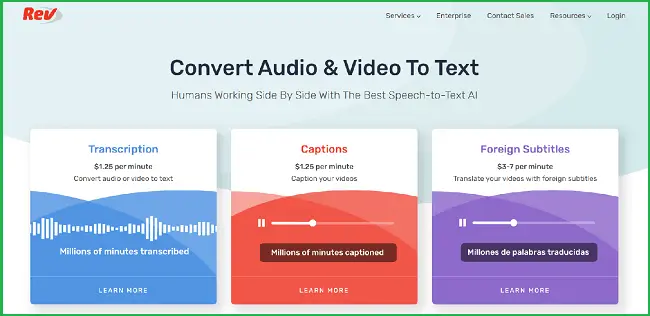 Rev is a world leader in transcription work for integrated captioning, subtitles, and translation. They combine the power of AI with a human workforce to bring subtitles to your videos that are accurate, fast, and compliant with FCC, ADA, and Section 508 regulations. Rev's human workforce works alongside their high-end speech-to-text AI to ensure all of your video and audio files have captions so no one misses out on what's being said or read aloud. Rev provides accurate transcriptions completed in just a few hours at an affordable price and over 170,000 customers can attest to the quality of the service. If you're after translation for your big project, Rev offers affordable translation to 15 world languages – and English subtitles as a free bonus. Rev proudly boasts a quick turnaround time, with only 12 hours needed for some audio transcripts and 24 hours for translation.
Pros:
Captions, subtitles, and translations offered for many audio and video formats
Straightforward pricing plans
Quick turnaround time for human transcriptions – as low as 12 hours
Cons:
Few subscription options for repeat customers
How Much Does Rev's Service Cost?
You don't need to worry about how much you'll have to pay in the end. Rev's straightforward pricing model contains no hidden fees, even though they don't have any subscription plans. If you're after a rough transcription draft, you can get it for as little as $0.25 per minute. High-accuracy transcription and captioning both cost $1.25 per minute, and translation to other languages costs between $3 and $7 per minute of video or audio material.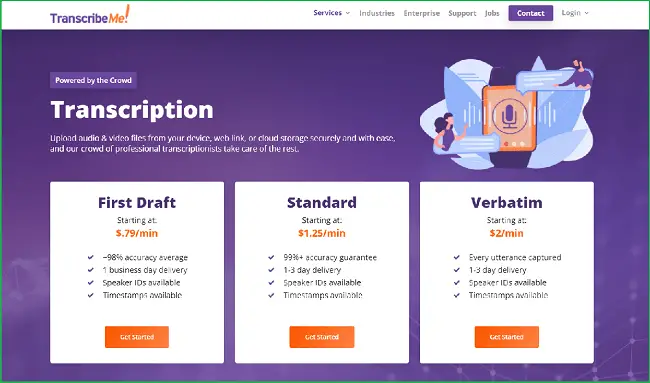 TranscribeMe is a transcription service that has been around for some time, so it's trusted by many busy professionals worldwide. With over 600,000 successful transcriptions per year, TranscribeMe provides professional services at an affordable price. They've been in business since 2012 and have completed millions of hours of audio transcripts. They offer both human and AI transcription, starting as low as $0.07 per minute of audio. Unlike other services, they do not provide web editing with their transcriptions. However, this might be because it would take away from what made them special in the first place: affordability without compromising quality or convenience. They offer transcription with high accuracy levels achieved by manual transcription or through automation technologies.
Pros:
Both human and AI transcription
A good balance of affordability and accuracy
A lot of options regarding pricing and service
Speaker IDs and timestamps provided
1 business day delivery
Cons:
How Much Does TranscribeMe's Service Cost?
TranscribeMe offers very affordable AI transcriptions (starting at $0.07 per minute) and three human transcription tiers – first draft, standard, and verbatim transcription. Their prices range from $0.79 to $2 per minute of transcribed audio.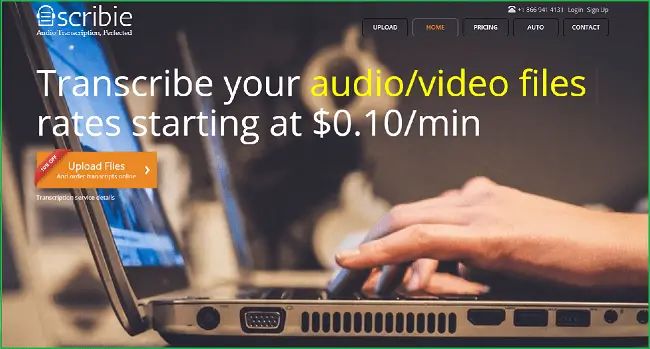 Scribie is the bridge between what you say and the words that ultimately appear on the screen – and using their service won't break the bank. Whether you need an accurate transcription of your last phone meeting or captions for your latest podcast, Scribie can help with its AI-powered automation and human transcribers. They offer a very affordable automatic transcription option that gives you a transcript with 80-95% accuracy for as little as $0.10 per minute. If your file is less than two hours long, you can expect to get your AI transcript in 30 minutes. Scribie goes beyond just machine-based transcription. With their detailed process, your audio transcript will go through the hands of several employees for maximum quality assurance. After you get your transcript, Scribie allows you to polish up your captions and then share that transcript with whoever needs it in whichever format they need.
Pros:
Both human and AI transcription
Very cheap automatic transcription starting at $0.10/minute
Affordable human transcriptions at $0.80/minute
In-browser editor
Cons:
Additional charges for non-US accents
How Much Does Scribie's Service Cost?
If you're after a high-quality transcript with high accuracy levels, opt for their human workforce-based transcription service. In 36 hours, you'll have a high-quality, accurate, and formatted transcript for just $0.80 per minute of audio. If the people speaking in your audio or video have a strong accent, you require a strict verbatim transcription, and then, additional charges may apply. You can use the cost calculator on the company's website to get a price estimate.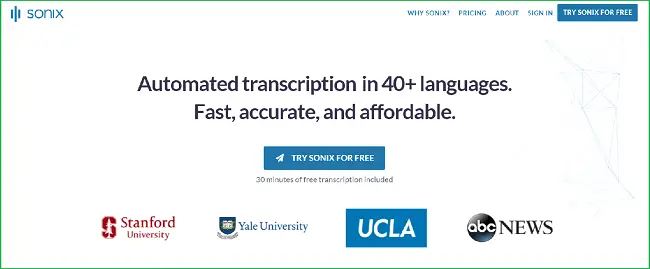 The Sonix engine was developed by experts in the field of AI-assisted speech-to-text conversion. This transcription service offers captioning and translation – purely AI-generated. Unlike other services on my list, Sonix doesn't employ human transcribers. Instead, they worked extra hard to create an AI that excels at accurate transcription. Along with transcription, they also offer automated translation services. You can automate your voice transcripts and have them translated into any language you need, so now there are no worries about lost nuance or finding your way out of a botched translation. Sonix supports transcription in 30 languages, from Afrikaans to Yoruba, Italian to Swahili. If you're creating captions for your videos, you'll be happy to learn that Sonix's in-browser editor lets you polish and get your captions ready quickly. You can even upload them directly since Sonix integrates with tools like YouTube, Vimeo, Zoom, and Dropbox.
Pros:
Super-fast automatic transcription
Higher accuracy levels than other automated transcription services
Costs start at $0.17 per audio minute
Translation to more than 30 languages
Integrations with commonly used tools
Cons:
No manual transcription offered
How Much Does Sonix's Service Cost?
This high-tech service is available to you for a very low price of $10 per hour of audio. That converts to under $0.17 per minute of audio.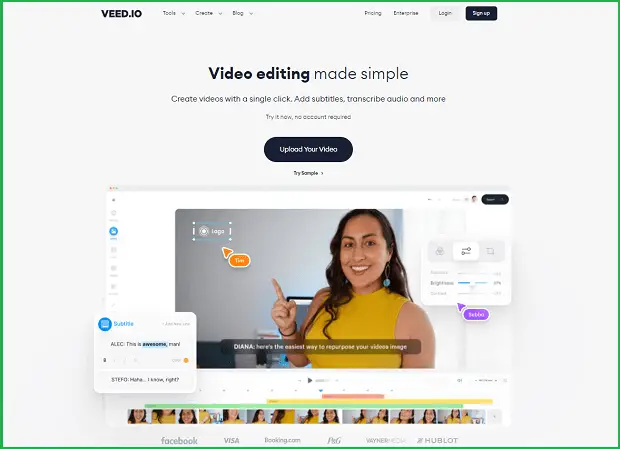 Veed.io is primarily an online video editing app, so it does more than audio and video transcription. But it sure does the latter in just a few simple clicks. It enables you to add images, music, texts, subtitles, and more to your video files. You can also merge, crop, resize, convert, and compress them, as well as create video loops. So, it's like getting various tools for the price of one. This article, however, focuses on transcription services, so we will just explore exactly that for now, in reviewing veed.io. The app cannot only transcribe video and audio files but can also translate texts into many languages. So, if you're a content creator for YouTube, TikTok, Instagram, and other platforms, you can reach out to a more global audience through these features. It is so easy to use too! Just upload your video or audio file, click "auto transcribe", then voila! Just download the transcript. The app boasts 95% accuracy in its transcription results. So, it just requires minimal proofreading and editing. It supports popular audio and video files such as MP3, WAV, MP4, AVI, and MOV.
Pros:
It auto-transcribes your audio and video files in one click.
It has a high transcription accuracy rate.
No need to download software or do any coding.
It works in several languages and text formats, such as TXT, SRT, or VTT.
Requires minimal text editing.
You can translate the texts into up to 100 languages.
It can auto-generate subtitles for your video.
It has a lot of video editing functions.
Cons:
Some users have issues generating subtitles. If your file is big, the transcription is a bit slow. Some resolve it by uploading a smaller version of the file.
It is an online transcription service, so, you always need an internet connection to use it.
How much does veed.io's service cost?
Their most popular package, the PRO, costs $24/month, billed annually at $288/annum. This is for businesses and professionals that need translation, storage, collaboration, and branding tools. They also offer a FREE account with the most basic tools, and a BASIC package at $12/mo, billed annually at $144/annum. An ENTERPRISE account is also available for big businesses.
7. Gglot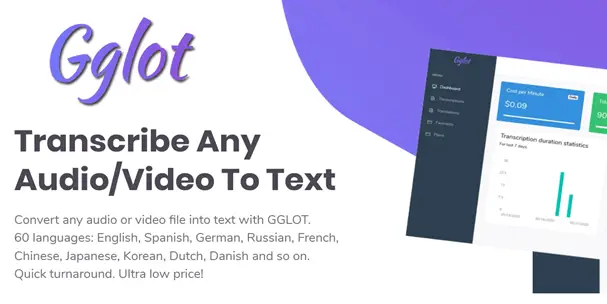 Gglot.com is an advanced transcription software developed to assist you in reducing the time you spend transcribing audio and video files. It enables you to do online audio-to-text transcription in any language for academic research, interviews, video creation, and content marketing. GGLOT's AI-powered audio-to-text transcription feature converts any audio file you have to text for documentation. The platform translates audio to text in over 50 languages for one affordable charge, including Korean, English, Russian, Chinese, Spanish, Dutch, French, German, and Japanese. It accepts a wide range of audio and video files, including .avi, .mp3, .mov, .mp4, .wma, .m4a, .wav.mp4, and .aac. With time codes and many speakers, you can go over your transcript again. You can save and export your transcript in a variety of formats, including PDF, MS Word, VTT, SRT, and more. With GGLOT, all of your foreign subtitles, captions, and transcriptions get stored in the same cloud location. Gglot makes it simple to extract important information from audio and video files, regardless of dialect, background noise, volume, or pace.
Pros:
100+ languages are supported and growing
Multiple speaker recognition
Online text editor to make transcript changes
Export to TXT, PDF, DOCS, XLSX, VVT, SBV, and SRT formats
Dashboard
Transcription
Visual Editor
Low prices
Cons:
This is an online transcription service, so you always need an internet connection to use it.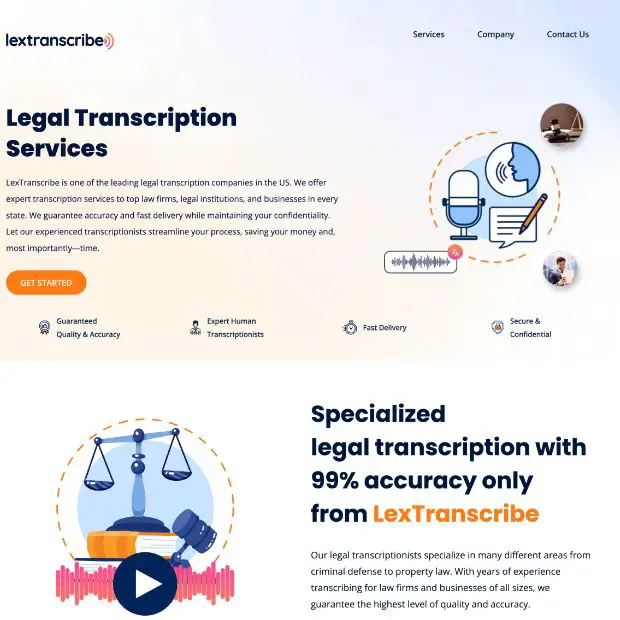 Lextranscribe by Tomedes is a large and well-established business translation and legal transcription services company with a high customer satisfaction rate. Since 2007, Tomedes has been offering fast, top-quality multilingual solutions, and now their subsidiary company, Lextranscribe, is offering transcription services to businesses due to demand. Although Lextranscribe can transcribe an audio-video file for industries like finance and medicine, it specializes in transcription services in different legal areas, from criminal defense to property law. They've been working with some of the biggest businesses in the world, and you can get in touch with them 24/7 if you have extra queries.
Pros:
It's a large and professionally run company, which means you'll get your work done correctly and on time, 99% of the time.
Their transcription services are available in English and over 120 languages.
They only use native speakers for all the projects, so you can count on high-quality linguistic output.
Experts oversee the projects, so you can guarantee that the output is up to the standards of the industry that the content belongs to.
The legal transcription projects are managed by human transcriptionists specializing in law and judicial procedures.
Cons:
They don't offer free trials for their transcription services.
Their transcriptions are not automated.
There is no user control, which means there isn't a platform for you to edit the transcript and track its progress.
Conclusion
Do you prefer automatic or human-made transcriptions? I believe AI can help do the job quickly, but the way people hear and understand nuance in conversation is still unmatched. That's why I usually opt for a service that offers both – and pick the option for my needs. What do you need transcriptions for? Which company are you the happiest with?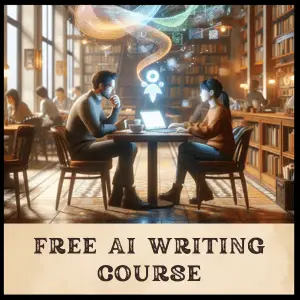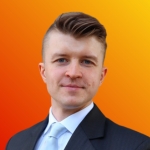 Rafal Reyzer
Hey there, welcome to my blog! I'm a full-time blogger, educator, digital marketer, freelance writer, editor, and content manager with 10+ years of experience. I started RafalReyzer.com to provide you with great tools and strategies you can use to become a proficient writer and achieve freedom through online creativity. My site is a one-stop shop for freelance writers, bloggers, publishers, and content enthusiasts who want to be independent, earn more money, and create beautiful things. Dive into my journey here, and don't miss out on my free 60-minute AI writing online course.