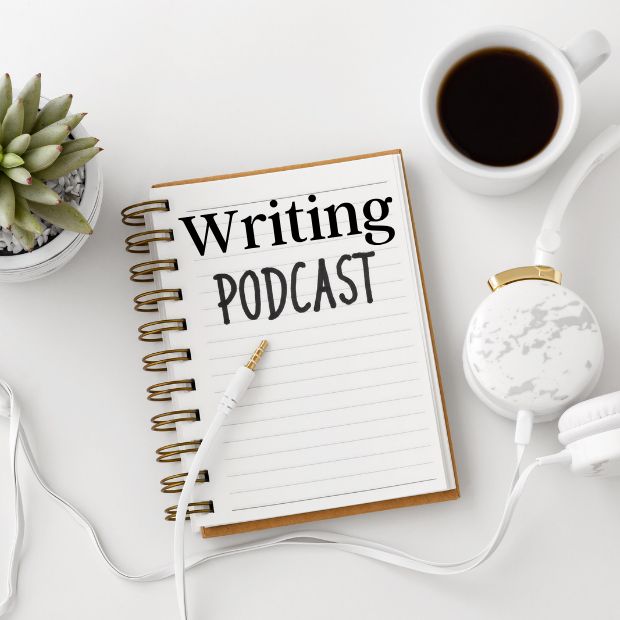 Whether you like to listen to podcasts while you surf the internet, wash your dishes, or even while you write, there's a lot of useful information in writing podcasts.
With just an hour a day, these great podcasts can equip you with everything you need to know to become a successful writer and build your business – whether that's blogging or novel writing.
On my list of the best writing podcasts, I'll cover podcasts for all kinds of writers.
Whether you create high-conversion copy, have your own blog, or write poetry from the bottom of your heart, there's something for you on this list. Let's jump straight in!
The Best Writing Podcasts To Check This Year:
The Copywriter Club is one of the most popular podcasts in the writing industry.
Led by marketing and writing experts Kira Hug and Rob Marsh, the Copywriter Club regularly brings amazing content related to copywriting to the table.
On their show, they bring experts from the copywriting industry and create in-depth interviews that touch upon a variety of topics that are close to the heart of any professional copywriter. From the ins and outs of cold pitching, writing Facebook ads, overdelivering, and being a minimalist in marketing, to finding that perfect brand voice.
In its 200+ episodes lasting about 1 hour each, the Copywriter club helps young writers find their place and establish their businesses.
Kira and Rob will find out everything you wanted to know about the processes and paths of the most successful names in the field, including Chris Collins, Sarah Sal, Brian Kurtz, Ellen Yin, Seth Godin, Jude Charles, Jenn Robins, and many others.
This podcast is an amazing resource for everybody interested in copy, but the Copywriter Club community on Facebook can be a lot of help to any other kind of writer too!
Have your own blog (or plan to start one)? Leslie Samuel's podcast can help you take your online business to new heights.
As he craftily puts it, Leslie will help you build an online business that won't fall by the wayside when Google has a mood swing.
Who even is Leslie Samuel you wonder? Well, let this fact speak for him: Leslie started a blog called Interactive Biology with the simple goal of making biology fun for students.
As a result of the skyrocketing popularity of this blog, he landed his dream job as a University professor.
On his podcast, Leslie will tackle everything you need to know to create a successful blog.
From blog creation, over social media trends, restructuring your business, finding your "why", personal branding, creating and selling digital products, affiliate marketing for bloggers, to leveraging podcasting for your brand – Leslie talks about all things blogging on the dynamic and attention-grabbing Leslie Samuel Show.
If you're a copywriter, chances are you already know about the goldmine of useful info that is Hot Copy!
Created by an Australian copywriting duo Belinda Weaver and Kate Toon, Hot Copy is a one-stop shop for everything you need to know to become a successful copywriter (and so much more).
Kate and Belinda bring you new writing resources, copy tips, and laughs in every new episode. The copywriting techniques and tips they bring are easy to implement, and you'll get specific information related to fields like content marketing, emails, direct mail, advertising, and others.
Furthermore, Kate and Belinda also share practical advice on running your business and finding and managing clients.
They often create interviews with hot shots from the copy industry, so it's a perfect place to go and get various points of view and opinions.
Listening to Hot Copy, you will learn how to market to a rural audience from Sarah Walkerden or how to make a copy in the art field with Ali Strachan, how to create content for SaaS businesses from Kat Ambrose, how to add authority to your podcast pitches with Mai-Kee Tsang, the best way to pitch to magazines from Rachel Smith, the importance of your personal brand from Mike Kim, how to create direct response copy from Glenn Fisher, and so much more.
If you can't get enough of Hot Copy and you want to master the secrets of SEO, check out Kate Toon's other SEO-focused podcast too!
All my bookworms, look this way! If you want to explore the beautiful world of books (both fiction and non-fiction) and unwrap the minds and thoughts of celebrity authors, the host Linda Sivertsen has got a treat for you!
While Beautiful Writers doesn't come out on a regular schedule (approximately once a month), every single episode is a treat that lasts over 1 hour and brings you insight into the ways different authors think and approach writing.
This podcast will help you tap into your creativity, and teach you about the ways professional writers around the globe deal with publishing, deal-making, the press, writing, spirituality, activism, and many other hot topics for writers.
Sit down for a coffee with your favorite authors, including Cheryl Strayed, Marie Forleo, Brené Brown, Elizabeth Gilbert, Terry McMillan, Dean Koontz, Tomi Adeyemi, Glennon Doyle Melton, and many more.
Hear what they have to say about their creative process and business, and hear their personal anecdotes and insights.
The Beautiful Writers podcast is now streaming on American Airlines and frequently gracing the "Popular Podcasts, Books" page of iTunes/Apple Podcasts.
If you love the podcast, you may also enjoy being a part of a community of book writers started by the host Linda Sivertsen (AKA Book Mama) where writers get together, discuss, and inspire each other!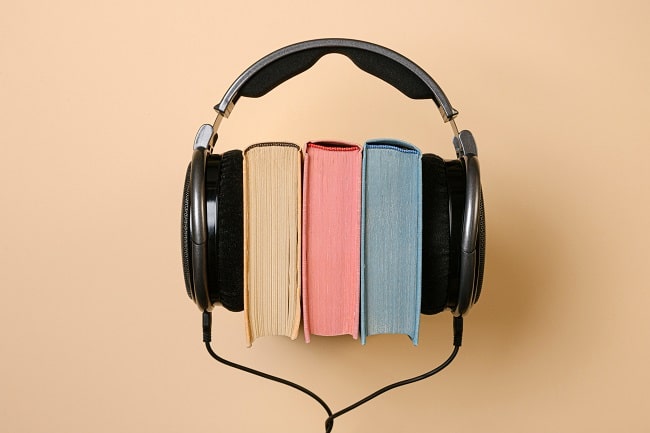 You want to get in the business of writing and publishing but can't wrap your head around all the intricate details that go along with being a book author.
Tune in to the Sell More Books Show, which as the name suggests, deals with the art of writing, getting published and, well, selling more books.
Listen in on the insightful information shared by your hosts Bryan Cohen and H. Claire Taylor, both professionals with many years of experience in the field.
Bryan is the owner of the Build Creative Writing Ideas website for writers (head straight there if you're currently dealing with writer's block!), and Claire is the owner of FFS Media and an author that published over two dozen novels across various pen names and genres (so she sure does know her publishing biz!).
This weekly podcast will help rookie authors get back into writing, get published, and make the best deals possible.
Listen in as your hosts discuss plotting and outlining techniques, sharing your writing chapter by chapter, getting your books on Kindle Deals and Prime Reading, and breaking out as a new author in general.
If you love a good transformation story, you'll love Kevin Rogers' witty take on copywriting and finding your place in the biz.
Kevin spent years traveling the country, trying to make a living as a stand-up comedian before he figured out how he could use his humor to create a powerful marketing hook that converts.
You can get Kevin's bestseller, The 60-Second Sales Hook, or tune in to his podcast to learn more about finding the most effective marketing strategies and building your freelance copywriting career from scratch.
Kevin has divided his podcast into four distinct episode types:
Freelancer's journey – where he questions successful freelancers about their tactics to make it in the world of freelancing.
Wisdom Tree – these episodes focus on heart-to-heart, intimate conversations with the big shots from the industry. Kevin makes sure to dive deep into the success stories of his guests and helps them share their hard-won wisdom and actionable advice that may help them succeed as an entrepreneur.
New Breed – The world is changing quickly and all the time – so listening to old-timers alone won't get you far. Kevin knows this, so one of the things he chooses to focus on in his podcast is "the new breed", the up-and-coming marketing and copywriting stars that found great success and built their online businesses quickly.
Coffee with Kev – if you're up for some fun downtime, grab yourself a cup of coffee and let Kevin Rogers take you through his interesting and well-put thoughts about taking your business to the next level!
Last but not least, we have a podcast that is truly all-encompassing in the world of writing. Let Laura Gale and Rachel Mazza take you on a tour through the minds of the best creatives of our time.
Learn how to build a thriving writing business from the best of the best, whether you write poetry or copy.
The main goal of The Business of Writing is to dispel the myth that writing doesn't pay – and teach you how to make money with your skill.
Learn how to get your poetry and prose published with Athena Dixon, how to do cold outreach the right way with Rebecca Otis Leder, how to approach copywriting with Mike Abramov, and how to stay healthy as a writer with Rosie Moore and Dr. Alexis Shelds, and so much more info that will make your life as a writer easier.
Let our hosts Laura and Rachel take us through all the writing and business skills you need to have to thrive as a writer.
Conclusion
That concludes my list of great podcasts for writers. I hope you found that perfect show to tune in to and learn how top professionals in your field approach the creative process and their businesses.
Did I overlook a really good podcast? Share the stuff that helped you learn and develop in the comments below!
Rafal Reyzer
Hey there, welcome to my blog! I'm a full-time blogger, educator, digital marketer, freelance writer, editor and content manager with 10+ years of experience. I started RafalReyzer.com to provide you with great tools and strategies you can use to achieve freedom from 9 to 5 through online creativity. My site is a one-stop-shop for freelance writers, bloggers, publishers, content enthusiasts who want to be independent, earn more money and create beautiful things. Feel free to
learn more about me here.