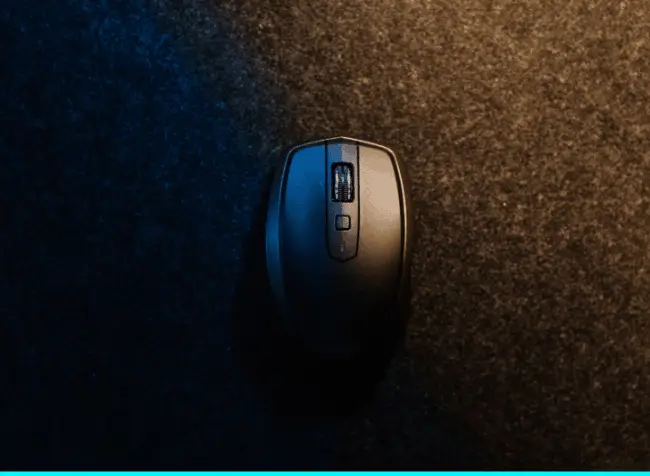 Are you suffering from carpal tunnel syndrome, repetitive strain injury, or tendinitis?
Are you looking for a way to alleviate the pain in your wrist and work pain-free?
You are in the right place! In this review, I'm going to share the best mouse pads you can use to improve comfort while working or playing video games.
Besides using an ergonomic vertical mouse (more on that below), getting a great mouse pad is a great way to ease the irritation in your wrist.
Just know that sometimes you'll need to experiment a bit. What works for one type of user might not be the best solution for you. That's why you'll sometimes need to test two or three different models to find the one that's comfiest.
Here are the best mouse pads for alleviating the symptoms of the carpal tunnel syndrome (and other wrist-related issues):
1. J&G Modern Mouse Pad with Wrist Support
This inexpensive item should be your number one choice if you want to get relief from wrist pain.
It's made of flexible material that adjusts to the shape and size of your hand. This feature allows your hands to rest at the right level that will minimize the symptoms like numbness, tingling, or pain.
Moreover, it's large so that it will accommodate your (hopefully ergonomic) mouse. The edges of the mousepad are reinforced so they won't peel off over time. This will allow you to keep the item, even for a couple of years.
The mousepad will stick firmly to your desk as it has an anti-slip base. Moreover, the top surface helps to improve the precision of the cursor, which is super essential for avoiding fatiguing your wrist.
2. Aelfox Memory Foam Mouse Wrist Rest
This is a second option for you to consider. What I like about this one is that it comes with a keyboard pad as well. It's available in two colors: black and gray.
It's made of memory foam, which means that it's super soft, and it will adjust to the shape of your hand, giving you the highest level of comfort possible.
Again, you will have to experiment a bit and see which position is best for relieving sensations of pain and numbness.
This mousepad has a base made of a non-skid rubber. It will keep it in place so you won't have to worry about repositioning it all the time. You just have to make sure that it's not exposed to the sun for a prolonged period because it will destroy the material.
3. Van Key Soft Memory Foam Mouse Wrist Rest Support
This is a new type of product that wasn't available on the market just a few years ago. It's not exactly a mouse pad. Instead, it's wrist rest which you can use instead of a mousepad.
It allows you to keep your mouse on the desk, which can be a good idea because a good desk surface makes the cursor more precise.
The idea behind this item is that it lets you wrist sink deep into the memory foam to provide you with extra support and pain relief. This new type of groove design is innovative because it lets you put your wrist in a spot with the highest level of comfort.
The material is soft and bouncy as well as breathable, so you don't have to worry about sweat or unpleasant smells after using it for a while. The base is made of a non-skid material so it won't move around while you're working or gaming.
But one of the coolest things about it are these small massage grooves that provide extra comfort. It's recommended for heavy computer users who suffer from wrist and shoulder related issues.
4. Ergonomic Wrist Rest Bean Bag for Pain Relief of Tendonitis, Carpal Tunnel, and Forearm Discomfort
This wrist rest is quite unusual because it's basically a small bean bag that provides extra comfort for your work or gaming sessions.
This is an excellent idea for a couple of reasons. First, it simply looks cool and others will certainly admire it. Second, it has hundreds of microbeads inside. These little suckers will conform to the shape of your wrist and even give you a bit of massage. Third, it's washable so you can throw it into a washing machine every couple of weeks to keep it nice and fresh. Also, it's very light, and you can take it on the road with you.
The item is made of soft microfleece, which feels soft and smooth against your skin. What's great about it is that the memory foam doesn't get too hot and cools down your wrist. The only drawback here is that if your hands and wrists tend to sweat a lot, this will get absorbed into the wrist pad. That's why you should consider giving it a thorough wash from time to time.
Here's how gamers are dealing with the carpal tunnel and RSI:
5. VicTsing Mouse Pad, Ergonomic Mouse Pad with Gel Wrist Rest Support
This is a more traditional mouse pad that will provide strong support for your wrist and hand. The mouse surface is rather small, but if you work with a fast cursor, then you should be able to use it without any issues.
The item is cheap, so you can test it out without worrying about the price too much. What's great about it is that it comes in three different colors so you can adjust it to your preferences. You can choose between black, black and red (which would be perfect for gamers), as well as blue.
It has a comfortable gel filling which will last for months without deforming. The base is made of a non-slip material so it will stay in one place and allow for high precision during your work or gaming sessions. Many users say that it is the top mousepad they ever bought and that it lasts for months and even years.
The only drawback here is that the gel can be a little bit smelly the first time you unpack it. But this should go away after a few days of use. If not, give it a thorough wash, and you'll be on your way to improving your workplace ergonomics.
6. Reflex Lab Large Gaming Mouse XL Pad Mat
This is a mousepad made especially for gamers. It's ultra-thick and quite large (15" x 11") and it's available in four different colors (black, blue, green and red).
Unlike other mouse pads listed here, it doesn't provide you with wrist support so your wrist will be more or less flat on the surface. You would need to experiment a bit and see if this type of solution is right for you. I found out that sometimes keeping your wrists flat on the surface is the right way to go.
This pad will vastly improve the speed and precision with which you complete your tasks. That's because it has a silky smooth surface as well as anti-slip backing that will keep it in place all the time. The coating is also waterproof, so you don't have to worry if you spill a drink on it. But no worries, you can also throw it into the washing machine without any problem.
It's a top item for a gamer who is looking to alleviate the symptoms of carpal tunnel syndrome without decreasing their performance.
What else can you do to fix your wrist pain besides getting a better mouse pad?
Buy a high-quality vertical ergonomic mouse
Arguably, this is even more important than the pad. Getting a vertical mouse was one of the best decisions I've ever made in terms of ergonomics.
You will see that changing the mouse alone can lead to a gradual healing of your wrist. I have three types of vertical mice at home, and I found that only one of them proves to be effective.
This is the one I recommend:
Take breaks every hour and do wrist stretches
This is super important. Make sure to set the timer when you start working (for example for one hour). Once your time is up, get up from your desk, and take five minutes or so to rotate your wrists and perform different types of stretches.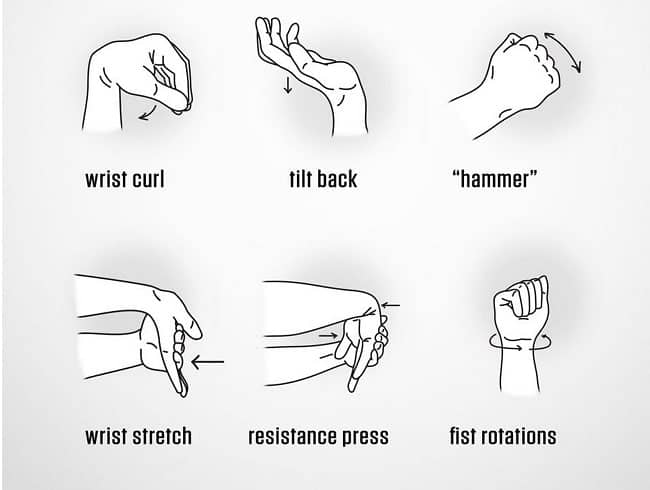 Source: Pinterest
This will enable you to come back to your desk in a more relaxed mood. Moreover, make sure that you longer yoga sessions throughout the week to relax your shoulders and neck as well. It's all connected you see.
Here's a great video with a couple of examples of wrist exercises for the carpal tunnel syndrome:
Consider using dictation software instead of a mouse and keyboard
I recently purchased a software program called Nuance Dragon 15. It enables me to complete the majority of my regular computer tasks without even touching the mouse or a keyboard.
This is a fantastic solution for remote workers or employees who have their own office.
This solution can be perfect during the recovery phase. You will still be able to do your work, but at the same time, you won't strain your wrists too much.
Visit a chiropractor because spine and shoulder issues can be the real source of your problem
Most problems with the carpal tunnel as well as other wrist-related issues start with your spine and shoulders. I've heard of people who suffered from these issues for years, and got fixed after a single session with a good chiropractor.
Sometimes there's a problem with your nerve connections and a chiropractor or physical therapist will know how to help you.
Are you ready to work in a pain-free way?
Trying to do the work with your laptop or desktop computer when suffering from carpal tunnel syndrome can be very challenging. Trust me – I've been there.
You may be able to work for one or two hours, but then it becomes impossible as you start feeling numbness in your fingers and even severe pain.
This kind of situation can quickly demotivate you, and it puts many people out of the workforce. But don't let this be you. There are solutions you can use to decrease the level of discomfort and start working like a pro again.
Getting a great mousepad is only one of the things that you can do. Other than that, make sure that you take regular breaks to stretch out your wrists, consider using dictation software and consult your doctor for further support and assistance.