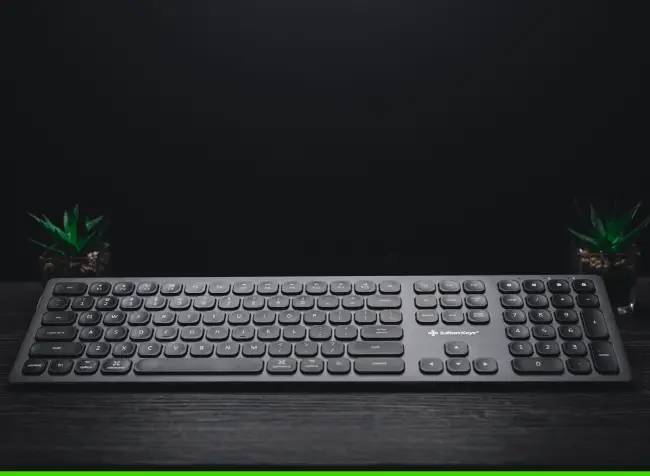 Are you looking for an excellent keyboard with a number pad that won't take up a lot of space?
You're in the right spot. I was also looking for a decent compact keyboard I could take with me on the road or to a local café. Most of the keyboards are quite bulky, and it would be hard to put them in my backpack.
Fortunately, after a lengthy search, I was able to find a few models that matched my needs.
Having a number pad on your keyboard is super useful. That's especially true when you're working on an Excel spreadsheet, or want to use the pad as "up, down, right, left" controls in your favorite game.
And by purchasing a lightweight model, you'll be able to take this keyboard anywhere and still enjoy a great user experience.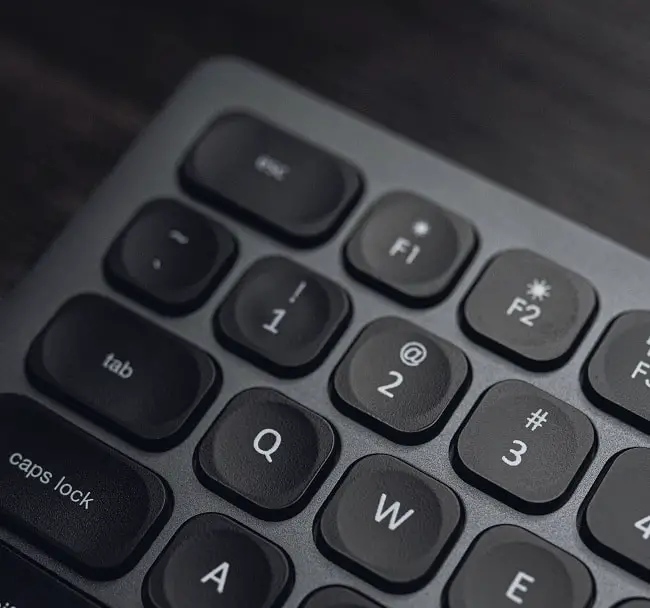 Here are a few compact keyboards you should check out:
If you're looking for a reliable lightweight num-pad keyboard that won't take up a lot of space, this is one of the best picks.
Yes, a mouse is included in the same package, but you can always keep on using your current model if you don't like it.
The reason why I put this keyboard as number one is that it's super lightweight and ultra-slim. It weighs only 13.1 ounces (0.81 pounds), and it's the lightest model I could find that still comes with a number pad.
It's powered by a built-in rechargeable battery that has an impressive 90 day standby time (or 90 hours of continuous use). If you use it for work, this means you can grind for two full-time weeks on a single charge.
Once the battery dies, you will see a red light blinking in the upper right corner of the keyboard. Then you need to hook it up with a USB cable, and in two hours, the device is back in full charge.
You can use it wirelessly by connecting it to your computer through Bluetooth. This means you can keep on typing from the other corner of the room without any issues.
The keyboard also comes with responsive, low-profile keys, and it's a cool minimalist addition to your busy workspace.
Here's another combo package that's worth taking a look at.
It's a full-size keyboard that's 17.3 inches long and 5.12 inches wide. That's still far more compact than the vast majority of numpad keyboards available on the market.
It has a similar weight to the number one product on this list. This makes it a great piece of portable equipment you can take with you on the road or a cozy café working session.
This is a wireless Bluetooth keyboard, and all you have to do to get started is to place a chip in your USB port. Then, a software package will be installed within one minute, and you're ready to go.
What I like about this model is that it comes with a power shut-off timer (on both the keyboard and the mouse), which enables you to extend the battery life. It's hard to get something better for this kind of low price.
Here's a slightly more expensive keyboard produced by Microsoft.
It has a super slick design, and it's placed at the right angle to make your typing experience more comfortable. Plus, it's also compatible with both Windows and Mac OS devices.
It's a wireless Bluetooth keyboard with an extremely durable battery that can keep your device alive for a full year. It's also compact as it only weighs 14.7 ounces (0.91 pounds), and has dimensions of 4.43 x 0.76 x 16.57 inches.
This, along with the ergonomic design and high-quality craftsmanship, may turn it into one of your favorite travel companions. What's more, it comes with a couple of dedicated Windows keys such as a "search" or "calculator" that will make your experience even better.
The only drawback here is that from time to time, you may experience Bluetooth connectivity issues or key lag if you start typing after a while.
But you should give it a try, and if you find that it doesn't suit your needs, you can always send it back and try another model.
If there is a gamer in you, and you want to get a small keyboard that comes with a number pad, this is your number one choice.
It's a mechanical keyboard, which is backlit and is perfect for both gaming and typing. It's covered with RGB lights on both sides, and you have nine different color settings to choose from, which makes this model super-customizable.
You can feel its high quality. Every press of a button comes with a characteristic "click" sound and tactile bump feedback. It has a 50-million keystroke lifespan, so you would have to be a hell of a gamer to destroy it.
It also has twelve, multimedia function keys that are perfect for both gaming, and productive work.
Most importantly, it's only 14 x 4.9 x 1.1 inches in size, and 1,1 pounds in weight, making it very portable. You can travel with it like a boss also because of its durability and water resistance, as it will endure massive spills.
Finally, this keyboard is ergonomically designed. It has non-slip adjustable rear feet, so you don't have to worry about accidentally pushing it around during intense gaming sessions. You can't do better with a low price like this.
Okay, this model doesn't have a number pad per se. But if you plan to use your keyboard for gaming, you're in for a treat.
Instead of a number pad that is commonly used for gaming controls for left-handed people, this keyboard has actual "up, down, right, left" controls on the right side of the board.
It comes along with a few other useful buttons you can use for work or while browsing the web. What's more, the keyboard is backlit and has a slick look to it.
With two different color settings, it's entirely customizable, and since it's wired (with USB), you won't have to worry about changing the batteries.
But most importantly, it's super compact as it only has 87 keys. The product dimensions are 17.3 x 5.5 x 1 inches, and the weight is only 1,32 pounds. It also provides excellent tactile feedback, so it's the right choice for a gaming traveler in need of quality equipment.
For this price, it's really, one of the top models you can pick – as long as you're a gamer.
If you're not using the number pad all the time, you can grab a tenkeyless keyboard, and then support it with a separate wireless Bluetooth numeric keypad. It's not ideal, but it might be a solution if none of the models above catch your eye.
Are you ready to become a lightweight keyboard ninja?
A keyboard is something you use every day for work and play. That's why it's wise to spend a little time searching for the right model. I hope that by reading this review, you've gathered some valuable intel about what you should be looking for.
It doesn't matter if you have $30 or $100 to spare. You can find something that will match your needs and provide many hours of solid entertainment.
Can you tell me which model is your favorite? Please feel free to leave a comment below.
Rafal Reyzer
Hey there, welcome to my blog! I'm a full-time blogger, educator, digital marketer, freelance writer, editor and content manager with 10+ years of experience. I started RafalReyzer.com to provide you with great tools and strategies you can use to achieve freedom from 9 to 5 through online creativity. My site is a one-stop-shop for freelance writers, bloggers, publishers, content enthusiasts who want to be independent, earn more money and create beautiful things. Feel free to
learn more about me here.