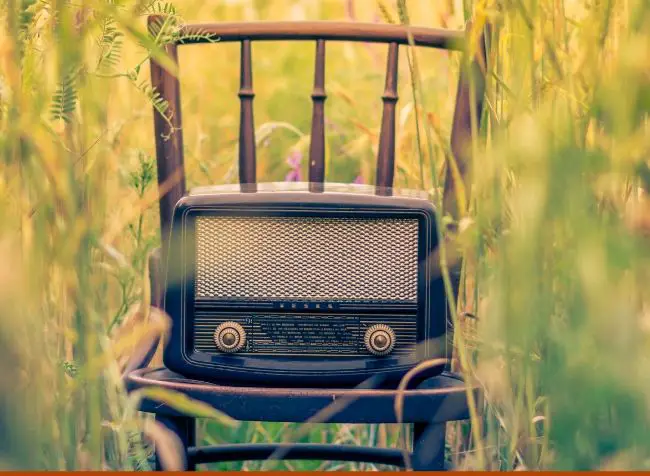 Are you looking for vintage Bluetooth speakers in terms of aesthetic design to add some style to your living space?
Craving a retro sound machine for your next adventure? Look no further. The speakers below are not only stylishly vintage but also pack the modern wireless punch you desire. Kudos to you for seeking that sweet spot between old-school charm and today's tech. Whether you're after a pink hue, a wooden touch, or something for any budget, these portable marvels are set to impress. Ready to dive in?

The Top Six Vintage Bluetooth Speakers That Money Can Buy:
This gramophone-shaped speaker will blow your mind with its ingenious, classic design. You can use it to play audio from gadgets and digital storage devices that you have. With 40W total speaker power, you can always expect great sound quality. There are three built-in speakers here – two full-range stereo speakers (15W) on each side, and one (10W) silk treble speaker on the top. It's 100% Bluetooth enabled so you can connect seamlessly to any modern mobile device (think laptop computer, mobile phone, tablet). You may also opt to plug a 3.5 mm audio jack in it if you want to go old school. Finally, there is also a USB port for flash drives and other media storage devices, if that's the way you want to roll. This thing is wired, but because of its bulky form, you wouldn't take it on the road with you, so that shouldn't be an issue. In short, it's going to be a perfect addition to your office or living space. You can play some old tunes on it and imagine yourself in the times of yore.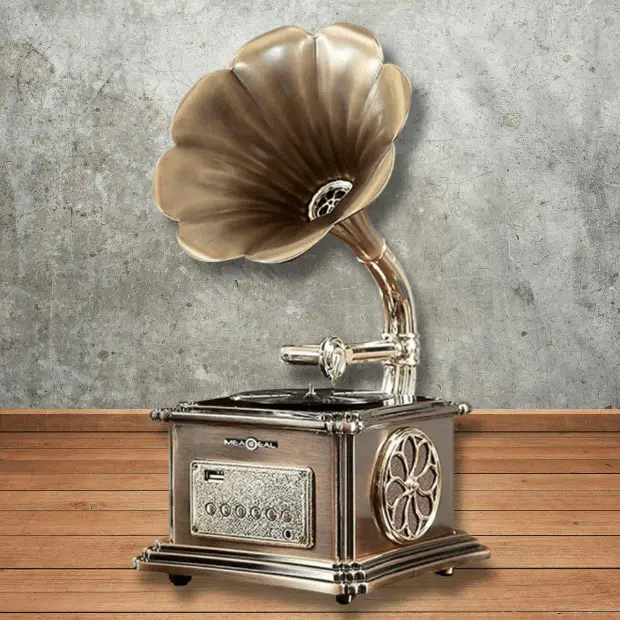 Now, if you're a girl, this model will surely capture your attention because of its strawberry milkshake color. The mini replica of a vintage transistor radio also comes in different color finishes. It's available in black, blue, green, white, and dark brown. More importantly, it's super compact and completely wireless, so you can throw it in your bag and take it wherever you go. It's powered by a rechargeable battery. All you need to do is plug a USB cable into it and get it fully juiced within an hour. It can last for two or three hours on a single charge, depending on the volume you set. What's funny is that you can even use it to connect to Amazon Alexa via the Aux input or through its Bluetooth capability. The connectivity is fantastic (around 33 ft). The only drawback here is that the sound is not going to bring you to your feet. But this seems to be expected from a device that weighs only 6.4 ounces.
Do you want to go back to the '50s but with a modern twist? If so, this Bluetooth speaker slash radio is exactly what you're looking for. It's slightly more expensive than a regular wireless speaker, but the classic design makes a difference here. First off, there are six different colors and styles you can choose from. This tiny tune box is available in vintage walnut, blue, black, cherry, pink, and red. Each one has a different feel to it, so you can pick one that matches your personality. But don't let its retro design fool you because this tiny speaker is a technological masterpiece. It comes with advanced Bluetooth 4.2 technology, which enables you to connect to any mobile device within a second. It also has an FM radio function with old-fashioned knobs and all. So, you can spend some good time channel surfing like in the good old days. You may also opt to use an SD card or an AUX cable as a source for your favorite music. Finally, it's compact (4.6 x 2.7 x 2 inches), but it's equipped with a powerful 1100mAH rechargeable battery that can last for up to eight hours on a full charge. It's a fantastic device, and Greadio has a couple of larger models available, so you should check them out too.
Okay, now we are entering the realm of super cool. If you want to get a speaker from an iconic classic brand, this item from Marshall is the way to go. Of course, it's much more expensive than the other items listed here. But it's something that is going to last for years and give you a top-quality listening experience. It has an 80W output and oozes mellifluous vibes like no other portable speaker. Besides Bluetooth, you can also connect it to your mobile device or a computer through a 3.5 mm cable. Fashioned after their famed guitar amplifiers, the finish of this thing is breathtaking. You can see that the designers paid attention to each detail to create something that would please the eye. Also, if you want to go full retro, you have an RCA input at your disposal. These ancient jacks were often used with CD players and turntables. Now you can go ahead and dust them off and connect them to your new speaker. Marshall has a couple of other vintage models on sale, so you can get one that will fit your needs perfectly. For example, the "Stanmore" model that we are talking about here has a plug-in power source. But the smaller models come with a rechargeable battery that can last up to 25 hours. It all depends on whether you want to travel with it a lot, or not.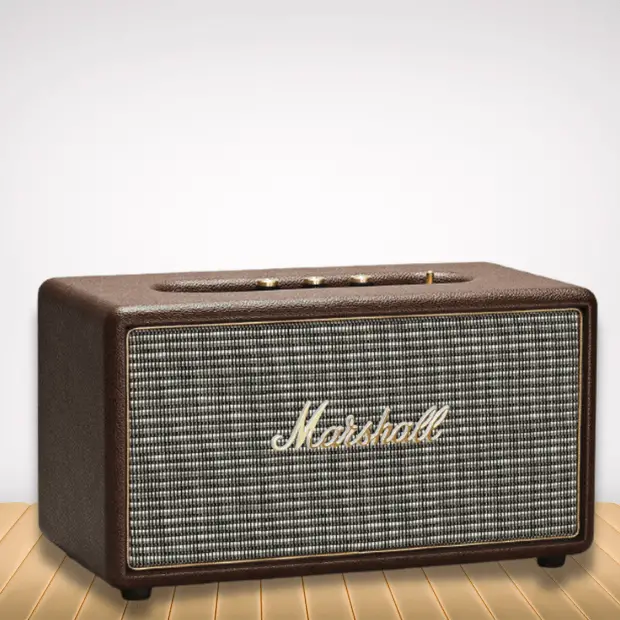 Now let's go down to earth a bit and take a look at this 20W speaker from Olafus. It's equipped with a Bluetooth 5.0 version, which is one of the fastest out there. Even if you move around the house with your mobile device in your pocket, you can still get a stable connection up to 45 feet. What's interesting about this model is that it's even designed with a built-in microphone so you can use it for hands-free calls. Moreover, the powerful 2200 mAh rechargeable battery can last for around 20 hours of constant vibing. That's assuming you set the volume to approximately 50%. Once you're out of juice, you just need to find a power source, and within three or four hours, the speaker is fully recharged. Besides the excellent high-quality design and crisp quality of sound, you'll also get a five-year product service warranty. This means that if you experience any issues, the producers will fix them up for you at no extra cost. The small size (8.3 x 6 x 3.9 inches), and the long battery life turn this speaker into a great travel companion. Or, a stylish gift for any music lover. It's so portable, so you can drop it into your bag and be on your way. And yes, everyone will be complimenting you about how amazing it looks.
This vintage-looking gem is going to be a great addition to your equipment collection. It has a funky design that will remind you of the old-school music box from a bygone era. It has a handcrafted wooden exterior and slightly larger dimensions (10" x 6.5" x 11"). It comes with a power cord, so you won't have to worry about recharging it. It's a fantastic item to place on your bookshelf so that it creates this retro atmosphere you're looking for. Besides Bluetooth, you can also use the AUX cable for connectivity. Plus, you have an AM/FM radio antenna, as well as, old-fashioned knobs for channel surfing. Finally, the radio board is lit, so when it gets dark, you can enjoy it even more. Maybe you won't get the sound quality like with Marshall speakers here. But if you're primarily looking for a vintage-looking piece of equipment, this one is a true eye-pleaser.
Which speaker will you choose?
Vintage Bluetooth speakers create a perfect balance between functionality and style. They are a great buy if you are looking for something original and unconventional. Most wireless speakers look more or less the same. But here, you have something unique that will blast your favorite music while elevating the decor of your place. They are great conversation pieces too. I'm sure that by checking items from this review, you are now ready to make a decision and start a new journey with sound. The portable way.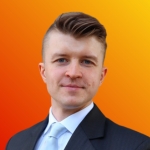 Rafal Reyzer
Hey there, welcome to my blog! I'm a full-time blogger, educator, digital marketer, freelance writer, editor and content manager with 10+ years of experience. I started RafalReyzer.com to provide you with great tools and strategies you can use to achieve freedom from 9 to 5 through online creativity. My site is a one-stop-shop for freelance writers, bloggers, publishers, content enthusiasts who want to be independent, earn more money and create beautiful things. Feel free to learn more about me here.