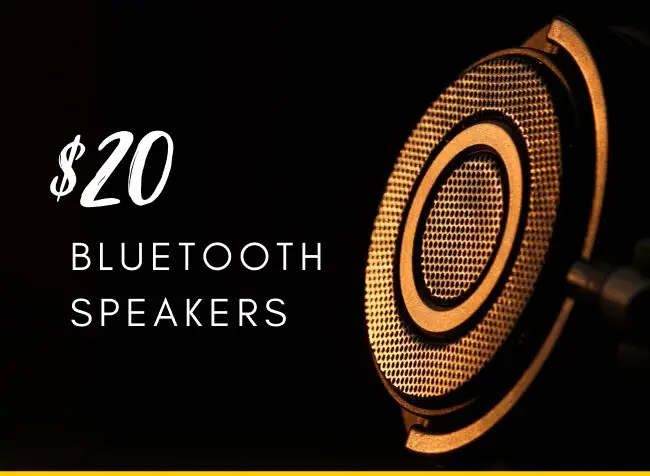 Are you looking for high-quality Bluetooth speakers under $20?
In this review, you'll find powerful low-price speakers you can take with you wherever you want.
These tiny devices are super useful when you're hanging out with friends, playing sports, studying, traveling, exercising, or even taking a shower.
Yes, some models sell for up to $300. But if you're looking for something affordable, you can get it without sacrificing lots of quality.
Now, I invite you to look at the products below and choose your favorite!
What to look for when buying inexpensive Bluetooth speakers?
Battery life – The longer, the better, of course. Even with cheap models, you can get up to 20 hours of playtime. But 12+ is already fine.
Bass – You shouldn't expect miracles, but always look for at least some bass. Without it, why even bother?
Bluetooth range – You want to play even from a considerable distance (60 Ft and up is what you're aiming for). Also, look for Bluetooth 4.2 technology, which will help you connect to your device faster.
Resistance to water – Many types of speakers are 100% water-resistant. This makes them perfect if you plan to spend a lovely day at the beach or enjoy podcasts in your shower.
Weight – Speakers like these are light by definition, but always check the weight before clicking "buy." You don't want to be lugging a heavy piece of junk with you.
MicroSD port – This can prove useful if you want to listen while your mobile device is off or in airplane mode.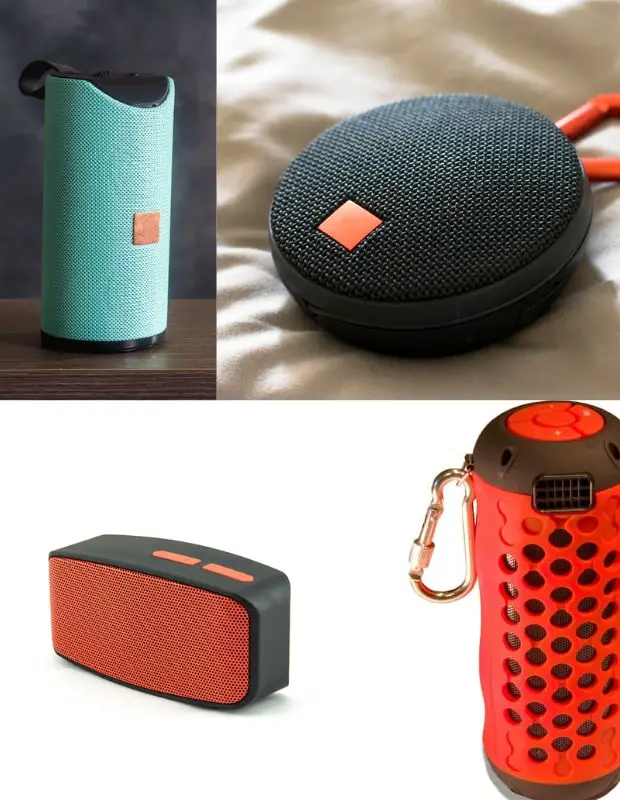 Here's the List of the Best Bluetooth Speakers Under $20:
Number one top of the list COMISO knocked it out of the park in terms of the price-quality ratio.
These inexpensive little monsters have everything you need and more! First, they tick off the "low price" box. Second, they give you a big sound to enjoy. You can cover the whole range of sounds and have a deep bass for real. This makes them attractive because most low-cost Bluetooth speakers are only high on trebles.
You can keep it underwater (up to 1 meter) for 30 minutes straight. You wouldn't want to take them for in-depth underwater cavern explorations, but they should be more than enough to resist a few splashes around the pool.
The battery lasts for around 20 hours on a full charge, which is great. These speakers also have a TF card port (which is another word for Micro SD). Now you can feed the beast with up to 64 GB of your favorite tracks.
But you will be mostly using Bluetooth capability with up to 100 Ft range and a swift connection process. And did I mention you can also use it to put a caller through? You just press a button, and you have them on the call. All of this makes COMISO the number-one choice for a savvy consumer.
Number two on the list is this tiny yet powerful device from Xleader.
It's on the cheaper side of things and has a beautiful, round design. What I like about it is that it's available in four different colors (black, silver, gold, and rose gold). The last two colors make it a perfect choice for sassy girls who want to share their favorite tunes with the world.
What makes these speakers cool is that they have five accessible buttons on the surface. There's one for play and pause, two for track skipping, and two for volume regulation. They operate on Bluetooth 4.1, which offers superior signal quality and compatibility.
It has a 33-foot range, which would be more than enough for most users. Finally, they are super small and weigh only 6.35 ounces, so they'll be happy to become your audio companions.
This little speaker, which comes under $20 is a perfect choice for an outdoors lover.
It comes in two colors (blue and green), and it has this unmistakable military-like look. This makes it appropriate for times when you need music in survival situations. Even more so, because it has a flexible strap so you can hang that little bastard on a tree branch or in your tent.
Besides offering fantastic sound quality, exceptional connectivity, and satisfying bass, it also allows you to mount it on a bike. Now you can blast your favorite music during your next outdoor adventure!
It offers up to 10 hours of playtime on full charge, and a neat mini USB charging port, which you can hook up to a power bank. It's also shockproof, dustproof, and waterproof, so take it with you till the end of the world, and you're good.
Here's another great model for your consideration.
It has a heavy-duty construction, and it can survive a fall like no other item on this list. This makes it a perfect option if you need high-quality sound while hiking, biking, or camping.
This little device is also waterproof, which adds to its durability. Besides weighing only 7.76 ounces, it gives you an excellent quality of sound with no distortions. What I like most about it is that it has a built-in mic which allows you to answer calls.
It also has a range of buttons you can use to operate it. There's a power button, "answer or reject call" button, as well as buttons for volume and skipping tracks. Also, it has a Micro SD port so you can use the speaker while off-line.
This is a beautiful and clever speaker from a company called Shava.
I wanted to include it on this list because it's cheap, but also because it's unique. Besides serving as a speaker, it also has a built-in LED!
You can pick from five interchangeable colors (red, green, dark blue, light blue, and purple). All you need to do is tap the mesh at the top of the device to change the color and brightness.
Whichever color you choose, the LED light will emit a warm glow perfect for bedtime. You can select from three different brightness levels (20%, 50%, and 100%).
It has Bluetooth capability, of course. But it also works with a Micro SD card and even a 3.5 mm audio cable, which makes it versatile. It also has a built-in mic, so you can use it for speaking on the phone.
If you're looking for something with a low-profile, yet classy design, this is the right pick for you.
What you'll notice right off the bat is that this is a stereo speaker so you can count on the high quality of sound. The volume on this one is also much higher than in most models within the $15 – $30 range.
Another great thing is that it has all the buttons at the top. These suckers are big and allow you to connect Bluetooth, NFC, skip tracks, play, pause, and change the volume. You also have a 3.5 mm audio input, so you're fully covered.
Finally, you have up to 10 hours of playtime, and the ability to answer calls as the device has a built-in mic. All of this makes it one of the best choices for a price-sensitive consumer.
This is your number-one choice if you're strapped for cash.
It's the cheapest model on this list, but it still does the job pretty well. It has 10W of power, and stereo-enhanced bass. While you won't wake up your neighbors with it, it can still fill up the room with sound. You can get into colors – black or white – and it literally costs only a few bucks.
What's great is that besides Bluetooth, you can hook it up to an AUX cable (which comes in the bundle), and a Micro SD card (you would have to get your own).
The final item on this list is peculiar, but I wanted to include it here just for kicks.
Let's face it – it looks like a ball. You can grab a basketball, baseball, golf ball, or soccer ball. This creative design is fantastic for sports fans with a sense of humor. It doesn't have the same capabilities or quality as the other items listed above. But it still operates with Bluetooth 4.2 technology that gives you high connectivity, and a 10m range.
This Lilliputian weighs only 3.2 ounces. This makes it the right choice if you want to carry it around in your backpack or a handbag.
Are You Ready to Experience a Powerful Sound at a Low Price?
As you can see, high-quality Bluetooth speakers don't have to be expensive. You can get them at an attractive price and still get a big bang for your buck.
Of course, with time, it's recommended to invest in more potent gear. But for now, if you are looking for a way to bring some life to the party, the models above will have you covered. But if you've decided to up your budget a little, we suggest you check out the best bluetooth speakers under $200 (compiled by MusicVibe.com).
They look super cool, and many of them have extra options that vastly improve your listening experience. Cheers!
Rafal Reyzer
Hey there, welcome to my blog! I'm a full-time blogger, educator, digital marketer, freelance writer, editor and content manager with 10+ years of experience. I started RafalReyzer.com to provide you with great tools and strategies you can use to achieve freedom from 9 to 5 through online creativity. My site is a one-stop-shop for freelance writers, bloggers, publishers, content enthusiasts who want to be independent, earn more money and create beautiful things. Feel free to
learn more about me here.