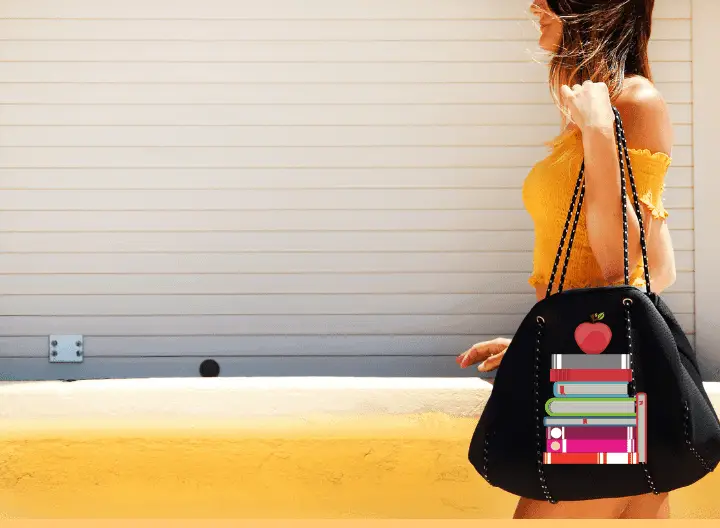 If you're a writer, you can easily recognize the value of a good bag.
It's more than just storage—it's a secret haven for cherished books, trusty gadgets, and that beloved notebook. It's a statement, a subtle nod to the world, declaring, 'Yes, I'm a writer, and proud of it!'
A good bag for a writer should:
Be sturdy and able to weather any storm, and wuther any heights
Have a beautiful design that will make the heads turn and raise curiosity
Be able to store copious amounts of books and writing paraphernalia
Match your one-in-the-world personality
And most importantly – indicate that you're an intellectual type. A stealthy literatus.
"She gestured to the bag. "What have you got in there?" "Nothing much. Some golfballs, a handful of tees, a Glock, extra ammo, two hand grenades, a tear gas canister, a knife, Tums, clean socks, flares, and some Ensure chocolate shakes." – Janet Evanovich, The Chase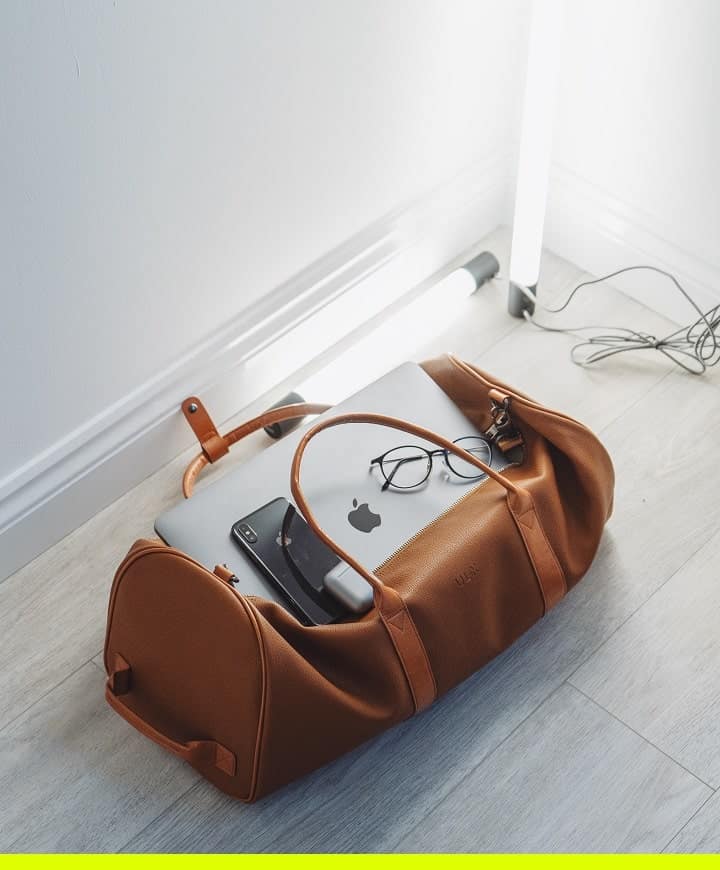 Here are the top 10 amazing bags for writers: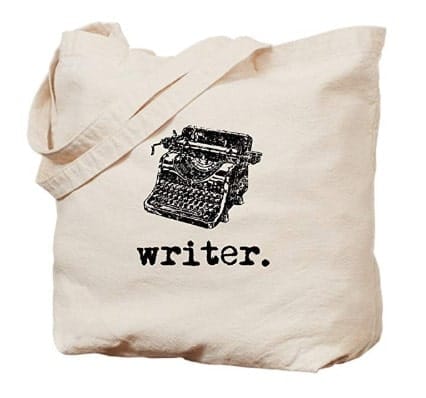 A writer needs to scuttle from a bookstore to the library and then to a cozy cafe. Not to meet friends (of course), but to sit down in relative silence and start bursting with creative inspiration. For this kind of op, you'll need a tote that is lightweight and has the word "writer" written all over it. It comes in different sizes, small 15" x 15" and medium 15" x 18". And once it gets dirty because of your literary adventures, you can machine wash it like there's no tomorrow. It will allow it to assume a new, threadbare appearance, indicating that you've been in the writing game for a while.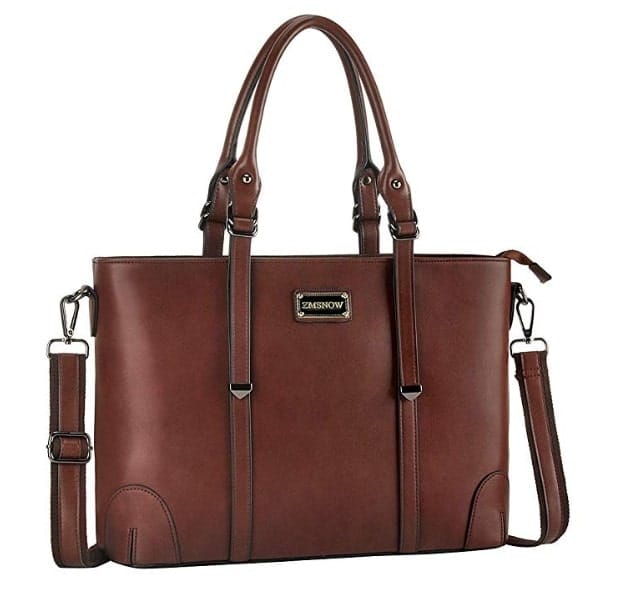 There are occasions in a wordsmith's life when a classier bag is called for. For example, when running from a poetry reading session, straight to a theatrical performance. This item would be perfect for such occasions, and it would proudly adorn the shoulders of any female writer. It has an adjustable shoulder strap and handles so you can, well, adjust it. It comes in four different colors and it's beautifully stitched, giving it an expensive and stylish look. The best thing about it is that it has a multitude of zip pockets and a laptop sleeve which will hold a 15" device easily.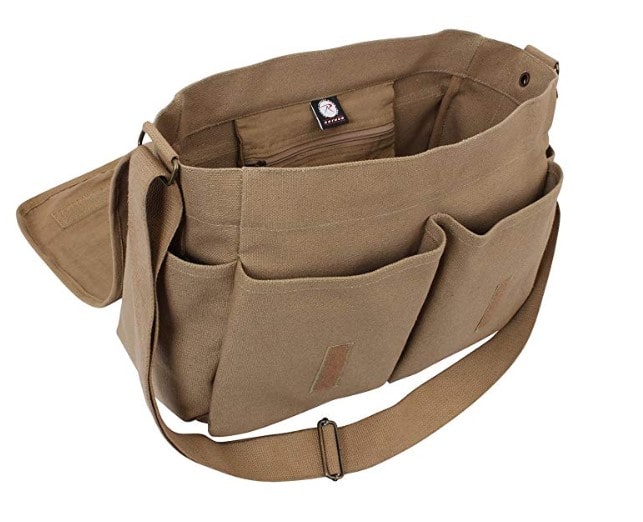 When using this bag, you'll feel like a war correspondent in no time. Yes my friend, now you'll be able to look like you just came back from the Middle East, reporting from the front lines, while evading life-threatening situations. This is a perfect option for a writer who's into serious stuff, like love, politics, and war. It's durable and designed to satisfy even the roughest users. The recommended color, of course, is mocha. But there are 12 color patterns available, so you can pick your favorites according to your needs. It has tons of easily accessible pockets, but there's also an inside pouch zip-bag for more precious small items (so you won't get robbed while navigating the enemy territory).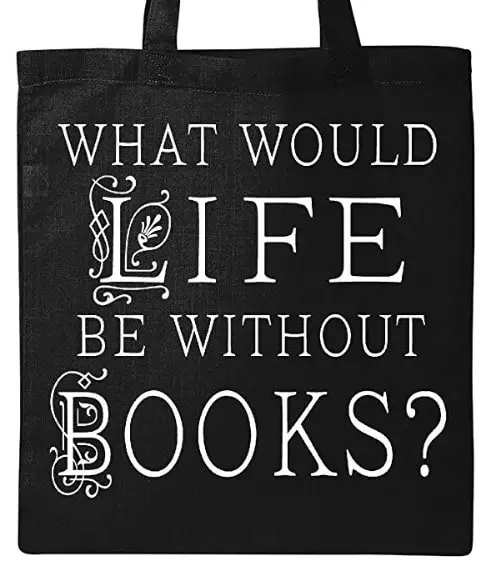 Alright, this one would make Hemingway commit suicide on the spot if he saw it. It's so cliche, but there's something cute about it. "What would life be without books?" asks rhetorically the bag. Well, it would mostly be movies and wine, if you ask me. But seriously, this is a perfect gift for a writer, librarian, or book lover. It comes in two colors: black and royal blue, and it's rather small 14,5" W x 15,5" H. But that's still enough to carry a couple of books here and there. What I like most about it is not the quote itself, but the font and beautifully ornamented letters.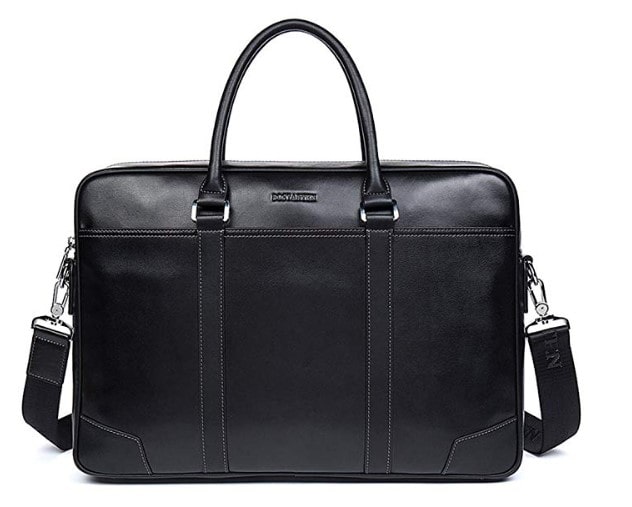 I don't even know where to describe how cool this bag is. Of course, it's more on the pricey end, but it's well worth the investment. It's a great product for a male writer who's not afraid to sport a snazzy-looking item, that's practical at the same time. I would wear it if I was writing for the New York Times, or attending a press conference at the White House. It goes perfectly with a suit and tie type of attire, and it has a big compartment able to hold a 15-inch laptop. There's also one zipper pocket, one slip pocket, and two external magnetic pockets for a quick draw. Overall, the quality is super-high and you can see the designer's attention to detail and exquisite craftsmanship.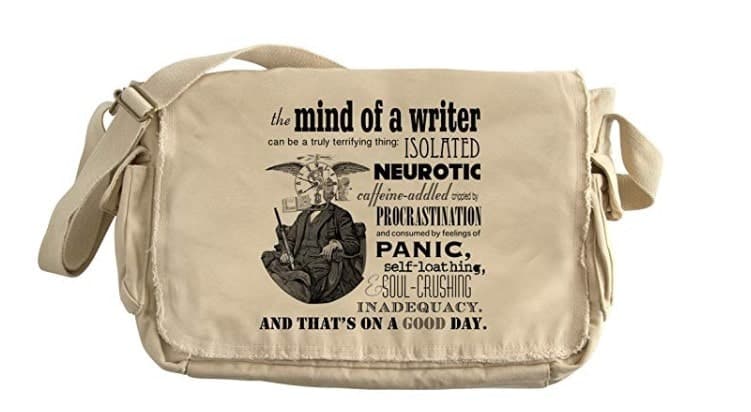 If you're looking for a funny gift for a friend or a fellow writer, look no further than this amazing messenger bag. I'm sure that anyone who gets it will burst out laughing, just as I did when I saw it for the first time. It offers an intricate look into the mind of a man (or woman) of letters. Isolated, neurotic, caffeine-addled, crippled by procrastination… and that's on a good day! I like this self-deprecating sense of humor. I'm sure that anyone with a sense of irony would be happy to wear the bag. Other than having a beautiful design, it's also functional and has all the pockets and zippers necessary.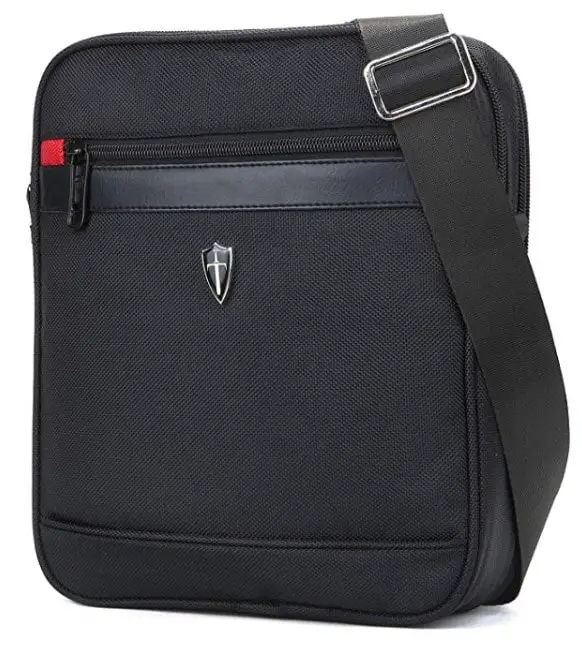 If you go out into the city streets, or to work, you want to avoid wearing a backpack. It simply doesn't look cool, especially if you're wearing a jacket or, God forbid, an overcoat. That's where a clever vertical messenger bag comes in. It's lightweight and it will allow you to move fast while still keeping your hands free. And, it will make you look cool and fashionable. You won't pack a laptop in it, but a tablet, a Kindle reader, or a couple of paperbacks will easily fit in. This bag makes a statement – "I'm a clever, urbane, cosmopolitan city dweller."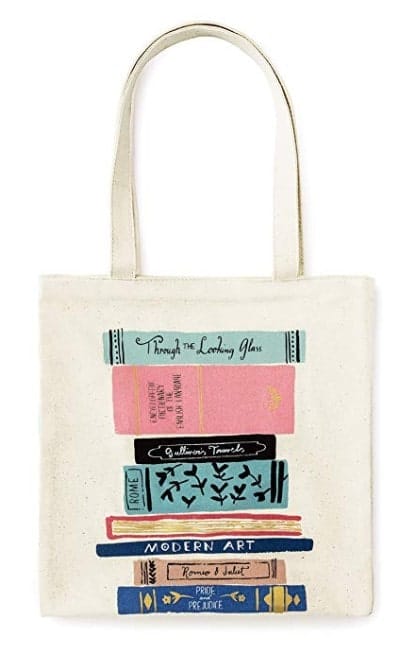 I was sorry to hear about Kate Spade's passing, but her legacy lives on through the brand she created. This sturdy tote will be proudly worn by any writer with New York-ish dreams and inclinations. It's an item for a dreamy soul who loves to immerse herself in the classics of modern literature. On the outside, you'll see an illustration of a stack of books with some classic titles. What I like about it is that it's sturdier than your regular tote and it also has a nice inside pouch bag on the inside. It will serve you for many years!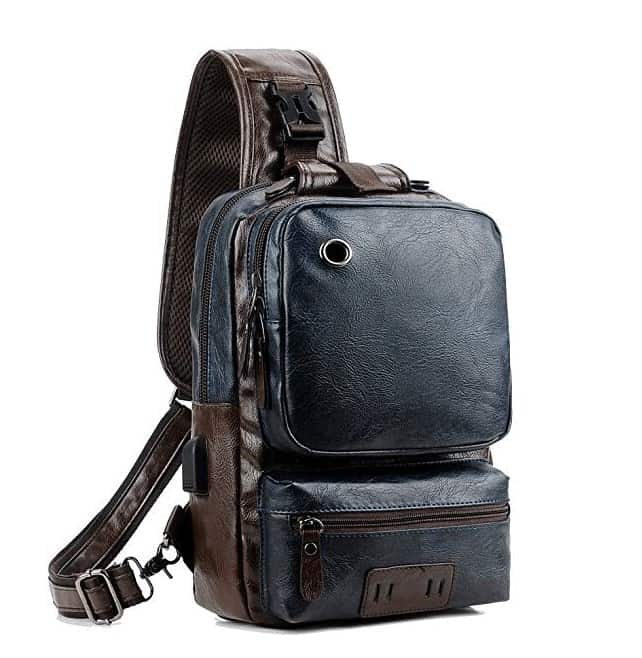 Who else thinks that sling bags are cool? It's a hybrid of a backpack and a messenger bag, and it looks super cool without being boring. It has an adventure feel to it, and It's great not only for carrying books and writing materials but for strolling around the streets of a new city. It's comfortable for your back, made of genuine leather, and it will carry items of all sizes, including a laptop. The best thing is that it comes with a charging port where you can place your power bank and easily charge your phone or another mobile device while on the go.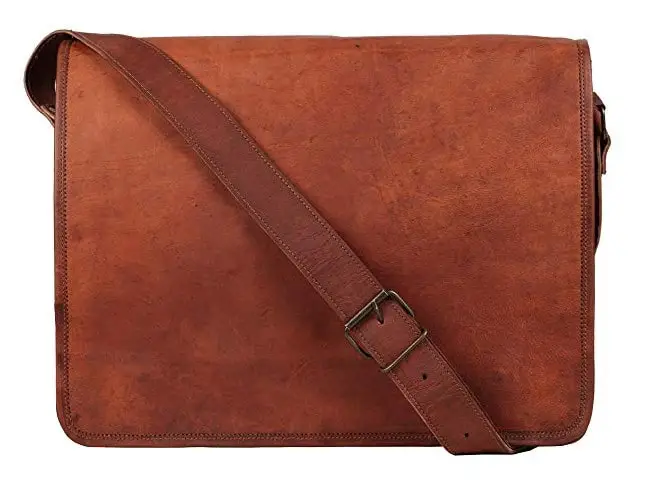 Scribblers love vintage stuff as it reminds them of the olden days when things were simpler, and when philosophers transcribed alchemical tomes by committing ink to parchment. Or something like that… Anyway, this bag is made of genuine leather. You can see it's made with skill and care for the final product. It's good for both casual and business settings and it's easy to carry. It will allow you to get access to your most important items, because of metal snap pockets. But on the inside, there is also a zipper bag for your phone or wallet.
Pack your things properly and be on your way, scribbler
I do hope that the picks from this review brought you some inspiration. Sometimes, it's important to bolster your identity or simply buy something new that would make you feel better. Maybe money won't make you happy, but a good item you can buy for money will, if only for a few days. Now pack all you can and head out for new adventures. I wish you joy happiness and love.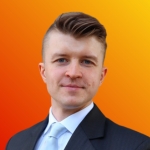 Rafal Reyzer
Hey there, welcome to my blog! I'm a full-time blogger, educator, digital marketer, freelance writer, editor and content manager with 10+ years of experience. I started RafalReyzer.com to provide you with great tools and strategies you can use to achieve freedom from 9 to 5 through online creativity. My site is a one-stop-shop for freelance writers, bloggers, publishers, content enthusiasts who want to be independent, earn more money and create beautiful things. Feel free to learn more about me here.