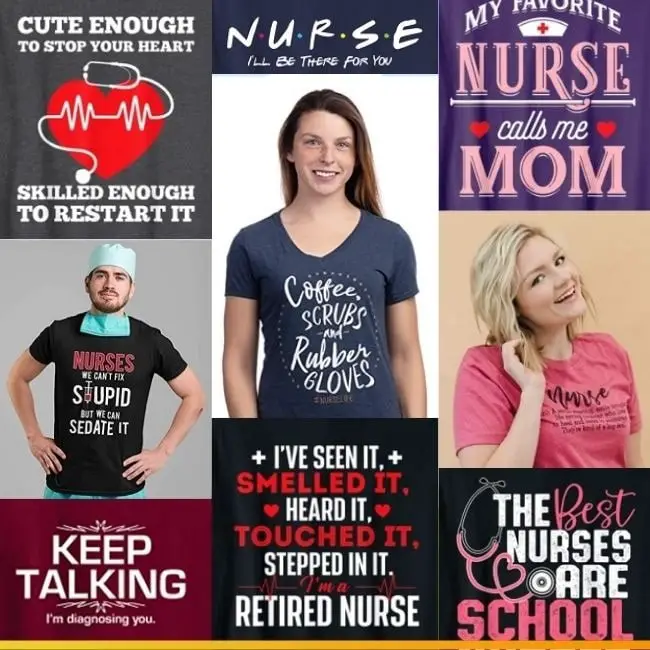 Nursing is a noble profession, as it's profoundly related to care and compassion.
Nurses show a lot of empathy and sympathy while delivering care for someone. However, they are in a complex profession faced with unprecedented demands and responsibilities, especially in desperate situations.
The daily basic challenges and competing demands during this difficult period are causing them stress, frustration, and, at times, despair.
To support and cheer nurses during this challenging time, we've created a list of funny nurse shirts we could find.
These quirky pieces of apparel also make great gift ideas for Nurse Week, birthdays, or holidays. Let's check them, shall we?
Here the best funny nurse shirts to get:
This funny nurse's shirt will make a perfect gift for the nurse in your life.
Whether it's for someone who has recently graduated from nursing school or on nurse appreciation week.
The quote "Nurses We Can't Fix Stupid But We Can Sedate It" is hilarious and certainly adds a personal touch to let them know you put a little extra thought into them.
This is pure cotton, and you can also choose from a couple of color options like black, gray, blue, and navy.
If you're looking for a funny nursing shirt for someone obsessed with all things Friends, this funny graphic tee will make a great gift.
This cleverly designed half-sleeved tee has the Friends-like logo on the front that says "Nurse I'll Be There For You." The shirt is pretty lightweight with neat visuals.
The shirt is available in five solid colors: Navy, Royal Blue, Heather Blue, Pink, and Purple. This makes a fine gift for someone who is a proud nurse or who is graduating.
If you're a nurse and looking for a holiday gift for your mom, or you know someone who is a proud mother of a nurse, this T-shirt can help put a smile on their faces.
The wearer of this funny graphic tee is sure to receive a ton of compliments. Whether for a birthday, Christmas, or just anything, this classic half-sleeved graphic tee will make a perfect appreciation gift.
The quote "My Favorite Nurse Calls Me Mom" definitely says out loud that you're a proud mother of a nurse.
It is available in six solid colors: Black, Navy, Royal Blue, Dark Heather, Purple, and Heather Blue. With so many hues to choose from, you'll surely find something to their liking.
Know a lovely nurse who is retiring soon or has already hung up the scrubs for good?
This graphic tee is a thoughtful gift for the retired nurse in your life to show appreciation for his/her dedication and hard work. It is also a great way to say thanks for the memories.
Or, if you're a retired nurse yourself, wearing this sassy shirt will bring out some laughs and reduce your and other people's stress level with its funny quip.
This is lightweight and available in several colors to choose from. So, look at these wonderful colored tees and pick one or two that you or other ex-nurses would love.
For the proud nurse in your life who loves being one. Someone with a compassionate heart and caring hands, this funny nursing tee is kind of a big deal.
This high-quality tee uses a groundbreaking DTG printing technique to put eco-friendly ink directly into the fabric.
This tee means something for someone who loves the nursing profession and knows that at the end of the day, they have made a difference.
The tees are super soft and super comfy. It is available in various colors, including Red, Kelly, and Natural colors, which are 100% pure cotton. Other colors are a blend of cotton and polyester.
As a token of appreciation for your favorite nurse, this funny graphic tee would make a memorable gift.
This t-shirt is too witty and makes a wonderful gift for RNs, head nurses, or recent graduates.
Give it as a birthday gift, a graduation present, or just because it's Friday. It's a great way to tell the average folks just how great the profession is, and hint that nursing skills and good looks can go hand-in-hand.
This funny t-shirt is available in men's, women's, and youth sizes, so you're sure to find something for the nurse in your life.
If you're looking for a fun, lighthearted gift, this funny graphic tee is both cute and thoughtful.
A little appreciation for the school nurse who loves being around children is sure to make people smile.
Give this solid-printed tee to your favorite school nurse and he or she will surely be delighted with the kind gesture. Plus, it doesn't hurt to have more funny nurse shirts in the wardrobe!
This will also make a magnificent gift for your daughter for her graduation from nursing school. You can also choose from a variety of colors.
Nurses deserve all the appreciation. If you have a nurse in your life and you're looking for a cool gift idea but don't know where to start, this amazing graphic tee might be for you.
Nothing beats the idea of a funny t-shirt that has sarcasm written all over it. After all, who doesn't like a little humor with cynicism!
This fun tee is available in more than a dozen color options and will make a splendid gift for nurse dads, moms, teens, boys and girls, and best friends, no matter the occasion.
If you have a nurse in your family who continued to get up and go to work during the COVID crisis, this simple classic round-neck tee will surely light up their face.
A delightful summer top, this cool half-sleeved graphic tee adds a personal touch to let the nurse in your life know you care for them and adore them.
A basic causal top is a staple in every woman's wardrobe, and nurses are no exception. It goes up with everything and it is pure cotton. It's available in three colors: Green, Gray, and Pink.
Bring a smile to the favorite nurse in your life this holiday season with this great novelty graphic tee.
Ideal for adult women, the funny saying "Coffee Scrubs and Rubber Gloves" is sure to catch some attention.
It is a super comfy, lightweight fabric made with a blend of cotton, polyester, and rayon, which give it a vintage touch. The ink used is also the top-notch quality and environment-friendly.
This snarky graphic tee is great for any nurse who knows that her daily duties are sometimes a little sketchy. It makes for a perfect gift for a casual day out or to celebrate that perfect day.
Pick Something From These Funny Nurse Shirts Already
You don't need special occasions to give your favorite nurse a gift. So, why wait for birthdays, holidays, or Nurses' Week to appreciate the nurse in your life!
Nurses are the unsung heroes of the healthcare system. So, now's the time to shower them with presents to let them know you appreciate and love them.
These funny nurse shirts will light up their faces. After all, everyone deserves a good laugh after a long, tiring day.
Rafal Reyzer
Hey there, welcome to my blog! I'm a full-time blogger, educator, digital marketer, freelance writer, editor and content manager with 10+ years of experience. I started RafalReyzer.com to provide you with great tools and strategies you can use to achieve freedom from 9 to 5 through online creativity. My site is a one-stop-shop for freelance writers, bloggers, publishers, content enthusiasts who want to be independent, earn more money and create beautiful things. Feel free to
learn more about me here.