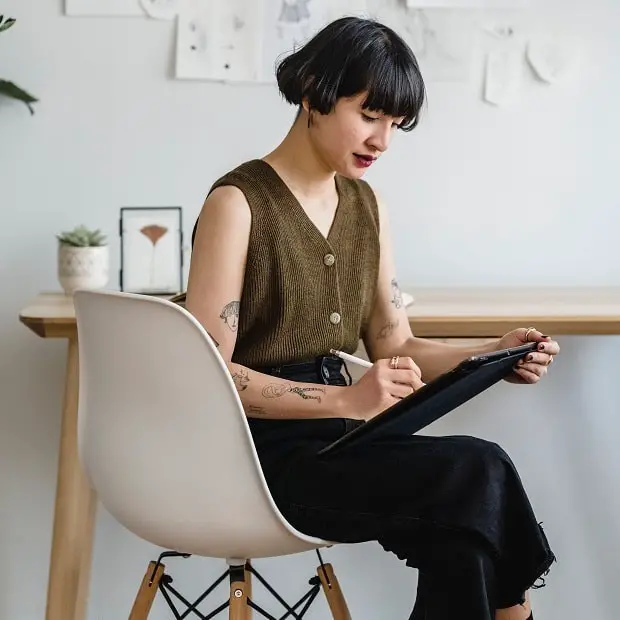 Are you looking for a gadget that'll help boost your creativity?
Here's a round-up of the best digital notebooks for writers to help you do just that. You might think that you are happy with a good old pen and paper.
What if I told you there's a way you could still have the feel of writing on paper while enjoying the ease of editing on a computer? That is exactly what digital notebooks are all about!
Not only are they a handy assistant to your creative process, but they are better for the environment too!
Think of all the paper products you'll save! Plus, a digital notebook enables you to save an editable version of your work as you go. Let's check some of the best models available right now.
The Best Digital Notebooks for Writers:
If you worry about losing the feel of writing on real paper, this might be the digital notebook for you.
You can write or draw on the screen like paper using the stylus pen that goes with the unit. You can then save a digital copy of each page with a click of a button. It can even transcribe your handwriting into text. How great is that?
Once your document is saved, it is easy to edit, reorganize, or share. You can also search or tag your notes to help pull your ideas together into common themes.
It is available as A4 and A5 so you can choose the size and weight that suit you. The A4 size is a little pricey at $322, but it is worth it.
If you're a fan of Apple products, then the iPad doesn't need an introduction. This great tool can support your sudden burst of creativity, too.
Although it has a lot of other functions, the 10.2-inch retina display is great for your creative projects. You can use the Apple Pencil to handwrite notes or use the smart keyboard if you prefer.
The iPad also has FaceTime, email, and a LOT of downloadable editing apps. It makes forming and sharing your creative ideas so much easier. This puts it amongst the best digital notebooks for writers…even if it is technically a tablet.
At around $309, it is a little expensive. But then again, it is so much more than a digital notebook.
Despite its hefty $650 price tag, the ReMarkable deserves a place on this list. It is a bit on the high-end, but you get your money's worth if you splurge on it.
The biggest claim for the ReMarkable notebook is that it feels about as close to real paper as you can get…without actually being made of wood pulp.
It has a top-of-the-range display and a 10.3" screen. You can convert your handwriting to text and email your notes at the touch of a button.
It is also great for editing your writing. You can hand-write your amendments straight onto the typed document. How cool is that?
The Boox Note Air is around $420, but it gives you a great bang for your buck. For starters, you'll get a crystal clear full-color screen with this baby.
This model makes a great e-reader, as well as a digital notepad. So, if you are an eBook aficionado and in the market for an electronic reader too, this is a great buy.
You can easily read and mark up what you wrote and save your work to the cloud. The stylus pen is very user-friendly, but you also have the option to attach accessories like a slim keyboard or mouse to help make your life easier.
If you feel you aren't as creative without old-school pen and paper, don't worry, there is still an option out there for you.
One of its coolest features is the detachable iskn ring that you can attach to any ordinary pen or pencil to turn into a digital drawing tool.
You can write or draw with your own pens and paper and see what you scribble on the screen in real-time. If you find that too distracting, you can also turn that feature off and still save your work.
Although The Slate is designed for artists, it is a good bridge to the world of digital notebooks for writers too. With a starting price of around $100, it isn't the cheapest option, but it won't break the bank either.
If you like the classic look of a Moleskin notepad, you'll be glad to hear they make a digital version too.
If you are a doodler or scribbler, this product will not make you deviate from what you are already accustomed to. You will still literally write on a Moleskine notebook, except this time what you write, or draw will also appear on your digital device like magic.
It can also transcribe the words you've written into digital texts, like many other digital notebooks. The app makes it easy to search your notes or edit and organize them as you want.
Part of the creative process involves brainstorming. But you also need to make sense of your ideas later. The Moleskin notebook will help you do that.
The clever thing about this digital notebook is that you can also record audio to go along with your notes. If you want to remind yourself what you want to add or flesh out later, this is very easy.
This starter set is around $100, but you can also buy each component separately.
If you are looking for something more basic, and therefore less expensive, look no further than the Boogie Board Blackboard.
The letter size option is around $40. There are also smaller versions available which are even less expensive.
There are different page templates, depending on where your creativity is taking you. You can change them as you work on different ideas.
There is a handy app to save what you are working on. But if you are having one of those days where you want to make a lot of changes, it is also easy to erase and amend your writing.
You don't need to charge the Boogie Board Blackboard, like many of the alternatives. It has a replaceable battery, but it should last you several years (up to 5).
This is a great option if you want to keep it simple.
Rocketbook notebooks come in a range of colors. You can express your creativity with what is outside the notebook as well as what you write inside!
This smart notebook feels more like a traditional notepad than the Boogie Board. It comes with 32 reusable pages so you can save what you are working on and then wipe it clean to start again.
Much kinder to trees than a traditional notebook, thankfully!
You can save your work digitally via an app. It is also compatible with most cloud storage systems, so it should work with what you already have. This makes it super simple to save and share your ideas, allowing you to concentrate and let your creativity flow.
At around $27 for the standard notebook, this is a budget-friendly option too.
If you like the idea of the Rocketbook but want more features, the Rocketbook Fusion is a safe bet.
This notebook has different page styles to choose from, including task lists, and weekly/monthly planners. It also has more reusable pages to help you organize your life, as well as your ideas.
What more could you ask for? A low price point? No problem. The Rocketbook Fusion is around $35.
The Wipebook Scan has the advantage of working with any dry erase marker. You don't need to spend a fortune on fancy pens!
You can also erase anything with your hand and other implements, as well as the included cloth.
It has a mixture of blank, ruled, and graph paper to use, so there will always be something to suit your ideas.
Like many other options, the Wipebook has an app to scan your pages. You can then upload them to your favorite online storage space.
At $40 the Wipebook Scan is a great buy.
Top Pick
If I had to choose one from this list of the best digital notebooks for writers, it would have to be the Moleskin Pen + Writing set. It has useful features for boosting creativity without losing the feel of a real notebook. But then, that's just me.
I'm sure you have your preference too. Let us know your thoughts in the comment section.
Rafal Reyzer
Hey there, welcome to my blog! I'm a full-time blogger, educator, digital marketer, freelance writer, editor and content manager with 10+ years of experience. I started RafalReyzer.com to provide you with great tools and strategies you can use to achieve freedom from 9 to 5 through online creativity. My site is a one-stop-shop for freelance writers, bloggers, publishers, content enthusiasts who want to be independent, earn more money and create beautiful things. Feel free to
learn more about me here.