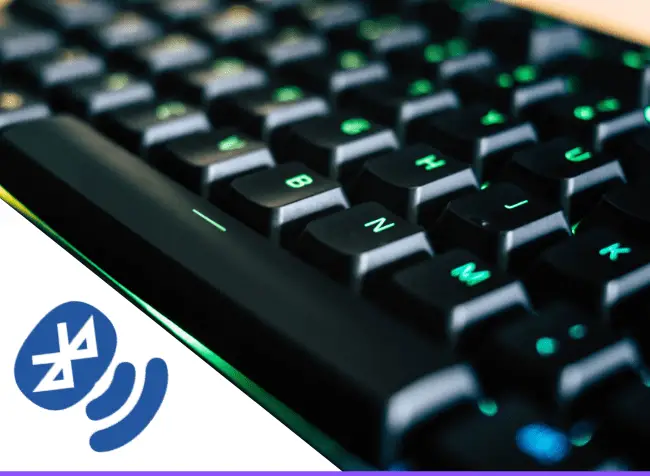 Recently I was in the market for a wireless, tenkeyless keyboard.
After all, I'm a writer, and a keyboard is an extension of my creative mind. I needed a good one!
A keyboard like this is especially useful:
If you need something compact to pack in your bag and travel around with (for work assignments, digital nomading, or plain fun).
If you like to work on your tablet in the cozy café, but need something to type on.
If you want to control your desktop computer from a distance (for example, when watching a movie).
If you're an avid video gamer, but don't want a keyboard that will take up half of your desk.
So if you feel any of the needs described above, you're in the right place.
Below you'll find some of the slickest models of wireless, lightweight keyboards available on the market right now.
Shall we take a look?
5 Best Wireless Tenkeyless Keyboards (That Won't Break the Bank)
After combing through a variety of offers, I finally decided to buy this affordable model from Logitech (along with some other equipment). 
After using it for a couple of months, I can honestly say I'm happy with the results.
First, the keyboard is available for one-third of the price you'd pay for other models. That's a great consideration if you're a price-sensitive buyer like me.
For less than $30, you get an ergonomic piece of equipment. It's not super lightweight, but it's compact enough for you to pack it into a backpack.
What I like most about it is that it's very easy on your hands and wrists and also comes with a touchpad. This comes in handy, especially if you hook up your PC to a TV and want to control your computer from a distance.
It makes Netflix binge-watching sessions so much easier.
The only drawback here is that you have to buy new batteries from time to time, but that's not a big deal.
Okay, here we're staying in the budget zone when it comes to keyboards. But cheap doesn't mean low quality!
Besides the cool name, Velocifire is a boss when it comes to wireless keyboards. This thing is only 14.4 inches long and 5.3 inches wide so that he can throw it into your bag easily.
What's more, it's a mechanical keyboard that enables you to type faster and with more accuracy.
It's perfect for people who spend much of the day typing – think coders, writers, bloggers, or editors. The Bluetooth signal also covers over 26 feet which is quite a lot.
Because of the little foldable legs at the back, you're able to set the keyboard to two different angles. That's always good news for the ergonomically conscious among us.
You can use the keyboard for hours without having to recharge it because of a durable 1850 mAH battery. And when you do, hook it up with a USB cable to recharge and work at the same time.
If you're looking for a featherlike affordable keyboard that's perfect for travel, this is the model for you. It weighs only 0.68 pounds, and it's super small (11.06 x 5.28 x 0.55 in).
All you need to do to set it up is to plug the USB receiver into your laptop, and you're ready to go (no drivers required).
This little beast packs a powerful battery that will last for up to six months on a single charge (assuming you're using it nonstop for two hours every day).
If you want to make it last even longer, you can always set the power switch to "off" at the end of your work session.
Moreover, this charming piece of stainless steel equipment comes with silicone nonslip pads in the back.
And even though it's tiny, the designers didn't sacrifice the size of the keys. Because of that, the typing experience is pleasurable and quiet. Sneaky thing, isn't it?
Now let's enter the realm of premium wireless tenkeyless keyboards. This product from Keychron will exceed your expectations, and you'll love it at first sight.
It has a 75% layout (84-key), and it's super small (12.3 x 4.8 x 1.5 inches). However, at 30.8 oz, it's on a heavier side of things when compared to other models in this review. But this makes it feel sturdier and more high-quality.
You can connect to up to three devices with it through Bluetooth 3.0 and switch between them fast. Just imagine – you could use it with your laptop, tablet, and mobile phone and type away with ease.
It also has a durable 4000 mAh battery that will last for around seven days of regular use. Once it's time to recharge, you can do it in two hours with a USB cable. Finally, it's LED-backlit, which gives it a fresh look.
Last but not least, let's check out this MotoSpeed model, which is more appropriate for gamers.
It's equipped with a 2.4 GHz wireless transmission technology. All you need to do to make it work is plug a little USB chip into the computer, and you're ready to shoot at monsters.
It has 30 feet range and when the battery runs low, you need to hook it up to a power source with a detachable USB cable.
This 87-key piece of equipment is available in seven different colors (from black to pink), and also has six LED lighting modes. All of this allows you to customize it and get the look you want.
According to the producers, each key can survive up to 50 million keystrokes. That's like, level 99, twenty times over in your favorite game.
Just check a couple of reviews and see available images, and you'll fall in love with its slick design.
Are you ready for some high-quality wireless keyboard fun?
As you can see, there's a variety of tenkeyless wireless keyboards on the market. Picking the right one for you will depend on your specific needs.
If you're more into gaming, then, by all means, go with a mechanical, LED-backlit device.
But if you're looking to spend hours typing, it would be wiser to choose a more ergonomic model that won't put too much strain on your wrists.
Finally, if you want something to control your computer or smart TV from a distance, then pick a keyboard that also comes with a touchpad. Happy typing!
Rafal Reyzer
Hey there, welcome to my blog! I'm a full-time blogger, educator, digital marketer, freelance writer, editor and content manager with over 10 years of experience. I started RafalReyzer.com to provide you with great tools and strategies you can use to achieve freedom from 9 to 5 through online creativity. My site is a one-stop-shop for freelance writers, bloggers, publishers, content enthusiasts who want to be independent, earn more money and create beautiful things. Feel free to check my archive containing
over 600 articles
and
access free video training for writers
to improve your skills. Ah yes, and stay awesome!