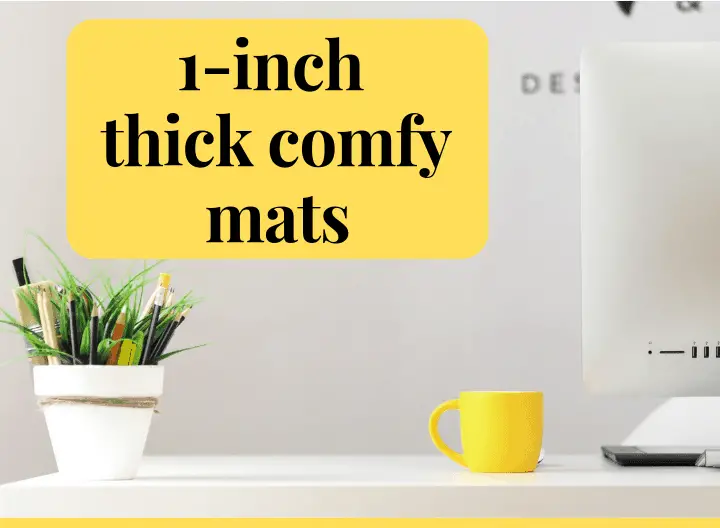 Working while standing up has become more popular. It protects your spine, and your cardiovascular system, and makes you feel energized.
But standing for a long time often causes fatigue in your legs and the lower back. Fortunately, you can fix it by buying a good 1-inch thick anti-fatigue mat and using it during your activities at work or in the kitchen. According to Dr. Keith Overland, a well-known chiropractor the thickness of the mat is important. Basically, the thicker the better.
Why an extra thick 1-inch mat is the right choice?
It's more supportive and comfortable than a regular mat.
The extra thickness means your feet won't sink into the floor (which is often the case with thinner mats).
You'll avoid dents and sagging.
You'll be able to stand for 3 to 4 hours non-stop without feeling stiffness in your body.
You'll avoid the discomfort of standing on hardwood or tiled floors and protect your feet.
It's perfect if you're using a standing (or adjustable) desk at work.
It's a better option for heavier users who need more comfort.
Here are the best 1-inch thick anti-fatigue mats: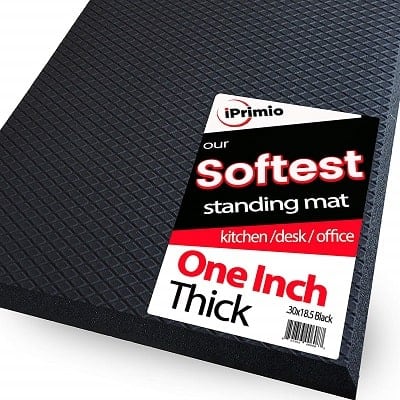 If you're looking for an extra thick, comfortable mat, look no further than iPremio. This is one of the softest mats on the market and it's perfect as a kitchen standing mat or as a neat piece of ergonomic equipment for your office environment. It comes in two different sizes 30" x 18" for a smaller space, and 36"x 24" for a larger space. The thickness of the mat won't mean that your fit will sink into it. On the contrary, the mat is firm but at the same time comfortable. It also has a contoured edge and a non-slip pattern so you won't trip over it.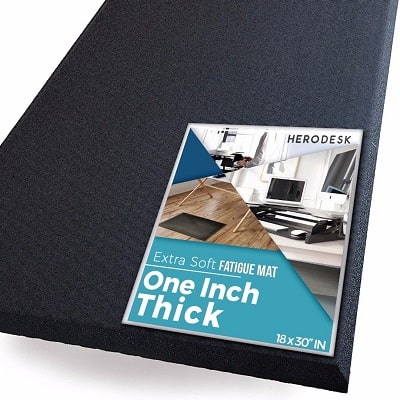 This is the second, genuine 1-inch mat you can get. It comes in a smaller size of 18"x 30" but that should be enough for most users. It has soft edges which means that even with this extra thickness, you won't kick it with your toes. It doesn't have any special pattern and looks pretty neutral in a home or office environment. But at the same time, it will protect your feet, knees, ankles, back, and hips from unnecessary strain. It's made of durable material so it won't break down or compress over time. This is often the case with thinner mats that become useless after two or three months after purchase.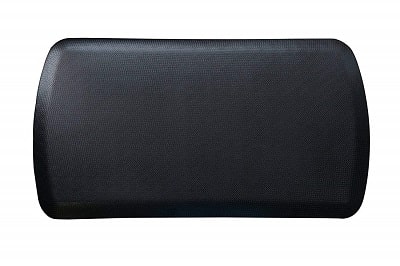 This is another popular mat that is (almost) one inch thick. To be precise, it's 7/8" but it still provides a lot of comfort for your legs and back. It comes in two different sizes and four different colors so you can pick the right option for yourself. The edges of the mat are beveled and there's also a non-slip bottom so you can use it safely on any surface. It's completely odorless so you won't smell any foam or plastic after unpacking. It also comes with a strong guarantee, so if you don't like the model you got, you can replace it easily or get your money back. No questions asked.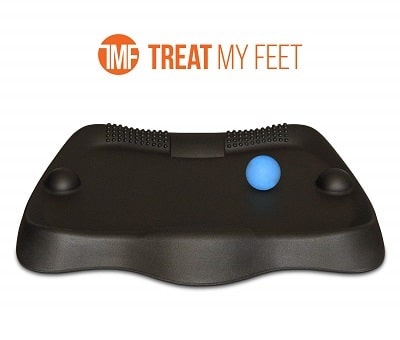 I wanted to include something unconventional in this review. This mat is unique and it might be of great service to many users. It's more on the expensive side but for a good reason. It's super thick (3 inches) and it has a curious shape designed to prevent fatigue while standing up. The idea here is that it enables you to shift your position from one foot to the other and maintain a healthy position for longer. Now you'll be able not only to stand but also to stretch and massage your feet while working. It also comes with a little massage ball you can use to relax your feet, and it has different surfaces you can stand on. It's a truly high-tech solution.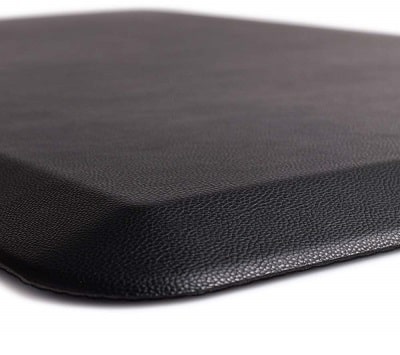 Alright, so the last item on this list is not exactly 1" thick (but rather 3/4″). But I had to include it here simply because it's a great product and it's still pretty thick compared to other mats which are 0,5" or even less. What I like about Gorilla Grip is that it comes in many colors. That's a welcome surprise because most of the other products only come in one or two color options. It comes in many different sizes as well, so you can pick the exact model you need. And the best part about it is its budget-friendly price!
Conclusion
Anti-fatigue mats are great in general. But many who tried them report that they're too thin and after a while, they stop supporting your weight. This may lead to increased discomfort and stiffness in your whole body. That's why many producers came up with thicker options that will last longer and allow you to work in peace for hours on end. Next up, you may want to check the list of the top office chairs for your remote space.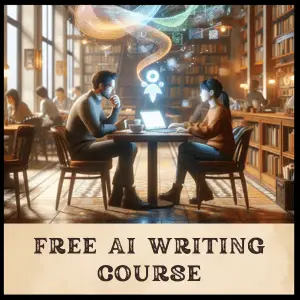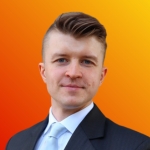 Rafal Reyzer
Hey there, welcome to my blog! I'm a full-time blogger, educator, digital marketer, freelance writer, editor, and content manager with 10+ years of experience. I started RafalReyzer.com to provide you with great tools and strategies you can use to become a proficient writer and achieve freedom through online creativity. My site is a one-stop shop for freelance writers, bloggers, publishers, and content enthusiasts who want to be independent, earn more money, and create beautiful things. Dive into my journey here, and don't miss out on my free 60-minute AI writing online course.