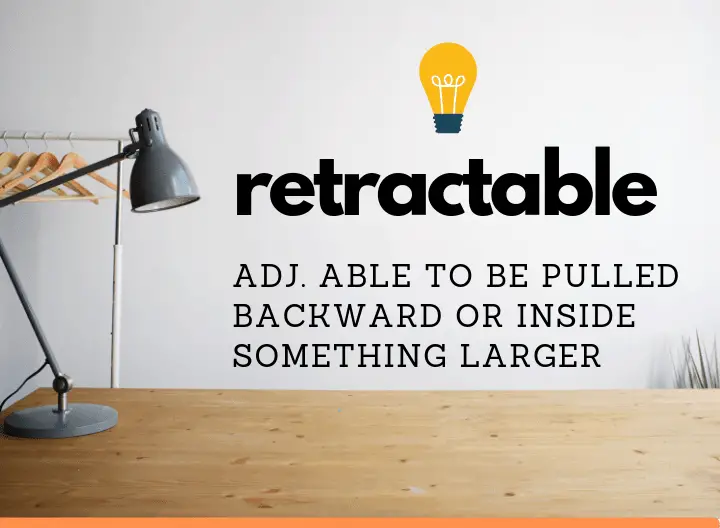 I'm fascinated by home-office gadgets, so now I share this list of the best retractable desks available online.
Each of the items on this list serves a different purpose. In the common version of a "pull-out" desk, you simply take out an auxiliary tabletop, and suddenly you have much more workspace available.
The other type is like a chest of drawers or a storage locker that doubles as a desk. You can transform it into a workspace by pulling the desk from a wall or by unfolding another part of the furniture. How cool is that?
These desks will allow you to:
Save lots of valuable space at your home.
Have a cool piece of furniture that serves two different purposes.
Set up your home office in a unique way.
Have a comfortable place to work without the need for a huge desk or an office room.
And the best thing is that these desks don't have to be expensive. Check the ones on this list and you'll see they're conveniently priced between $70 and $120.
Here are The Top Retractable Desks For Your Home: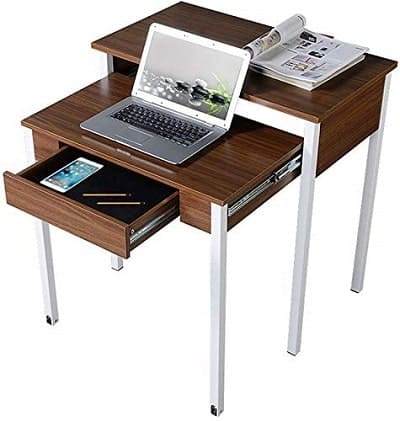 This is probably the most popular type of retractable desk available online, and it's also quite cheap. I call it the "Inception Desk" because it has so many layers.
It's a small desk from the get-go, offering 31.5" by 17.72" of working space. But you can easily extend it by pulling out the retractable part, which will give you 27.95" by 14.72" of the extra working surface.
The main part can hold up to 70 pounds, and it's really sturdy. The auxiliary tabletop can hold up to 30 pounds, and the extra drawer, 4 pounds. It all comes in a nice walnut finish that will serve you for many years. The only disadvantage here is that it's hard to put it together (2 to 3 hours) so keep that in mind.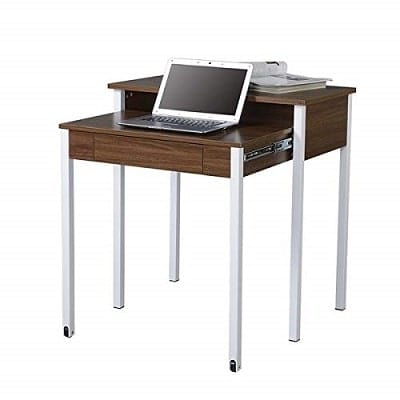 This is another beautiful concept desk that can make a big difference in the design of your home. It comes with a retractable part, which can serve as a place to put a mouse and a keyboard (or books and papers).
And the main rectangular surface, which is slightly elevated, is perfect for a monitor and some small office plants.
It's super easy to pull out the auxiliary part because of the little wheels attached to the bottom of the piece's steel legs. It also has a drawer with ample space for office supplies. It's perfect for a small bedroom that will double as a home office space.
The only thing here is that when you fully extend the desk, there's not a lot of space left to maneuver with your legs. While working, it will be tricky to swing to the right or left and your legs will need to stay in more or less the same position.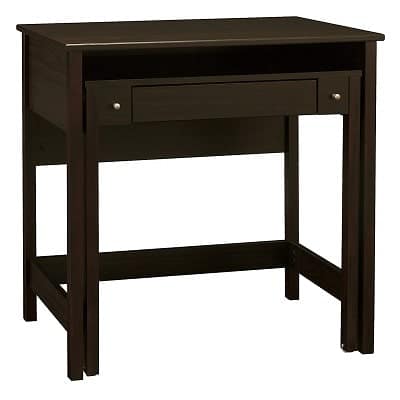 This is a magnificent piece of furniture for users who care about functionality and aesthetics. It's slightly higher priced than the other desks on this list, but it's worth the extra cost.
It has two desk surfaces that will give you plenty of room to work when needed. There's also a nice drawer where you can put your laptop or tablet.
The desk is 33.46" tall and 34.65" wide. It can hold up to 100 pounds, so put whatever you want on top (the retractable part can hold up to 50 pounds).
The legs come with casters (pivoting rollers) so it's super easy to pull out the extra part without ruining your floor.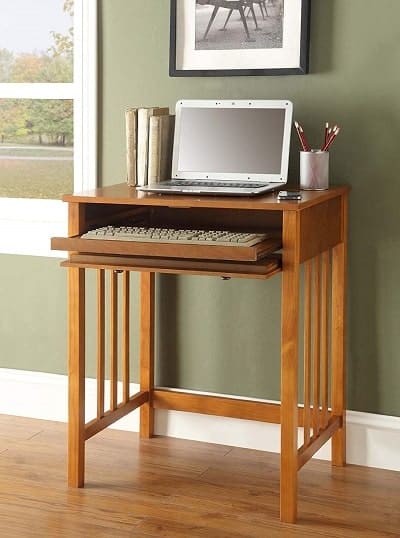 This is a sneaky little desk with a great finish. It enables you to pull out an extra part that will give you space for a keyboard or paper. I call this one "the chameleon" because, at a glance, it doesn't look like a work desk at all.
You can put flowers and books on it, but if you want to use it, you pull out the extra part and you suddenly have a great place to work. This makes it perfect if you need somewhere to work but don't have a lot of space.
The desk is super small (26 L x 18 W x 30 H) so it's probably not the best option for tall people. It's made of particle board but comes with a beautiful, shiny oak finish, so that's fine.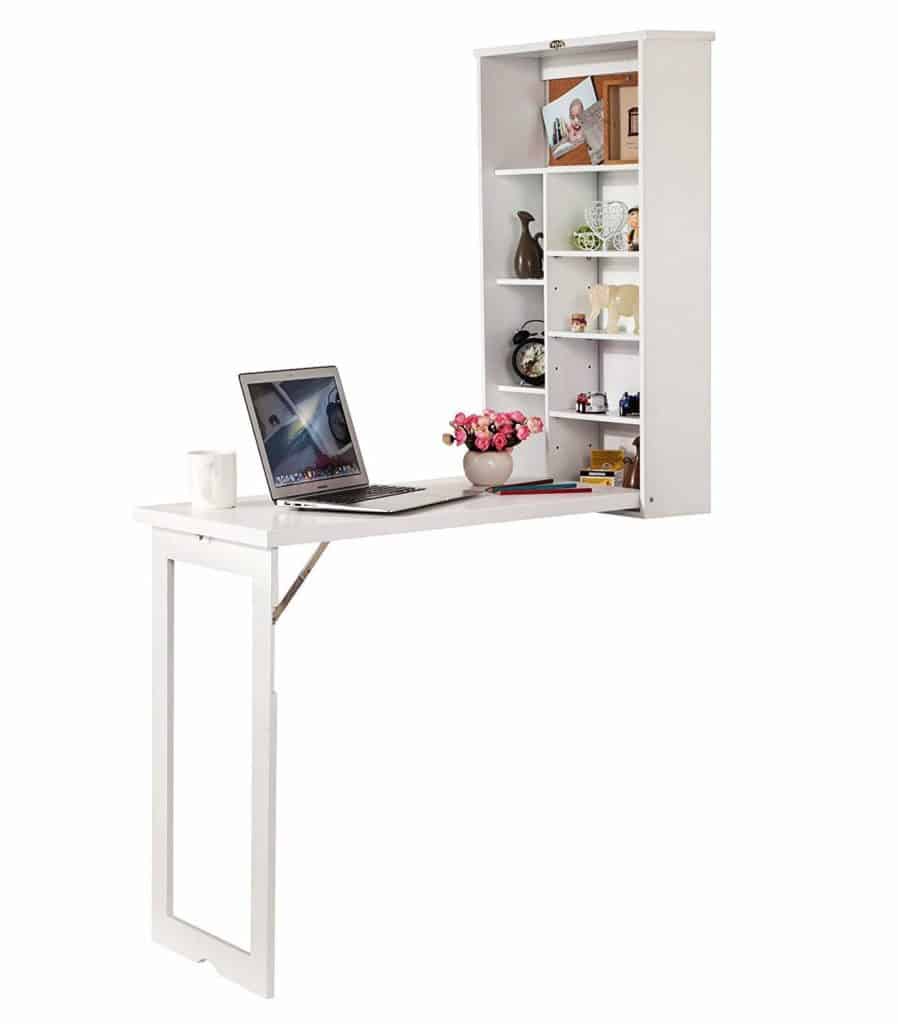 This is another level of ingenuity by the designers. It's a retractable wall desk that will save you tons of space because, in the basic setup, you don't use any floor surface.
In your everyday life, it can serve as a simple storage place. But when you need it, you pull out the desk part and have a nice workspace ready within seconds. Now, instead of working on your sofa or bed (which I don't recommend), you can create a small office almost instantly.
It's made from a durable MDF (medium-density fibreboard) and birch veneer and it's easy to assemble. The only thing is that it supports only up to 15 pounds, so make sure not to put heavy things on it.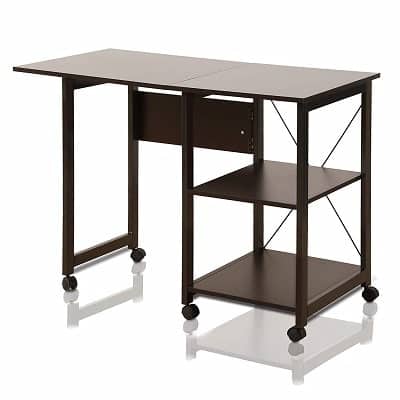 This is a desk with a foldable part that you can use to extend the workspace. In the basic set-up, the piece acts as a small three-level shelf, but you can roll it out (the whole thing is on wheels), and come up with a full-blown office desk.
You can change between the two setups in a matter of seconds as long as you don't put too much stuff on top of it. The best thing is that this item is assembly-free so you'll save one or two hours of your life.
It's made of high-quality wood, and it's really stable and convenient, but it's not as beautiful as some of the other items on this list. Nothing's perfect, right?
Conclusion
There are a lot of great ways to save some space at home. Installing a desk like the one you see above will save at least a couple of square feet of your living space.
This is truly one of the cleverest ways to create a writing space or a small personal office if you don't have a whole room to spare for that purpose.
Rafal Reyzer
Hey there, welcome to my blog! I'm a full-time blogger, educator, digital marketer, freelance writer, editor and content manager with 10+ years of experience. I started RafalReyzer.com to provide you with great tools and strategies you can use to achieve freedom from 9 to 5 through online creativity. My site is a one-stop-shop for freelance writers, bloggers, publishers, content enthusiasts who want to be independent, earn more money and create beautiful things. Feel free to
learn more about me here.