Upgrading your home office now and then is essential to keep you focused on work while improving the aesthetic, comfort, and functionality of your workspace.
So, why not add a bookshelf to keep your important files and books in one place and add a touch of innovation at the same time?
I've reviewed the best home office bookshelves on the market. They offer convenience and functionality and are more than just a piece of furniture standing by the wall. So, with no further delay, let's see what I've bought for you!
Here are the best home office bookshelves to check out right now:
People who want a simple yet stylish bookshelf for their home office will love the Amazon Basics Modern 5-Tier Ladder bookshelf.
It comes with an overall simple look and stays like an elegant piece of furniture in the corner of your home office. The descending design is one of its unique features.
It allows you to keep your important files and books organized without taking up much space in the room. The angled front is my favorite feature of this wooden shelf.
The sturdy material is also an excellent value for money. It has a reasonable price tag, making it worth a try. The only drawback for me is that it requires assembly.
If you have many books to keep but little space in your home office, the Nathan James Theo bookcase will come in handy.
This bookshelf comes with a minimalist design and gives a modern appeal to the room.
The best thing about this bookshelf is that it can hold up to 50 lbs. per shelf. That means you're free from the hassle of taking out large books from the drawers daily.
Whether it's your important files or books you love to read, this bookshelf will keep all these things organized in one place. Each set comes with 5 shelves that give you enough space for keeping decoration pieces and potted plants as well.
It has a solid wooden frame, which I like, as it can accommodate more weight. It gives your home office an innovative look and higher perceived value.
However, since it's made of wood, ensure that it stays away from dampness and humidity.
The Coavas Folding Bookshelf will be the perfect choice for people who move their offices often.
Designed to fold easily, and with no assembly required, this piece is easy to move and stow away when not in use. So, if you don't enjoy spending time assembling a bookshelf, this is a nice option for you.
When talking about the stability of the bookshelf, this one comes at the top as well. Besides the sturdy iron frame, it also has extra support bars at the back and on its sides. With this simple yet handy feature, you don't have to worry about your books falling from the other side.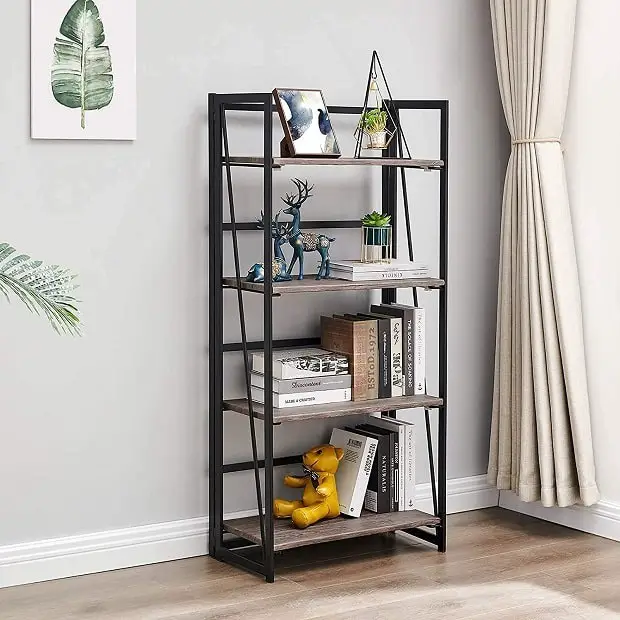 I also like the large space between the shelves. It is ideal for people who need to store large files and books. The height is more than enough to keep books and home and office accessories like photo frames.
The only downside of this bookshelf is that the veneer of the shelf comprises wood contact paper. Apart from that, it can be an excellent value for the money.
People who want a combination of modern and rustic look in their home office will love the design of the Vasagle 5-Tier bookshelf.
This free-standing bookshelf comes with 5 spacious shelves that can hold sundry items. Whether it's your books, important files, or decoration pieces to add some style to your home office, this bookshelf got it.
What grabs my attention in this piece are the back panels on two shelf levels. They help keep small items from falling at the back, and they add aesthetic value to this furniture. Plus, the metal frame ensures stability and keeps your belongings safe.
If I must nitpick about this model, each shelf can only accommodate 44 lbs. Though it's not a big deal to me, it can be a deal-breaker for people who want to keep heavy items on the shelf.
The AWQM ladder bookshelf comes with several minute yet amazing features that offer the best solution.
Like many others on the list, it comes with a durable metal frame and 5 shelves to accommodate miscellaneous office items and personal effects.
It has one unique feature I like. This storage rack has adjustable pads at the bottom that make sure the flooring doesn't get any scratches.
Apart from that, this bookshelf or multi-purpose rack system got a sleek and minimalistic design that'll give your home office a nice and cozy look.
The only hassle for some people is that the top parts of the frame must be mounted on the wall. This also means you cannot move this shelf to another location without leaving holes on the wall that must be fixed.
This stylish bookshelf from IRIS USA is the best choice for people who don't have enough space to keep new furniture in their home office.
It is highly economical because of its unique design. You can use the 2-tier shelf horizontally and vertically, which makes it convenient for small spaces.
The best thing about this bookshelf is its weight-bearing capacity. Thus, you can place heavy books and other belongings without worrying about collapsing them. The sturdy material used in its construction will keep it durable and portable for a long time.
One hitch about this bookshelf is that it might not hold oversized binders or books because of the limited space between the shelves.
Do you love bringing nature into your home office? Well, if that's the case, the Homykic ladder bookshelf is made for you!
It is made from 100% natural bamboo, which makes it super durable, sturdy, and earth-friendly. For an added touch of nature, you can add flower pots to the bookshelf for a more appealing and relaxing feel.
I also like that the shelves have enough space between them to accommodate sizable things. Apart from that, the crossbars under the shelf will provide extra stability and prevent things from falling.
The drawback of this ladder is that it can only carry 33 lbs. of weight per shelf, which is less compared to the other bookshelves on this list. However, it still won't be a deal-breaker.
If you want a larger bookshelf that blends well with the modern interiors of your home office, I recommend the Bestier Geometrical bookshelf.
It has an innovative S-shaped design that adds style and artistic element to the room.
The eclectic combination of metal frame and wood grain-coated boards not only makes it durable but also classy with smooth and easy-to-clean shelves. The feet are also fitted with adjustable leg pads that prevent them from scratching the floor.
By combining all these excellent features, I think this bookshelf has an excellent value for money. However, it might not be suitable for people who don't have enough space to keep large furniture in the room.
Final words
Buying a home office bookshelf for your little space can be an excellent idea to keep things organized while making your office look its best!
This list can help you in your selection and purchasing process. It includes different styles and functionalities to choose from, making it easier to find one that matches your requirements.
Rafal Reyzer
Hey there, welcome to my blog! I'm a full-time blogger, educator, digital marketer, freelance writer, editor and content manager with 10+ years of experience. I started RafalReyzer.com to provide you with great tools and strategies you can use to achieve freedom from 9 to 5 through online creativity. My site is a one-stop-shop for freelance writers, bloggers, publishers, content enthusiasts who want to be independent, earn more money and create beautiful things. Feel free to
learn more about me here.