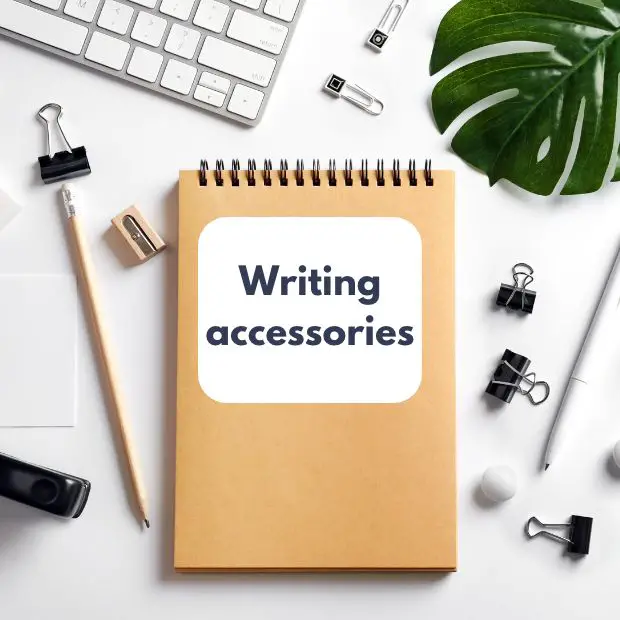 Being a writer is a pretty straightforward job – all you really need to do is sit down, do your research, write, and edit.
No overly complex machinery, no (or few) coworkers to adapt to – the hardest part of writing is getting the creative juices flowing.
But, what if I tell you that there are writing accessories out there that will not only make your job easier but more enjoyable too?
If you're in a rut, you can boost your inspiration for writing with a clever accessory that could motivate you and stir up your creativity.
Here are some of the things I can recommend:
8 Awesome Writing Accessories You Should Consider:
Sometimes, inspiration comes when you're out and about, drinking coffee with friends, visiting enchanting places, or just grocery shopping.
Other times, you may feel like spending just one more minute at your desk will make you go insane.
Whatever the reason, sometimes simply changing the place where you write can do you some good.
For those of us that use desktops, that's not very convenient, so here's another solution:
What if you could turn your phone into a portable writing station?
As someone who makes a crazy amount of typos when texting, this wasn't an option for me before I discovered you can actually get a keyboard you can attach to your phone.
It was definitely a great investment – now I get to write this blog post on the river bank with my feet in the water!
Wrist pain and health problems like carpal tunnel syndrome and even arthritis are prevalent problems among writers.
These issues appear for a variety of reasons, but the most common one is an uncomfortable position of the hand while typing.
You don't necessarily need to feel uncomfortable while typing to have an intensive writing session cause of carpal tunnel syndrome.
It's enough for your wrists to be positioned lower or much higher than your hand while using the mouse and the keyboard.
Unless you have a perfect typing position (with your elbows and wrists leveled with your palms), a keyboard wrist rest is an essential accessory that can keep your writing hands healthy for projects to come.
It will provide soft support to your wrists and level the height difference between the desk and your keyboard.
In case you already feel the adverse effects of long typing hours, a wrist rest will provide instant relief and help you keep typing away pain-free.
3. Dictation Software
While we're still on the topic of wrist pain and other health issues caused by too much typing – there's another way you can avoid them altogether: don't type at all.
It's easier said than done for a writer to avoid the keyboard, but it's totally possible.
Simply speak into a transcription software (like Nuance Dragon or Braina), and watch as the words appear on the screen without ever pressing a key!
All you need are a good dictation microphone or headphones and a transcription software license.
Working from home? Why not take it a step further and work from the couch?
Make your work hours cozier by bringing your work among pillows. Of course, it's hard to do so even if you use a laptop – and especially if you prefer a mouse to a touchpad.
That's why you need something more to make the experience complete.
Laptop owners should check out one of the many laptop desks available for very little money.
These mini desks are just the right size to fit a laptop, a mouse, and a cup of coffee.
What else do you need for a productive afternoon?
Desktop owners might think they're doomed to sit at their desks forever, but that's not really the case.
If you own a TV near your couch and a USB Wi-Fi adapter, nothing's stopping you!
Gift yourself a keyboard and mouse lap tray, hook up your desktop to the TV (or simply move your screen), sit back, and enjoy the comfiest writing experience ever!
Outlining the next article, writing down your grocery shopping list, and planning the week's itinerary all with the same tool? Oh yes!
This combination of magnetic whiteboard and corkboard let you note down whatever's on your mind.
6. Editing Software
Unless you employ a human proofreader, chances are that your work needs checking for grammatical and typing errors.
It's quite simple really – once you've conveyed meaning in your text, it's hard for your brain to read it on the basic, word-by-word level the way you'd read a text someone else wrote.
That's exactly why you need a second pair of eyes on your text before you hit "submit".
Of course, humans are amazing at this, but that's also the more expensive and time-consuming option.
Digital content editing tools like Grammarly, Ginger, and ProWritingAid are readily available, quite cheap, and never take coffee breaks.
However, keep in mind that this technology is rather new, so it's not infallible. It's important to employ our human logic and contextual linguistic thinking when accepting or rejecting editing software suggestions!
I am absolutely brilliant. Too bad most of my world-changing ideas end up forgotten as soon as I step out of the shower.
Well, never again! This waterproof notepad and pen make it easier to share your ingeniousness with the world, even if your best ideas are sparked by the warm kiss of shower water!
I'm not completely sure how it works, but it does. You simply hang this notepad in your shower cabin using suction cups, and you're ready to write any amazing shower thoughts you get.
Are you stuck in a rut and can't get any ideas to practice your writing?
Instead of wasting the whole afternoon browsing Reddit writing prompts (Reddit is a super-fun, time-sucking black hole so click responsibly), you can get an analog creative writing inspiration tool.
The Writer's Toolbox contains 60 exercise cards that will fuel your creativity and a bunch of bonuses that can really inspire that creative spark.
Bottom Line
I created this list of the best accessories for writers hoping to make your life easier and your work more fun and fulfilling.
I personally tried and loved most of these, and I'm always looking forward to suggestions from my readers.
So, if you found something that re-sparked your passion for writing, please do share it in the comments below!
Rafal Reyzer
Hey there, welcome to my blog! I'm a full-time blogger, educator, digital marketer, freelance writer, editor and content manager with 10+ years of experience. I started RafalReyzer.com to provide you with great tools and strategies you can use to achieve freedom from 9 to 5 through online creativity. My site is a one-stop-shop for freelance writers, bloggers, publishers, content enthusiasts who want to be independent, earn more money and create beautiful things. Feel free to
learn more about me here.