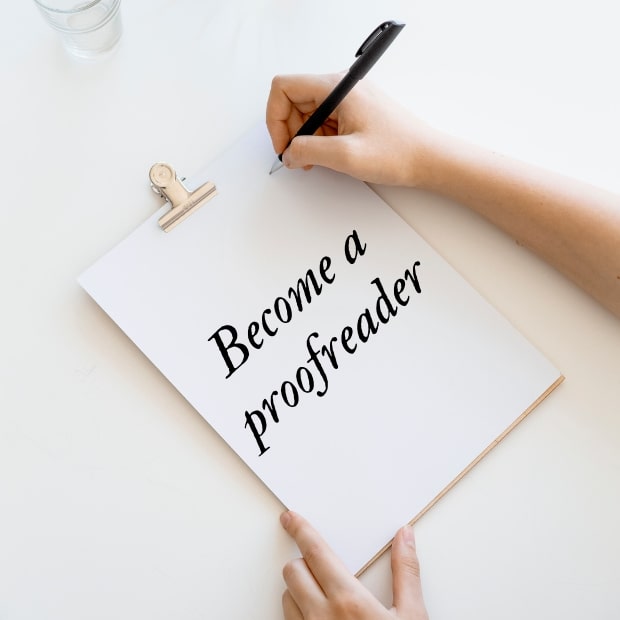 Have you ever thought about becoming a freelance proofreader?
It's one of the best work from home opportunities out there.
You can work from any place around the world, with clients in various industries, and make a full-time income by working part-time.
Sounds impressive, doesn't it? And the demand for your services is enormous.
Just think about it, there are around 1.5 billion websites out there and many of them will pay you for your services. Plus, there are countless magazines, news outlets, and authors that need their content crispy and error-free.
Are you already giddy with excitement? I know I am.
I've been working both as a freelance proofreader and editor for over three years. And in this article, I'm going to show you exactly how to get started, even if you have no experience.
If you learn how to do it right, you can earn $30+ per hour for work that isn't so taxing on your brain. The only thing you really need is close attention to detail.
10 Steps To Becoming A Freelance Proofreader:
1. What exactly is the job of a freelance proofreader?
The main job of a proofreader is to make sure that any content that comes your way is 100% error-free. You get a Word or Google Docs document; you fix it, you send it back.
Your job starts after the content already went through an editorial revision. So you don't deal with sentences and vocabulary (this is the job of an editor – more on that below).
Your task as a proofreader is to make sure there aren't any typographical, spelling, grammatical, syntax, punctuation, and formatting errors.
Have you spotted that botched spelling? The alarm bells should have gone off in your brain!
Common errors you would fix as a proofreader:
missing commas
misspelled words
extra spaces between words
inaccurate facts (dates, names, pages, values)
double-checking links in online documents
checking for consistency in terms of terminology and word usage
changing "their" to "they're" (dealing with other such errors)
making sure that photos and illustrations are correctly captioned and conform to set specifications
fixing basic grammar errors
making sure that page numbers are in the right order
being in touch with writers and editors to determine the composition of the text
including hyphens between compound adjectives
dealing with undercapitalized words (that should be capitalized)
missing symbols in words (Café vs. Cafe)
making sure the chapter headings match the contents table
text formatting
As a freelance proofreader, much of your job will be to keep your clients happy.
This includes keeping the deadlines, communicating swiftly, suggesting improvements in the editorial process, and being available to take on new tasks.
Your contact is likely to be an editor of the company you're working with.
That's it for starters. Now let's quickly shed some light on the difference between a proofreader and an editor.
2. Proofreader vs. Editor
This is an important distinction to understand, so let's clear up any confusion right now.
The job of an editor is to help structure the content, make it easy to understand, and develop a cohesive style within a document.
The job of a proofreader comes right after the editing phase. It's the last phase that the document goes through before being sent out for publishing.
As you can see, as a proofreader, you're the last line of defense against sloppy writing. Make sure that all the i's are dotted, and all the t's are crossed.
Now that you get what the job of a proofreader entails, let's look at some advantages and disadvantages of signing up for the gig.
3. The pros and cons of being a freelance proofreader
Pros:
W

orking as an independent contractor (you pick who you work with, and on which projects).

H

aving time flexibility (you don't need to ask anyone if you want to take a luxurious bath in the middle of the day).

B

eing able to charge per project (instead of working on an hourly wage). Yes, you still exchange time for money, but being paid per job usually means you can earn more.

Y

ou can work from any place around the world as long as you have a laptop and an Internet connection.

L

ow startup costs and tiny cost of operation. There is no storefront needed, but you'll still be able to deduct the expenses for your home office from your income tax.

Y

ou can work with a variety of clients in different industries (more on that later).
Cons:
Y

our job can become quite monotonous after some time.

Y

ou will put a lot of strain on your eyes while looking for errors (that's why it's crucial to take regular breaks).

Y

our clients are likely to hunt you down even while you're on holiday. If you're not willing to complete this new gig that just came in, someone else will).

S

ometimes the deadlines can be tight, and you might need to complete your assignments within less than 24 hours.

T

here's a lot of competition in the proofreading business, so you need to hone your marketing skills as well.
With that being said, being a proofreader is a great opportunity no matter where you live.
You might be based in the US, UK, Australia, New Zealand, or any other place around the world where they speak English. I hope I convinced you to at least try it.
Now let's look at the fun part – the money!
4. How much can you earn as a freelance proofreader
There's a lot of data on the subject, so there's no mystery here. As a freelance proofreader, you can make between $25 and $45 per hour.
There are a couple of crucial factors that will affect your earning potential:
The time you're willing to put in.
Your level of productivity.
The number and quality of clients you are working with.
Your level of experience in the field (and any degrees and certificates you may have).
The niche you specialize in.
Having a constant flow of proofreading jobs, or doing one-off gigs. Always aim for a steady stream of tasks to maximize your income.
If you're a beginner, you are likely to make $15-$25 per hour. But even in your first year, you can earn a full-time income if you position yourself well.
If you have two or three years of experience, you are likely to make $26-$35 per hour.
If you have many years of experience and extra qualifications, you can make $36 to $45 per hour. This seems to be the upper ceiling in terms of pay rates.
You can also charge on a "per word" basis. This might be the right arrangement because it allows you to earn more if you're a productive proofreader. For example, if your rate per word is $0.02, which is quite common, you can make $20 per 1000-word document.
If you put your heart into it and use high-quality proofreading tools, you may do two or even three documents like this per hour. That's $40+ per hour, which is not bad at all.
According to ZipRecruiter, the current average salary of a freelance proofreader is $51,417 per year in the U.S.
On the lower end of the spectrum, it's around $23,000 per year, and if you're an expert (and a workaholic), you may earn up to $90,000 per year.
This is confirmed by PayScale, which says that the median salary in the US is $49.352 per year.
In terms of the hourly average, it's around $25 per hour. This is very similar to the situation in the UK, where, according to the Society of Editors and Proofreaders, that suggested a minimum hourly rate is £23,35.
This is congruent with data from the National Union of Journalists, which indicates a minimum rate of £21 per hour. You can expect similar numbers if you're from Australia or New Zealand.
5. The jobs you can get as a proofreader
As a proofreader, you can work on a variety of kinds of content:
essays
interviews
novels
academic papers
e-books
textbooks
webpages
newspapers
magazines
transcripts
podcasts transcriptions
resumes
press releases
marketing materials
advertisements
legal documents
medical documents
business presentation slides
email newsletters
Since most of the publishing world has moved online, your go-to forms of content are most likely to be web pages, blog posts, e-books. But it depends on which area you want to specialize in.
For instance, if you proofread legal documents, medical research articles, or scientific and academic papers, you're likely to earn more.
6. The main job requirements and crucial proofreading skills
If you scan through dozens of job postings online, you will start seeing patterns.
When it comes to proofreader job requirements, these are the ones that pop up most frequently:
A bachelor's degree in journalism, mass communications, public relations, creative writing, or the English-language.
Writing and editing skills. This means you have to write a lot and read a lot. The constant proximity to the written word is always an asset. Most companies require around two years of experience working with language.
High attention to detail. This is an essential quality you need to develop. You need to be eagle-eyed on your quest to spot even the tiniest mistakes.
Computer skills (Microsoft Word, Google Docs, simple project management tools, grammar editor tools, printers, web publishing savvy).
The basic knowledge of proofreading marks and symbols.
You should also possess the following qualities:
Being able to deal with multiple projects at the same time.
Familiarity with the most popular style manuals (e.g., AP Stylebook, Chicago Manual of Style).
Being interested in the publishing industry.
Being a fast and responsive communicator.
The ability to work under pressure.
Being a fast reader. The faster you read, the more you can earn per hour.
Do you need a degree to get started? No, you don't. It's always great if you have one, but it's not mandatory (unless specifically pointed out in the job description).
If you know how to use the right tools and have experience in the field, your potential clients won't ask for any certificates or degrees.
7. How to find your first clients as a freelance proofreader
If you're a complete newbie, you already have an advantage – beginner's luck. But to break into the field, you'll also need persistence and determination.
To boost your chances of signing up paying clients, you will need a few things:
You can start by doing a couple of gigs for free (for your friends, relatives, or website owners you know). This will allow you to build a portfolio you can show to your prospective clients. This is super crucial because no one wants to hire a complete newbie.
You can try to land an editorial job at a smaller publication or website. By doing this, you will get your feet wet and gain the essential confidence that will come in handy when you approach new clients.
You also need to have a decent resume and cover letter. For obvious reasons, be 100% sure that it's pristine in terms of grammar, vocabulary, and spelling errors. Here's a link to a sample resume of a freelance proofreader, and here's a link to an example cover letter.
Do you have these essential resources in place? All right now, let's get you your first paying client.
The exact process you can use to find clients as a freelance proofreader:
A) Go to one of the popular freelance job boards and employment platforms. These include:
Indeed
Glassdoor
FlexJobs
UpWork
Freelancer.com
LinkedIn
There are many more – just Google it!
B) Apply the right filters in your job search ("part-time," "freelance," "remote," "flexible," + "proofreader"). This will show you only the opportunities you will be interested in.
C) Click through to the specific job offers to find out more about the conditions and requirements.
D) Apply to the jobs of your choice through the contact form or email attached to the job offer.
That's it! It doesn't have to be complicated.
Like most things business, this is a numbers game, so set a quota of applications you will send and stick to it.
Also, make sure that you put the opportunities into an Excel or Google Docs spreadsheet (along with the date, name, comments, and contact info). This will enable you to keep track of your marketing efforts.
Stay persistent, do it enough times, always use a personalized approach, and I guarantee you'll find your first client within a week.
An alternative way to get new clients: Instead of getting freelance gigs through job boards, you might try cold pitching potential clients. Create an Excel database of blogs, websites, and publications in your niche and reach out to them, asking if they need a proofreader. You would be surprised by the number of great contacts you can make with this process.
8. Best places to get training to become a freelance proofreader
The best place to start is to take a couple of online proofreading tests. They will enable you to hone your skills and see where you need to improve.
These tests will also give you a downloadable score, and you can take them multiple times. If you can achieve high scores, this is an excellent selling point when negotiating with prospective clients.
Here are the most popular online proofreading tests you should try:
UK English Proofreading Skills Test (Oxford Guide to Style) by Upwork
Proofreading Challenge by Thomson Reuters
Proofreading Chicago Style Test by ExpertRating
Proofreading Test by SFEP
You may also want to check local colleges for courses in English, English, journalism, and literature. These courses might be invaluable, and they'll help you progress far faster.
Best free online tutorials for freelance proofreaders:
Proofread Anywhere – a free, 76-minute online workshop on proofreading.
Writing Editing Masterclass – Content Editing, Copyediting, and Proofreading – a free, 4-hour long course from Skillshare
Proofreading Power Basics – a free class and practice test from Udemy
Finally, if you want to further your knowledge, you should also read the following books on proofreading:
McGraw-Hill's Proofreading Handbook
Copyediting & Proofreading for Dummies
The Pocket Book of Proofreading: A guide to freelance proofreading & copyediting
The Blue Book of Grammar and Punctuation: An Easy-to-Use Guide with Clear Rules, Real-World Examples, and Reproducible Quizzes
You can get these books by signing up for a free trial with Kindle Unlimited. You can absorb the knowledge they contain within two or three weekends. This will give you much higher levels of self-confidence to do your job.
9. The resources and skills you'll need for proofreading
Office resources needed for proofreading:
To get started with proofreading, you need a decent computer and a fast internet connection.
An ergonomic workstation would also be nice since you'll be spending a lot of time clicking and typing on your keyboard.
That's why, if you want to avoid excessive strain on your back, neck, and wrists, invest in a decent office chair, table, as well as a vertical mouse that will let you work faster.
You can also invest in a USB microphone and a webcam so that you can communicate with your potential clients efficiently.
Finally, you may get a printer with fax, because some ancient clients may ask you to proofread text on paper and then send it back to them. But that's rare these days.
Other than that, just bring your brains and self-discipline, and you're ready to go.
Extra resources you might find helpful:
Skills you'll need to develop to be a competent proofreader:
If you love books, literature, and beautiful font that makes you swoon, you're already halfway there.
But besides this innate passion for language, you also need close attention to detail. You need to be like a falcon, continually scanning the environment in search of prey. In your case, the victim consists of typos, extra spaces, uncapitalized words, and missing punctuation marks, etc.
Most word processors already come with a spellchecker. That's why the copy you receive will already be 95% correct. But it's this remaining 5% that you're after.
I developed such a sixth sense that now I can find a small typo in almost every book I read. Your job is to do the same – be relentless in pursuit of incorrect formatting, and missing commas.
Finally, learn how to read faster. This will help you a lot in the long term. You also need to use the right tools.
10. Tools and software that will make proofreading faster and easier (so you can earn more)
Microsoft Word – MS Word is the tool of choice for the vast majority of proofreaders. "Track Changes" and "Insert Comments" features are especially valuable here because they allow you to communicate with clients.
Some organizations will even set up an Office 365 environment for you. This will enable you to use OneDrive, a cloud storage service where you can proofread content so that the document is updated in real-time. No need for tedious back-and-forth through email.
Google Docs – Google Docs is a perfect collaborative tool usually used by smaller organizations. It also has user-friendly "track changes," "comments," and "revision history" functions.
You can share the same document among a group of collaborators and save changes in real-time. You can also create shared folders on Google Drive, which further improves collaboration.
Grammarly Pro – This is a must-have if you're serious about becoming a freelance proofreader. Grammarly will flag 90% of grammar and punctuation mistakes in any lengthy document.
This is useful for getting rid of the basic mistakes, so then you can start a more detailed analysis of the text. You can get a free Grammarly version, but the premium version which I use is $11.66 per month with an annual subscription.
If you're interested in this tool, you can read my full review of it here.
Hemingway Editor – This is a fantastic tool I use every day to publish my content. It automatically highlights sentences that are too long and eliminates needless words.
Dictionary / Thesaurus – An excellent dictionary is the proofreader's best friend. If you're old-school, you can use a manual one, but I recommend using a free, blazing fast online alternative. My tool of choice is the "OneLook" dictionary, which I have in the toolbar of my browser. It will give you instant definitions, etymology, and thesaurus. It truly is an English language nerd's favorite.
Skype or Slack – Some clients will want to get in touch with you in real-time. They may ask about the latest project you're working on, or hunt you down if you miss a deadline. That's where online chat tools come in. The most popular one is Skype, that's also great for video calls.
The second one is Slack, which is used if you're a part of a larger organization (for example, an editorial or proofreading team).
Are you ready to become a freelance proofreader?
Starting a new endeavor in any field is always scary, but also exciting.
I hope that by reading this article, you've gained enough valuable information so that you're ready to take the first step.
Remember, you can always start on a part-time basis and see if proofreading is a viable career choice for you.
Most remote work superstars start by working only a few hours per week while already earning a few hundred dollars per month.
Then, once you get your feet wet and master the job, you can take on new clients and strive towards a full-time income.
If you found this guide helpful, please leave a comment and share it with your friends on social media. You can also drop me a line if you have any further questions. Good luck!
Rafal Reyzer
Hey there, welcome to my blog! I'm a full-time blogger, educator, digital marketer, freelance writer, editor and content manager with 10+ years of experience. I started RafalReyzer.com to provide you with great tools and strategies you can use to achieve freedom from 9 to 5 through online creativity. My site is a one-stop-shop for freelance writers, bloggers, publishers, content enthusiasts who want to be independent, earn more money and create beautiful things. Feel free to
learn more about me here.