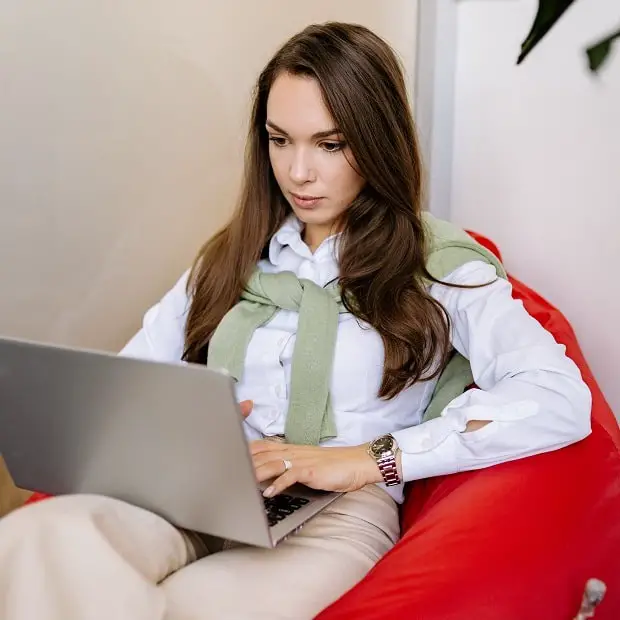 Are you ready to kick-start your career as a proofreader?
How about testing your skills through a free proofreading test?
Taking a free proofreading quizzes will help you improve your editing capabilities rapidly.
Can you take these tests without spending a dime? Yes!
To make things easy for you, I've compiled tests that will help you grasp English grammar rules, and common language errors.
Are you ready to become a successful proofreader? Let's do this!
The 10 Best Free Proofreading Tests Online: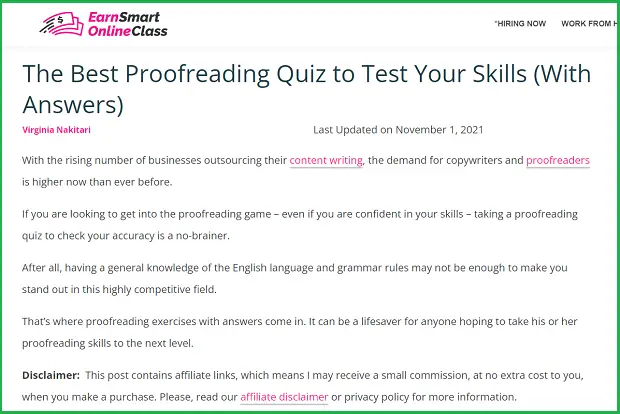 Earn Smart Online Class is an excellent platform for new proofreaders as it offers more than just proofreading tests. The website contains several tips for improving your proofreading skills.
Although the proofreading test is short with a few multiple-choice questions, it tests your capability by asking questions where most proofreaders make mistakes. Thus, you can easily test your proofreading skills through this test.
The good thing about this website is that besides offering an online test, it also provides a downloadable PDF. Thus, you can choose to take the test at your convenience. It also has an answer key to make sure you check your answers as well!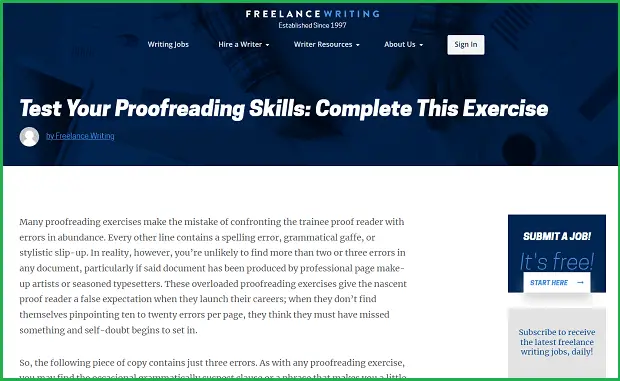 As the name suggests, Freelance Writing is a platform dedicated solely to writers. So, if you're a proofreader, you can get much more from this website.
I really like this test and would suggest you take it as well because it's different from many others. It specifically checks your professionalism on the job.
The test isn't composed of multiple-choice questions but of one paragraph with only a few grammatical errors. This test trains you to check documents written by professional writers as well.
You'll also find the solution at the end, which explicitly explains how it works to help improve your proofreading skills.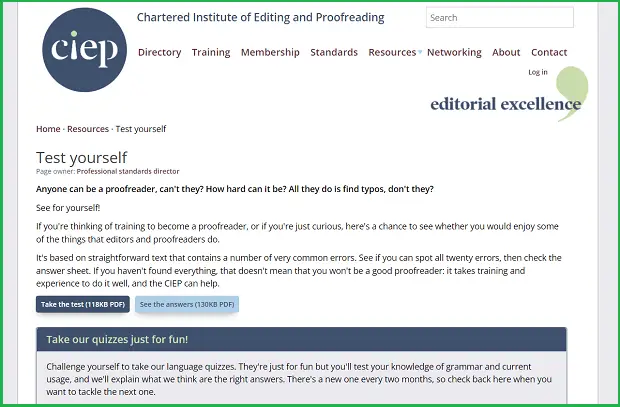 The proofreading test by the Chartered Institute of Editing and Proofreading (CIEP) is perhaps the best choice for people who want to test their copy-editing skills through a credible source.
Unlike many other tests, it contains several multiple-choice questions.
The questions also focus on a broad spectrum wherein you'll have to highlight grammar mistakes, punctuation errors, language use, etc.
The website has 14 quizzes, and you can download the PDF version of the test. You'll also have to download the answer key, which is right next to the quiz.
The best thing I like about this free proofreading test is that it focuses not only on grammar and spelling mistakes. Instead, you'll learn a lot more to help you become a professional freelance proofreader.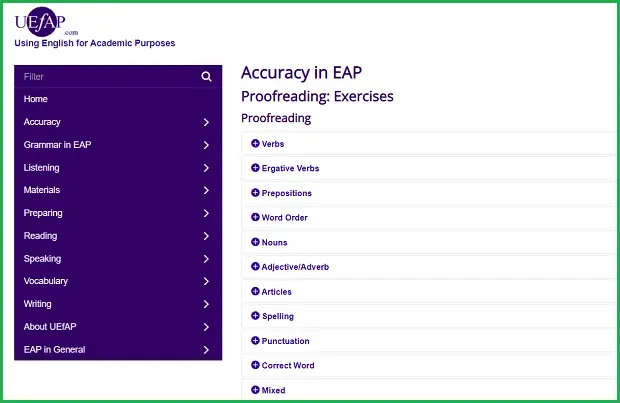 Using English for Academic Purposes (UEfAP) is a credible source with many tips and resources to help you improve your skills in checking copies for errors.
It has several quizzes to test your proofreading skills, which you can take after learning the pointers taught by the site. It enables you to assess whether your proofreading skills have improved.
Another good thing about this website is that it has a wide assortment of quizzes, including punctuation, parts of speech, spelling, word order, etc.
By taking these quizzes, you can have a better grip on various parts of the English language, which will help you a lot in your proofreading career.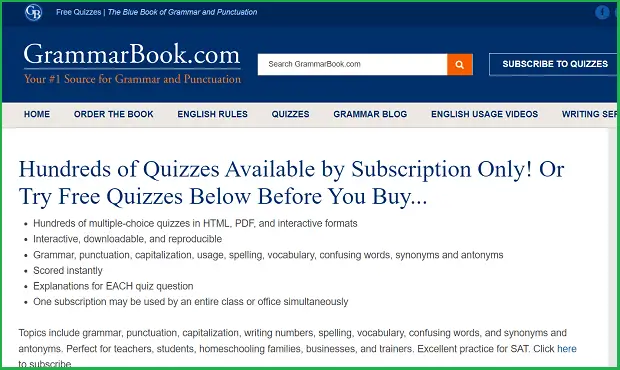 Grammar Book is another excellent website for writers and proofreaders because it contains a lot of tips and information to help boost your skills.
You can find almost everything about English on this website. So, if you want to learn about proofreading and writing, as well as expanding your vocabulary, it can be an amazing resource.
Apart from that, the website has 52 free quizzes and 4 free tests. If you want to access more, you'll have to subscribe.
However, I believe attempting the quizzes and tests is enough to help you improve your English skills. The quizzes are also of different types to help you unlock a broad range of knowledge about proofreading.
Portland Proof is a company that offers proofreading and editing to clients all over the world. This site is quite popular for providing amazingly professional services.
As this company is a provider of proofreading services, we can rely on it to give us a better insight into doing this job. That's why it has also designed quizzes and tests to evaluate your abilities.
It offers different quizzes, each of which contains ten questions. You'll have to check the mistake, and the next question will appear after attempting the one already on the screen.
Attempting this test can be an excellent way to improve your proofreading skills.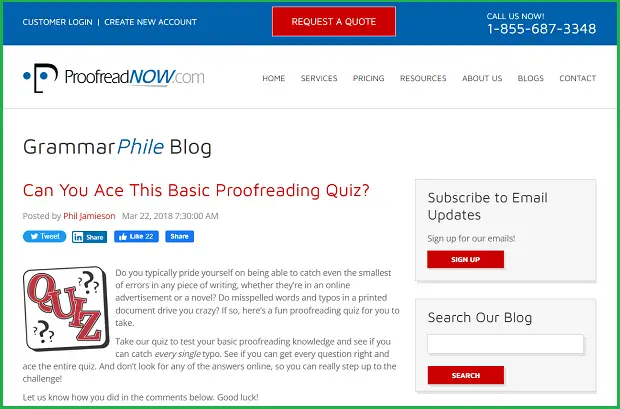 ProofreadNow.com is an excellent platform for both beginners and professional proofreaders. However, this quiz can be tough because it challenges you to spot the tiniest mistakes.
Their meticulous method is excellent for testing your proofreading skills. That's why professional proofreaders can also try it to polish their skills even more.
The quiz consists of 10 multiple-choice questions, and it won't take much time to solve them. However, you'll have to rack your brain to spot and point out the tiniest mistakes.
The quiz starts as soon as you select the first answer, and it'll go on from there. Another thing, there is no do-over once you answer, so you have to think hard before solving.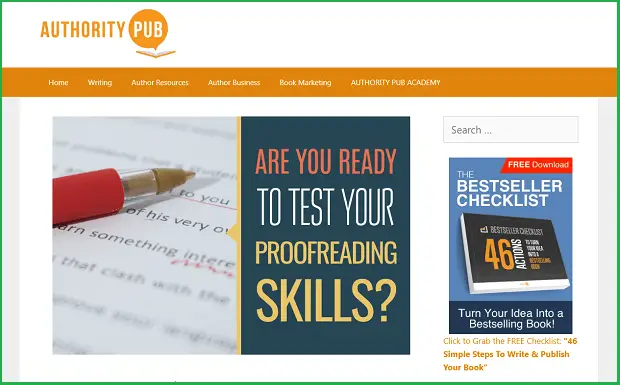 If you want to take a shot at really challenging tests to polish your proofreading skills, I recommend you try the tests made by AuthorityPub.
The site provides you with amazing tips and tricks to improve your proofreading skills before you attempt to ace the quiz. It then offers the option for you to take the quiz to check if you've understood the guidelines.
There are a lot of paragraphs for you to proofread and highlight the mistakes. After taking the test, you can check the answer key at the end.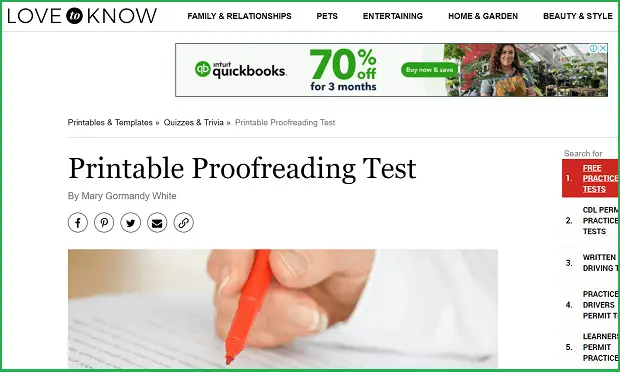 Love To Know is another free online proofreading test that I liked a lot.
The test itself is moderate, and the best thing about it is that it's printable. This feature makes it easier for people who find it difficult to underline and highlight mistakes on the screen.
This test won't tell you the number of mistakes in the document beforehand. It's your duty to fish them out. This method is amazing because when clients give you documents to proofread, you will not be told about the number of mistakes as well.
So, attempting this test can be an excellent way of getting some practical experience.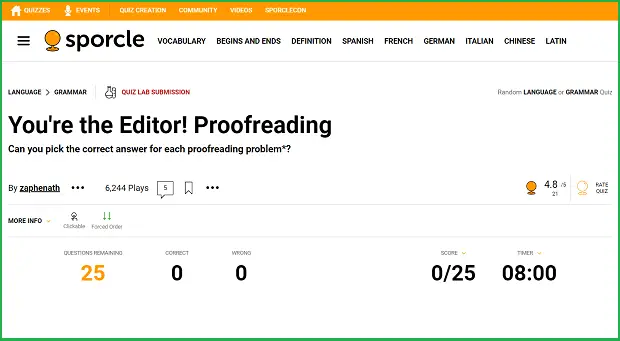 What draws my attention to Sporcle's proofreading test is that it has 25 questions and is much longer than standard proofreading tests.
Also, unlike many other free proofreading tests, you only have a fixed time of 8 minutes to solve all 25 questions. So, it also helps develop your reading comprehension skill.
It seems more difficult to solve because of the time pressure. As for the multiple-choice questions, the difficulty level varies as you go along. You'll have to find the mistakes in each question and click the correct answer as the time ticks away.
Conclusion
Proofreading takes more than just spotting grammatical and spelling errors. You must be eagle-eyed in identifying even the smallest punctuation mistake.
Sometimes, you even have to do quick fact-checking to ensure the veracity of each sentence before publishing.
Taking a stab at a free proofreading test can be an excellent way to improve your English language skills and easily spot misspelled words or missing punctuation marks.
Taking these tests repeatedly and improving your results will make a positive impression on your employers and perhaps even help you start a proofreading business.
The best thing is that you can complete these quizzes at no extra cost. Later on, you can try a course for professional editors that will let you obtain certification and take your skills to the next level.
Rafal Reyzer
Hey there, welcome to my blog! I'm a full-time blogger, educator, digital marketer, freelance writer, editor and content manager with 10+ years of experience. I started RafalReyzer.com to provide you with great tools and strategies you can use to achieve freedom from 9 to 5 through online creativity. My site is a one-stop-shop for freelance writers, bloggers, publishers, content enthusiasts who want to be independent, earn more money and create beautiful things. Feel free to
learn more about me here.