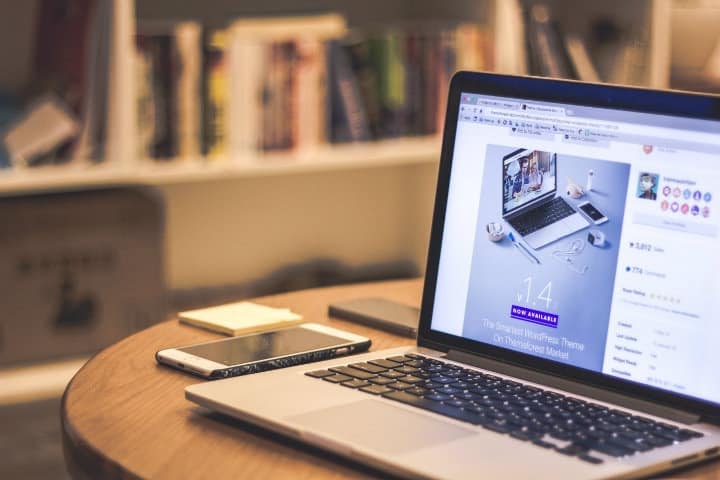 It's time to bring your writing skills to a higher level and maximize your productivity, efficiency, and the quality of the work you put out.
If you don't want to be left behind, heed the advice which follows. You're not going to be replaced by AI software anytime soon. But you should take advantage of the newest technologies which can turn you into a high-tech-high-touch writer.
In this article, I'll tell you about the best tools you can use to:
Get your copy automatically checked for spelling and grammar
Keep your sentences shorter, punchier, and impactful
Avoid passive voice, adverbs, and junk words
Double the amount of content you produce every day
Collaborate with other writers, editors, and online coaches
Source data in a better way
Here are the best tools for professional writers:
1. Grammarly
You can install Grammarly as a Google Chrome Extension. It will crunch any text you wrote (or write in real-time) and correct your embarrassing spelling, punctuation, or grammar mistakes. You can turn it on and off with a click of a button so it's really handy. It's especially useful for email communication and text editors without an automatic spell-check. You can go ahead and get the basic version for free. If you want some more advanced features like plagiarism checks, additional corrections, and customized checks, you can get the premium plan for around $10 per month.
2. Hemingway App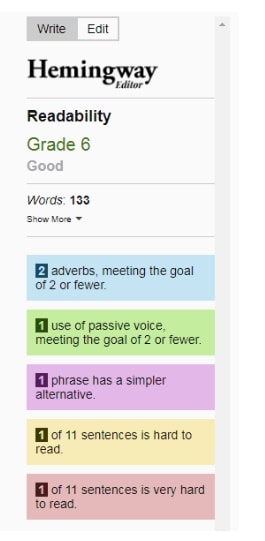 This is a tremendously useful free app you can use to make anything you write more readable. Hemingway was known for his punchy sentences that speak volumes:
"There is nothing to writing. All you do is sit down at a typewriter and bleed."
Now you can emulate this style and become a better writer by crunching your copy through the app. It will give you:
A Flesch–Kincaid readability score (0 – super unreadable, 10 – super readable). Word count
Suggestions for making your sentences easier to read
Suggestions for deleting adverbs, qualifiers, and avoiding passive voice
3. Feedly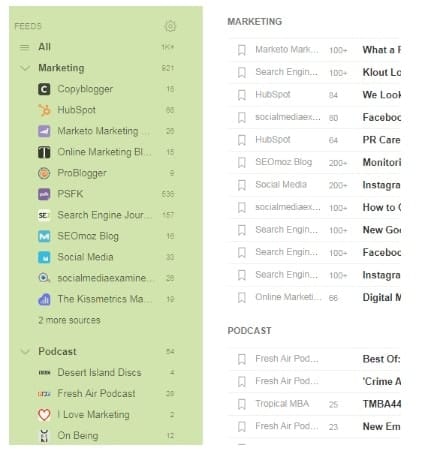 This impressive free browser extension will put all your favorite blogs and podcasts in one, neatly organized place. In other words – it's a perfect tool for collecting data and informing yourself about the relevant industry information. Instead of checking your favorite websites separately and getting distracted by ads and clickbait, you can see all the best content syndicated in one place. It allows you to create neat categories, save things for later, apply filters, collaborate with other readers, and even save content to Evernote or share it through social media.
4. Anymemo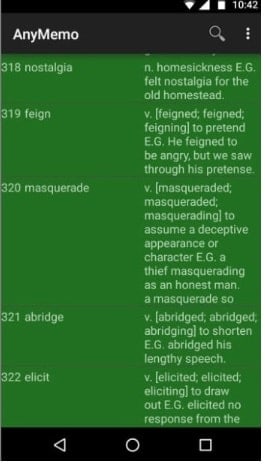 This app is one of the best tools you can use to dramatically improve your vocabulary. Words are the tools of the trade for every writer, so make sure you don't find yourself scrambling for the right one. Knowing your vocabulary will make you a more precise and effective communicator and Anymemo is a great tool you can use to cram hundreds of sophisticated words and remember them almost forever. The app has a huge database of advanced words which you can absorb using flashcards and the spaced-repetition method. I've used it to learn over 5000 complex words.
5. One Look – All-in-one Dictionary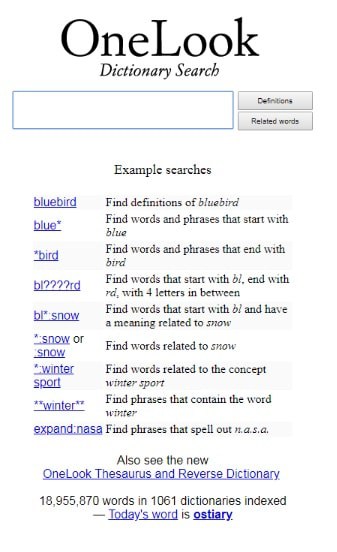 Writing is a process of struggle with meaning. Sometimes you just don't have the right word for what you're trying to say. You also need synonyms, examples of usage, etymology, and definitions of the words you're using. One Look is an all-in-one free tool that solves these needs quickly and without hassle. Just type in any English word in it, and it'll spew out everything there is about it. I just love to stare at the richness of the English language. One word has a thousand uses. Related Article: 10 Best Online Thesauruses for Writers
6. Evernote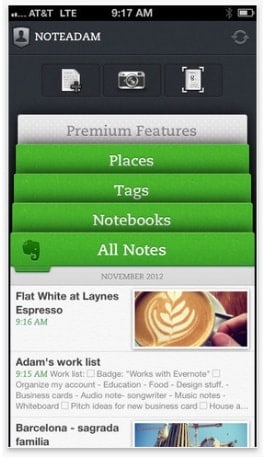 Evernote is the most advanced note-taking tool available online. It can become the hub of your creative projects and a true record of your creative endeavors. Except for the neat desktop version, it's also available on Android and iOS so you can access your data everywhere. It has a great clipping tool that allows you to take instant screenshots of anything you find online. It allows you to upload audio, video, images, and articles and then share them with your team and across many different platforms. It has a powerful search feature that will help you find even the remotest of notes.
7. Google Keep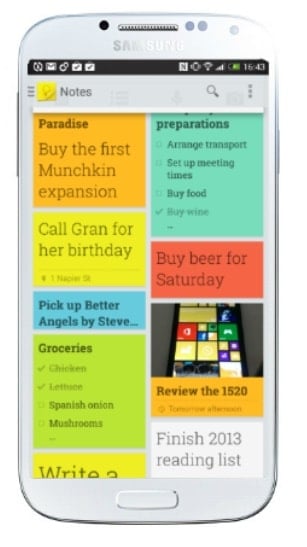 When you sit down to write, you want to get your first draft on the page ASAP. Writers devised numerous ways to procrastinate. The fact is that you don't need to do more research, read that other article, or just set some background music. No, the goal is to stop postponing your task and start writing. That's why you need a good text editor that will keep your mind on the task at hand. I like using Google Keep because of its simple interface and the ability to sync my articles across different devices. The autosave function also comes in handy. The other tool you can use is FocusWriter which will eliminate all the distractions from your view, and let you set daily writing goals to keep you motivated.
8. Coach.me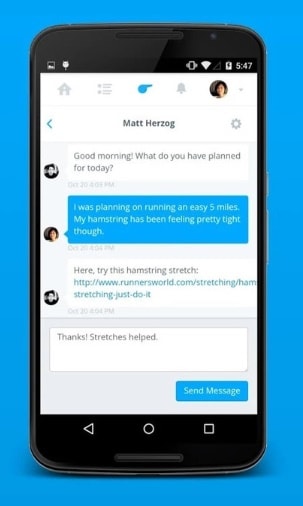 Vocabulary, style, grammar, story, characters, and research aren't your biggest problems. Producing a daily word count is. Writers are endless procrastinators and often they'll wait until the last moment to complete their freelance assignments. You can avoid this stressful mind-trap, by developing a simple writing habit. Coach.me is one of the best free apps for doing that. It allows you to set a daily writing goal, and then share it with other like-minded people who will cheer for you. If you write at the same time every morning and then log your success into the app, soon you'll develop a writing habit and it won't be so hard anymore. Additionally, you can hire a virtual coach for as little as $15, who will motivate you to reach your writing goals.
9. Pomodoro Tracker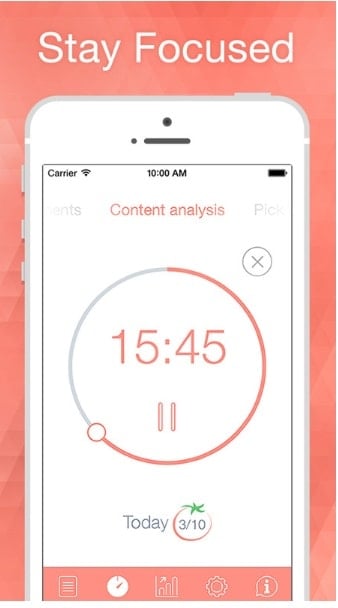 I've found that setting a timer for a specific activity (like writing) helps me to focus and get things done at a higher speed. You can use the Pomodoro Tracker, the Online Stopwatch, or even an old-fashioned hourglass to measure the time you're spending on writing. By looking at the time ticking away, you'll become much more mindful of distractions, and you'll attack your task with renewed energy. Your session could look like this: 50 minutes, 500 words. Ready, set, GO!
10. Basecamp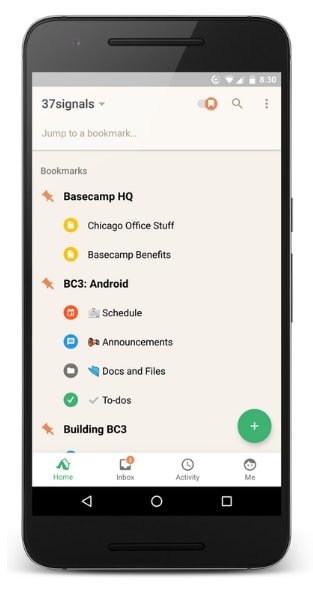 Most of the writing comes from the sweat and tears of the writer. But at some point, someone else has to take a look at your work to give you feedback and make sure it's publishable. That's where collaborative project-management tools like Basecamp 3 come into play. Basecamp lets you look at each writing task in a process-oriented way. You need the first draft, then the second draft, then the edits. If you're writing for the web you may also invite graphics people, SEO people to add keywords, and the PR guy to check for any contentious issues. Basecamp 3 is a fantastic tool for this kind of collaboration.
11. FreshBooks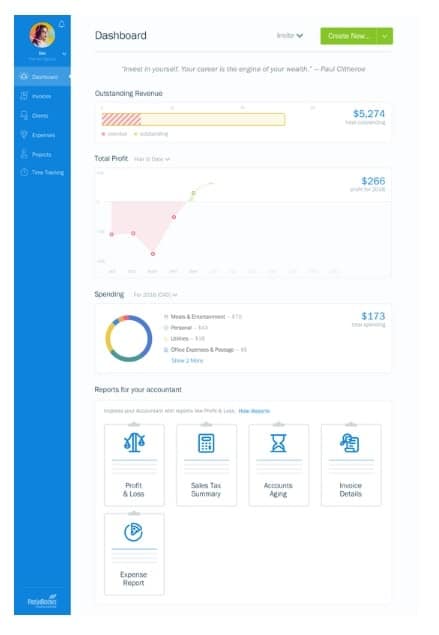 If you're in the freelancing game, you need a powerful tool for keeping track of all your earnings and expenses. Most beginners use a simple spreadsheet for that, but this can quickly lead to chaos and not getting paid for all the projects you've completed for the client. FreshBooks is a tool that solves this issue beautifully. It allows you to generate custom invoices that will wow your clients. It will send payment reminders on your behalf. And it will even let you easily give discounts to your most loyal clients. That's just the tip of the iceberg. You can learn about the full feature package here.
12. Upwork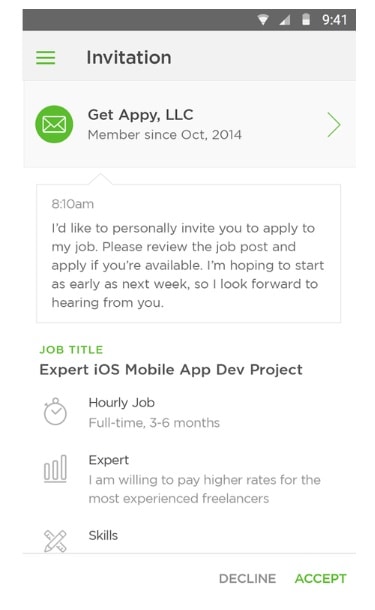 If you're just starting in the world of freelancing, you need to get these first jobs going fast. Before you sign up with some high-ticket clients who'll pay you $200 per writing job, you may take a look at a platform like Upwork. It's a marketplace where people publish tasks they want to be accomplished, and then the freelancers bid on them and ultimately one of them gets hired. It's a great way to learn the freelancing game, and with time, earn some good money. The key is to create an attractive profile, and then get ongoing projects from multiple clients. If you're good, you can make $5k+ per month on this platform. Now it's your time to get your high-tech writing gear on and step out into the unknown realms of creativity and professional accomplishments. Thanks for reading, and remember – you can become anything you want in life – as long as you're willing to pay the price.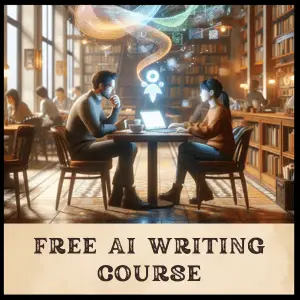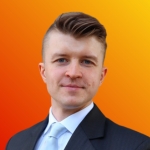 Rafal Reyzer
Hey there, welcome to my blog! I'm a full-time blogger, educator, digital marketer, freelance writer, editor, and content manager with 10+ years of experience. I started RafalReyzer.com to provide you with great tools and strategies you can use to become a proficient writer and achieve freedom through online creativity. My site is a one-stop shop for freelance writers, bloggers, publishers, and content enthusiasts who want to be independent, earn more money, and create beautiful things. Dive into my journey here, and don't miss out on my free 60-minute AI writing online course.