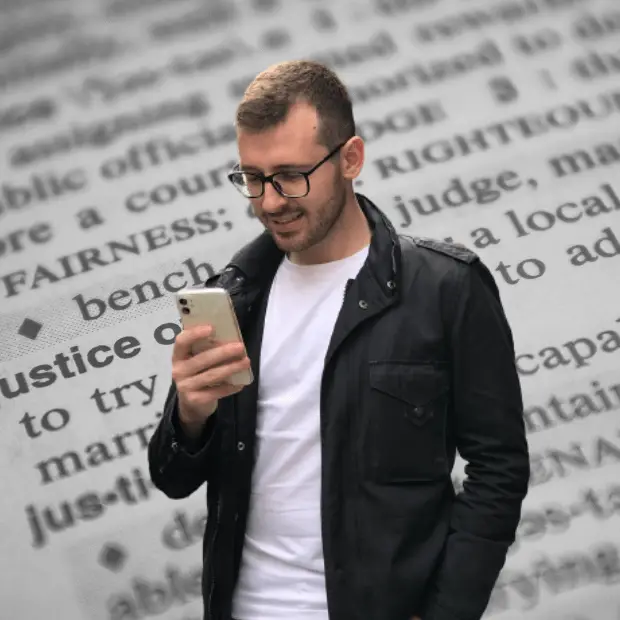 Boosting your vocabulary doesn't just make you sound smarter—it can fatten your wallet too!
Studies show a richer vocabulary can increase your income. If you're aiming to elevate your writing or just find that perfect synonym, online thesauruses are your best buddies. Dive into our curated list of the top online thesauruses tailored for wordsmiths like you. Ready to unlock richer prose and poetry? Let's go!
The 10 Best Online Thesauruses for Writers: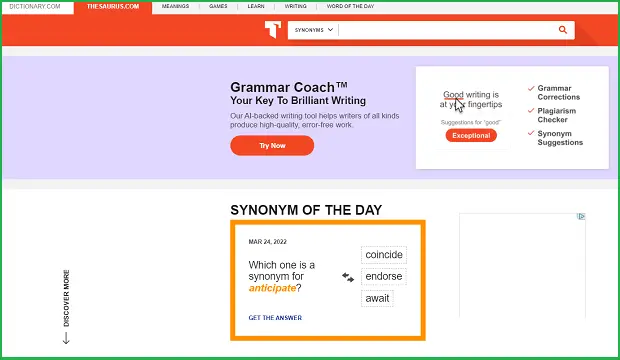 This is more than just a thesaurus. This is the world's largest database of synonyms and antonyms. It can help you find the word that is on the tip of your tongue, but you cannot seem to recall. It can also help you find a better alternative for a word you already have in mind. This is the oldest and most trusted online thesaurus for over two decades. This is the world's leading source for synonyms and antonyms. It also features new words, definitions, and origin stories every day of the week to help you improve your vocabulary. The site is free to use and doesn't require a membership.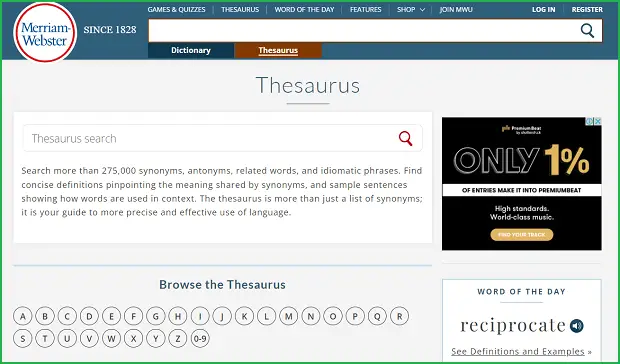 Merriam-Webster is America's most trusted online dictionary for English words, definitions, and meanings. Their thesaurus also contains a massive collection of synonyms and antonyms. It is similar to Thesarus.com, but the generated results are in a different format. This website is a full-fledged dictionary that gives you meanings, definitions, similar words, synonyms and antonyms, example sentences, and more. Apart from the thesaurus, the site also features games and quizzes. Merriam-Webster also has an app for both Android and iOS devices.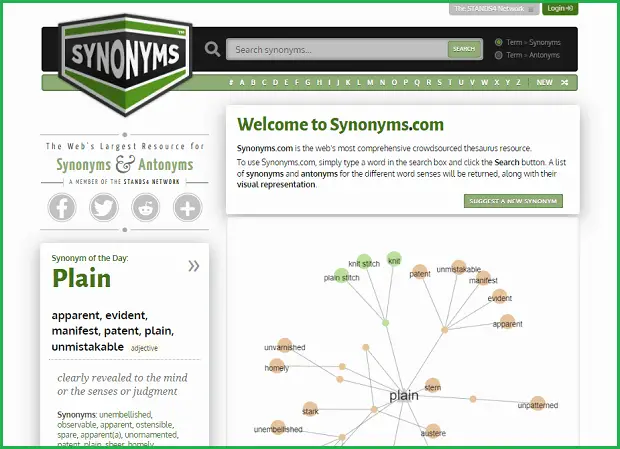 This is a free online thesaurus and one of the web's most comprehensive crowdsourced educational resources. You simply type a word in the search bar, and you get a lot of related information, including synonyms and antonyms, along with their visual representation. The synonyms are also hyperlinked, which again leads you to everything there is to know about that word, including its proper pronunciation. You may also opt to hear how that word is uttered in different accents. That would be fun, isn't it? This is one unique and resourceful go-to tool every writer should have.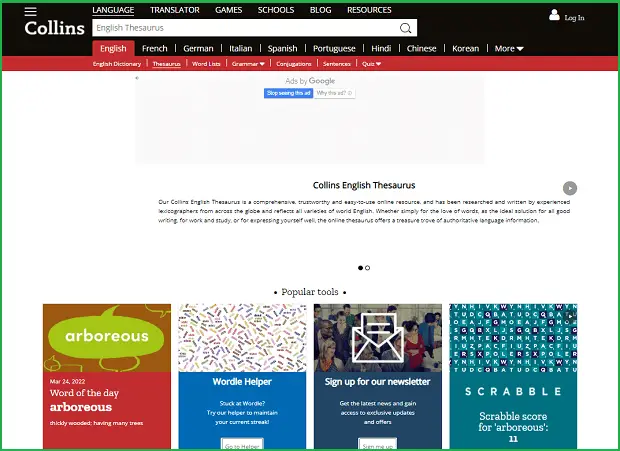 The Collins English Thesaurus is quite like Merriam-Webster's version, in the way it shows results. It's an easy-to-use online resource and the most comprehensive combined English Dictionary and Thesaurus available on the web. It's a great tool for writers who like to think one step ahead. You type a word in the search bar and it instantly displays results with definitions, similar and opposite words along with their pronunciations in British and American English. It also includes a video demonstration of the pronunciation of that word at the bottom of the results. It also has a translator.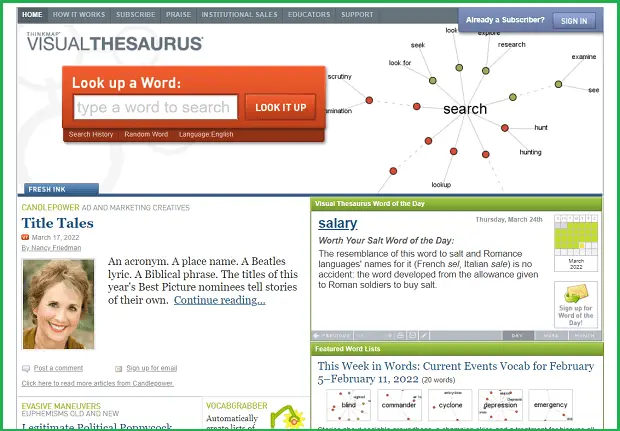 Visual Thesaurus is an interactive dictionary and thesaurus that creates captivating word maps. The results are beautifully displayed at the center of the screen with related words branching out from it like a tree. And with over 145,000 words in its database, it's a virtual world rainforest! Its unique presentation encourages exploration and learning. It is a paid tool, and you need a subscription to use the thesaurus. It offers a free 14-day trial, though. With a subscription, you can see concise definitions and examples of words, analyze the vocabulary, get access to the online magazine, and play Spelling Bee.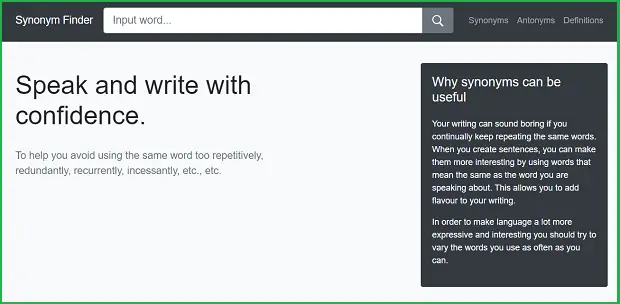 Synonym Finder is a simple yet effective online thesaurus that displays visually appealing results, like Visual Thesaurus. You type a word, and you get hyperlinked words with their definition, usage, similar words, and a graphic representation of the word connections. It isn't as comprehensive as other online thesauruses mentioned above but offers a neat user interface that is easy to navigate. The visual tool with the color-coded connections surrounding the word is a nice touch. If you're looking for a simple online thesaurus without the extra bells and whistles, you can surely go for this one.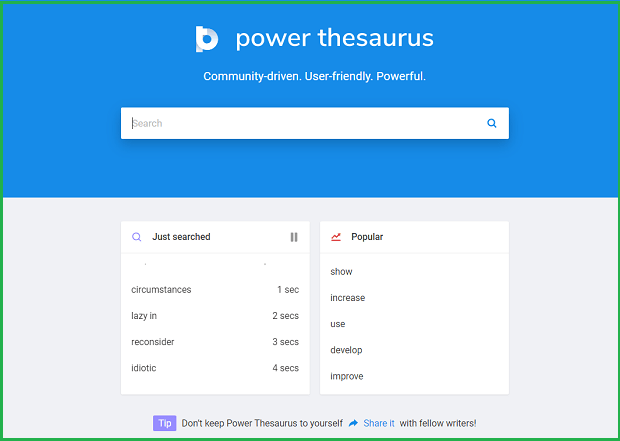 The Power Thesaurus is an excellent tool for those who realize the power of English vocabulary. It is a leading community-driven online thesaurus program for writers. This is one of the best synonym finders that also gives you antonyms, definitions, and examples of each word, along with their pronunciation. This is a free and easy-to-follow tool that filters synonyms and antonyms by parts of speech or topics. The powerful assisting tools make this tool even more comprehensive. The community is constantly growing, thanks to the collective power of its users and the editorial team.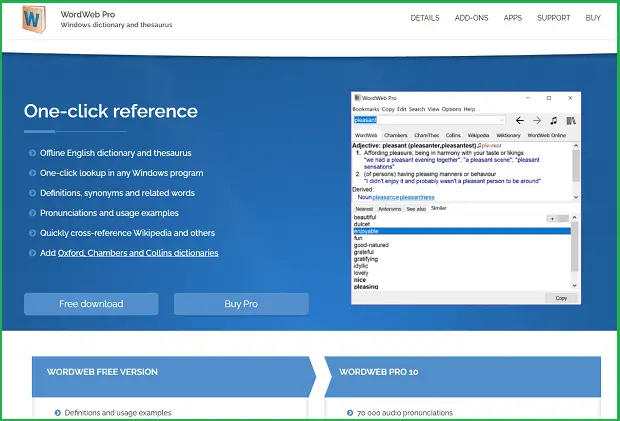 WordWeb is a one-click international English dictionary and thesaurus program for American, British, Australian, Canadian, and Indian English. It is fully functional and free if you meet their licensing terms. It includes pronunciations and usage examples. You can look up words in virtually any program with a single click. You just have to hold down the Ctrl key and right-click on a word you want to look up and you're good to go. It will show definitions, synonyms, and related words. One more click and you can search for web references if you're online. Overall, it's a perfect app to play with words.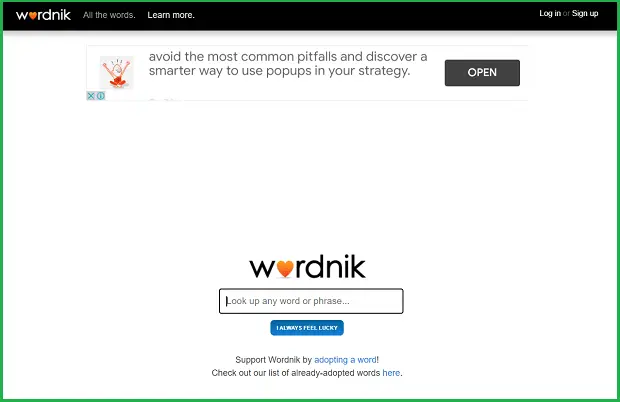 Wordnik is a non-profit organization that offers the world's biggest online English dictionary and thesaurus content, based on word count. Wordnik scours the web and finds relevant sentences that illustrate the meaning of new words and also recommends other web pages with similar content. It uses as many real-life example sentences as possible to define a word. Wordnik is a highly accessible online dictionary with millions of easily searchable words. It gives you definitions and etymologies from multiple sources and presents several sample sentences from various internet sources, including blogs and news websites. It is a valuable resource for writers and English language enthusiasts alike.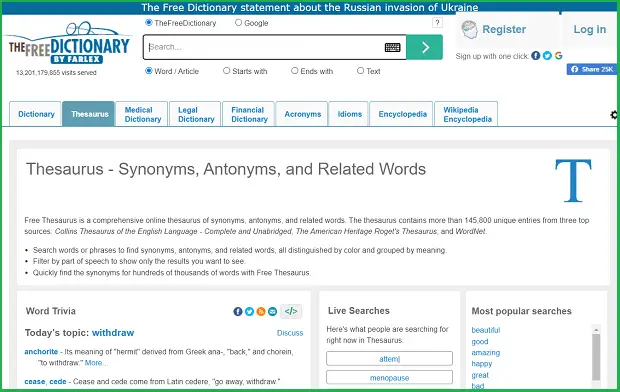 The Free Dictionary by Farlex is a free online dictionary, thesaurus, and encyclopedia that gives you your desired results by aggregating information from multiple sources. The Free Thesaurus is a comprehensive online thesaurus that contains over 145,000 entries from top sources. It also allows you to look for a word in different domains, like finance, law, and medicine. You can search for words or phrases to look for their synonyms, antonyms, and related words. All of which are beautifully color-coded and grouped by their meanings. You can also filter them by part of speech to aid you in your search. This thesaurus is free to use and is a handy tool for finding idioms, acronyms, and meanings of words — all in one place.
Final Thoughts
Gone are the days of carrying those voluminous thesauruses. The digital age and the proliferation of the Internet have made it possible to look up synonyms of words with the click of a mouse. Online thesaurus programs provide instant access to a list of similar and alternate terms for your queried word, covering everything from its meaning to definition, related words, and more. You can use any of the above-mentioned websites to find synonyms of words with ease. Try each of them to find out which one will help you get the most out of your writing.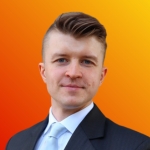 Rafal Reyzer
Hey there, welcome to my blog! I'm a full-time blogger, educator, digital marketer, freelance writer, editor and content manager with 10+ years of experience. I started RafalReyzer.com to provide you with great tools and strategies you can use to achieve freedom from 9 to 5 through online creativity. My site is a one-stop-shop for freelance writers, bloggers, publishers, content enthusiasts who want to be independent, earn more money and create beautiful things. Feel free to learn more about me here.