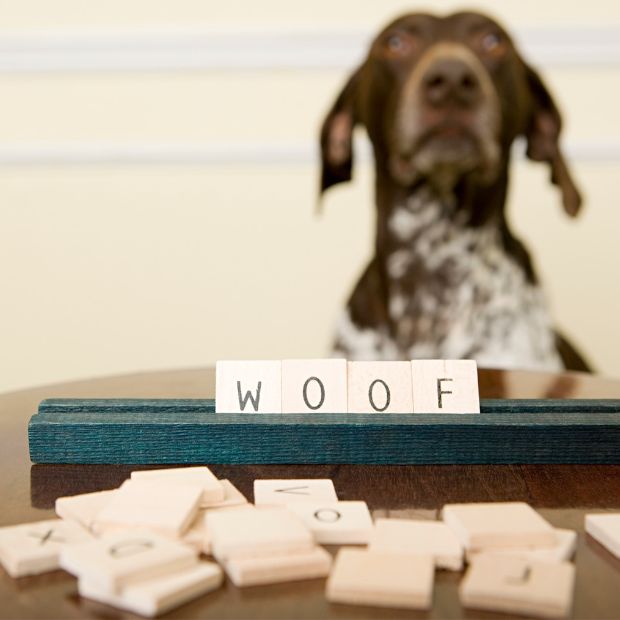 Evelyn Waugh hit the nail on the head when he said our vocabulary needs nurturing, or it fades away.
Looking to sprinkle some magic dust on your word bank? Well, I've got the perfect solution: an exciting collection of word games designed to enhance your vocabulary! Dive into these games without the worry of judgment, and trust me, they're more popular than you think! Word games are set to generate up to $2.678M in revenue this year in the US. So, ready to play and learn? Let's explore the top word games that'll supercharge your lexicon!
10 Best Word Games to Improve Vocabulary:
1. Word Crush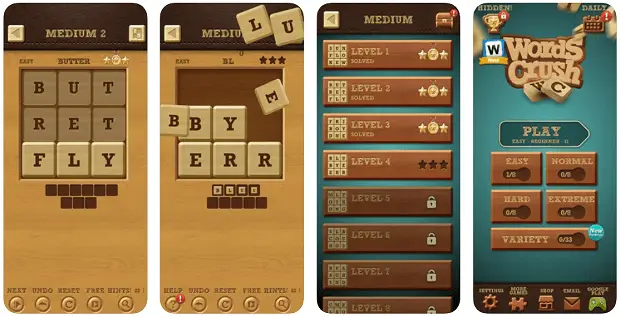 If you like playing Candy Crush, this is one game that you'll surely love. The game is simple. All you must do is swipe and match letters to crush the word. You can move in any direction to find the word. As a hint, the app reveals the word size below the grid for the player. Clues are available to help you progress to the next level. There are 5 modes in total that you can unlock. You must try to crush words with minimum swipes to collect medals. Available for iOS & Android.
2. Words With Friends 2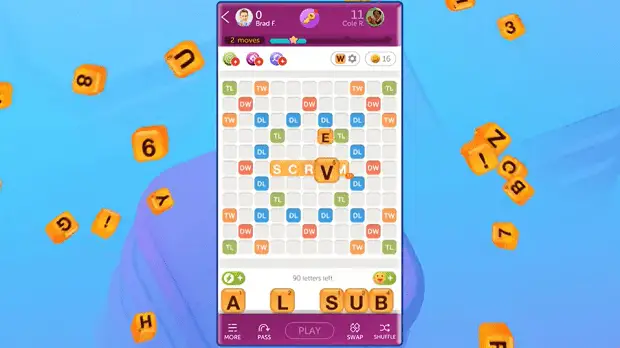 This is a smart multiplayer word game, where you unscramble letters to un-jumble words and train your brain. Indulge in the world of words and experience playing a board game and crossword puzzle but in the form of an app! You get to expand your vocab and improve your spelling skills. You can challenge your friends for a game or use the Smart Match to auto-find an opponent. This is a free word game. In case you want to disable ads, you can buy the "pro" or "no third-party ads" version. Available for iOS & Android.
3. New York Times Crossword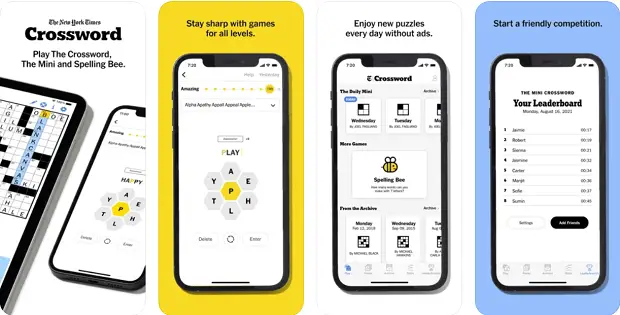 This game brought to you by the New York Times is available either for your Android or iOS devices or on a web browser. This is a world of crosswords, which will help boost your problem-solving skills. You can also choose to play puzzle packs on specific subjects, while mini puzzles are available for a quick game. The app offers different levels to help you improve your skills steadily. Be it Crossword or Spelling Bee, there is a word game here for every player. The app offers a 7-day free trial period, after which you need to get a monthly or yearly subscription. Available for iOS & Android.
4. Vocabulary Builder by Magoosh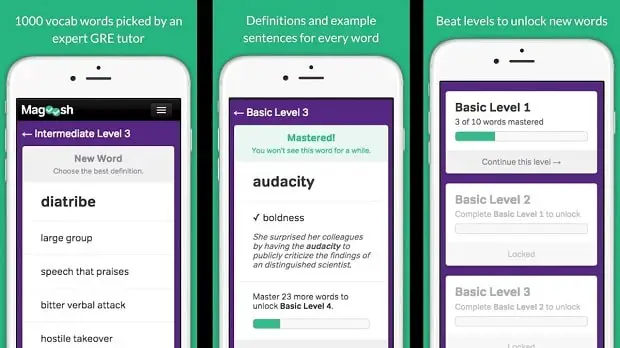 For students preparing for exams such as GRE, this free game is a great supplemental reviewer. You can play quizzes every day to learn the 1200 most significant words on the GRE test. They also offer an audio pronunciation tutorial for every word with definitions and example sentences. With this app, you have free access to Magoosh's general, GRE, TOEFL, and SAT vocab quizzes. Though the app focuses on helping people who are preparing for big exams, anyone willing to improve their vocab can benefit from this. Different word levels are available here, and you can play with other players to guess the correct word definition too. Available for iOS & Android.
5. Wordfeud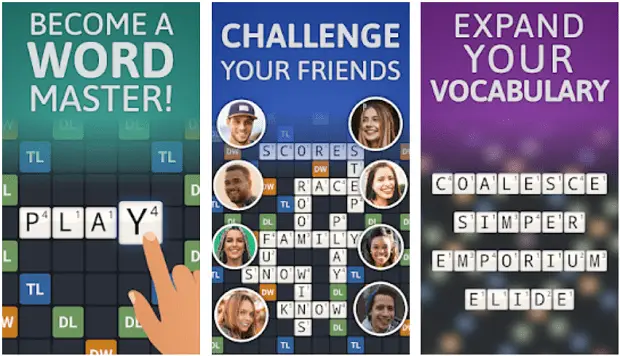 Wordfeud is an incredible word game where you can customize the interface and choose an opponent. Here, you can play and save up to 30 games with different opponents at the same time. You can also select the language of your choice and chat with your adversaries. Place and create words on the 15 x 15 tile board. You get higher points for creating unique words with double/triple letters or double/triple word tiles. For an ad-free version, you can download Wordfeud Premium. Available for iOS & Android.
6. WordUp Vocabulary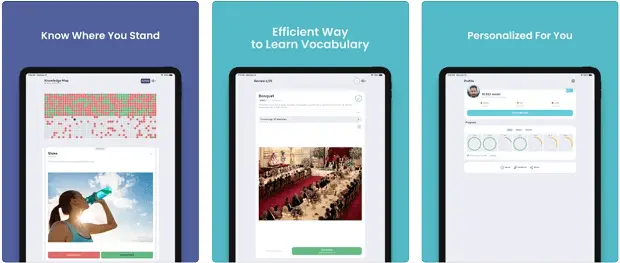 Although you can use it as an English dictionary, WordUp is not meant to be just another dictionary app. It has a scientific language learning method and helps users understand English words deeply. It offers examples from YouTube, word pictures, news, quotes, etc. You get to choose your English level (basic/intermediate/native/fluent). The app will give you a set of words and you need to confirm if you know them. If not, it will tell you the meaning of the word. It's unlike any regular vocab builder app offering translations in over 30 languages. Available for iOS & Android.
7. Four Letters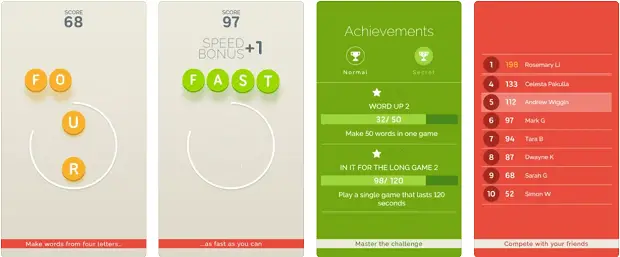 This is a timed word search game, and even though it starts easily, the difficulty level builds up soon. This is an endless world of four-letter word puzzles. You have only four letters and you need to make a word as fast as you can. Keep building more and more words to increase your scores. Available for iOS & Android.
8. Wordscapes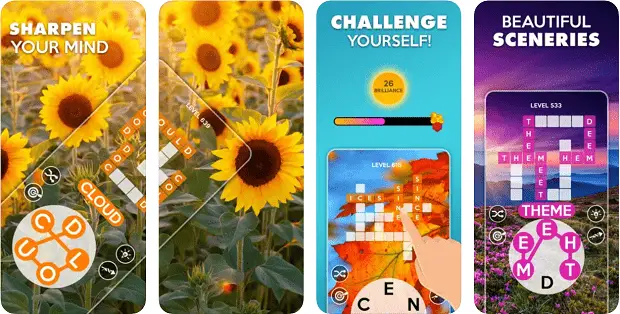 This game will ensure mind-challenging entertainment. With Wordscapes, you can solve modern word puzzles with word searches, crosswords, and anagrams. The picturesque scenery backgrounds in the app will help you keep calm and in Zen mode. Connecting letters and finding hidden words are just a couple of the many challenges you can find in over 6,000 crossword puzzles this game offers. Available for iOS & Android.
9. Alphabear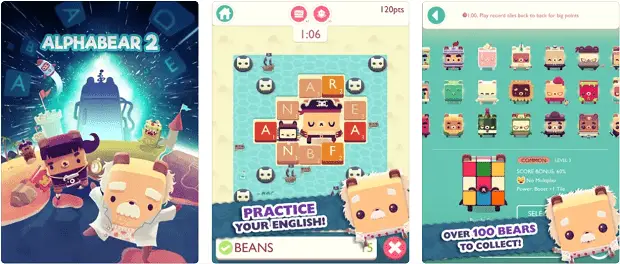 This is an English word puzzle game with word search elements. As you solve puzzles, you'll get new bears to add to your collection. These bears become your little helpers in succeeding games. These digital creatures boost your spelling word points, enhance your timer, change the game board to your advantage, and more. After each game, the words you spell will appear in amusing and cute cartoons. Bears appear when you spell words out of letters that are next to each other. The bear gets bigger as you use more letters, and you earn more points. Available for iOS & Android.
10. Letterpress – Word Game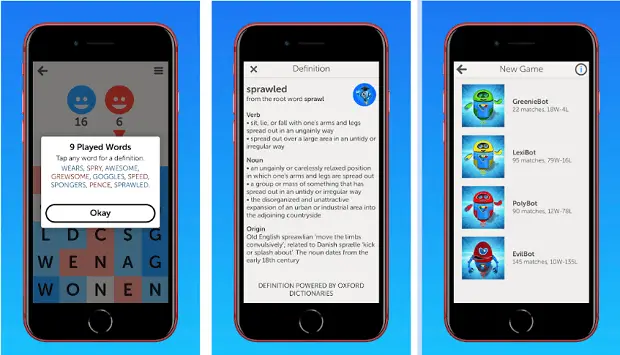 This competitive game allows players to take turns to form words out of letters that are available on the board. You can play concurrent games with your friends, match with a random opponent, or play with the bot. Letterpress offers a beautiful design and an intuitive play. The aim is to capture the board and win by accumulating the largest points. Available for iOS & Android.
Benefits of word games:
1. Boost vocabulary skills
The major benefit of word games is that it exposes players to an array of unfamiliar words. When you learn these new words, you can speak or pen down your opinions and thoughts in a more articulate manner. You'll understand and interpret what others are saying much better as well.
2. Upgrade your spelling prowess
In games such as Crossword and Scrabble, not knowing the spelling is equal to not knowing the word. To write the word precisely, you must know the correct spelling and word games can help improve your ability in this area.
3. Improve your concentration
Unless you are fully attentive, you cannot figure out the right word. It's almost like a training ground to practice your concentration levels. You'll learn to block off external distractions and restlessness by playing word games.
4. Amplify your cognitive skills
Playing word games puts your cognitive skills to the test. That's because you need to think and analyze what the correct word could be. You must plan your moves, strategize, know what is best for you to move forward, and so on. With word games, you can work on your decision skills too.
5. Promote social bonding
Board games such as Scrabble are perfect for challenging your friends at any party/gathering. Many online word games include the feature of multiplayer too. This helps strengthen your bonds and bring in a competitive spirit at the same time. It promotes social interaction and fosters a relaxing and positive atmosphere.
Wrap Up
Don't miss the chance to download these free word games to improve your vocabulary, as well as your problem-solving skills. If you're new to word games, that's OK – tons of online tools can help you solve word puzzles. One example is Unscrambled-words.com which allows users to enter the letters they're working with for any of these games and the tool generates a list of words that can be formed by rearranging the letters. It's a great way to expand your vocabulary by seeing a list of words that meet the criteria you set and then you can score extra points in your favorite word games. Have you played word games on your smart devices before?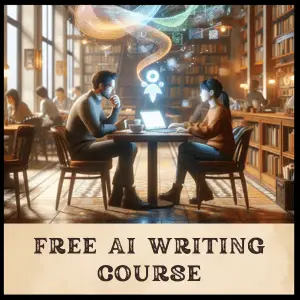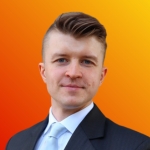 Rafal Reyzer
Hey there, welcome to my blog! I'm a full-time blogger, educator, digital marketer, freelance writer, editor, and content manager with 10+ years of experience. I started RafalReyzer.com to provide you with great tools and strategies you can use to become a proficient writer and achieve freedom through online creativity. My site is a one-stop shop for freelance writers, bloggers, publishers, and content enthusiasts who want to be independent, earn more money, and create beautiful things. Dive into my journey here, and don't miss out on my free 60-minute AI writing online course.