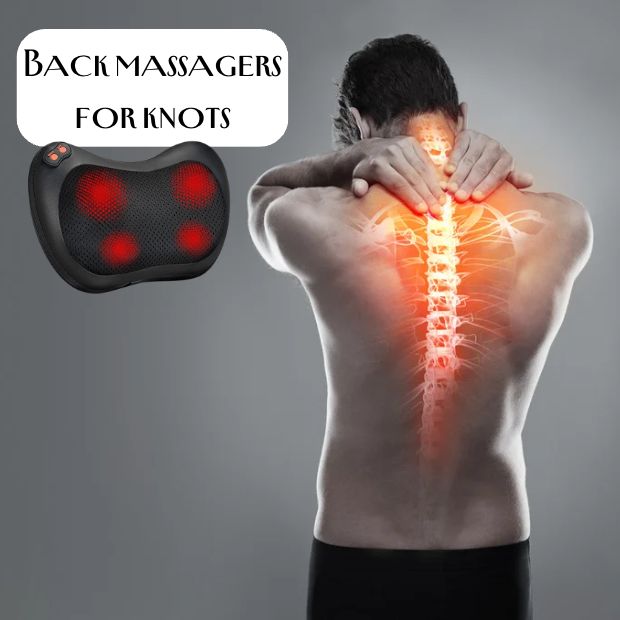 I lift weights and consistently sit at my desk for over 9 hours a day. Over time, this had led to the development of nasty knots in my back.
But I was able to solve the issue by using a massager. In this article, I'll introduce you to the one I use (which helped me a great deal), as well as a few other models which may be more suitable for your situation. I hope that using one of these devices will help you enjoy a pain-free life once again!
The key here is using them regularly for 15-20 minutes per session and then fixing the behaviors that cause the problem.
What causes back knots in the first place?
Knots, or "myofascial trigger points" in your back, happen when you stay in the same, slightly uncomfortable position for extended periods regularly. Think sitting at the desk, in your car, or on a plane.
This discomfort prevents your body from relaxing and, over time, your muscle fibers, called fasciae, become tighter and tighter. Another thing that causes knots is chronic stress, which leads to the tightening of your body. That's why getting an office chair for back pain is as important as getting a regular massage.
Back knots are usually found in the Trapezius muscle, a large back, neck, and shoulder muscle, which you use to tilt and turn your head and neck, as well as shrug and twist your arms. They may also occur in the lower back, although that's uncommon.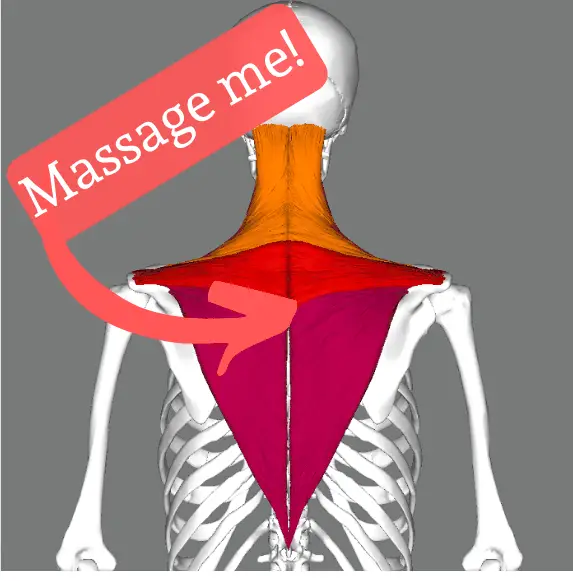 The bump-like knots, which can be painful to touch, are caused by stress, tension, poor posture (also poor sleep posture), and prolonged sitting without stretching.
What to look for in a massager effective for knots?
It needs to provide a hard massaging surface. It's best if you can use it to "knead" your knots out of existence. If the massager doesn't press hard enough, you won't get to the desired results. Always aim for deep tissue massage.
You need to be able to use it on your own. There are many models that are only useful if you have another person to help you out. This is not an ideal situation because you want to treat your knots regularly in your own time.
It's better if it's electrical. Manual massagers are great, but they're not so easy to use, hence you won't be tempted to use them so often.
It should offer different levels of intensity, speed, heat, and come with different nodes. The more options you have to customize your experience, the better.
With this in mind, let's take a look at the best options available on the market right now.
Here Are The Best Massagers For Back Knots:
This is the model I use and I'm super happy with it. Actually, I don't know how would I survive without it! It helped with my back and shoulder knots a lot, but I use it for other purposes as well.
It looks like a small pillow, and it has four kneading "balls" inside it that give you the most relaxing deep-tissue massage experience ever. These nodes are pretty hard, but that's exactly what you need to get some relief for your muscles.
By pressing harder, you're able to get deep into the muscle tissue and relax within a couple of minutes. The nodes go in one direction for 1 minute and then switch to another direction. This allows you to approach your muscles from many angles.
It also has an amazing heating feature. The nodes actually get warm which helps to relax your body even more. Once you turn it on it rolls for 20 minutes and then turns off automatically, which is awesome.
20 minutes is perfect for a quick session and the best part is that you can use it while watching TV or listening to your favorite audiobook.
The item is quite small, so you're able to take it with you anywhere you go. It also comes with a special plug for the car so you can strap it around your car chair (it has straps behind), and get some relaxation during your commute.
The product is sturdy. I've been using it for around 1 year and it works just fine. You can also use it to massage your feet, your calves, and even your face. I wholeheartedly recommend it to anyone who needs to fix their back knot problem.
This device allows you to experience an ancient method of therapy for alleviating muscle pain and tightness.
Cupping therapy has been practiced for at least 1800 years, with the earliest recorded at the turn of the 3rd century in ancient China. Besides pain relief for knots and sore muscles, it is also said to promote healthy blood circulation, flushing out toxins from muscle tissues, and triggering myofascial release.
Cupping therapy gains a lot of attention during the Beijing Summer Olympics in 2008. American swimmer Michael Phelps was photographed several times sporting round red cupping marks on his back en route to his historic 8 gold medal haul.
While in traditional practice, a small flame from candles, paper, or wick is used to cause the cup's sucking action (which is scary for many people), the Achedway Cupper uses red light technology and electronics to get the same results.
It is likewise equipped with a smart control to set the desired intensity level, 5 modes in all. Besides touch control, you can also download an app that enables you to operate it from your smartphone.
It comes with 3 different size cup attachments so you can always have one to fit in certain body parts such as thigh, calf, hips, and shoulders. The only downside, I think, is that you cannot apply it on your back by yourself unless you are Reed Richards of the Fantastic Four or some really talented contortionist.
This compact and portable massage therapy device comes with a one-year warranty.
This is a variation of the first massager, but this one is slightly bigger and it's used in a different way. First, it has two handles you can use to "steer" the device in the right direction.
This is especially useful if you're dealing with trigger point issues because it allows you to find the specific spot which causes you trouble and focus on it. This applies not only to the shoulder area but to your lower back as well. But this is the top product if your shoulders and neck are giving you the most pain.
The item has 8 nodes so the overall massaging surface is large. Just like the other Shiatsu massager, it has a warm-up feature that allows your muscles to relax even more. This feature is especially useful if you want to get a massage in the middle of the winter. It's like a warm blanket that gives you a nice massage session as a bonus.
On one of the handles, you'll find a control panel that allows you to change the speed of the rotation (there are 3 different levels of speed). I've found that it's best to use the slow one mostly because then the nodes go deeper into the tissue and relax it thoroughly.
The device comes with a car adapter, so you can easily use it while on the road, or even while waiting for someone at a parking lot. Ah yes, and the nodes are covered with a cozy protective cloth that you can remove and wash if needed.
Overall, it's a great solution for anyone who needs a bit of relaxation "me" time in their life. I would definitely rank it in the top 5 when it comes to Xmas or birthday gifts.
Alright, so this one is your pick if a smaller device is not enough for you. Snailax is basically a seat with shiatsu kneading balls underneath. It won't allow you to put so much focus on the trigger point area (that's why it's no. 3 on the list), but it's great for supplementing your efforts to relax.
It's a fantastic option if you are suffering from chronic back pain because it will allow you to relax anytime you sit down. Also, if you are spending a lot of time in your car, you can put it on your driver's seat and keep that message going during your commutes.
But notice that this product is only suitable for people who are between 63 inches and 70.9 inches (1.6m – 1.8m) in height. So if you're shorter or taller than that, perhaps another option from this list is going to be better for you.
This massage seat has a heating option so it's great for winter or if you just want to warm up your back muscles. Heat therapy is useful for all sorts of maladies. It's great for tendonitis, warming up, stiffened muscles as well as really strong pain in your neck and back.
What's great about this product is that it works for different massage zones – mid-back, upper back, and lower back. The other devices serve to massage only a specific small area of your body, here you can get a holistic treatment which is often more beneficial.
Most users, including myself, swear by the shiatsu massagers. But here is another product that works in a completely different way, but is nevertheless extremely effective. It's a type of massager you hold with your hand so you can place it exactly at the spot that's giving you trouble.
The device is rechargeable and can work for up to 140 minutes on a single charge. This should give you around 7 full massage sessions before the next recharge. And, instead of plugging it into the wall socket, you place it in a charging station. This is awesome because you can have your message without accidentally wrapping the cord around your body.
Each session lasts 20 minutes, and then the device will switch off automatically to prevent overheating.
What I like most about it is that it comes with 5 different head attachments. Each one of them serves a different purpose, but if you're looking to heal the knots on your back and shoulders, the "one point" or "round ball" endings will be probably the best.
Renpho is only 15 inches (38 cm) long which makes it super portable and easy to travel with. If you charge it fully, you can take it for a short trip and enjoy your massage without having to worry about recharging.
The last item on this list is a manual massager with a really clever design. Normally, if you use a manual device, you need another person to help you out to reach your back. But here we have a product with an s-like curved shape, you can use for effective pain relief.
It gives you a great opportunity to massage your body without bothering your close ones. It has 12 nodes in total, each of which is designed to help you massage a different part of your body. It's a flexible tool, but at the same time, it's really sturdy as it's made of fiberglass and plastic.
The product was developed with the help of chiropractors and physical therapists, and it's often recommended by medical professionals. It looks a bit strange, which makes you doubt its effectiveness. But fortunately, you have a 30-day money-back guarantee, so you can test it out without taking any risks. But it takes a bit of practice to get used to it.
Some users say that it helped to eliminate the knots in their upper back after only five days of rigorous use.
This is not exactly a massager, but rather a set of two massage balls. You might have seen something like this if you ever attended a yoga class.
You lay down on the mat and tuck the balls under your back. Then you gently roll your body up and down with the use of your legs. In other words, you use your body weight and the power of gravity to relax.
It sounds simple, but it's super effective for back knots. Actually, you can also use a sturdy and hard back-roller for the same purpose. It's also a perfect little gadget if you're suffering from costochondritis or any other type of inflammatory disease related to your back and chest. And the best thing here is that the product only costs just a little bit over $10.
Other activities that help for back knots
Besides using the massager, there are a couple of other ways that'll help you deal with these pesky knots. These include:
Yoga and stretching – incorporate a quick yoga session into your daily routine. I like to stretch out my body for around 30 minutes in the evening, which helps me to relax and sleep better too. Focus on exercises that will target the knotted areas of your body.
A hot shower or a bath – this will enable your body to relax like nothing else.
Take breaks during your work sessions – get up every 60 minutes and move around and stretch your body a bit. This will help you relax and also maintain mental focus longer.
Take a 30-60 minute professional massage.
Conclusion
While there are a couple of ways in which you can deal with back knots, getting a good massager and working with it regularly is one of the top things you can do.
These devices will not only help you improve your overall health but will also prevent you from getting injuries in the future. Investing in an electrical or a manual device is going to be some of the best spent money in your life. Trust me, I've been there.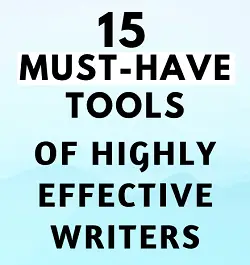 Free resource: Download your free PDF and learn about the top tools used by freelance writers.
Download here
Rafal Reyzer
Hey there, welcome to my blog! I'm a full-time blogger, educator, digital marketer, freelance writer, editor and content manager with 10+ years of experience. I started RafalReyzer.com to provide you with great tools and strategies you can use to achieve freedom from 9 to 5 through online creativity. My site is a one-stop-shop for freelance writers, bloggers, publishers, content enthusiasts who want to be independent, earn more money and create beautiful things. Feel free to
learn more about me here.