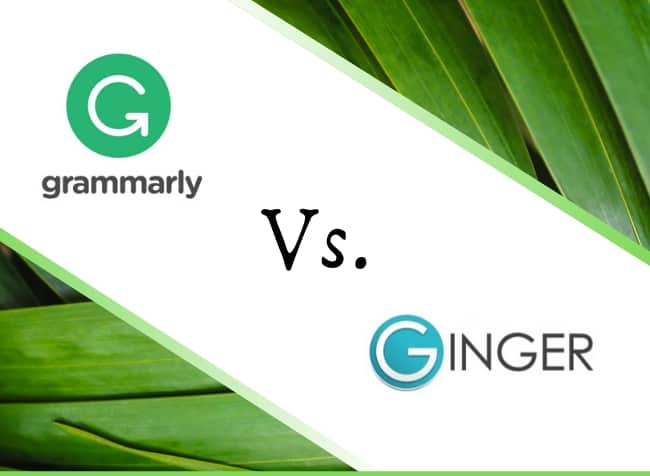 I've been using both grammar checkers for over a year, as a writer, blogger, and editor.
Now I'm happy to share my experience and show you how I use Grammarly and Ginger to achieve better results in writing, editing, and online publishing.
In this review, I'm sharing insights on how to best use these apps and pinpoint the main differences between them. The info below will make it easy for you to pick the right software for your particular needs.
Are you ready? Let's do it!
The main difference in the Grammarly vs. Ginger comparison is that with Grammarly, you address each grammar issue separately and learn why should you fix it in the first place. With Ginger, you use a broader approach and fix all the major grammar and spelling mistakes with a single click. Besides, Grammarly is a much more powerful and well-funded app that's updated and improved regularly.
If you made me choose in five seconds, I would definitely pick Grammarly as my favorite. But if I had some leeway, I would use both apps for different purposes. Why Read on, and I shall reveal the secret to you my scribbler.
Grammarly vs. Ginger – Comparison
1. Grammarly vs. Ginger – a quick intro
Both apps fall into the grammar, spell checker, and language enhancement domain. They are also the two most widely used options available in the market (with Grammarly being in the lead).
The basic premise behind the software is to help you improve your use of language, especially in online communications with the use of AI, statistical algorithms, deep learning, and natural language processing. Sounds cool, I know.
Grammarly started in July 2009. It was first developed by three Ukrainians and is now headquartered in San Francisco with offices in Kyiv and New York City.
Ginger, on the other hand, is an Israeli startup founded at the end of 2007 by Yael Karov and Avner Zangvil. It raised over $10 million through various forms of funding, and Intel acquired some of its business units in 2014.
2. The main similarities between Grammarly and Ginger
3. The main differences between Grammarly and Ginger
4. The main features of Grammarly and Ginger
I dug deep into all the available features of the two apps. Feel free to compare them below. You'll see that Grammarly offers more in-demand features and more functionality which makes it a winner in this comparison.
Now that you understand what each app can and cannot do, let's dig a little deeper and find out the difference in pricing plans.
5. Grammarly vs. Ginger – Pricing
As you already know, both apps offer free plans for their users. They are useful but come with limited functionality. That's why you may want to upgrade to a premium plan that will give extra features you can use to boost your productivity.
Grammarly pricing plans:
I'm currently on the annual plan because it's the best deal and it's cheaper than my Audible subscription.
Ginger pricing plans:
You can pay with a credit or debit card as well as PayPal for both apps. As you can see, both companies want you to subscribe to the annual plan for which they offer the best deal.
Grammarly is almost twice as expensive as Ginger when you look at the annual plan ($11.66 vs. $6.24). This is justified because it has some premium features you'll not find in its competitor's app. It also has a much more modern interface and better mobile apps.
6. Grammarly Free vs. Premium
Yes, you can install Grammarly for free. No strings attached. The only thing is that you'll get notifications exhorting you to upgrade to the premium plan.
The free version of Grammarly is already great, but you will receive a limited number of alerts for any given document. For example, if you have a 1000 word article and a free version, you'll get, around 25 alerts for grammar and spelling and clarity.
But with the premium version, for the same article, you would get around 50 or more alerts, including ones related to engagement and delivery.
You can read my in-depth review of Grammarly to find out more.
7. Ginger Free vs. Premium
Ginger is useful, but it doesn't have the advanced capabilities you can find in Grammarly. Indeed, it has the translation feature and text to speech which you will not find in the competitor's app.
But these features are non-essential and you can get them for free with Google Translate or free text to speech service like Natural Readers.
Still, I enjoy using Ginger, especially as the first line of defense against poorly written first drafts. It cleans them up pretty well and then allows me to move the copy to Grammarly for further enhancements.
8. Which app is better for what?
As I mentioned before, I use both apps for different purposes. I use Ginger for cleaning up the first draft as it automatically eliminates simple grammar, punctuation, and spelling mistakes.
Ginger is great at it because it highlights the possible issues at once and then you can clean them up with a single click. This saves you a lot of time if you're dealing with simple fixes and don't want to dive deep into the minutia of arcane grammar structures.
For me, the primary use of Ginger ends with this simple cleanup, and then I start using Grammarly for many more things.
First off, Grammarly highlights more possible issues than its competitor, so it's ideal for the second round of editing. It also has some advanced features which I absolutely love.
For example, Grammarly has the plagiarism checker feature. This is essential for anyone dealing with any type of online content coming from a third party.
The app will sort through billions of pages available online and pinpoint copied snippets that appear in the content in front of you. This feature alone is worth at least a couple of bucks per month, but here it's included in the premium package.
Moreover, Grammarly allows you to find synonyms and definitions even within the browser by double-clicking on any given word. Within the editor, you can also double-click on any word to get definitions and synonyms.
Theoretically, you can do the same in Ginger, but then you'll have to go to another screen and lose valuable seconds every time you want to look up a word.
Finally, Grammarly doesn't break the formatting of the text. It allows you to import and export documents, store data in the cloud, and enhance your writing by boosting readability scores and making your sentences shorter. All of this makes it a better option, at least in my opinion.
9. Grammarly vs. Ginger – A quick video review
To make things easier for you, I even created a video review where I compare the two apps. It's always beneficial to see an operation on a live app, so feel free to take a look.
10. Grammarly Business vs. Ginger Business
Both apps have special offers for business users. This is understandable, as now the vast majority of business communications go through digital channels.
Plus, once you sign up for the business plan, you'll get a professional invoice that you can throw into your business expenses. If you grab the individual app, you will only get a receipt.
With Grammarly, you need at least three people in your team to be able to sign up for the business plan. The average price is around $10 per member per month, but this is all negotiable, primarily if you work within a larger team.
With Ginger, you can sign up for business if you have at least two team members. You'll pay a flat fee of $9.99 per member per month, but this is also negotiable.
Signing up with your team can be an excellent investment because both apps will improve your online communications. Now your emails, Facebook messages, tweets, LinkedIn updates, and Microsoft Office documents will all come with consistent quality.
You can get more information about Grammarly for business here.
You can get more information about Ginger for business here.
11. The difference in interface and user experience
This one is huge, and that's why I wanted to give it a separate little chapter. Grammarly completely crushes it when it comes to the user interface. They also frequently come up with updates, and their app looks gorgeous. You feel like you're using something made for a modern user.
Unfortunately, this is not the case with Ginger. While the app has some useful functions, it looks like the interface is ten years old. It's just doesn't have the same feel to it, as it seems a bit outdated.
Grammarly offers a better user experience. It's more intuitive, and you can do more things within the main editor without jumping to separate tabs.
With Ginger, you often have to leave your text and go to a separate section of the app if you want to look up a word or a synonym.
12. Grammarly vs. Ginger – what about the mobile app, add-ons, or browser extensions?
Grammarly has a mobile app called "Grammarly Keyboard," which is available on both Android and iOS. You can grab the free version and have all the benefits of Grammarly free on your mobile.
It will give you suggestions regarding spelling and grammar in real-time. This is extremely helpful if you do any business texting. What's more, once you upgrade to the premium version, you will also have all the premium features on your mobile phone. This makes it one of the best and most versatile grammar apps available on the market.
Ginger has two mobile apps – PAGE Grammar Spell Checker for iOS and Ginger Keyboard for Android. Why two different apps? No idea, but both of them are great.
They are ideal for grammar, spell checking, avoiding committing deplorable grammar blunders. You can download the free version of these apps for free of course. But within the app, you can also upgrade to Ginger premium to get extra functionality.
Here's how these apps look like:
Add-ons:
Browser extensions: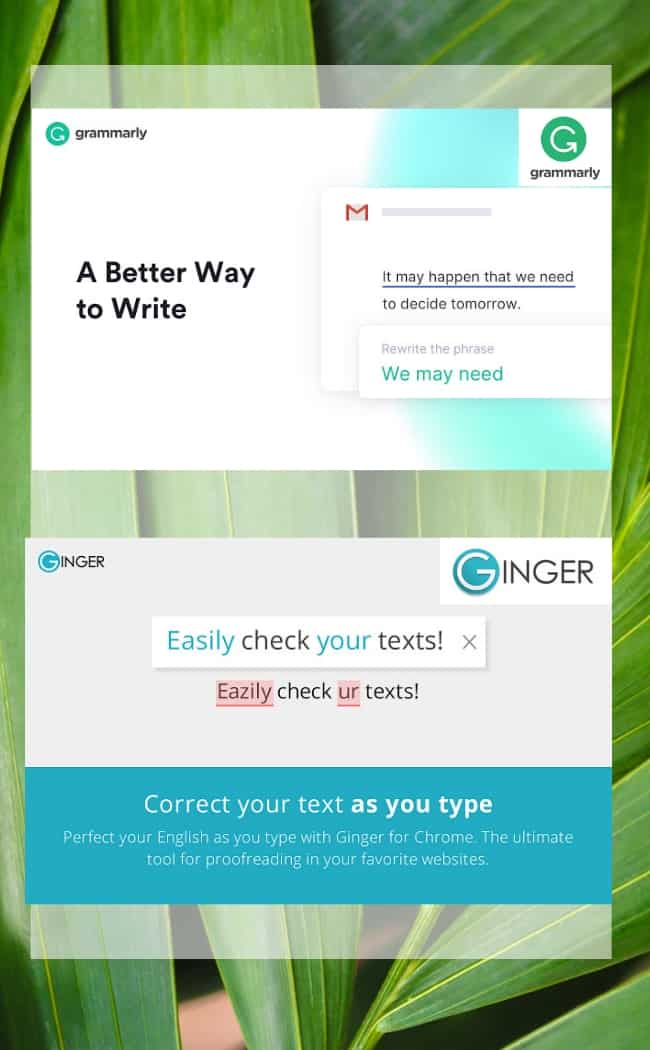 13. Grammarly vs. Ginger – How I use both apps in my writing and editing process?
For me, it's not a matter of which app is best, although if I had to pick one, it would be Grammarly. Actually, I use both apps regularly to improve the quality of my writing.
Here's how I do it. First, I launch Ginger straight from the taskbar on my Windows machine. Then I paste in the text I want to edit into the editor.
I will wait for a couple of seconds until the grammar and spelling suggestions are identified. Then, I quickly un-check the incorrect alerts, and finally click on "accept all changes." I treat this as the first round of editing.
In most documents, it only takes a couple of seconds and makes the content ready for the next stage.
The next step is to open Grammarly and paste the post-Ginger text into the editor. This is the correct sequence because now all the minor stuff like commas and spelling mistakes are fixed.
With Grammarly, I can now concentrate on higher-level things like readability, conciseness, word order, vocabulary, and other goodies. I use the "auto jump to the next alert" function, which enables me to clean up even a long piece of copy in a matter of minutes. Sometimes this is enough to make it 90% ready for publishing. It all depends on the projects you are working on.
However, for me, the real editing process just begins after using Ginger and Grammarly. The apps are great at detecting simple mistakes, but then I still have to give the copy a final read-through with something like the Hemingway Editor.
This tool helps me to see which sentences are too long and how should I format the text, so it's ready for publishing. Once I do that, I copy the text back to Word or Google Docs and give it a final stamp of approval.
14. Quick grammar checker FAQ
I hope that by now you already decided about which app is better for you. But I thought it would be prudent to add a little FAQ section here to clear up any remaining doubts you may have. Let's check it out?
Are Grammarly and Ginger available both on Windows and macOS?
The Grammarly desktop app is available both on Windows and MacOS. But Ginger desktop app is available only on Windows.
How about Android and iOS?
Both companies offer apps for Android and iOS. They help you clear any grammar and spelling mistakes in real-time as you type on your phone or tablet.
In which languages are these grammar checkers available?
Both apps are available only in English. Ginger can recognize both US and UK variants, but Grammarly goes a step further by introducing Canadian and Australian options. This makes Grammarly more versatile, especially if you are dealing with content coming from many places around the world.
Are there any student discounts available?
There is no discount for individual students. However, both Grammarly and Ginger offer unique plans for educational institutions if a whole class, or better yet an entire school signs up. Then you can count on significant discounts.
You can get more information about Grammarly for education here.
You can get more information about Ginger for education here.
Is there a free trial available for the premium versions?
Unfortunately not. If you decide to invest in the premium version, you have to take a leap of faith in both instances. However, if you're not fully satisfied, you can get a 100% refund within 7 days of purchase. I would try one of these apps if I were you.
15. Conclusion
I hope that by reading this article, you concluded that most of the time, Grammarly comes out on top as a better grammar checker. It offers a lot of advanced features that you cannot find in Ginger. But both G's have their place in a writers' and editors' arsenal.
They are best used in concert, during different phases of the editorial process. Both of them are relatively inexpensive and can save you valuable time.
Rafal Reyzer
Hey there, welcome to my blog! I'm a full-time blogger, educator, digital marketer, freelance writer, editor and content manager with 10+ years of experience. I started RafalReyzer.com to provide you with great tools and strategies you can use to achieve freedom from 9 to 5 through online creativity. My site is a one-stop-shop for freelance writers, bloggers, publishers, content enthusiasts who want to be independent, earn more money and create beautiful things. Feel free to
learn more about me here.