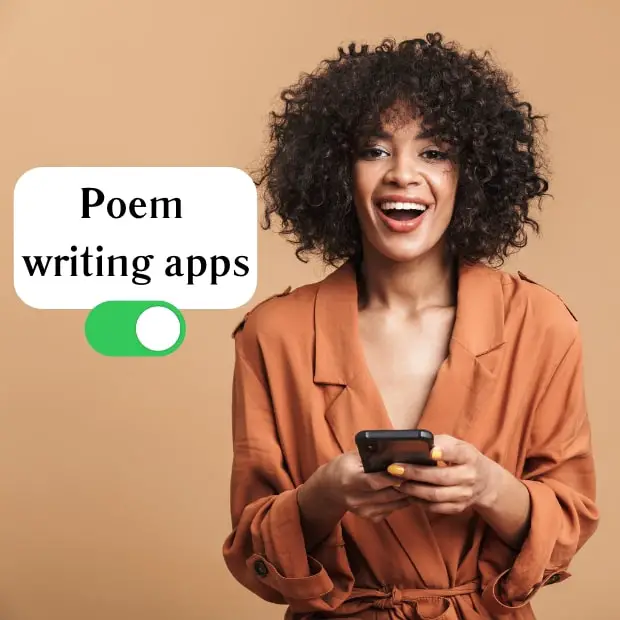 Writing poetry is all about sharing your innermost feelings, convictions, and dreams.
And for centuries, this has been accomplished by scribbling on a piece of paper.
But the technology moves forward, and developers with a passion for words came up with some amazing poetry writing apps.
You can use them to earn as a writer and improve your writing both on your mobile device and desktop computer.
Why would you need an app to write poetry? Isn't it all about creative spirit and free-flowing literary inspiration?
There are a couple of reasons to use poetry apps. One of them is that they rely on algorithms that can help you find the best words, show their definitions, come up with synonyms, as well as rhymes and alliterations. They make the process faster and more enjoyable.
But the technical part of writing is just one part of the equation. Some of the tech solutions you will find below will enable you to get in touch with fellow poets as well. Wouldn't it be great if you could build your own community of like-minded people? Think – the "Dead Poets Society" but online and alive.
There are also many apps that will let you get acquainted with the best poetry of all time. After all, if you want to compose beautiful poems, you need to acknowledge those who came before you.
The great thing is that most of them function offline so you can use them even if you run out of data. They'll bring you much inspiration. But if you're serious about writing poetry, I recommend checking a book like The Poet's Companion: A Guide to the Pleasures of Writing Poetry by Kim Addonizio.
Here are the Best Poem Writing Apps:
1. Mirakee – Writing Community
This is the most popular up on this list. It has over 100,000 downloads on the app market and for a good reason.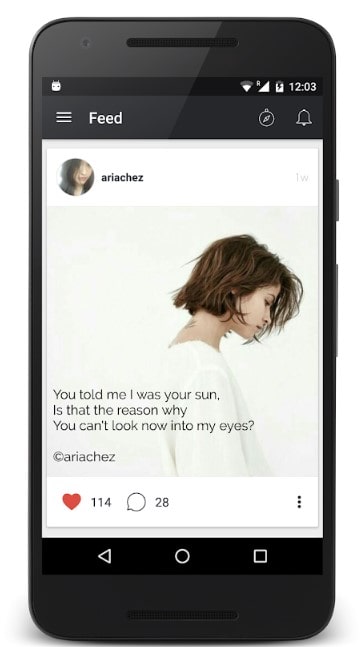 It's basically a social network for poets, novelists, and lyricists. Being a creative soul doesn't mean you have to be lonely anymore. You can show your quotes, poems, stories or haikus by adapting them to visual scenery using built-in design features.
Your posts will then go out to a wider audience and get likes, comments, and feedback. The user experience of the app is great as it allows you to write and share your thoughts with fellow writers . It's a great option if you're into building a community of loyal readers while at the same time improving your writing skills.
The best part about the app is the daily creative challenges, where you need to produce content based on prompts.
Cost: Free
2. Poet's Pad
This is a great app available both for Android and iOS. In short, it helps you to avoid writer's block and generate ideas for new poems and lyrics much faster.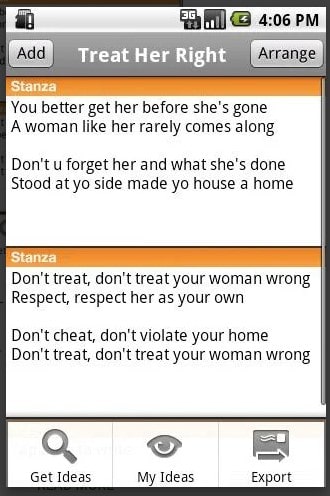 To get it downloaded, you will have to contribute $9.99 to the developers, but the features you'll get are more than worth it.
The app gives you inspiration by suggesting additional words and phrases to the ones you've already composed. It also lets you generate ideas for your magnum opus based on a specific type of emotion. You simply choose your mood and the app generates words and phrases related to it, which then you can use in your poem.
It also has some other cool features, like a rhyming dictionary, a built-in voice recorder for capturing ideas, and a thesaurus.
Cost: $9.99
Available on:  iOS
3. Poet Assistant
This is the most solid and practical app on this list, which also works offline . It's basically a set of tools that enables you to write poems with ease.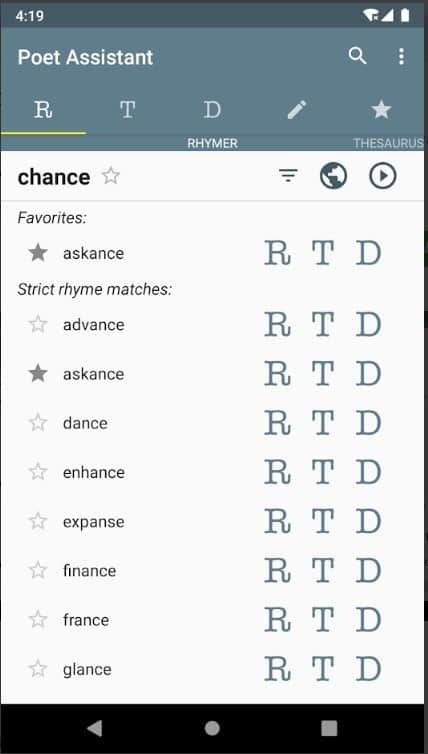 It has an amazing rhyming dictionary that will enable you to find the right rhyme, especially when you're stuck. There is also an inbuilt thesaurus that will show you synonyms that will be a better fit for your poem.
You can also lookup definitions of words to make sure you're conveying the right meaning to your readers.
And as a bonus, you can plug your poem into a special screen and have it read aloud back to you, indicating the word and character count. Poet Assistant received many raving reviews from users and it's certainly worth your while.
Cost: Free
4. Poetry – The Poetry Foundation
This is a fantastic option if you want to get acquainted with the most famous poets and their work. The app serves as a mobile poetry library with many works based on category (like youth, family, love, nature, spirituality, or celebration) as well as mood (joy, optimism, boredom, nostalgia, or disappointment).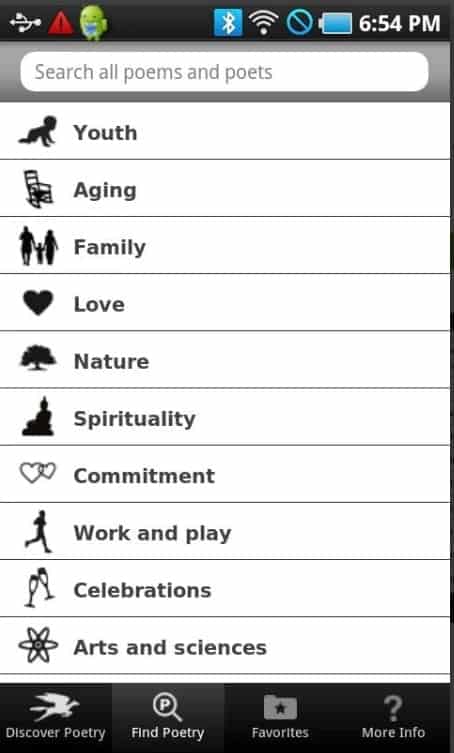 Depending on your mood and predisposition, you can browse through the list and find works that will give you inspiration.
There are also a couple of read-out-loud-poems, for example by T. S. Eliot, Pablo Neruda, or Emily Dickinson. It's not a writing app per se, but it can serve as a great resource for learning and artistic appreciation.
Cost: Free
5. Rhymer's Block
This is one of the most popular writing apps for iOS. It's perfect for poets and lyricists and rappers.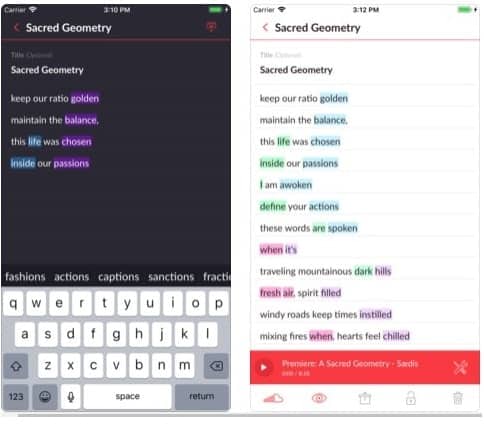 You never know when you're going to get a burst of creative inspiration. It can happen anywhere, on the bus, in the middle of the night, or when you're hanging around with friends.
With Rhymers Block, you can take notes for your next masterpiece in a couple of seconds. It's a cloud-based app that enables you to upload your work and keep it secure.
And it has some amazing features that you simply can't ignore. The app will suggest rhymes in real-time (as you type). This is perfect if you don't want to interrupt your creative process. You can also find rhymes for words that are not even in the dictionary (neologisms or slang words). There are many other features which you have to check out for yourself.
Cost: Free
Available on: iOS
6. Word Palette (Experimental, Creative Writing)
If you're struggling with writer's block or want to spark your creativity, this is an app for you.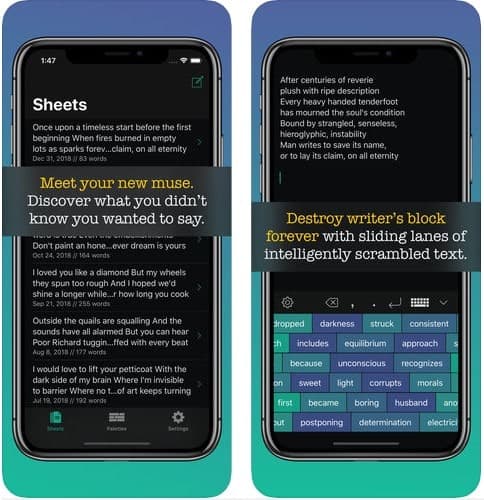 It will show you a screen where you can shuffle different, seemingly unrelated words you can use to overcome the creative block and move on. They call it an "intelligently scrambled text" which appears on the screen in up to six "sliding lanes."
By using these short poetic phrases, you'll be able to find solutions to your literary dilemmas.
You can also create your own palette of favorite words and phrases, which you can add to your slider lanes for future reference.
Cost: Free
Available on: iOS
7. Writer App
If you like a focused environment when writing, this is an app for you. It's a no-nonsense word processor that's perfect if you like to compose your poetry on your phone or a tablet.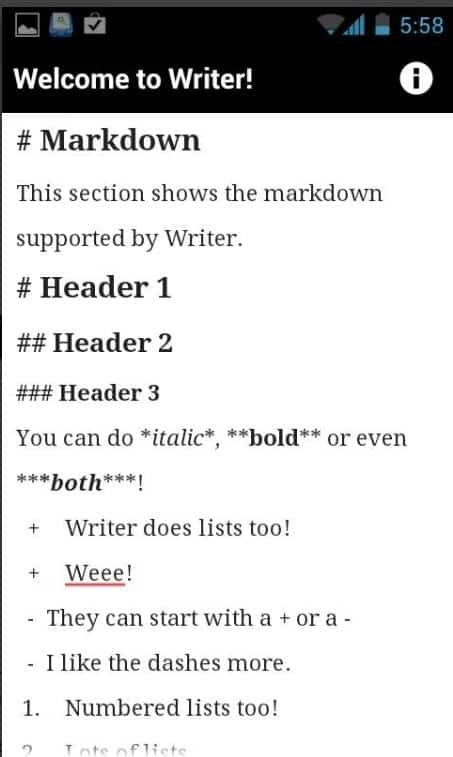 Often when you hit the road, you don't want to carry a cumbersome laptop or notebook with you. Instead, you can rely on your mobile or a tablet connected to a Bluetooth keyboard and produce amazing content by using "Writer".
It will show a list of all your projects which you can sort from A to Z or by the "modified date". It also has some basic text formatting options. You can use different headers, make your text bold, apply italics and create numbered lists.
You can also see document details like the number of words, characters, and estimated reading time . That's amazing if you need to complete an assignment of a specific length.
Cost: Free
Available on: Android
8. Poets Corner
This is a really neat app designed especially for the poetry niche. It's another take on a social platform for writers where you can post your poems and read the works of other scribblers.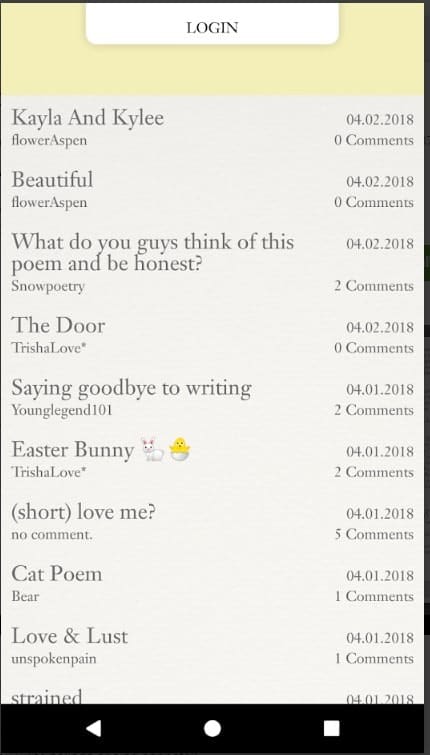 It's great if you want to keep songs, ballads, and sonnets closer to your everyday life. You can also use it to receive some feedback from fellow writers and improve your skills.
The community there is very inclusive and you can post basically anything you want, from free form to haikus, to rhyming couplets, odes, and love poems. As long as your writing is beautiful, you can expect appreciation and positive feedback from others.
Cost: Free
9. Poetizer – Social network for poetry
Here's another social network for poetry, but this time it comes with much more beautiful design and functionalities.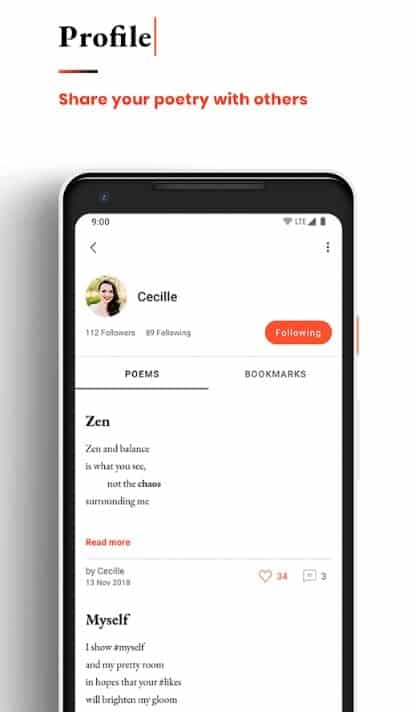 The app is designed for posting, sharing, and reading poetry without too many visual distractions. The whole idea behind the app hinges on the written word.
Once you sign in, you will see a news feed like in the other social apps. But instead of pictures of friends and family, you will see new poems published on the platform.
You can take part as a fellow writer and receive thanks and comments from other users. You can also follow others and create deep connections based on your mutual appreciation of literature.
Cost: Free
10. Word Mover
This app works great on a tablet and was created for younger users to promote out-of-school literacy.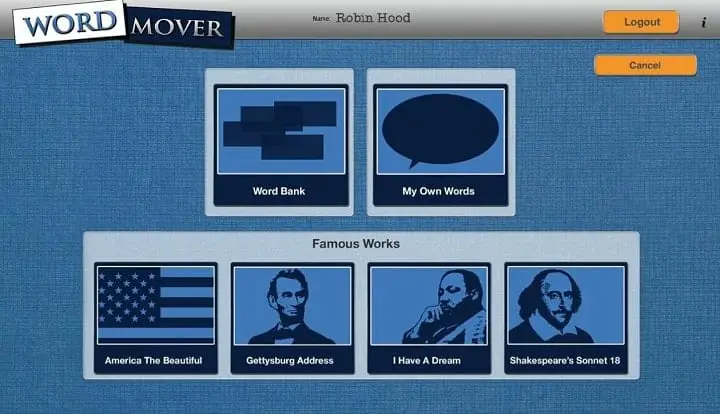 The concept behind it is "found poetry". The app will basically show you a screen full of jumbled words, which you need to connect to compile beautiful poems.
These works will be stored in your tablet memory (there's also an autosave option). There are also many more functions, like the ability to send the poems by email, print them through a wireless printer, save them to photos or view them for proofreading.
It's a perfect solution for younger readers and writers who want to get acquainted with the famous works of poetry and improve their literacy skills.
Cost: Free
Available on: Android and iOS
11. Lyric Notepad
If you're into composing poems, songs, or rap lyrics, this is an app for you. It allows you to keep your rhymes in check and find new words for your next masterpiece.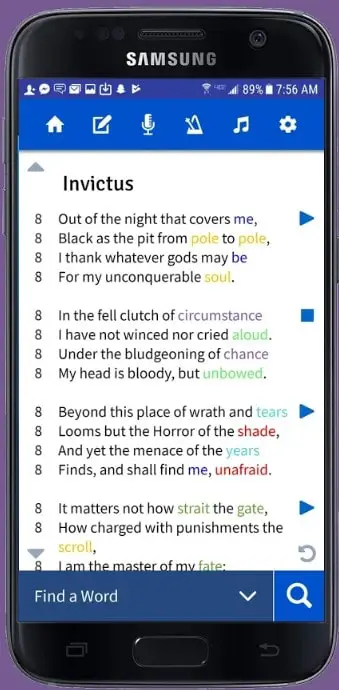 You can also use it to take notes and record your lyrics. This is great if you like to vocalize your creative ideas and then store them in one easily accessible place.
At the end of each line, you will see that the last letter has a certain color. If you tap on it, you will see words that will naturally rhyme with it.
There is also a syllable counter, which helps you to keep the same number of syllables in each line.
Cost: Free
12. Blackout Bard: Create Blackout Poetry
If you're deep into the literary world, you must have heard about blackout poetry.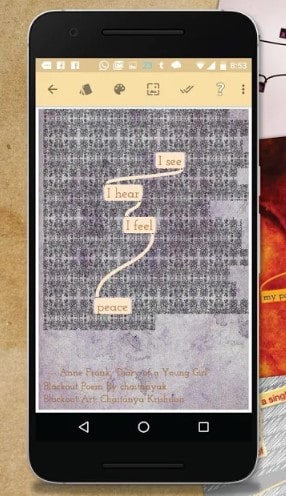 The idea is to take any piece of prose and then select only specific words on the page to create a poem (and then blackout everything else). Normally you would have to destroy your books to do it, but now you can easily accomplish the task with the use of this app.
It has a lot of amazing templates you can customize to create stunningly beautiful visual poetry. I like this app a lot because it creates an intersection between poetry and painting.
Cost: Free
Available on: iOS
13. Instant Poetry
Here's another app you can use if you like combining words with different colors and backgrounds.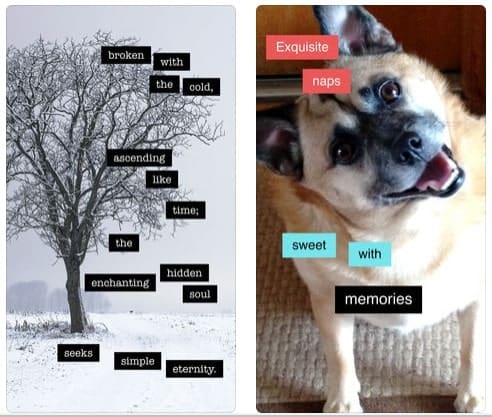 By moving the words around the screen, you can arrange them in a pattern of your choosing and then apply a background that will fit with the mood of your work.
If you like to surprise your friends and family with your creativity, you should definitely check out "Instant Poetry". You'll be able to save your poems and then spread them through popular social messaging apps like Facebook Messenger or WhatsApp.
Use your writing skills to put smiles on other people's faces!
Cost: Free
Available on: iOS
14. HaikuJam – Your Poetry Friends
This app is so cool I don't even know where to start. It's an amazing collaborative tool for writing and working with people from around the globe.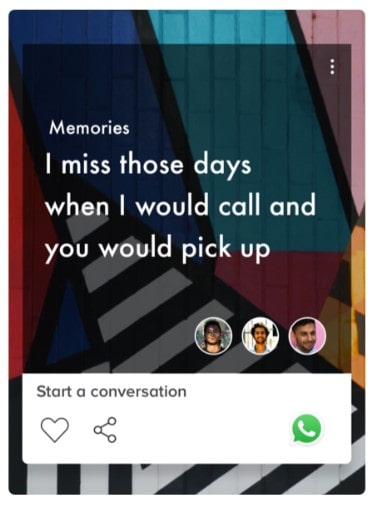 The idea is to create haikus (short Japanese-style poems), but with the help of other people.
You can simply write to the beginning of the poem and another user is going to finish it up for you. In this way, you are both responsible for creating something beautiful.
You can also use the prompts produced by others and come up with the finishing line. It's perfect if you want to share your feelings and build genuine connections with others.
Cost: Free
Available on: Android
15. Your Quote — Write Quotes, Poems, Stories & Shayari
You should check this app, especially if you're from India or if your native language is not English.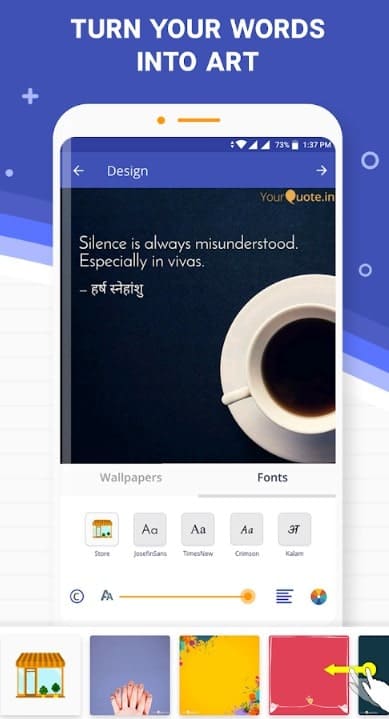 Through the app, writers of all nationalities and backgrounds can share their work in a visually attractive way.
Your Quote will motivate you to write every single day and share stunning quotes and poems with others. You can also record audio of your performance and then send it over through different social media channels.
Cost: Free
16. Writer Plus (Write on the go)
This is a fantastic solution if you're always on the want to create your poems in an impromptu manner.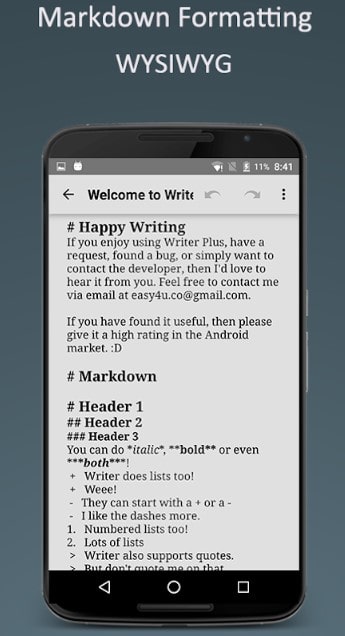 If you always forget to take your notebook with you, you can use this app to take notes instead. It's basically a well-made text formatting tool where you can store bits and pieces of your writing.
You will format your text and sort through your files on your phone or tablet.
Then you can export the files to your computer and use traditional writing software to polish your draft and make it perfect.
Cost: Free
Available on: Android
17. Jotter Pad
This is a widely popular solution for many creative writers – novelists, poets, lyricists, and essayists.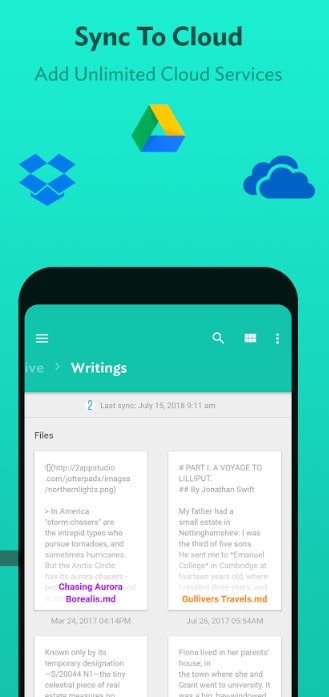 It has a clean interface that allows you to compose your masterpieces without the distractions of a traditional word processor.
There are so many amazing features included I cannot describe all of them here. But in short, you can customize your typography, use a dark theme at night, get all the word statistics, create bulleted lists and checklists, upload your work to the cloud and print your writings to PDFs which you can then share with others.
Cost: Free
Available on: Android
18. Poetics – create, write and share visual poetry
If you're not only into writing but also love images, photographs, and graphics, "Poetics" is a perfect thing for you.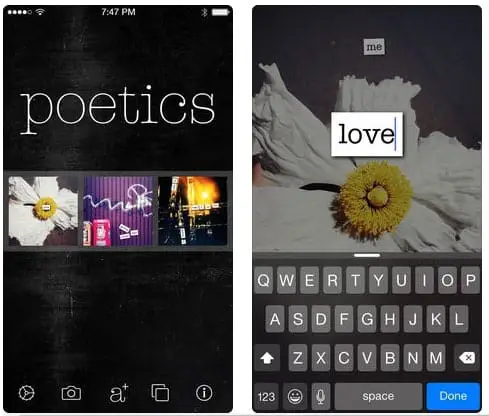 The app costs $1.99 but it's totally worth the investment. The theme of the app is visual poetry. You can choose your perfect font and combine words with different visual elements to create a thing of beauty and share it with your friends.
You can easily scale, rotate, and lift and drop words to create the effect you desire.
Once your visual poem is ready, you can share it through Instagram, Facebook, SMS, Tumblr, and other social media channels.
Cost: $1.99
Available on: iOS
19. Oxford Dictionary of Literary Terms
If you're making your first steps in the world of poetry and literature, you have a lot to learn, and you may not be familiar with the popular literary terms.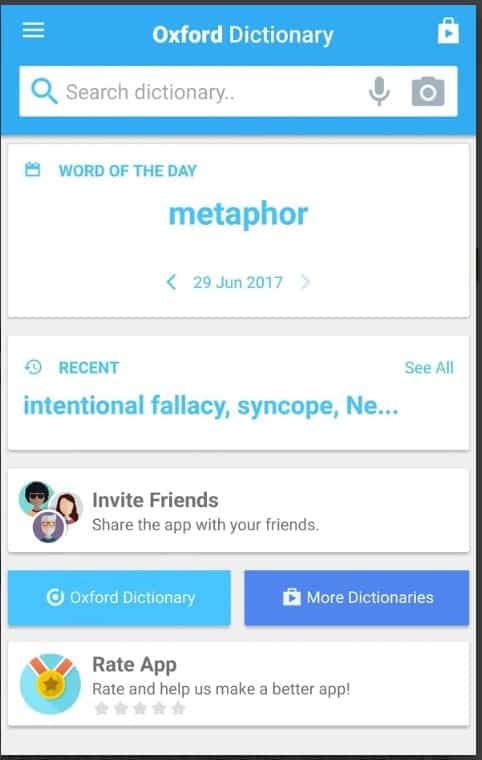 However, it's important for you to understand them, as they provide a gateway to higher levels of literary skill.
For example, you may know what is a metaphor, but do you know how it differs from a simile? Or do you know how to use a mixed metaphor?
This app will help you answer these questions and become a more versatile and knowledgeable writer.
Cost: Free
Available on: Android
20. Poets & Poems, Write and Read Poems – Poemia
If you want to use your phone as an outlet for your creativity and make a name for yourself in the online poetry world, give Poemia a try.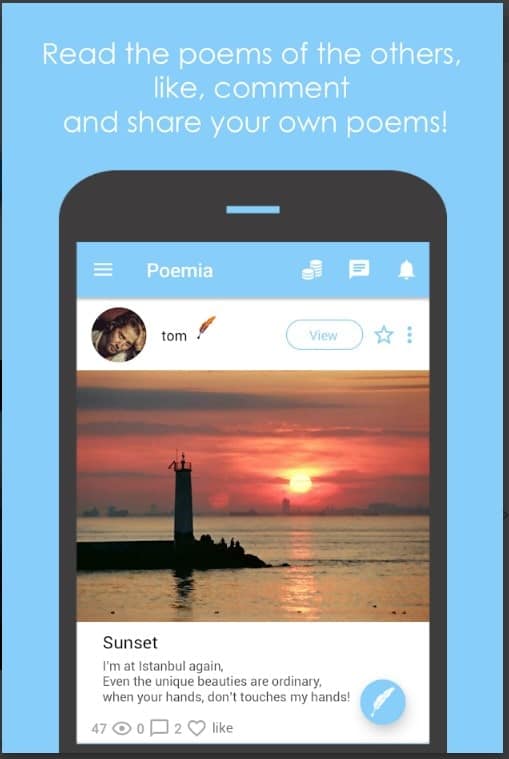 Right now, the platform hosts over 130,000 works produced by the users of the app. You can add an image to your poems to make them more alluring and then share them with potentially thousands of people.
Each user has his or her unique profile where all the poems are stored, so you can easily follow your favorite authors.
You can also browse an enormous database according to different categories and use many other useful features.
Cost: Free
Available on: Android
21. Audio Note
This app is based on a voice typing feature. You can basically spell out whatever it is you want to say make it appear on the screen of your phone.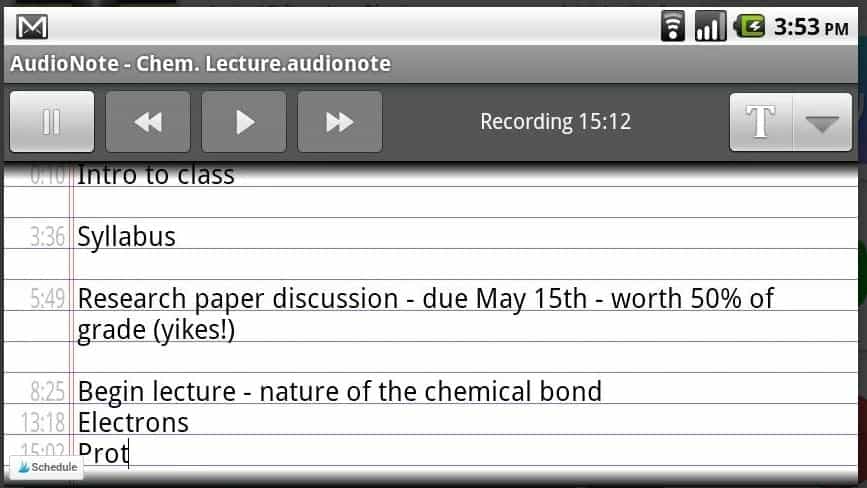 I use voice typing a lot and find this to be a great alternative to the regular tapping on the keyboard or the screen of my phone.
Each note you take will have a specific timestamp that allows you to find crucial information or that perfect phrase you came up with while on the go.
The only downside here is that you will have to shell out $12.99 to get it on your device.
Cost: $12.99
22. Word Cottage – for writers, poets, and readers
Word Cottage is a microblogging platform developed especially for writers. It allows you to show your quotes, poems, stories to others on the portal.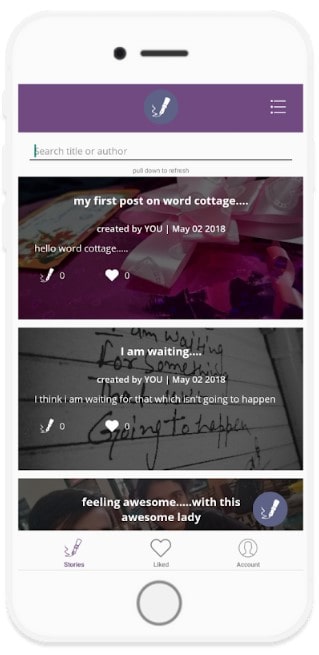 There's a small, but tight community of fellow scribblers who can give you feedback and encouragement on your writing journey.
Once your copy is ready, you can share it across various other platforms. But before you do, you can add some visual enhancements and design your post for more impact.
Cost: Free
Available on: Android
23. RhymeZone
This one is a nice solution if you want to create your poems and rhymes on the go . The app costs $2.99 but it's totally worth the price as it works even in offline mode.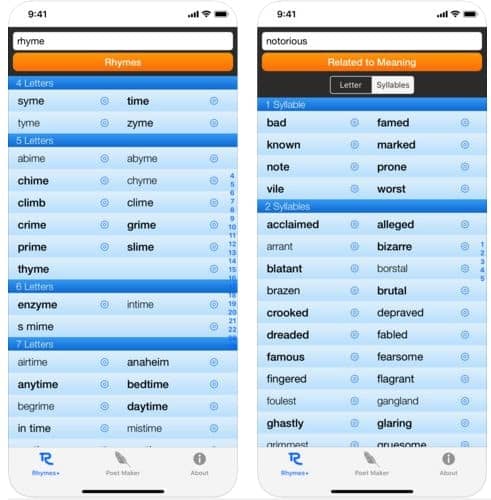 It's basically a big rhyming dictionary and a thesaurus. It enables you to find rhymes, near rhymes, synonyms, antonyms, homophones, words with a similar consonant pattern and other related words.
Inside you'll find a database of over 100,000 words and phrases. Once you're connected to the net, you can get more definitions and other great features such as the powerful "Poet Maker" which enables you to find words that match constraints on both meaning and rhyme.
For example, if you use a word that rhymes with "cat" and is related to "heavy", the app will come up with "fat". Pretty neat, right?
Cost: $2.99
Available on: iOS
Are you ready to create an amazing poetry with these apps?
I hope enjoyed the list above and that you can pick some of your new favorite apps you will use daily. It's so much easier to go through your creative struggles if you have a little of tech help on the side.
But remember that whatever you do, you shouldn't fully rely on apps when writing poetry. In the end, it's all about you, your feelings, and the message you want to convey. No one can come up with these things except you.
So make sure you leave your phone alone from time to time and let your mind flow freely among the literary landscape.
Rafal Reyzer
Hey there, welcome to my blog! I'm a full-time blogger, educator, digital marketer, freelance writer, editor and content manager with 10+ years of experience. I started RafalReyzer.com to provide you with great tools and strategies you can use to achieve freedom from 9 to 5 through online creativity. My site is a one-stop-shop for freelance writers, bloggers, publishers, content enthusiasts who want to be independent, earn more money and create beautiful things. Feel free to
learn more about me here.