They say leaders are readers, but not everybody enjoys reading. For those who do, reading can be so much fun, and it can keep you hooked for hours on end.
Reading can be even much more fun especially when you have the right accessories that will make the hours spent with favorite authors both enjoyable and worth your while.
Below is a list of 15 best reading accessories every bookish person would be delighted to have:
Handcrafted from domestic American walnut, the page holder helps you to keep the page open on your favorite book with just one hand. It leaves your other hand free to enjoy a glass of wine or any other thing you want to do with it while you read.
No matter your reading position – sitting, lying down, or standing, the smooth texture of American Walnut will complement the feel of any book.
Eliminate eye strain and maintain the correct sitting position with this reading stand. It can hold books, documents, laptops, and iPad perfectly in place while you read.
This book stand also has a non-slip mat installed at the bottom to keep the stand stably in place. It is small and portable making it suitable for kids.
Fellowes wire study stand helps to keep books, planners, and catalogs in place at an absolutely comfortable reading angle. You can also adjust the reading angle anyhow you want it to be. This sturdy stand can be folded up for easy storage.
This ingenious piece of work eases reading for every book lover and relieves strain considerably. You simply wear it on your thumb like a ring and pick up a book with it.
Its two wings help hold the pages open more easily than using your hands, making reading much more comfortable.
This book holder gives you an ergonomic reading angle and helps promote a perfect posture while you read. It has seven different reading angles that are adjustable to suit your preference.
It is easy to use, and quite durable. It's suitable for both home and office use and works perfectly with your hard copy books, IPad, sheet music, and all types of documents.
This set of 2 bookworm bookmarks is a stylish way to bookmark pages while conquering your next reading challenge. This plastic bookmark clips over the page easily and securely help you to keep track of where you were.
It not only helps you stay organized while reading but its beautiful design brings a smile to your face each time you open your book. There are 20 different designs to pick from.
This portable and stylishly designed clip-on lamp has a blue light reducing feature that protects your eyes while you read and help prevent eye fatigue.
It is equipped with 48 LEDs and has three colors of lighting mode – warm white, natural white, and cool white. There is also a brightness adjustment with 10 different levels of intensity.
The lamp is durable and comes with an adjustable gooseneck that twists and turns in all directions making it perfect for use on your reading table, bedside, piano and can even be attached directly to your book. A perfect addition to your list of reading accessories.
Shed light on your last read page with this lamp-shaped bookmark that will give your book a bright and enlightening look. It has a bright red color that is both attractive and eye-catching. Reading will be absolutely fun to get back to with this bookmark.
This book stand is the right gauge metal for the job. It's lightweight, making it convenient to use and move about, completely easy to set up, and strong enough to hold heavy books.
It comes with a tilt adjustment that allows you to pick between a low incline and a steep one. It also has clips on the bottom for holding down your pages. Reading is so much easier and much more fun with this desk holder.
This multipurpose Mini-table works as an Adjustable Laptop Table, a Portable Standing Bed Desk, Foldable Sofa Breakfast Tray, or as a Notebook Stand or Reading Holder for your Couch Floor.
It is easy to use helping you to maintain a convenient posture while you read. it is also made from high-quality wood so it lasts long enough for you to get through a whole list of essays. It is portable and folds flat for easy storage. It is an ergonomic workstation for the avid reader.
This super bright lamp comes fitted with 10 bright LED lights each with a capacity to deliver 50,000 hours of brightness. Its optical grade lens guarantees you only evenly distributed light with no hotspots.
It has multiple power options with a USB for charging and batteries, so you can choose any you want to use. It easily clips on your book or any other surface you would like to keep it on without causing any damage to the surface.
Create more reading space for yourself with this book stand for placing books, e-readers, iPads, and tablets, at a very comfortable reading angle. A variable slope adjustment makes this book stand perfect for maintaining a great posture while reading and reduces neck pain. It also folds up quite easily, so it takes up even less space during storage.
This Ultralight Laptop Table / Portable Bed Tray Book Stand is stylishly designed with an angular shape and a focus on geometry.
It provides you with full control and absolute flexibility, allowing you to place your laptop a very comfortable position whether you are standing or sitting. It is foldable for easy storage and portable making it easy to carry around.
This versatile bookstand provides eye-level reading for maximum comfort. It helps you to support your books, planners, catalogs, and more at a comfortable reading angle. It is stylishly and innovatively designed and helps to promote proper posture for improved spinal health.
Sometimes you just feel like lying down in bed and reading your favorite book at the same time. Who says you can't get the best of both worlds without straining your neck?
This special prism glass helps you to enjoy your book with no neck pain at all. It is made from a quality polycarbonate material that is durable and perfectly safe for your eye. This product also comes with a protective case and a cleaning cloth to keep it dirt-free always.
Now it's time for you to get the best out of your reading experience with these absolutely awesome accessories. You will be surprised at how affordable these products are. This list is not exhaustive and you can also find other brands of the same product that you will totally fall in love with.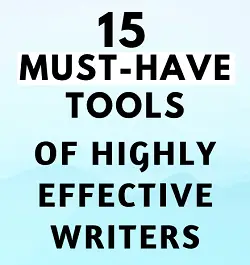 Free resource: Download your free PDF and learn about the top tools used by freelance writers.
Download here
Rafal Reyzer
Hey there, welcome to my blog! I'm a full-time blogger, educator, digital marketer, freelance writer, editor and content manager with 10+ years of experience. I started RafalReyzer.com to provide you with great tools and strategies you can use to achieve freedom from 9 to 5 through online creativity. My site is a one-stop-shop for freelance writers, bloggers, publishers, content enthusiasts who want to be independent, earn more money and create beautiful things. Feel free to
learn more about me here.