Sometimes you just need a book stand that will hold a larger volume or a textbook.
The regular stand may tip over under the weight of a heavy treatise, encyclopedia, or a workbook. That's why you need something sturdier, more robust, and able to hold the pages of the book firmly in place.
The items on this list will make you feel like a scholar, magician, theologian, teacher, or master chef, depending on your occupation. Pick the one based on your individual needs, and have fun with it.
Related content: 8 Best Lap Book Holders For Reading
Here's a list of the eight top book stands for large textbooks:
1. A+ Book Stand BS2500 – Large Book Holder
For Hands-Free Reading
A+ Adjustable Book Stand for Heavy Text Books 16x10.5
This sturdy book stand is perfect for holding hardbound textbooks, cookbooks, coffee table books, glossy publications, etc. A wonderful gift idea!
Buy Now
If you click and buy something, I will earn a commission at zero extra cost to you. Thanks for support!
09/25/2022 11:59 am GMT
This is the top book stand available if you're looking for something lightweight but sturdy, and able to hold a big textbook or a cookbook. It comes with delicate yet strong pegs that prevent the book from closing, and at the same time, they allow you to turn the pages easily.
You can set the stand at 5 different angles. It's also affordable so you can easily fit it into a backpack. Moreover, the item is durable, as its corners are reinforced with plastic. And lastly, it has a clean, beautiful design. Great craftsmanship overall.
Lifehack: Clip a LED reading lamp to the top of the book stand to read easily at night.
2. Napa Table Book Stand
A Treat for Artists and Book Lovers
Napa Table Easel & Book Stand
A portable and adjustable table easel and book stand for doing illustrations or hands-free reading. A great gift for cooking enthusiasts too for holding cookbooks.
Buy Now
If you click and buy something, I will earn a commission at zero extra cost to you. Thanks for support!
09/26/2022 02:00 am GMT
This book stand serves many purposes. It mainly acts as a stand, but you can also turn it into a miniature desk or convert it into a painting easel.
You can put it in 3 different positions so it's at a perfect reading angle for you. The actual edge where you place the book is around one inch deep, making it wide enough to place a tablet or a good-sized book. It's a great item you can use both in your office and in a classroom.
You can also fold it up completely. It's actually lightweight so it's great if you need to travel with it.
3. Wiztem Freesia Book Stand (19.6" x 11.8")
Gorgeous and Sturdy
Wiztem offers book stands in 10 different sizes. The one that's best for large books is Freesia. It's 19.7 inches wide, allowing you to keep the book on it as well as a notebook or a tablet. It's a great item if you need to keep either a huge textbook on it or two different items at the same time.
It weighs 3.2 pounds so you can be sure it won't tip over under the weight of a book. It also has a non-slip rubber backing, which makes it more ergonomic and helps you avoid things like back knots. It costs a bit more than regular book stands, but it's handmade and extra-large so the premium price is justified. It can also be adjusted in any way you want from a 15-degree to a 90-degree angle.
4. Patented Ergonomic Premium Book Stand INP-103
Durable and Affordable
Ergonomic Premium Bamboo Book Stand
Facilitates hands-free reading of textbook or cookbook pages. Made primarily with eco-friendly glossed bamboo material.
Buy Now
If you click and buy something, I will earn a commission at zero extra cost to you. Thanks for support!
09/25/2022 01:44 pm GMT
This item is amazing when it comes to ergonomics and functionality. It's actually available in five different sizes, but for the purpose of this review, we will look at the big one which is 15,63" wide and 10,4" tall.
As you can imagine, almost 16 inches is more than enough to hold any type of volume. Moreover, the metal pegs for holding the page cover up to 2,5 inches in thickness, and are strong and flexible. Another thing I like about these pegs is that they are really thin and do not obscure a lot of text while you read.
This is really important because you don't want to be moving around these things all the time while you read. Ah yes, and you have 15 different angle adjustment levels. That's more than any other item reviewed here.
5.
Readaeer Book Stand Large Size (13.4 x 9.3 Inch)
Lightweight Yet Durable
This book rest is special because it's made of bamboo, making the wooden part lightweight. But at the same time, the easel is supported by a sturdy piece of metal, allowing you to keep even a thick volume in the right spot.
The total weight is 1.85 pounds, making it perfect for the purpose. Additionally, you can use pegs to hold the pages and deal with your reading material hands-free.
The item is quite wide (13.4") so it will hold a big textbook or a hardcover. You can also recline it from around 45 to 90 degrees, making it adjustable and user-friendly. It's also one of the most affordable options on this list costing just a little bit over $16.
6. BamBoo Book Stand With Retro Hollow Elegant Pattern
Eye-pleasing and Eco-friendly
Bamboo Book and Tablet PC Stand
Made from sustainable and eco-friendly bamboo material. With retro-style hole patterns for aesthetics and various slots for viewing angle adjustment.
Buy Now
If you click and buy something, I will earn a commission at zero extra cost to you. Thanks for support!
09/26/2022 04:54 am GMT
This book stand is unique and it's one of the online bestsellers. That's because of its particular retro design. Instead of being simply a book stand, it also acts as a little piece of art and I think you would be happy to show it to others.
What's great about it is that it's completely adjustable. You can easily view your book from 5 different angles. This helps you to keep the correct posture at all times. And if you decide to hide it or take it with you, it will conveniently fold down flat, making it portable.
But what I like most about this item is that it has these sprung pegs that will hold even the thickest book in place.
7. Vintage Cast Iron Cookbook Stand
Here's another amazing item, but this time it's made of iron instead of wood. This makes it more presentable, especially if you want to use it in your kitchen.
The material of which it's created makes it heavy and durable, and able to hold even the biggest cookbook ever. It's really useful in the kitchen when you have your hands dirty, but still want to keep your eyes on that delicious recipe. There's nothing worse than ruining your favorite cookbook with your wet hands!
The stand is also high-quality in terms of aesthetics and it has a beautiful pattern that will surely complement your kitchen decor. It's available for purchase in white or red and it will allow you to display your cookbooks with pride.
8. Adjustable Height and Angle Ergonomic Book Holder For Heavy Books
This item is completely different from any other from this list. But I wanted to include it here because it offers some unique features which may be useful to some users.
This book stand is not really pretty, but its value lies in its functionality. First, it's able to hold large volumes like heavy textbooks and vademecum-type of volumes. Second, it has an ergonomic design that allows you to adjust it any way you please.
It's great if you like reading or studying in bed, or if you have a back injury that prevents you from standing long hours sitting down at your desk. It can hold up to 3,3 lbs of weight, which is more than enough for any book.
Now you'll be able to hold your books properly
Being able to hold your book in place is critical when studying, working, or cooking.
You want to keep the volume in front of your eyes hands-free. By using the special pegs, you'll keep the pages from fluttering away, which allows for a much more relaxed and convenient reading experience.
And the best thing is that these items are rather inexpensive. But at the same time, they'll serve you for many years.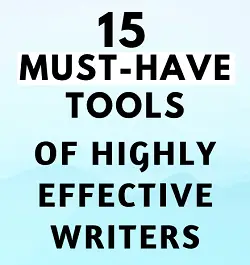 Free Resource
Download your free PDF and learn about the top tools used by freelance writers.
Get it here
Rafal Reyzer
Hey there, welcome to my blog!
I'm a full-time blogger, educator, digital marketer, freelancer, editor and content manager. I started RafalReyzer.com to provide you with great tools and strategies you can use to achieve freedom from 9-5 through online creativity. My site is a one-stop-shop for writers, bloggers, publishers, content enthusiasts and freelancers who want to be independent, earn more money and create beautiful things. Feel free to
check my archive containing over 500 articles
and
reach out
if you need anything. Ah yes, and stay awesome!