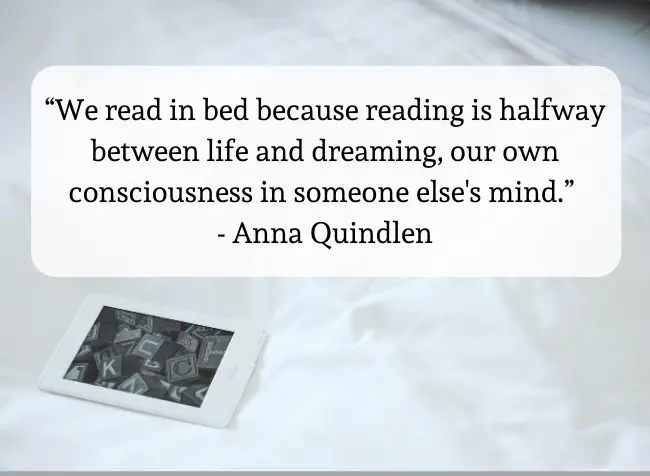 Going through a few chapters of your favorite book before dozing off is a great pleasure.
Best of all, reading on the Kindle doesn't require artificial lighting. The soft glow of your e-reader adds to the mystique and makes engaging with prose more enjoyable.
But reading in bed is not always comfortable because you have to keep your device in your hands and the screen can disturb sleep schedule.
After a hard day's work, you're not in the mood to hold another device. That's especially true if you're experiencing wrist or neck pain.
That's where Kindle holders for reading in bed come into play. These snuggly friends will keep your e-reader in place, making your bedtime reading bliss. Let's look at some of the best models in the market, shall we?
Here are the top five Kindle holders available right now:
As with most devices presented in this review, this one is a multi-functional product. You can use it not only for your Kindle, but also for your tablet or smartphone.
MoKo holder is my top pick, based on quality and functionality. It's available in five different colors (coffee, magenta, purple, denim blue, and red wine). So go ahead and pick the one that suits your style.
Made from premium materials (linen and cotton), this holder is soft and comfortable to use. It doesn't have rough edges, making it perfect for pre-sleep reading sessions.
It's also foldable and adjustable, enabling you to reach an ideal reading position. You can place your Kindle at a 60° angle, which is perfect for reading in bed.
The inside is a piece of memory foam that will stay in shape for years. The exterior is removable and washable, so you can keep it fresh and inviting all the time.
Flippy is one of the most popular items in the Kindle holder category, and for a good reason.
It's low-priced and available in five colors (charcoal, grey, kiwi green, light blue, and orchid). It's not only a great idea to buy it for yourself for a more user-friendly reading environment. It's also a fantastic gift for friends and loved ones with a penchant for literary adventures.
What I like about it is that it has three viewing angles that only take seconds to switch. After all, you rarely stay in one position while reading.
Just in case, here are additional tips for pain-free bedtime reading.
Sometimes you're sitting upright. The next minute you're slouching and falling asleep, all the while trying to finish the next chapter.
No matter what you do, Flippy will have you covered. It's a lightweight and yet sturdy product that never fails.
This e-reader holder is quite similar to the first one listed in this review. Yet, it's a bit cheaper and differs in a few other minor ways.
What I like about it is that it's foldable, which allows you to use it for many purposes.
It's not made for pursuing bedtime literary adventures only. You can also use it for working on your tablet or small laptop, or even for reading a large textbook.
It has the feel of a pillow, which makes it a perfect bed companion. It's sturdy enough, so it won't collapse or change position.
This product provides more than just a comfortable reading angle. As a bonus, it comes with a back-pocket for storing literary paraphernalia such as pens, markers, pencils, or earphones.
Just watch out if you have a cat, because it will undoubtedly take possession of it! PS: Here you can check extra tips for reading at a comfortable angle.
This product was designed for iPads and other tablets, but it can hold an e-reader like Kindle too. This cushy friend is inexpensive and comes in three colors (red black and blue).
It's made of soft washable material, and it can help you avoid back and neck pain associated with reading in an uncomfortable position. (Like when you're keeping your hands aloft to hold a book.)
Same as with the other products listed above, it allows you to place your device at a 60° angle. That's an angle that seems to be ideal for reading in bed.
The only drawback I see is that the little cushion that keeps your device in place may slightly obscure the bottom of your screen. So, if I were you, I would invest in a little more expensive but a higher quality product listed here.
Last but not least, I wanted to share something completely different. Instead of a soft and pillow-like product, you can try this Kindle holder made of metal and plastic.
It doesn't mean that it won't provide a great reading experience, though. It's multi-functional and allows you to place your e-reader in a comfortable position. It is also rotatable and adjustable to conform to your needs.
You can place the most curved part of the bracket under your pillow or mattress. Then, use its long tentacles to put your device in precisely the right place.
Unlike other products listed here, this holder lets you place your Kindle right in front of your face. Trust me, after many hours of reading, your neck will thank you for it.
Since it's so flexible, you can use it in many ways. For example, hands-free viewing, GPS, or even office work. In short, wherever and whenever you need a hands-free mobile device experience.
You may want to check out other reading-related articles on my blog:
Now read your next bedtime novel in comfort
For many of us bookish people, the process of reading is like the process of breathing – essential for life. But sometimes, even the most ardent literary aficionados need more comfort.
We need the stamina to go through an entire series of romantic novels or lengthy nonfiction titles without straining our upper limbs.
I hope that this article gave you a little bit of inspiration. I trust that you find my product recommendations useful, knowing how you can read in comfort the next time you hit the sack.
Rafal Reyzer
Hey there, welcome to my blog! I'm a full-time blogger, educator, digital marketer, freelance writer, editor and content manager with 10+ years of experience. I started RafalReyzer.com to provide you with great tools and strategies you can use to achieve freedom from 9 to 5 through online creativity. My site is a one-stop-shop for freelance writers, bloggers, publishers, content enthusiasts who want to be independent, earn more money and create beautiful things. Feel free to
learn more about me here.