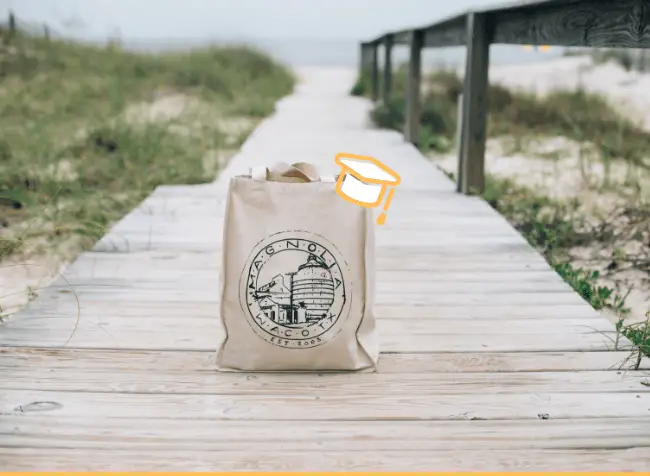 A nicely designed tote can be like your best friend.
It's always nearby, it doesn't complain, it looks good, gives you support, and will even carry your stuff around when needed.
Tote bags are especially useful for students, who are notorious for dragging around an unheard-of number of textbooks, mobile devices, and laptops. And let's not forget about copious amounts of coffee and alcohol splashing around.
You shouldn't be satisfied with just any bag. Instead, you can buy one that will manifest your unique identity, fit well, and perhaps even have extra pockets for your most valuable belongings.
Let's take a look at some of the best models that will carry your stuff through the difficulties of student life:
Here are the best totes for college students:
This tote bag is a classic, and it's going to be a favorite of any bookish student. The basic model is rather small (15" x 15") but you can also grab a medium one (15" x 18") if you're tall or you need extra space.
The bag is sturdy with reinforced handles, so it will carry your books for many years to come. It's machine washable so you can take it with you on college, grocery, or beach expeditions without worry.
The bag is super affordable so that it won't break a student's budget. It gives you great value for the money and provides space for books, electronics, and other materials.
The origin of the word "tote" – "to carry," 1670s, of unknown origin; originally attested in Virginia.
This bag is perfect for a student with a sense of humor. It bears an image of a sloth, and it's ideal if you want to appear cool, but you're actually a book nerd. It's going to balance out your social image and make you look more playful.
It's rather small (15.3" x 13"), but that's still more than enough to pack your college-related paraphernalia.
What's even better is that this type of product comes in many designs. If you're not a sloth fan, you can get a different model with a cat (for cat people), a dog (for canine inclined), or a bald eagle (for you patriots among us).
The diversity of designs, along with affordability, makes it an excellent pick for someone who wants to sport a unique bag on campus.
Fun fact: The first known tote was produced in the 1940s by an iconic brand, L. L. Bean, and it was actually an ice bag. Since then, this essential item has gone through countless iterations, finally securing its place in modern culture. What's great is that L.L. Bean is still in business and releasing new versions of the bag annually.
This library card bag is perfect for a student who spends an obnoxious amount of time buried in books. It will let you flaunt your bookish personality like a boss.
With a size of 15" by 14", it gives you enough space to pack even the heaviest among textbooks. To give you an idea, it will pack up to 12 books of a regular size and weight.
Some users actually measured its durability, and it turns out that it can hold up to 18 lbs. That should be more than you would ever need to carry (unless you're hauling drinks for your next dorm room party!).
Fun fact: Luxury French fashion brands like Balenciaga came up with their versions of a tote. Selling at around $1000-$1500 apiece, this is not the top choice for a college student.
This is a bag for a classy young woman who doesn't only care about functionality, but style too. Yes, it's a little bit more expensive, but you wouldn't mind carrying it to your next summer internship interview.
What's great about it is that it comes in three different designs. You can choose between two types of black and navy blue.
It also has some extra features that you wouldn't find in a regular tote. It has a metal zipper that will help you keep things secure, and it's made from premium nylon fabric that'll protect your staff when it's pouring rain. It's great if you plan to carry a laptop or other expensive electronics around.
Did you know: The famous NYC-based bookstore Strand released its version of the bag in the 1980s. If you've never been to the store with "18 miles of books", you should definitely do it at some point, and grab one of these iconic bags. In 2016 alone, the NYC book-lovers' favorite sold over 89,000 totes.
This is another tote on a literary theme. What's striking about it is that it's deep (14" by 18") so it will enable you to stack books and throw in a bottle of wine and a picnic kit too.
The bag is huge, so it will be perfect for a taller person or someone who needs to carry around loads of stuff regularly. You can also use it as your "number two" bag, which will be perfect for a day at the beach or a weekly grocery store visit.
It's made in the USA, it's 100% cotton, it has an inner pocket for smaller items such as keys or earphones. And the best thing is that when you buy this literary bag the producers will send one book to a community in need.
Also, if you are not happy with the regular design, you can choose among more than 20 other models from "Out of Print."
"Do your people have a proverb about a man looking for something inside the bag of a man looking for something?" ― Chinua Achebe
Here we have a beautiful specimen of a tote bag, perfect for our young biology, nursing, or medical student. People who will soon enjoy cutting patients open will enjoy this bag with a clever sketch of a human heart looking like it came from Leonardo da Vinci's notebooks.
You can choose from two different sizes. The small one is 15" x 15", and the medium one is 15" x 18". The handles are sturdy as they are reinforced with extra fabric. As with most other items on this list, this tote is machine washable so you can purify it from any bodily fluids. And if you are more of a chemistry person, the company which sells these bags will have you covered as well.
Most of the bags listed in this article are for women (guys prefer backpacks after all). But this one is different as it's also perfect for the gifted male math buffs among us.
If you're into engineering, programming, architecture, physics, or math, this bag will complement your passion. It's super spacious, and it will easily swallow up a 15-inch laptop. Moreover, it has a zipper and gusseted bottom, so it's sturdy A.F.
And as a bonus by buying this bag, you will be supporting a charitable organization helping children to be more confident and creative.
Final note: this bag is also available in literacy, science, social studies, and teacher themes.
Alright, perhaps you despise totes carrying elaborate designs, and you are looking for something simple. If that's the case, this is the perfect bag for you.
It's a minimalist bag without any sketches or slogans, and it serves as a great counterbalance to a brand-obsessed-world. Yes, the flashing images and ads will still tantalize your senses on your mobile phone. But at least when it comes to your tote, you are wholly neutral, which can be a breath of fresh air.
The bag comes with extra-long handles, and it's 15" deep, and 14" wide. This should give you enough space to pack your college essentials.
Are you ready to sport your new tote?
Getting the right bag under your arm can be one of the best investments you ever make. Usually, these items last forever and even if your college friend vomits into it, you can throw it into the washing machine and give it a brand-new appearance within a couple of minutes.
More than that, if you ever happen to lose your bag, it won't be the end of the world as Gucci did not make it and only costs a couple of dollars.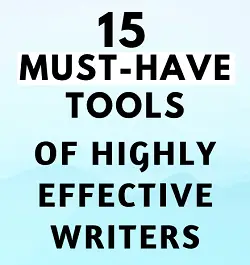 Free resource: Download your free PDF and learn about the top tools used by freelance writers.
Get it here
Rafal Reyzer
Hey there, welcome to my blog! I'm a full-time blogger, educator, digital marketer, freelance writer, editor and content manager with 10+ years of experience. I started RafalReyzer.com to provide you with great tools and strategies you can use to achieve freedom from 9 to 5 through online creativity. My site is a one-stop-shop for freelance writers, bloggers, publishers, content enthusiasts who want to be independent, earn more money and create beautiful things. Feel free to
learn more about me here.