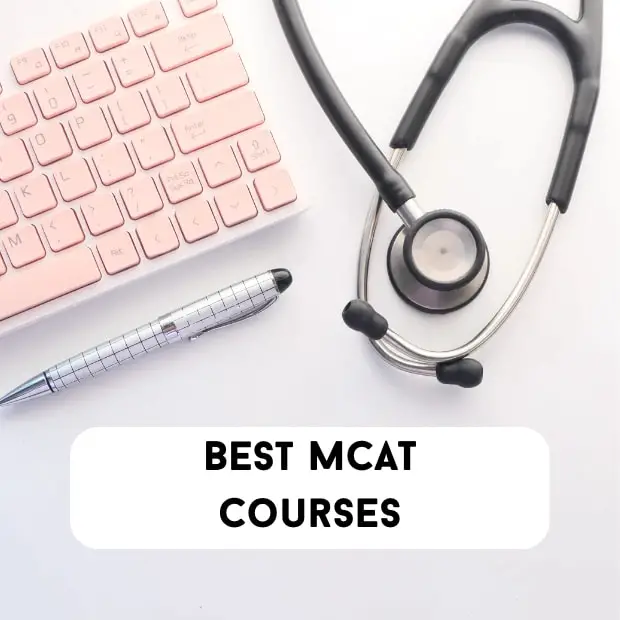 We need great doctors in this world, but passing the MCAT is no easy task. The AAMC has designed it to last a daunting 7 hours and 30 minutes.
The highest possible MCAT score is 528 and you should achieve at least 510 (with an average GPA of 3.71) to get admitted into a prestigious medical college.
That's why it's crucial to invest in the best possible MCAT prep course which will maximize your chances of success.
In this review, I'll talk about the top Medical College Admissions Test prep courses available in the market right now.
I analyzed several offers from the most popular prep course providers and pinpointed the ones which will give you the best chances of success. They also have the highest ratings in the community of MCAT test-takers. Below you'll find the top pics, including affiliate links (thanks for your support!)
Here's a quick list of the best MCAT prep courses:
How was MCAT course list compiled?
There are already a couple of posts listing MCAT courses, but this one is the most comprehensive. I painstakingly took the data from all these articles and checked different offers on many websites offering MCAT courses.
I also checked different student forums,  Reddit boards, group discussions, and course review aggregators. Then I compared all the offers side by side and came up with the top options you see below. The other courses which didn't quite make the list are:
MCAT Next Step
Examkrackers
Altius MCAT prep
Gold Standard MCAT Prep
Researching these courses took a lot of time and I hope you will appreciate the result.
Why should you choose the live online MCAT course option?
Test preparation companies offer in-person classes and advertise them as a great option for people who want to sit in the classroom among fellow students.
But unfortunately, these classes are the main source of negative reviews. That's simply because often they get canceled. Imagine paying over $2,000 for a course and then having it canceled and rescheduled to another date or another location.
This is a tricky situation, but it happens from time to time. That's why I recommend you pick the live online MCAT prep option. It will allow you to study from any place without commuting and potentially wasting your valuable time.
Here are the best MCAT prep courses available right now:

1. Prep101 MCAT Prep Course
This MCAT course is tailored to bring success within your reach through an immersive and structured educational experience. Just a few years ago this Canadian company wasn't very well known, but now they're actually providing the best MCAT learning experience out there. Here are some of the unique features of their offer that you won't find anywhere else:
Your Own MCAT Coach:
One of the distinguishing features of Prep101 is that you get your own MCAT study coach once you sign up for the prep course. Your personal coach will guide you through the best study techniques, help you focus on the areas where you need the most improvement, and even give you tips on how to schedule your sessions in your busy calendar so you make the time for study. No other course I've seen offers coaching (especially not at this price point).
Flexible Schedule:
With a mix of in-person and live-online classes that repeat a couple of times each week, you will never miss important classes. This is a fantastic option for busy students like you, who sometimes simply cannot make it to every single class.
Unlimited Free Repeat Policy:
This one is a true game-changer. Once you sign up for the MCAT prep course, you can go through it as many times as you want (no strings attached). Let's say you haven't passed the test. With other prep companies, you would need to pay up again, but with Prep101, you can take the whole course again until you pass your MCAT with flying colors.
Comprehensive Live Instruction:
With 138 intense hours of live instruction, spread across 44 insightful lessons, Prep101 has crafted a curriculum that not only educates but also engages. Each lesson is typically paired with a 30-minute in-class exam and a follow-up review, ensuring that learning is both deep and responsive.
Critical Focus on CARS:
The company recognizes the importance of Critical Analysis and Reasoning Skills (CARS) and provides specialized training in this all-important area. You can benefit from 32 in-class exams and 14 workshops, all enriched with a wide array of passage-based questions.
Proven Three-Phased Approach:
The course is structured into three phases to maximize learning gains:
Before Class: You will prepare with a study guide chapter and 24 practice questions.
In-Class: You will with key concepts in an interactive lecture followed by a passage-based exam and a review session.
After Class: You will solidify your understanding with 5-10 passages as after-class practice.
Extensive Materials for MCAT Success:
From paper to digital, they provide lots of valuable materials that will make a difference in your prep:
Knowledge Building: 6 study guides, 6 classroom companions, 444 on-demand MedReels, 44 annotated lecture notes, and 27 on-demand classes.
Skill Enhancement: 32 in-class exams, 166 on-demand MedReels, 23 after-class practice sets, 20 full-length practice tests, 6 AAMC Question Packs, and 1 AAMC Section Bank.
Strategic Insights: 1 CARS Workbook and 14 on-demand workshops.
Prep101's MCAT Prep Course isn't just about studying; it's about building a strategy that works, honing skills that matter, and deepening the knowledge that empowers. Enroll to get access to their advanced learning methods, materials, and mastery that makes Prep101 an unbeatable choice for MCAT preparation.
Click here to check the price of this MCAT course
Here's a positive review from a person who went through the Prep101 MCAT course:
"I took the MCAT Prep Course from Prep101 last year to help study for my exam. The professors were great teachers and made each lesson fun, even though there was SO much content to get through each day. I appreciated how thorough and diverse the course was–I think it prepared me super well for my MCAT with minimal studying besides the course. Thanks to the teaching team!" – Anastasia
You can check more student reviews on their TrustPilot page.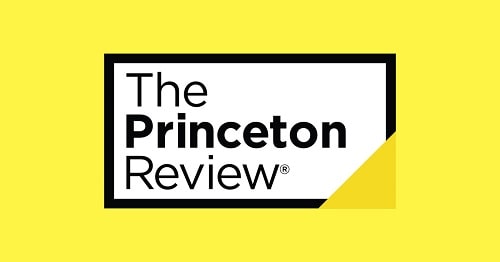 2. Princeton Review MCAT Ultimate Live Online
Princeton Review has been around since 1981, which makes it one of the most established companies in the course prep market.  They offer many MCAT preparation options, ranging from self-prep courses to more popular live online ones that come with extra online resources. There are also in-person boot camps where you can do your prep in the company of other students.
The most popular option is the live online course.  It lets you get the experience of a live classroom from the comfort of your own home, cafe, or library. This enables you to save many hours on commuting and focus on your studies.
The Princeton Review Ultimate Live Online MCAT course is great for the following reasons:
1. It provides the best value for money. There's no other course that has so many features, books, live instruction time, and full-length practice tests. And all over this comes for around $2,649 (please check the price details below).
2. It has the best higher score guarantee. With the MCAT ultimate course, you get the best guarantee on the market.
The deal is: you'll score at least 510, or improve your previous score by at least 10 points. Otherwise, you get your money back or you can take the course one more time at no additional cost.
To my knowledge, no other company is so confident in its ability to prepare students for the MCAT. Moreover, 510 is the exact score you need to get into the majority of medical colleges.
3. The highest amount of live classroom time. With the ultimate course, you will get 123 hours of live instruction time.
4. It has the highest number of books available on the market. With most MCAT courses you will receive 5 to 7 books, but with Princeton Review, you'll get 11 (four of which are not on sale for the general public). Despite many advances in technology, most students still prefer to have good printed material to use during their prep.
The MCAT books included in the bundle are:
MCAT Biology Review
MCAT Biochemistry Review
MCAT General Chemistry Review
MCAT Organic Chemistry Review
MCAT Physics and Math Review
MCAT Psychology and Sociology Review
MCAT Critical Analysis and Reasoning Skills Review
By getting the live online course you'll also receive:
MCAT Science Workbook
MCAT Science Review, Test Questions, and Solutions
In Class Compendium
MCAT CARS Workbook
Another great advantage of this MCAT prep course is the huge amount of full-length online practice tests (15). The test questions and format of this test resemble the real-world tests accurately, so that's what you can expect on the test day.
Most students say that the Princeton Review tests are more difficult than the real world AAMC practice test. On average you can expect to get 10 more points when passing the real test compared to the mock one.
There are 123 hours of live online instruction time. And that's not only with one instructor, but 4 to 6 MCAT tutors in different subjects related to the test. This allows you to hear a variety of voices and attack the topics from different angles.
After each lecture, you're not left to your own devices. You will get section-specific homework to complete before the next class.
There are over 500 on-demand videos you can watch on Princeton's Medflix channel. If you're a visual learner you couldn't ask for more.
When you enroll, you won't immediately dive deep into practice questions and drills. First, you will watch "Lecture 0" which will give you an overview of the MCAT and knowledge about medical school admissions.
You will also take the science diagnostic exam and the CARS exam prep to assess your current level of knowledge and see where you need to improve.
The whole course takes around 14 weeks. Every two weeks you'll have to complete a practice test, where you focus on areas that can potentially bring you a higher score on the actual test.
Two weeks before the real test, you will take the AAMC Practice Test 2. And then, one week before the test you'll complete the AAMC Practice Test 3. That's a great moment for a final review and adjustments to your learning schedule.
The dashboard of the course is very intuitive and high-tech. You will see exactly how well you performed on each section of the MCAT exam and where you need to improve to get into your favorite med school. You will also get detailed reports about your activity that will help you measure your progress.
But the best part of the MCAT course that will help you keep motivated is the "student manager missions." They will turn your MCAT prep into an interactive game.
For example, your mission will be to complete eight full-length practice tests. Another one could be to complete all your homework assignments. And then once you've checked out your missions, you can guarantee a higher score on the MCAT exam. This is the top pick among MCAT prep courses this year.
Here's exactly what you will get from the most popular "live online" course:
123 hours of live classroom time
A set of 11 books
16 full-length online practice tests
Personal live one-on-one coaching (Available with additional cost)
500+ hours of on-demand instructional video
1000+ practice questions with explanations
MCAT 510 guarantee option. Improve your score by at least 10 points or get at least 510, or your money back.
With study manager missions
PRICE: Check the price here (get $300 off your course)
Princeton Review Self-Paced MCAT Course Option
Besides the "ultimate live online course option", there's also the self-paced course. It's more flexible because you can study at the time that's best for you. This course is designed for busy professionals who don't have time to attend online classes and prefer to practice in their free time.
With this course, you will get most of the materials available in the live online option. But unfortunately, there is no guarantee of getting at least 510 points on the MCAT. You will only receive a higher score guarantee.
It means that you could improve on your previous score only by one or two points and you won't be able to get your money back. So that's a riskier option.
To be honest, the difference in price between the live online option and the self-paced option is not that significant ($500-$600). So if you have time to attend the classes, I would recommend going with the live online course.
You put more money on the table, but at least you will get a  stronger guarantee and confidence that you will get accepted to your medical school of choice.
Here are all the features of the "self-prep" course:
16 full-length online practice tests (including the AAMC materials)
500 MedFlix on-demand instructional videos
A set of 10 books
6 months access
Standard guarantee
1000+ practice questions
PRICE: Check the price here (get $100 off your course)
Here's a positive review from a person who went through the Princeton Review course:
"TPR helped my MCAT score grow 12+ points in 5 weeks. My instructors were amazing and super-committed to helping me with whatever I needed. The course is very thorough – you cover absolutely everything you need to know for the MCAT." – Olivia
And here's one negative review for your consideration:
"Some of the materials feel too specific. I mean it's good to cover a lot of material to be as prepared as possible, but sometimes this isn't the best thing; there's only so much time and effort you can put in, so you don't want to be putting forth the effort to learn things you won't need to know." – Bill
What about books and written materials?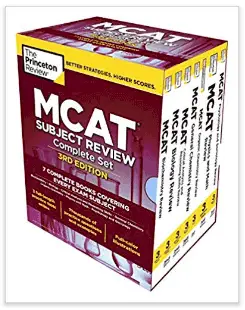 There are 11 books that come with the Princeton Review course. They are available on Amazon, but if you sign up for the live-online or the self-prep options, these books will be included in the package.
The seven regular books cover all areas of knowledge required for the MCAT. If you sign up for one of the courses, you will get the four additional books you can dig into.
These printed materials received great reviews from most pre-med students.

3. Kaplan MCAT Live Online Plus
Kaplan is the oldest test preparation company in the world. They developed some of the most impressive courses you can find on the market.
They also have a large infrastructure of educational centers, so if you like a personal setting, that's the best option to choose if you want to get into a med school. If you live close enough to one of the centers, you can attend classes along with other students.
But in this review, we'll look at their live-online option, which is still the most popular is one among students (and most reliable).
The price of the course is similar to what you would get from Princeton Review (you can expect to pay around $100 more).
Kaplan is a close contender for a couple of reasons. First with the "live online plus option" you will get 3 hours of one-on-one coaching.
This is valuable because you will sit down with a medical school admissions expert and receive advice, personalized MCAT study plans, as well as tips on how to best apply to your dream college.
You will get two self-paced courses as a bonus. These courses cover the foundations of biochemistry, organic chemistry, and the foundations of behavioral science. It's almost 40 hours of video content from expert instructors to absorb.
Another great thing that you can use to increase your chances of MCAT success is the adaptive MCAT Qbank technology from Kaplan.
It will help you structure your practice sessions based on your individual strengths and weaknesses. It's a great tool to receive instant feedback on your answers so that you can focus on the areas where you need to improve the most.
For example, you wouldn't waste your time on the questions that you can tackle easily, and focus on the harder ones instead.
The only thing that's missing here is a strong higher score guarantee. With Princeton Review, for example, you are guaranteed to get at least 510 points on your MCAT. But with Kaplan, you only get the standard higher score guarantee.
This option is riskier because you could improve just by a single point on your previous score and you won't be able to get your money back.
Another disadvantage compared to a Princeton Review is that you will only get 7 books instead of 11. That's not a big difference, but it still might be important to some students.
But overall, it's an excellent MCAT prep course that will surely help you master the relevant content, crush it on the test day, and find yourself among the top students.
You can pick from different schedules. Depending on how soon you want to finish the course, you can attend one, two, or even three classes per week. It means that you can go through the paces and finish in 2 or 3 months or take your time and study over 5 months.
Here's a rundown of all the features of the "live online" course:
36 hours of live classroom time
A set of 7 books
15 full-length online practice tests
3 hours of personal live one-on-one coaching
220 hours of on-demand instructional video
10,000+ practice questions with explanations
With money-back guarantee
PRICE: Check the price here (get $200 off your course)
The Self-Prep, MCAT course from Kaplan
Self-paced MCAT course from Kaplan is a good option to pursue if you have a busy schedule and can't make time to attend the online classes.
The price difference between the live course and the self-prep one isn't that great. It's better to invest a bit more and get a more structured offer where you'll receive expert guidance from seasoned professors.
Otherwise, studying on your own can seem daunting, given the number of materials you will need to tackle.
It all depends on how determined are you to follow a study schedule in your free time. But I can tell you from experience that forced self-discipline in live courses is much more powerful than studying on your own.
Here's what you would get with the "self-prep" course:
 15 full-length online practice tests (including the AAMC materials)
220 science review videos + access to the MCAT channel
7 books included
5 months access
Standard guarantee
10,000+ practice questions
PRICE: Check the price here (get $200 off your course)
Here's a positive review from a person who took the MCAT course:
"I have yet to take my MCAT yet, but I will say that I loved my course! The professor was amazing, she took the time to make sure we understood what the topic was for that day and if we didn't, she was more than happy to further help via email." – Sarah
And here's a negative review:
"I enrolled in the Online Summer Intensive MCAT test prep. I did not receive weekly private tutoring sessions for over half the course and when I finally did receive it, the sessions were short and I felt like the instructor wanted to rush through things. I ended up scoring worse on the MCAT than my practice tests." – Stacey
What about books and written study materials?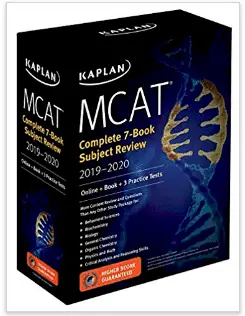 The MCAT books from Kaplan are great and they received positive reviews from students. They come in a set of seven and cover all the areas of knowledge required for the test. They also give you access to some additional online materials.
The emphasis here is on key topics and concepts you will most likely encounter in the real-world test. There's a lot of repetition in the books, but they are designed in that way with a purpose in mind.
They allow you to jog your memory and practice repeatedly until you memorized the most important concepts.
Along with the books, you will get 3 extra online practice tests, which are a nice bonus.
The Kaplan MCAT books are highly recommended as they are more concise and don't bore you with unnecessary details. You will get to the gist of it which makes your study plan much more enjoyable.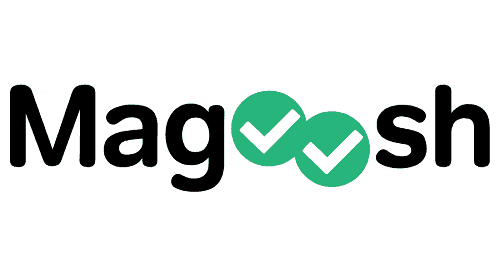 4. Magoosh MCAT Prep Course
Magoosh is a new kid on the block when it comes to the MCAT prep. The company started in 2009 with the idea of making test preparation more affordable for students through a variety of online resources. Now you don't have pockets deep enough to pay for a premium course.
This, however, doesn't mean that their materials are of low quality. Quite on the contrary, Magoosh has an effective MCAT preparation system based entirely on self-preparation.
Because of the self-paced formula of the course, of course, as a student, you will need much more self-discipline to go through the materials on your own. It's not easy to prepare for a 7.5-hour exam entirely on your own, but if that's a necessity Magoosh will have you covered.
All their self-prep courses cost around $100 (you can see the exact price by clicking on the link below). They will give you access to the MCAT materials for 12 months. That's more than enough to absorb all the necessary knowledge for the MCAT exam.
If you decide to go this way, I recommend you combine Magoosh with the materials provided by the AAMC and the Khan Academy.
You can also support yourself with MCAT prep books from Princeton Review, which you can easily find on Amazon.
The main advantage of studying with Magoosh is that you can access their materials from anywhere and anytime. They have a great mobile app so nothing will stop you from completing a couple of MCAT drills during your commute or while waiting in line.
The app is supported on PC, Mac Android, and iOS, which makes it really flexible. All you need to access the course is an electronic device with an internet connection.
The great thing is that all the questions are timed. With this feature, you will know exactly how long it takes you to go through each question (this is essential for the CARS section).
The app will also gather data about your answers, which you can later analyze in the reports section. This will give you additional insight into where you can improve.
Not only that, but you will also see how your timing compares to other students on the Magoosh platform. This is going to give you a good motivational boost.
With Magoosh you'll get 745 practice questions which amount to around 3 full-length practice tests. You'll also get over 380 video lessons covering all the sections of the test.
All the practice questions are broken down into separate categories, mirroring what you will see in the real-world test:  biological and biochemical, chemical and physical, psychological and social, and CARS.
By going through the sections separately, you'll get a much better idea of where you still need to improve. Then you can focus on the areas of your weakness.
The MCAT questions you will encounter in the app are slightly more difficult than what you'll get during the real-world exam. This is great because you will receive a more thorough prep.
The good thing is that you can try out their services with no risk as they have a 7-day full refund policy. It means that if for any reason you don't like the materials, you can get all your money back within 7 days of making a purchase.
Another great thing that is rarely offered by self-prep courses is the higher score guarantee. If you don't improve your previous MCAT score by at least 10 points after going through the premium program you'll get your money back.
Also, is that you will get email support from the Magoosh team that will answer your MCAT-related questions within one or two business days.
This will come in handy if you get stuck somewhere along the way. They also provide some additional materials such as flashcards,  lecture notes, and a list of topics to review for each section of the test.
To sum up, Magoosh is great for students who:
Don't mind cramming on their own
Who are on a limited budget
Don't have enough time to attend an in-person or live online MCAT prep
Of course, the budget option has some drawbacks. You won't get well-formatted full-length practice tests that exactly mirror what you will get from AAMC.
The phrasing of practice questions also varies considerably compared to the real-world MCAT. Sometimes this makes it a bit harder to use the course knowledge in a real-world setting.
Another thing is that the video section contains only the core MCAT  concepts. You won't get detailed explanations about the minute details of the test,  but these videos still serve as great material for a quick review.
Here are the main benefits you'll get by subscribing to Magoosh:
12 months access
380+ hours of instructional video
Up to 3 full-length practice tests
700+ practice questions
Email assistance (You can ask specific questions about MCAT)
+ 10 points guarantee and 7-day money-back guarantee
With detailed reports
Available on all platforms
PRICE: Check the price here (get $100 off your course)
What about books and written materials?
The Magoosh MCAT prep course offers only online materials that can be accessed through a PC or a mobile app.
You won't get any books or other printed materials and the whole experience is web-based. That's why you should do your best to get your hands on books from other sources.
The most recommended ones are their AAMC course materials and a full stack of books coming from the Princeton Review or Kaplan. You can easily order these books through Amazon.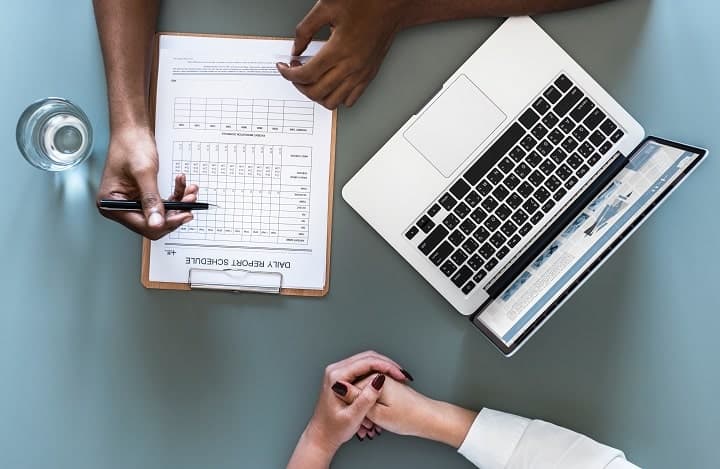 Bonus section: MCAT prep – Frequently asked questions:
What should you look out for when picking the best MCAT prep course?
After analyzing many MCAT  courses, I found some commonalities and things you should look for to pick the right option for you.
1. The higher score guarantee
This is a really important element which should influence your buying decision. Many companies are offering MCAT prep materials, but not all of them give you a better guarantee (or any guarantee).
What I really like about the Princeton Review is that they have an MCAT 510 guarantee and if you're not able to achieve if you get your money back, or you can take the course again until you reach the desired score.
Many other companies I've checked don't even come near to this type of guarantee. Either they simply offer a higher score guarantee (so if you improve your score by a single digit, you won't be able to ask for your money back) or they don't offer a guarantee at all which puts you as a customer at a much higher risk.
It also means that the company is not confident enough in its course to stand behind it more firmly and put their resources on the line.
2. The length of the course and your individual schedule
Timing is really important, and it depends on your current commitments and responsibilities. With a self-prep course, you can take the exact time you want to study, so this option is more flexible.
But if you decide to go to a live online course,  you first need to take a careful look at the schedules. You can finish an MCAT course in as little as 2 months once you sign up for three classes a week. That's an Express course. But you can also stretch out your prep over 5 or even 6 months if you have the luxury of time.
The more time you have, the better, but it all depends on your particular situation.
3. Can you get a discount on any of these courses?
Yes, you can. All the companies mentioned above apply discounts to their courses regularly. Most probably, if you click on one of the links in this review, you will see a special bonus code you can use to get a discount of $200 to $400.
These discounts are usually active for 24 to 48 hours and often they are connected to calendar events like Christmas, New Year's Eve, Thanksgiving, summer break, Black Monday,  and others.
You simply need to apply the code during your checkout to save a few hundred bucks on your MCAT prep.
4. How long is the MCAT?
The MCAT is a true marathon. It takes approximately 7 1/2 hours to complete it. The total content time (the actual time you will spend answering questions) is approximately 6 hours and 15 minutes. There are 230 questions on the current MCAT. And the average time per question is around 1.7 minutes.
The test is broken down into four sections:
Biological and biochemical foundations of living systems
Chemical and physical foundations of biological systems
Psychological, social, and biological foundations of behavior
And the infamous critical analysis and reasoning skills (CARS)
5. When is the best time to take the MCAT?
It's best to take the MCAT as early in the year as possible. The end of May should be the ultimate deadline for you to take the test. It's better to take it early because if you don't get a good score you will need to take the test one more time during the same year.
AMCAS application submissions start in early June, and it's always better to apply as fast as you can.
Also, please remember you will wait around 1 month to get your MCAT score.
You also don't want to sacrifice your GPA to get a higher score on the MCAT. Pick a period for your prep when you are not overburdened with other commitments.  Many students like to save up a bit of the summer to prepare for the test.
6. How long should you study for the MCAT?
Ideally, take 4 to 6 months to achieve a score of 510 or more. This matches well with the length of the courses listed in this review.
During this period you should clear out your schedule and focus only on your studies. Prepare for 3 to 4 hours of study time per day,  with some small breaks during the weekends, and after a few months, you will be ready to crush it.
7. Besides taking the courses, what are some other ways to prepare for the MCAT?
Besides going through a thorough course, there are a couple of other ways you can use to give yourself the best chances of success with the MCAT.
The first thing to do is to go to the AAMC (Association of American Medical Colleges) website and get all of their materials. After all, AAMC  develops the test, so it's always great to get some books and practice tests straight from the source.
Another thing to do is to check some free MCAT test prep materials from the Khan Academy. Many students find their practice questions very useful and the best thing is that you can access all of them for free since Khan Academy is a non-profit organization. You may also check some of the free MCAT tests available online.
Other than that you should definitely check YouTube and see how other students could achieve high MCAT scores,  and get your hands on as many full-length practice tests and questions as possible. The important thing is not to go through them, but to implement a solid review strategy so that you can internalize the knowledge at a deeper level.
Conclusion
As you can see the competition is fierce when it comes to MCAT courses. There are many companies in the market and they all do their best to provide students with great training materials, books, and online classes.
New companies are emerging all the time and trying to one their competitors in the prep game.  But so far it's nearly impossible to beat well-established and well-respected companies like Princeton Review and Kaplan.
Of course, it all depends on your budget and you may also try less costly options like Magoosh. But in the end, a medical school admission test is serious business, and it's better to spend a bit more and have the guarantee of a higher score and getting admitted into a great MD program. This will pay dividends for many years to come.
I hope you enjoyed this review of the best MCAT prep courses and that this review and comparison were helpful. I wish you all the best with your medical career.
Rafal Reyzer
Hey there, welcome to my blog! I'm a full-time blogger, educator, digital marketer, freelance writer, editor and content manager with 10+ years of experience. I started RafalReyzer.com to provide you with great tools and strategies you can use to achieve freedom from 9 to 5 through online creativity. My site is a one-stop-shop for freelance writers, bloggers, publishers, content enthusiasts who want to be independent, earn more money and create beautiful things. Feel free to
learn more about me here.