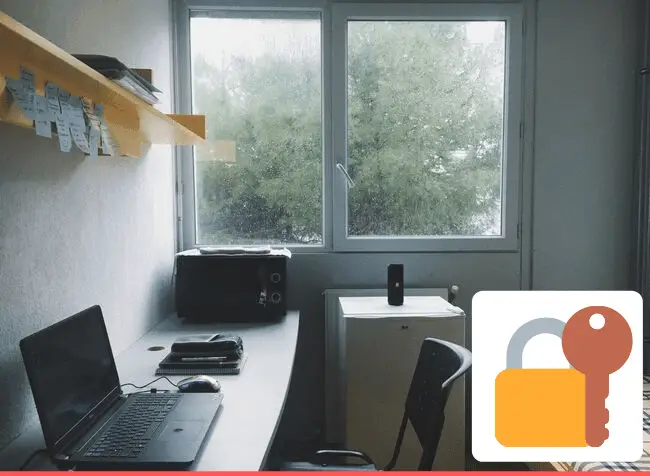 If you live in a college dorm, you need to keep your belongings safe.
Did you know that there are over 11,000 robberies and burglaries in student residences per year in the US? Dorm burglaries are the #1 threat, accounting for 70% of the total crimes committed on campus.
The most commonly stolen items in dorms are – electronics, cash, credit cards, debit cards, textbooks, and jewelry. As you can see, it's the small stuff that gets stolen.
That is why it pays to invest in one of those reliable lock boxes for college dorm rooms.
Being sure that your belongings are secretly locked up, you can focus on your studies. If you are struggling with writing essays, you can turn to free essays online for college. You should maximize the resources available to achieve academic success.
A lockbox is different from a safe. You don't have to drill in the walls to fix them in place (which is often prohibited in dorms anyway). Instead, you have a small or medium-sized box you can lock with keys or a PIN and still keep it in place with a reinforced metal cable.
What to look for when buying a college dorm lockbox:
REINFORCED METAL CABLE – This one is crucial because it allows you to secure your box in one place. You can chain it to your bed, a heater, or any durable metal pipe in your room, and put it out of sight. Without the cable, someone can easily pick up the box, exit your room, and then open it with specialized tools. The stronger the cable, the better because weak ones can be cut on the spot with a bolt cutter.
SIZE –  Think about which kinds of items would you like to store in your box. If you look to store your laptop, you will need something bigger. But if you need it for stashing cash, jewelry, small electronics, and credit cards, you'll be fine with a smaller model. I recommend buying a bigger box because laptops are some of the most commonly stolen items in dorms.
QUALITY – Do quality control before locking up your stuff. Make sure that the device is working correctly before putting in any of your valuables.
Here are the best lock boxes for college dorm rooms: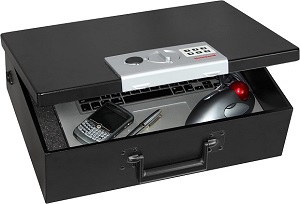 This is the number one recommended option for students living in temporary housing like dormitories and hostels.
First, it is low-profile at only 5.2″ in height, making it easy to fit in tight spaces including under the bed. But in spite of that, it has a large capacity with a length and width of 17.5″ x 12.8″, which is enough to contain most laptops, as well as other gadgets such as tablets, cameras, speakers, etc.
Second, unlike other models, some are more expensive than this one, this lock box is fire resistant. So, it can also protect your important documents such as your passport, school credentials, and many others in the eventuality of fire, earthquake, or other natural or manmade disasters.
Another advantage of this model is that it comes with a steel tether cable, so you can attach it to immovable or hard-to-move objects like bed frames or metal posts. It also has a programmable digital lock that you can set using your own numeric combination, and an override key, making it more secure.
Most importantly, it is made of strong steel material with a double-wall construction system. And last, but not least, it is made by Honeywell, one of the most recognizable and trusted brands when it comes to personal safes.
EXTRA COLLEGE DORM SAFETY TIP: get a dorm room security camera ($25-$40). A camera like this is cheap and effective. You would only have to reach an agreement with your roommate so you can place it in your dorm. It's one of the best devices for monitoring your room safely.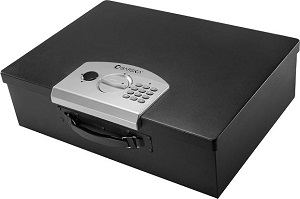 This is a compact, safe that you can easily hide without attracting attention to it. It's large enough to stash a laptop (17.5 Inches x 12.5 Inches x 5 Inches, and 16.5 lbs. capacity). It's also more than enough to provide space for your cash, passport, textbooks, and important documents.
It has a protective liner inside, which prevents items from getting scratched or damaged. It also comes with a steel cable you can use to fasten it to a solid piece of furniture.
It comes with a push-button lock, but it also has overrides. Also, if you ever forget your PIN, you can contact customer service, and they will help you reset it.
EXTRA COLLEGE DORM SAFETY TIP: Lock the doors and windows in your dorm. It's quite shocking, but around 40% of students never lock their doors when leaving the dorm. Always make sure that you and your roommates keep everything closed. This will prevent 90% of burglaries.
This is a cheaper alternative to the larger lockboxes shown above. It comes in three sizes (large, XL, XXL). I recommend grabbing the XXL one (11.5 x 7.5 x 2.5 in).
It's not large enough for a laptop, but it has enough space to protect a mobile phone, tablet, and any other small valuables like cash or jewelry.
It has a combination lock which is good because you don't have to deal with the keys that are prone to get lost. It has a protective lining inside to prevent items from getting scratched. It also comes with a solid steel cable, that allows you to keep it in one place.
EXTRA COLLEGE DORM SAFETY TIP: Watch out for possible fires. Many students use hair dryers, curling irons, and hair straighteners in dorms. Make sure always to unplug such devices after use to avoid security risks. Also, know the best escape route from your dorm in case of an emergency.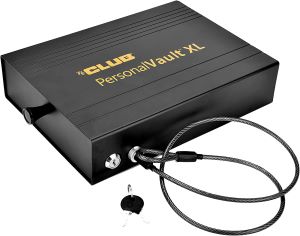 This is a high-quality personal vault, you can use to keep your stuff secure. It's rather small (12 x 2.8 x 8.9 inches), but it's still great if you are looking to store smaller items.
It comes with two keys and a sturdy cable that should give you enough security in your dorm room. It's also easily transportable and great for bus or car travel.
EXTRA COLLEGE DORM SAFETY TIP: you may want to install burglar alarms in your doors and windows. These things are really cheap ($20-$30) and they give you an extra layer of protection against thieves.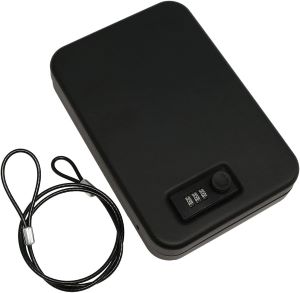 Here's another user-friendly item perfect for storing small valuables. It's 9.5 inches long x 6.5 inches wide x 2 inches tall, which should be more than enough for personal documents, money, or small electronic devices.
It also weighs only 3 pounds, which makes it easily transportable. It has a robust skewed construction, and a foam interior that will keep your stuff secure.
What I like about this one is that it has a 1500-lbs tested steel securing lock cable. It's 36.5 inches long so you can keep it fastened to any heavy and fixed object. Also, it has a three-tumbler manual combination lock, so no need for keys or batteries.
EXTRA COLLEGE DORM SAFETY TIP: make sure you know your dorm's guest policy. Never allow strangers into your apartment!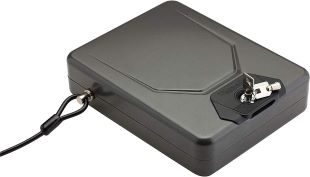 This is a premium lockbox, with a solid construction that is nearly impossible to penetrate. It comes with a patented steel cable that gives you extra space on the inside.
Its 3-foot cable is tested for 1500 lbs, which makes it robust and resistant even to most bolt cutters. The cable is long, so it gives you more flexibility to put the box in a low-profile spot.
The dimensions on the interior side (which has a gentle, protective foam) are 9.75" x 7. 5" x 2. 25". This is not enough for a laptop, but it's great for cash, documents, mobile devices, etc.
EXTRA COLLEGE DORM SAFETY TIP: insure your personal belongings. If you ever suffer from theft, you will be able to recover a part of the value of the stolen items. Some dorms even offer free insurance, but if you live in an outside apartment, you would most likely have to pay around $20 a month.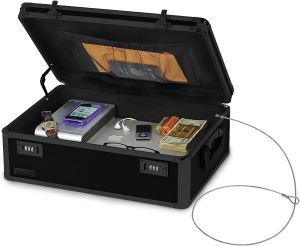 If the color patterns on your lockbox are vital to you, this is the right model for you. It's available in eight different color patterns so you'll definitely find something to suit your taste.
It has a dual combination lock and comes with a cable you can use to keep it in place. The interior dimension is 18 x 13 x 6 inches, so the item is pretty large (but it will still fit under the bed). It's a good idea to grab it if you want to protect your laptop from getting stolen from your dorm room.
Unfortunately, unlike other items listed here, this box doesn't have premium-quality locks or security cable. It offers essential protection, but it's no match for an experienced thief.
EXTRA COLLEGE DORM SAFETY TIP: Don't flaunt your belongings. Showing off your $2000 SLR camera, or your new laptop among strangers is never a good idea. Keep your belongings on low-profile sites, and you'll not draw attention to them.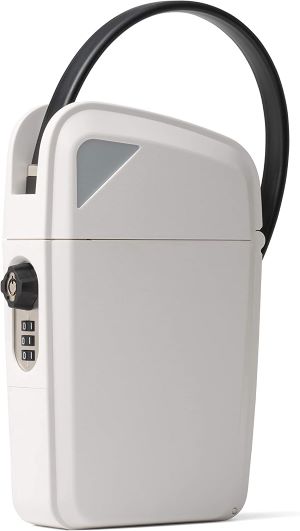 This is a neat, compact item with a unique design. It's a good option for female college students who want to keep their small valuables secure. It comes in six different colors (black, blue, gold, green, pink, and white) so you can find the one perfect for you.
You can open it with a key, but it has a three-digit custom combination code. It also has a heavy-duty steel cable you can use to lock the box around any fixed object. It's not as long as in the other models, but it should do the job pretty well.
What I like about it is that it has a compact size and it's portable. You can also take it with you while traveling or going to the beach.
EXTRA COLLEGE DORM SAFETY TIP: Never lend your college dorm room keys. If something gets stolen from you or your roommate, you are the one to bear responsibility for it.
Are You Ready to Keep Your Things Safe?
College theft is no joke. It happens regularly, and that's why you should do your best to keep your stuff secure. Getting a high-quality lockbox is one of the best ways to do it.
It will be a secure place for your most valuable belongings and also a way to have some peace of mind. It's better than keeping your stuff in a drawer or under a mattress and hoping for the best.
If you also grab a security camera or a door alarm, you will most likely prevent 99% of all possible burglaries. Thieves are always looking for an easy job. If you make it hard for them, they will bounce, and all of this will make your college life much easier. Good luck!
Rafal Reyzer
Hey there, welcome to my blog! I'm a full-time blogger, educator, digital marketer, freelance writer, editor and content manager with 10+ years of experience. I started RafalReyzer.com to provide you with great tools and strategies you can use to achieve freedom from 9 to 5 through online creativity. My site is a one-stop-shop for freelance writers, bloggers, publishers, content enthusiasts who want to be independent, earn more money and create beautiful things. Feel free to
learn more about me here.