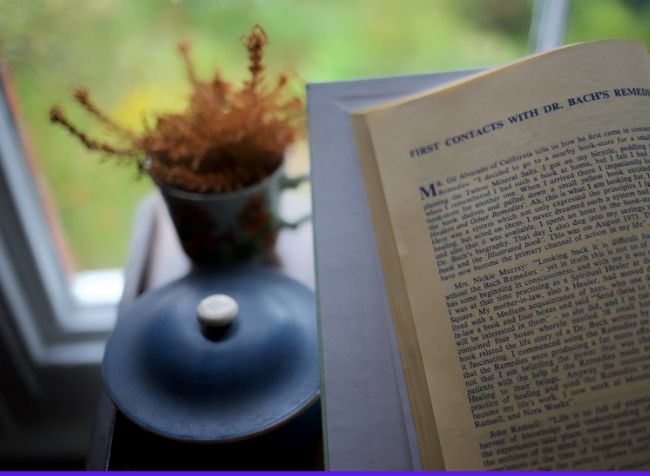 Are you looking for a charming wooden book easel that will allow you to read in hands-free mode?
You're in for a treat. Nowadays, there are many fantastic models available in the market, and I'll be happy to share them with you. A book easel is a must-have for any literary-inclined person with a strong sense of aesthetics.
You can use it in a variety of situations:
If you're studying for your next exam and want to keep your textbook in place.
If you're preparing a dish in the kitchen and want to follow a cookbook recipe.
If you want to keep the pages of the book firmly in place and have them set up at an ergonomic angle.
If you want to wind down at the end of the day and watch something on your tablet without holding it in your hands.
If you're looking for a product of this sort made of natural wooden material instead of metal or plastic.
If you know a book lover and you want to give them something they always wanted (even though they didn't realize it).
And of course, if you want to impress your guests with your exquisite taste in interior design.
Are you excited? I know I am. Now let's take a closer look at what's available online right now.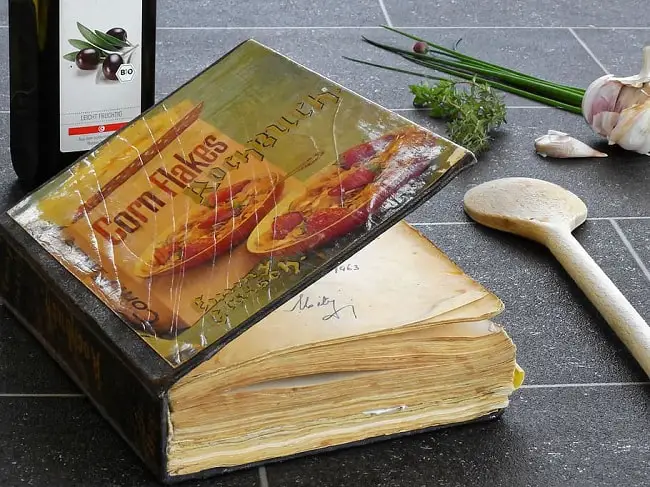 Six Best Wooden Book Easels for Hands-Free Reading: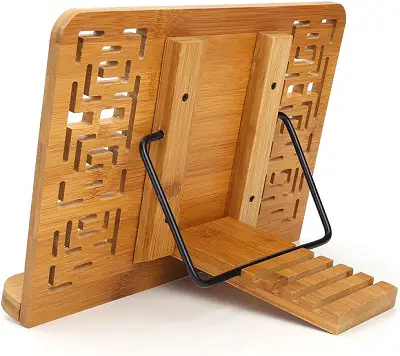 This classy bamboo book stand is going to be a perfect addition to your study, kitchen, or living room. It's one of the most popular models out there, and by looking at it, you can see why. It's adorned with an elegant pattern that adds to its mystique, and it's not expensive for such a high-quality product. Except for looking fantastic, it's also one of the top choices when it comes to functionality. You can set this easel at five different angles. In this way, you're always viewing your reading material from a comfortable angle. This will prevent you from straining your neck while reading. It has these clever tentacles that will keep the pages of your book firmly in place. It weighs 1.7 pounds, which perhaps is not a featherweight, but it adds to the overall sturdiness. It's also quite large as it has dimensions of 11 x 8.1 x 0.4 inches. That's more than enough for a large textbook, tablet, or even a small laptop. Finally, if you're not using it, you can fold it down flat. This is also useful if you want to take it with you on a trip or when you're moving to another place.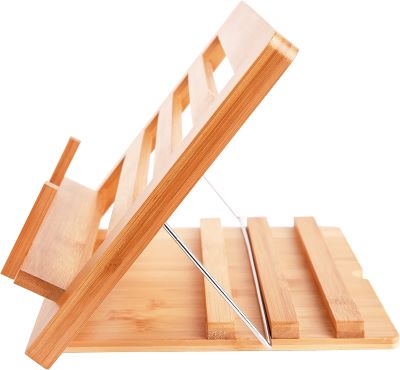 The second model from Exerz is slightly larger (14 x 10 x 1.3 inches) and heavier (2.35 pounds) than the first one. It's made of premium quality bamboo that's nicely polished. It can hold anything from small tomes of fiction to large cookbooks. But it's a better idea to buy it if you plan to put larger volumes on display as it will hold them easily. This easel is that it's available in four different colors. You can go with the natural bamboo flavor, but you can also pick blue, pink, or light brown. This will help you to accommodate it better with the rest of your interior. Here you have three angle settings to choose from. It's not as adjustable as "BamBoo" (which has five settings), but it's still more than enough for you to get a proper angle. All in all, this is your choice if you're looking for something more prominent, which can hold almost any book.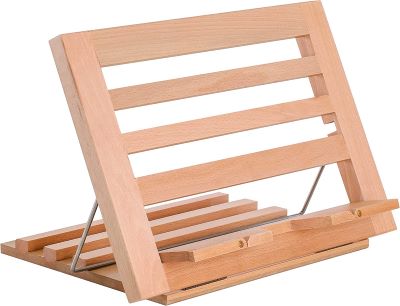 Here's a premium-quality wooden book easel that has a minimalistic design. It's made of natural Beechwood that's oil-finished, which gives it a stately appearance. It's relatively small and portable as it's 9.6 x 1 x 13.6 inches in size. But it's 2 pounds in weight, so it's sturdy enough to hold even a large tome. It also allows you to set up the easel at three different angles, up to a 75° incline. It has these page holders with solid metal hinges that will grip your book like they're about to never let go. This is perfect if you try to read a small print edition or a paperback. This stand is also foldable, so basically, you can turn it into a 1-inch wide tray. This makes it a multifunctional product that will come in handy in many domestic situations.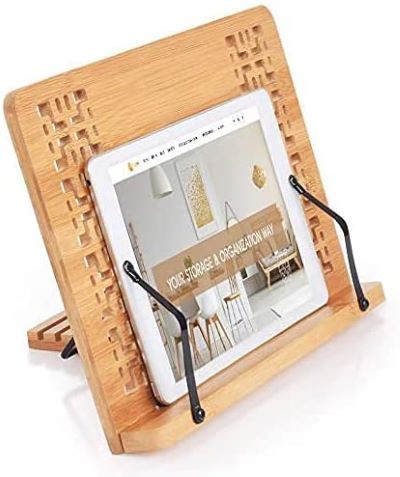 This is a marvelous high-quality bamboo easel that comes with a sturdy front tray. It's heavy-duty, and it will withstand books of almost any weight. The first thing that strikes you when you cast your gaze upon it is the intricate design. It reminds you of ancient Chinese palaces and Mesoamerican motifs. Whatever it is, it's pleasing to the eye, and you will want to come back to it again and again. It's made of eco-friendly bamboo and also has two strong paper clips. These will keep your book open, but they also have rubber tips at the end so that you won't damage the pages. When it comes to size, this wooden easel is 13.4 x 9.4 x 1 inch. This means it can accommodate anything from a massive textbook to a tablet, to a small laptop. The only possible drawback is that it may have some sharp edges at the bottom, so watch out for that.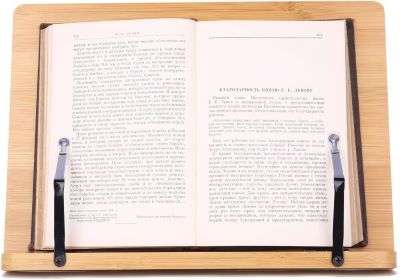 If you're in the mood for something straightforward, this bookstand is perfect. First off, it's relatively portable (12.9 x 8.9 x 2 inches) and lightweight (1.43 pounds). It's also wholly foldable, which means it's easy to take it with you if you want. You have five different angles to choose from, so it's great for reading in an ergonomic position. After all, if you're straining your neck, your concentration levels will drop significantly. Like the other models, it has paper clips that will keep the book in place. At the same time, flipping the pages is quite easy. And because of the rubber tips, you won't accidentally damage the paper. Moreover, the clips are skinny and they won't obscure your view. I can imagine many uses for this easel as it will hold not only books. It can serve as a device that will let you display beautiful art, or serve as a laptop stand.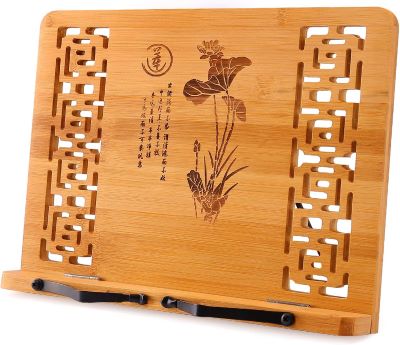 If you read for long periods and looking for an easel with a hollowed design, look no further. This inexpensive easel is available in an astounding twenty-one different patterns. You can place them on the front of the stand, in black ink and get a personalized product. It's easily the most customizable item on this list as you can pick the pattern that will tingle your senses. The patterns are a part of Asian folklore. You can get a panda, a Dragon, or an ancient temple among beautiful flowers. This seems like a perfect gift for a book lover with a fascination for Oriental themes. Besides being fully customizable, it's also extremely functional. It weighs 2.3 pounds, making it sturdy and able to hold large books with no issues. Incredibly, such a high-quality wooden stand is available at such a low price. It's a bargain if you ask me.
Have you found your new favorite wooden book easel?
Being able to read without having to hold the pages with your hands is such a gift. It's a new kind of freedom you can experience daily to make your life more comfortable. This is especially true if you want to avoid touching your favorite cookbook with wet hands. Or perhaps when you're in your study learning something new, and you want to keep the pages of your textbook in place. There are several instances when an item like this could come in handy. I hope that by reading this review with a lot of valuable information, you're ready to make the right choice. Next up, you may want to explore a list of the best writing-related podcasts.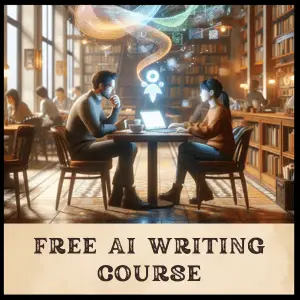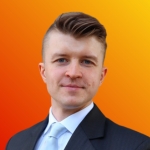 Rafal Reyzer
Hey there, welcome to my blog! I'm a full-time blogger, educator, digital marketer, freelance writer, editor, and content manager with 10+ years of experience. I started RafalReyzer.com to provide you with great tools and strategies you can use to become a proficient writer and achieve freedom through online creativity. My site is a one-stop shop for freelance writers, bloggers, publishers, and content enthusiasts who want to be independent, earn more money, and create beautiful things. Dive into my journey here, and don't miss out on my free 60-minute AI writing online course.