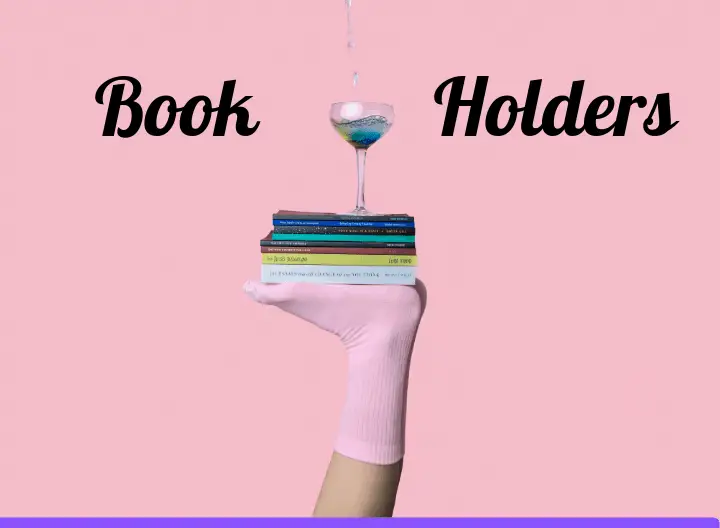 Wouldn't it be amazing if you could read your books (or use your tablet) hands-free in a comfy position?
It's actually possible with lap book holders for reading. They'll keep the pages of the book firm in place and enable you to do many things with your hands – such as drinking a hot beverage and eating chocolate.
These book holders are perfect if you like to read on your sofa or in your bed. You simply put them on your lap and feel that unmistakable warm fuzziness.
And the best part is that they're not expensive at all. You can get one of them for $20 to $50 and improve your reading experience!
Here are the Best Lap Book Holders For Reading:
This is by far the best book holder I was able to find. It's perfect for the situations when you want to read hands-free by having a soft and warm book holder sitting on your lap.
Its clever design allows for three different viewing angles so you'll always be able to adjust it to your needs. You just flip it around (hence the name of the product) and you can read from a different angle. You can sit on the sofa, or lay in bed, and you'll still see the pages simply by rotating Flippy.
The product is sturdy, but at the same time, it's soft and lightweight so it's great for creating a cozy home environment. It's also compatible with all tablets and mobile phones so you can use it for multiple purposes.
This is the second most popular book holder online. It enables you to read hands-free and it can double as a travel pillow making it a perfect option for readers on the go.
The Book Seat is filled with Polystyrene beads. This makes it very flexible and you can bend it and mold it till you achieve the desired shape. This is perfect if you want to place it on an uneven surface (like your legs or a duvet) because it will remain steady and allow you to read in comfort.
If you want to avoid neck and wrist pain caused by holding the book in your hands, this is the solution for you!
It has a slightly different design than your usual book pillow, as it's bigger and more sturdy. It's a more sizable option that can hold a larger volume or a bigger tablet. It's 9″ in length, 13″ in width and 6″ in height.
The filling is made of foam, and the cover is faux-suede you can take off by unzipping it to wash it when necessary. The material on top is suave and soft. It's perfect if you want to place it on your lap and read on the sofa or in your bed.
The product is lightweight so you can even place it on your belly when cozying up in bed with your new novel.
It really looks like a small couch that will serve as a place of honor for your book or tablet.
It looks unique and with the red color, it's a product that really stands out in your home and invites you for the next reading session.
By using it, you'll be able to "lock" your page firmly in place and avoid unnecessary neck and wrist strain. It's a perfect gift for any bookworm, and it can also double as a travel pillow.
That's another comfy book holder which is cheaper than the most options listed here. Even so, it receives many raving reviews from fellow book lovers who use it almost every day.
It looks like a pyramid and it's perfect especially for kids and younger readers who like to read while laying on the floor. The microfiber of which it is made is easy to clean and soft to touch.
It allows you to tuck the pages of the book in the bottom crease of the pyramid and read hands-free. The only thing is that it's rather small, so only smaller volumes will fit well into it.
There's nothing better to encourage a young person to read than giving them this wonderful book and tablet stand. It looks like a friendly monster and it comes in purple and light green so it's great for both boys and girls.
You actually "feed" the monster by placing the book or a tablet in its jaws, which makes the reading experience so much fun.
There are no sharp edges, and the product is super soft, perfect for achieving a comfortable reading position.
This product is probably better for laptops and tablets than books. But I included it on this list because it serves a double function and you can comfortably place it on your lap.
The main function is a laptop holder. But you can also adjust the little desk and place it in one of eight different positions. The highest position gives you a good angle to place a book on top and read in comfort.
The only disadvantage here is that it won't hold the pages for you so think if you need this feature before deciding.
The last item here is a dreamy pink-cat-of-a-book-holder that will melt the heart of any young female reader. It's comfy, high-quality and it will hold almost any book without the necessity of holding the pages on your own.
Just imagine placing a book in the jaws of the cat who will do all the heavy lifting for you! A wonderful thing about it is that it also has a set of three neat pockets in the back where the child can place their little treasures.
Conclusion
Comfort plays an important role in reading. If you have a comfy place to read and a furry reading accessory like a pyramid holder for your book, it's much easier to find time and motivation to sit down and immerse yourself in a great novel for hours on end. Enjoy!
Related topics:
Rafal Reyzer
Hey there, welcome to my blog! I'm a full-time blogger, educator, digital marketer, freelance writer, editor and content manager with 10+ years of experience. I started RafalReyzer.com to provide you with great tools and strategies you can use to achieve freedom from 9 to 5 through online creativity. My site is a one-stop-shop for freelance writers, bloggers, publishers, content enthusiasts who want to be independent, earn more money and create beautiful things. Feel free to
learn more about me here.