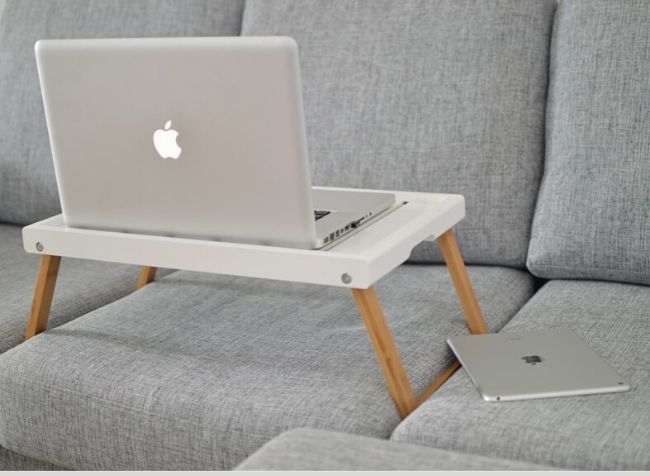 We can all agree that you need a comfortable place to work from in your home or apartment.
And what place is cozier than your own couch?
But keeping your computer on your lap simply ain't gonna cut it. Things get too warm, things get sweaty, and the overall bliss turns into a work from home nightmare.
But wait, there's a solution. By using a computer tray table, you get the benefits of working from your couch or sofa with none of the drawbacks.
I promise that this portable piece of furniture will become your best friend.
It will provide breathing space for your thighs, extra room for a warm beverage, and more motivation to sit down and do your work.
There are a few great tray tables available on the market. I hand-picked only the best ones, and now I'm sharing them with you.
The Six Best Tray Tables For a Couch:
This new lap desk is an absolute must-have if your aim is to use your laptop ergonomically.
It's not expensive at all, but it will be your best pal when you're trying to type and click around while sitting on a sofa.
What stands out here are the retractable silicon blockers to keep your laptop from sliding down when tilted. They allow you to keep your computer in place even if you kick the desktop up to a sharper angle.
Being able to change the tilt is another great feature of this product. You can either keep it fully flat or go up to a 35° angle. This, along with five adjustable height levels, gives you so much more flexibility while you work.
The tray itself is also quite large. It's 25.9 inches (65.8 cm) long and 14.6 inches (37 cm) wide.
That's more than enough space to put your legs under, so you'll have some wiggle room.
Finally, you can fold the legs within a couple of seconds and put the table out of sight. It only weighs less than 4 pounds, so that should be easy.
Pro tip: Even if you have a tray, you should still get up at least once per hour to move around a bit. This will keep you refreshed and ready to attack your next work session.
This tray table is a cool pick if you're looking for a high-quality product at a reasonable price.
It allows you to adjust the height by using a simple lift switch. You have five levels of adjustability and you can go from 9.4 inches to 12.6 inches in height.
This makes the table or versatile as each member of the household can change it to their liking. It also has non-slip stoppers, so your stuff wouldn't slide down when the desk surface is inclined.
The angle of the desktop itself is also adjustable. You can go from a completely flat surface to a degree of 30°.
This is perfect if you want to avoid neck or wrist pain while you're trying to do your work.
The desktop is 20.5 inches long and 11.8 inches wide, so it's smaller than the first product listed in this review. But it's still more than enough for a 15-inch screen computer, along with a mouse.
However, if you have a 17-inch screen, go with a bigger model.
Specs at a glance: Always check the exact measurements of the product before buying. You want a tray that will be a perfect match for your body size.
Here's a unique tray table which may be a perfect fit for you.
It's sturdy as it can hold up to 88 pounds of weight (40 kg), and it also weighs a bit more (6.87 pounds).
What I like about it is that you can fold it within a couple of seconds because of its clever design.
You can't adjust the height or the angle, but at least you have a much larger surface to work with.
This laptop stand is 25.6 inches long (65 cm), and 11.8 inches wide (42.5 cm). This is enough space for a 17-inch screen computer, a mouse, a warm beverage, and some small gadgets.
This product has a particular slot for a tablet that will keep it just at the right angle.
It also comes with an anti-slip silicone padding and an ergonomic design, so your wrists will stay at a comfortable angle.
If you can get over the lack of height change, this just might be the right thing for you.
Specs at a glance: Think if you will need extra storage space inside your table. It might be convenient to keep your pens, sticky notes, and other paraphernalia all in one place.
This model comes from the same producer as the item number three on this list. The difference here is that this one is much larger and even sturdier.
It weighs 8.55 pounds but gives you lots of extra space. It's 25.6 inches long and 19.3 inches wide, which is more than enough for most users.
It's a multi-functional piece of equipment because it has a little drawer on the left side. You can store your pens and pencils in it, but you can also use it as a stand for your smartphone.
It also comes with a removable book stand, which makes it even more versatile.
It all comes down to your needs. If you're spending a few hours per day working from your couch, this might be a perfect solution.
However, if you're more into casual use, one of the lighter products from this list would be a better pick.
Pro tip: Make sure the desktop is large enough to provide space for your computer and a mouse. Working with a mouse is much faster than using a touchpad.
Perhaps you're not a massive fan of plastic, and you want to be more ECO-friendly.
Here, you will be happy to learn about this beautiful tray table made of 100% bamboo. What's even better is that it's no more expensive than other products listed in this review.
It allows you to adjust the angle, so that's great for ergonomics. You also have two height adjustments so you can tinker with it until you have a perfect fit.
The part of the desk that tilts has decorative cutout holes for heat dissipation, thus keeping your laptop from overheating. It also has a small drawer on the right side of the tray for storing cables, earphones, or other tiny stuff.
In terms of measurements, the tray is 21.5 inches long (55 cm) and 13.7 inches (34.8 cm) wide. The maximum height is 12 inches (30 cm) but it can be adjusted down to 9 inches for children.
That's plenty of legroom, working surface, and storage place even for the most demanding user.
Pro tip: It's best to invest in a table where you can adjust the angle of the main surface. This will make your compact workspace even more ergonomic.
If you're looking for a multi-functional, compact desk that won't break the bank, this one is a great choice.
It's 23.6 inches long and 13 inches wide and made of high-quality materials that will last for years.
It also enables you to adjust the height (9.5 inches to 12.6 inches) and the angle (0° to 35°).
It has these special clips that will keep your computer in place. And the anti-slip silicone pads will prevent it from moving around.
As a bonus, you also get a small slot in which you can place your tablet if you're into a bit of entertainment.
It doesn't matter if you want to work, study, or have some fun – this desk with retractable legs is going to satisfy you.
Pro tip: Check the exact weight of the table before buying it. If you have some sort of disability or plan to move it around the house a lot, go for the lightest model possible.
Are you ready to put your computer tray table into action?
I hope that by now, you've realized how useful a tray table can be. This compact piece of furniture can revolutionize how you do work while at home.
It also makes your entertainment time much more pleasurable. Now you won't have to deal with the extra weight of your computer pressing down on your thighs.
Instead, your laptop will obediently levitate above your legs so you can chill or work in comfort.
Rafal Reyzer
Hey there, welcome to my blog! I'm a full-time blogger, educator, digital marketer, freelance writer, editor and content manager with 10+ years of experience. I started RafalReyzer.com to provide you with great tools and strategies you can use to achieve freedom from 9 to 5 through online creativity. My site is a one-stop-shop for freelance writers, bloggers, publishers, content enthusiasts who want to be independent, earn more money and create beautiful things. Feel free to
learn more about me here.