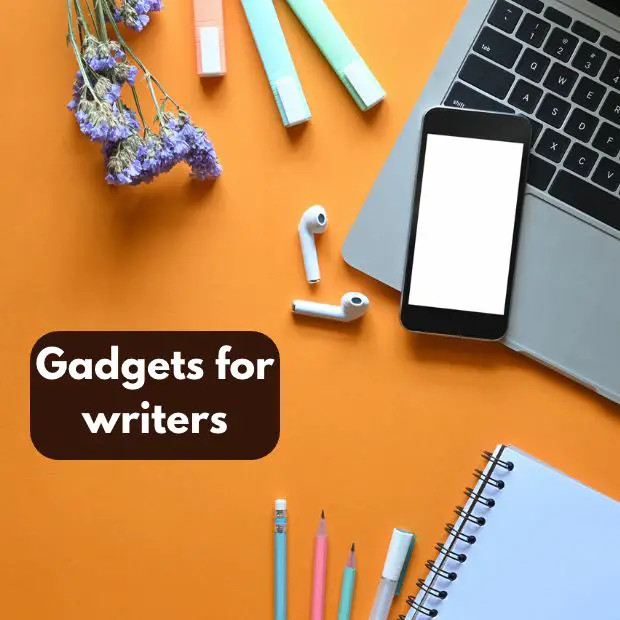 As a fellow writer, you understand that anything that can help you write faster and better (or write at all) is worth its weight in gold.
In this article, I share a list of the 12 best gadgets essential for writers. I used most of them myself, or they're already waiting in my e-basket, ready to get ordered.
I'm always looking for ways that'll speed up my progress , and make more money as a freelance writer . That's because an easy task of putting words on a computer screen (or a piece of paper) is actually one of the toughest things you'll ever do.
Important note: Here I list items that are actually useful and functional and that a writer will appreciate in their everyday life. You've been warned.
The items listed here will: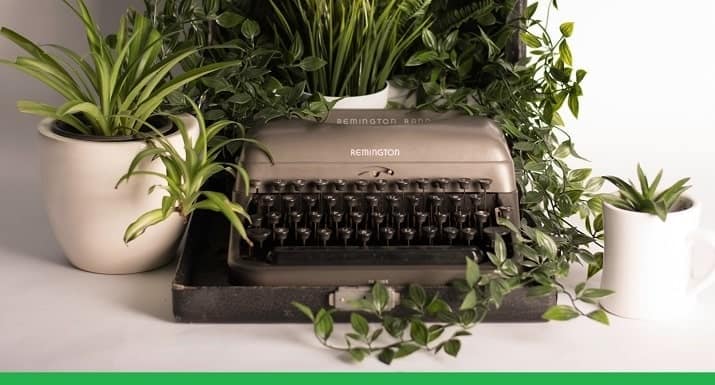 "Writing is a struggle against silence."
Here are the top gadgets for writers:
Alright, this one may be a pricey gadget, but it's well worth the money if you know how to use it. First, it has a stylus that you can use to take notes (or even write full articles).
Tablets come with apps that will recognize your handwriting like nothing else and automatically convert it into a digital script. Do you see where I'm going with this?
It can dramatically speed up your writing and the whole digital communication process – especially if you're not at your desk.
Also, with a tablet, you can split your screen, and that's where the real fun begins.
In one window, you can have a writing app like Google Docs, and in the other, your research notes or a website from which you get your info. This makes writing so much faster and easier.
Not to mention that content hoarding apps like Pocket, Kindle, Audible or Evernote work perfectly on this kind of device.
More: 8 Best Tablets with a Stylus for Writing
I would be so lost without this top grammar checker (way better than Grammarly, in my opinion). I'm actually on a premium subscription, but the free version is great too. The app is one of the best investments I've ever made to improve my writing .
The software is not 100% accurate (yet), but it offers you cool suggestions and helps you clean up your prose in a matter of seconds. It's super important to have a tool like this because it will save you a ton of your (or your editor's) time.
It's not only great for regular content but for online communications as well. With it, you'll never worry that you'll make a horrible grammar mistake in your email or office chat ever again.
If you're using Google Docs to commit words to the screen, you'll see that ProWritingAid will give you suggestions for improvement in real-time. This is pretty cool, but if you don't like it, you can switch it on and off and edit later.
Write drunk, edit sober, right? Oh yes, and on the note of cool digital gadgets for writers, please check the Writing Analytics app that can severely boost your writing productivity.
If you're even slightly digitally nomadic, and you like to write on the go, you need to get your hands on a smartwatch with a keyboard on this device. It's a tiny QWERTY keyboard that folds in two, becoming so tiny that you can fit it into your back pocket.
It's an indispensable travel gadget for a modern writer . You simply connect it to your smartphone (or tablet – see above), and voilà, you have an instant working station wherever you are.
It's great if you like to write in cafes or on the planes, but don't want to bring out the heavy laptop artillery. In fact, if you're going on a short trip, you can forget about your laptop and just take your tablet and keyboard. If there's something cooler than that, I want to hear about it.
You must have heard about the Pomodoro technique at least once in your lifetime. You set the timer for a specific amount of time (traditionally 25 minutes), and you work your ass off till you hear the ring.
Then you take a 5-minute break and go hammer at it again. You repeat the process and do 5 or 6 sessions, and then take a longer, 15-20 minute break.
This Yunbaoit timer is perfect for this kind of time-management technique. As writers, we like to procrastinate and do anything to save us from producing another coherent sentence.
But here you have a little device you can set for 30-60 minutes and make a contract with yourself. Let's say you'll write for 30 minutes, and then you get to check your email and other amazing distractions. The best thing about the device is that it's tangible and staring you straight in the face.
And you don't have to pick this specific model. It's also available in other colors, shapes, and sizes. What's important is the method and the self-discipline to use it. This kind of routine will improve your productivity like nothing else.
Hemingway always said that if you want to become a great writer , you must first travel and live your life. And there's no better travel companion than a functional, high-tech bag with enough space for a big laptop and writing-related gear.
This backpack is super cool for a couple of reasons. First, it's spacious and will allow your laptop and tablet to slide inside effortlessly. Second, it has a ton of useful compartments for easy access to your tablet, mobile phone, a set of pens, a notebook, and your headphones.
And to make the deal even sweeter, it has a special USB port you can use to connect to your power bank. In this way, you'll never run out of juice while on the go. Plus, it has an anti-theft lock, and it's designed in a way that makes the airport screening process much easier. It's a perfect product for an itinerant scribbler.
Why not flaunt your writerly status on a day-to-day basis? Tote bags are light as a feather and they make up a practical, yet stylish-looking item in the writer's arsenal. I especially like this model because it says nothing cheesy and cliche like: "What would life be without books?" No, instead, it's more low-keyed and simply states: "words matter".
Plus, there's this quaint illustration of an old-school typewriter suggesting you're a sophisticated literatus who knows his or her classics. The bag comes in two different sizes, small and medium, so pick and choose depending on the size of the writer.
Alright, this one is going to blow your mind. Imagine obtaining a cool-looking notebook that will serve you forever.
The pages of this notebook are made of a special material developed over many years. If you get an erasable pen (the recommended one is Pilot FriXion), you'll be able to write in it like in a traditional journal. But when you run out of space, you can erase all your writing within a matter of seconds with a moist cloth.
That's cool because you will never have to buy another notebook again. But there's also something way more interesting here.
The Rocketbook comes with an app that allows you to scan the pages of your journal and quickly upload them to any cloud app of your choice. This is fantastic if you want to digitize your work and send it to Google Drive or Evernote.
Here's another amazing piece of technology that will turn a writer into a near-cyborg. It allows you to capture your writing in real-time by using a handwriting recognition technology.
It also allows you to sketch in color and see your work in real-time on your mobile or tablet screen connected through Bluetooth. Then you can share all your work with one of the popular mobile apps such as Gmail, Facebook, or WhatsApp.
The battery is good for 8 hours of continuous writing and the offline storage enables you to save up to 800 pages of notes. And as a bonus, the app that comes with the pen can also translate your notes into 40 different languages. Impressive?
Any respectable writer spends hours at their desk, mercilessly clicking around with their mouse. With time this can lead to minor disabilities and problems like carpal tunnel syndrome or repetitive strain injury. Believe it or not, but these issues are really serious in the writer's universe.
You owe yourself a favor by buying this ergonomic mouse. It has a vertical design which makes your wrists more comfortable and allows you to work for a long time without feeling any pain.
It also has a series of buttons that make internet browsing much faster. And finally, it enables you to regulate the speed of the cursor by pressing a DPI button offering three different settings. This item is indispensable in my life.
This gadget is perfect for a full-time writer who wants to improve their comfort and make their workspace cozier.
Here's a set of two pads – one for the mouse, and the other for the keyboard. It comes in a beautiful design and you can actually pick one of 9 different colors and patterns to adjust it to your unique personality.
These kinds of items make the writing process so much more enjoyable. And your wrists will thank you for the comfort you provided for them.
You just have to make sure that the size of the pads will match the size of your keyboard and the character of your workplace.
A writer is familiar with an inner rage boiling when someone interrupts her flow. Perhaps, next time when someone comes in and asks how are you doing or have you seen that latest movie, instead of stabbing them in the heart, you can simply show them this mug and they'll get the message.
There are actually many other mugs of this type designed especially for writers. All of them have some kind of quirky comment on them like: "I'm a writer, anything you say or do may be used in a story", or " only the strongest women become writers". It all depends on your particular taste, but somehow the "f**k off" mug matches my personality most closely. Another idea is to get one of the best books about writing and come up with a personal inscription.
You may think, aren't writers supposed to do their work by tapping their meat sticks on a keyboard? Nope, it turns out they can also do much of their daily word count with the use of a microphone.
The voice recognition technology has gone very far already. Now you're able to dictate much of your prose and emails with near-perfect speech recognition technology. That's possible with a free app like Google Docs or a paid app like Nuance Dragon, which is more accurate.
But this advanced technology will not work if you don't have a proper microphone. So spend a couple of bucks and invest in this USB mic which is going to make your work so much easier.
Now it's your time to take your craft to the next level
It's essential to get your hands on some of the top gadgets that will improve your writing experience . It's time to get fully modern and absorb the technical (and not-so-technical) ways in which you can improve your craft . Writing great prose is not only caused by a sudden burst of inspiration anymore.
Nowadays, you can use technologies ranging from AI to speech recognition , to tangible items that will make your work more bearable. I hope you've enjoyed the list and you're ready to get your hands on some things described above!
Rafal Reyzer
Hey there, welcome to my blog! I'm a full-time blogger, educator, digital marketer, freelance writer, editor and content manager with 10+ years of experience. I started RafalReyzer.com to provide you with great tools and strategies you can use to achieve freedom from 9 to 5 through online creativity. My site is a one-stop-shop for freelance writers, bloggers, publishers, content enthusiasts who want to be independent, earn more money and create beautiful things. Feel free to
learn more about me here.